2022 Michigan State Open
Michigan State Open Preview & Predictions
Michigan State Open Preview & Predictions
A full preview with predictions for the 2022 Michigan State Open on November 5, 2022.
Oct 19, 2022
by Jon Kozak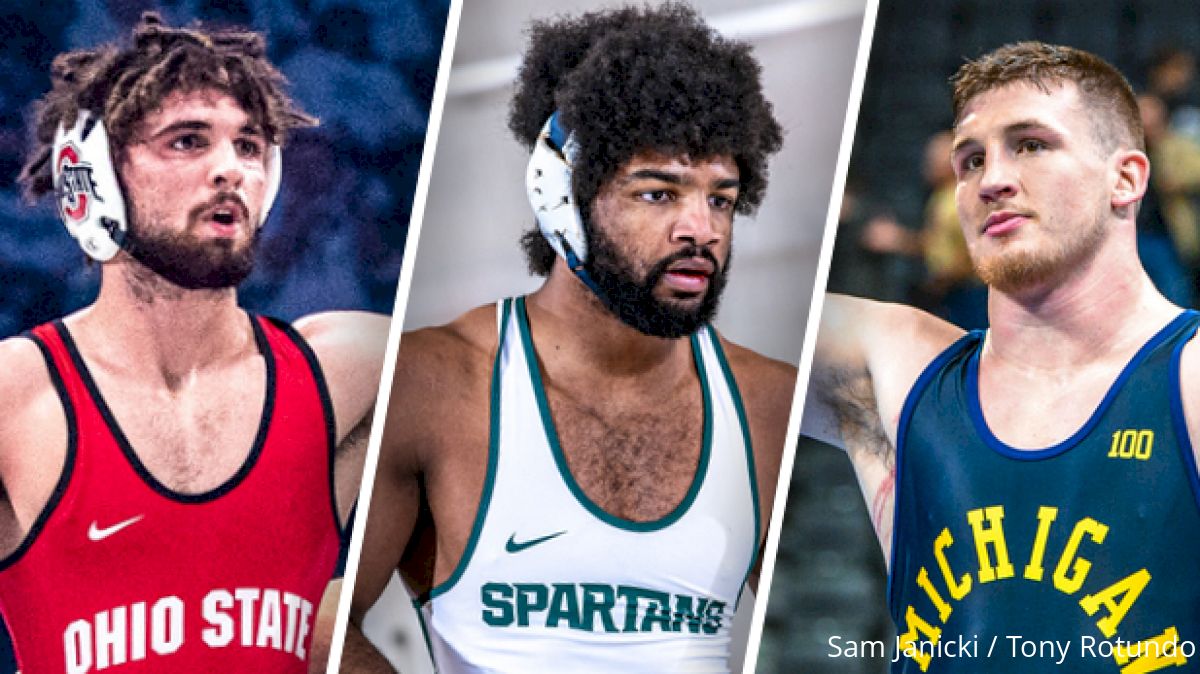 The Michigan State Open will kick off the division 1 college season on November 5 and is one of the best early-season open tournaments. Take a look below at a full preview for all 10 weights taking the mat in East Lansing.
125 Pounds
Projected 125 Competitors:
#11 Joey Prata, Oklahoma
#12 Malk Heinselman, Ohio State
#20 Jack Medley, Michigan
#22 Justin Cardani, Illinois
HM Tristan Lujan, Michigan State
Sean Spidle, Central Michigan
Bemn Aranada Cleveland State
Blake West, Northern Illinois
Oscar Sanchez, Ohio
Kase Mauger, Utah Valley
The Favorites
There will be a potential of 5 ranked wrestlers in the field at 125 with seniors #11 Joey Prata and #12 Malik Heinselman being the favorites. Both Heinselman and Prata will be All-American threats this year after coming up just short at the NCAA tournament last season. Prata is a career 2-0 against Heinselman but the two haven't met since the 2019-2020 season.
Contenders
After those top two, look for #20 Jack Medley and #22 Justin Cardani to challenge to make the finals and win the bracket. Medley is back in the starting lineup after sitting last year behind Nick Suriano but is a former national qualifier. On top of that, Medley has a relentless pace that can wear out anyone in the country. Cardani is a returning national qualifier who has past wins over both Heinselman and Medley.
Predictions: 1) Malik Heinselman, 2) Joey Prata, 3) Jack Medley, 4) Justin Cardani
Prata's win over Heinselman at the 2019 CKLV: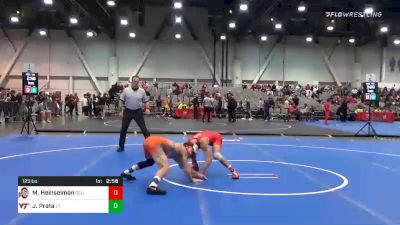 Unlock this video, live events, and more with a subscription!
Get Started
Already a subscriber? Log In
133 Pounds
Projected 133 Competitors:
#5 Lucas Byrd, Illinois
#6 Dylan Ragusin, Michigan
#9 RayVon Foley, Michigan State
#24 Wyatt Henson/Anthony Madrigal, Oklahoma
Vince Perez, Central Michigan
Jacob Manley, Cleveland State
Bryce West, Northern Illinois
Andre Gonzales, Ohio State
Jesse Mendez, Ohio State
Nic Bouzakis, Ohio State
Haiden Drury, Utah Valley
The Favorites
133 pounds at the MSU open should be a fun weight with 2 former All-Americans and 4 total wrestlers ranked in the top 24. #5 Lucas Byrd is the clear favorite after taking home 5th place All-American honors over the past two years. On top of his finishes at NCAAs, Byrd has past wins over the biggest contenders in this field in RayVon Foley, Dylan Ragusin, and Anthony Madrigal.
The Contenders
Byrd's biggest challenges will come in #6 Dylan Ragusin and #9 RayVon Foley. Ragusin lost to Byrd in the round of 12 at last year's NCAA tournament. However, in the 3rd place match at the Big 10 tournament, Ragusin took out Byrd 3-1 in overtime. Then there's RayVon Foley - a 2019 All-American who has never defeated Byrd but holds a win over Ragusin from last season. The difference between the top 3 in this bracket is slim and should be fun to watch go down in East Lansing!
It will also be worth keeping an eye on who Oklahoma has entered at 133. Anthony Madrigal won the MSU Open last year with wins over Lucas Byrd, Dylan Ragusin, and RayVon Foley. However, that opening tournament was the highlight of Madrigal's season as he went 7-12 the remainder of the year. Enter Wyatt Henson - a redshirt freshman who transferred after spending a year at Iowa. During his redshirt season, Henson put together an 18-2 record while wrestling 141. Henson was ranked #14 on the 2021 Big Board coming out of high school and, if he's down at 133, could be a legitimate All-American contender this year.
Freshmen Watch
And finally, this could be the first time we Ohio State's freshmen studs - Jesse Mendez and Nic Bouzakis. It's still uncertain whether or not their redshirts will be pulled this year but the MSU Open is the perfect tournament to test out how close they are to challenging the best in the country at 133 pounds.
Predictions: 1) Lucas Byrd, 2) Dylan Ragusin, 3) Jesse Mendez, 4) RayVon Foley
Byrd's win over Ragusin in the round of 12 at the 2022 NCAA Tournament: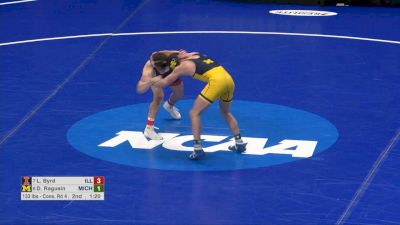 Unlock this video, live events, and more with a subscription!
Get Started
Already a subscriber? Log In
141 Pounds
Projected 141 Competitors:
#9 Dylan D'Emilio/Jordan Decatur, Ohio State
#18 Ty Smith/Isaiah Delgado, Utah Valley
Mason Breece/Ja'Kerion Merritt, Central Michigan
Caleb Rea, Cleveland State
Danny Pucino, Illinois
Cole Mattin, Michigan
Jordan Hamdan, Michigan State
Jaivon Jones, Northern Illinois
Kyran Hagan, Ohio
Mosha Schwartz, Oklahoma
The Favorites
141 doesn't have the "high-end" firepower of some of the other weights in the field but is still an opportunity to get a first look at some potential All-American contenders early in the season. Ohio State's Dylan D'Emilio is coming into his third year as the starter for the Buckeyes and his second straight season of qualifying for the NCAA tournament. D'Emilio put together a solid season last year after going 22-11 and winning 5th-place honors at the Big 10 tournament.
However, D'Emilio dropped his wrestle-off to Decatur making the Michigan State Open even more interesting. Look for Decatur as the other main favorite in this weight class with the starting spot on the line.
The Contenders
Two challengers to watch are Ty Smith and Mosha Shwartz. Utah Valley's Smith was a national qualifier 2 years ago but struggled last season after going just 5-10 and failing to qualify for the NCAA tournament. Despite that, Smith lost his wrestle-off to teammate Isaiah Delgado. Both Smith and Delgado should be entered in the bracket and their performance in East Lansing could determine who wins the starting spot.
Mosha Schwartz transferred to Oklahoma after spending 2 years at Northern Colorado where he qualified for the NCAA tournament in 2020 and 2021 (notably at 133). Though not yet in the rankings, Schwartz has a past head-to-head win over Ty Smith and we should expect to see Schwartz make some noise at 141 throughout the season, beginning at the MSU Open.
Predictions: 1) Dylan D'Emilio, 2) Jordan Decatur, 3) Mosha Schwartz, 4)Ty Smith
149 Pounds
Projected 149 Competitors:
#4 Sammy Sasso, Ohio State
#15 (at 157) Johnny Lovett, Central Michigan
#16 Willie McDougald/Mitch Moore, Oklahoma
#22 Chance Lamer, Michigan
Douglas Terry, Cleveland State
Kevon Davenport, Illinois
Peyton Omania, Michigan State
Anthony Cheloni, Northern Illinois
Alec Hagan, Ohio
Stockton O'Brien, Utah Valley
The Favorite
149 at the MSU Open will give us the first look at 2-time All-American and 2021 NCAA runner-up Sammy Sasso. The Ohio State junior will be one of the biggest favorites in the entire tournament and comes into the year ranked #4 in the country. Sasso has an upcoming match against #3 Austin Gomez at the NWCA All-Star classic, and the MSU Open will be a great warm-up for him two weeks before that bout.
The Contenders
A host of young wrestlers will look - the most notable being Willie McDougald, Mitch Moore, and Chance Lamer. McDougald took over the starting spot for the Sooners halfway through the year and had notable wins over the likes of Jarrett Degen, Colin Realbuto, and Josh Edmond on his way to a 2-2 finish at the NCAA tournament. However, during wrestle-offs Mitch Moore defeated McDougald and looks to have the edge in starting for the Sooners this year. Moore is notably a 3-time national qualifier and finished 1 match shy of All-American honors in 2021.
Chance Lamer put together a 17-2 redshirt season and will look to man the starting job this year for Michigan. Lovett is coming down to 149 this year after qualifying for the last two NCAA tournaments at 157. Lovett also had notable wins last year over All-Americans Will Lewan and Hunter Willits and will be a wrestler to watch throughout the season at 149. The MSU Open could be an opportunity for any of these 3 to announce their presence to the rest of the country at 149.
Predictions: 1) Sammy Sasso, 2) Mitch Moore, 3) Chance Lamer, 4) Willie McDougald
Hear Sammy Sasso talk about his signature sit-through cradle: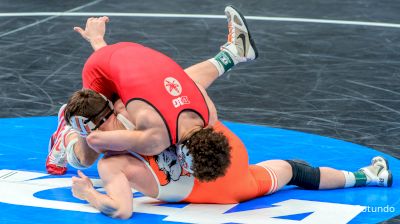 Unlock this video, live events, and more with a subscription!
Get Started
Already a subscriber? Log In
157 Pounds
Projected 157 Competitors:
#1 Will Lewan, Michigan
#20 Chase Saldate, Michigan State
#21 (at 149) Corbyn Munson, Central Michigan
#23 Jacob Butler, Oklahoma
HM Paddy Gallagher, Ohio State
Marcus Robinson, Cleveland State
Joe Roberts, Illinois
Munkhtulga Zuunbayan, Northern Illinois
Peyton Keller, Ohio
Daniel Snediker, Utah Valley
The Favorite
Like at 149, 157 has a clear favorite with a number of contenders to watch out for. Will Lewan placed 5th at last year's NCAA tournament and is currently the highest returning placer - earning him the #1 ranking in the country heading into the season. Lewan notably has three past wins over the next highest-ranked wrestler in the field - Chase Saldate. Though he doesn't blow out many wrestlers, expect Lewan to navigate his way through this bracket to the top of the podium.
The Contenders
After Lewan, Paddy Gallagher, Corbyn Munson, and Chase Saldate are the only other ranked wrestlers in the field. Blue-chip recruit Paddy Gallagher had a solid redshirt season where he went 17-2 only losing to Michael Petite and Levi Haines. The Buckeyes are expecting big things out of Gallagher and this opening tournament will reveal how close he is to challenging for All-American honors this year.
Chase Saldate is heading into his third straight season starting for the Spartans at 157. Saldate has qualified for the NCAA tournament each year but went a disappointing 0-2 in both of his NCAA tournaments. Saldate has proven to be a solid gatekeeper for the top 20 but will need to jump a level this year to contend for AA honors.
With Johnny Lovett dropping down, Corbyn Munson is moving up to 157 after qualifying for NCAAs last year at 149. Munson had notable wins over Kanen Storr, Manzona Bryant, Cory Crooks, and Chance Lamer last year and if he's able to adjust to the weight change, expect him to move up the ranks at 157.
Predictions: 1) Will Lewan, 2) Paddy Gallagher, 3) Corbyn Munson, 4) Chase Saldate
Listen to Will Lewan talk about his performance after the 2022 NCAA Tournament: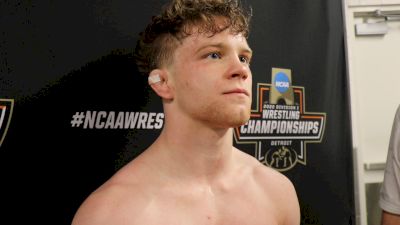 Unlock this video, live events, and more with a subscription!
Get Started
Already a subscriber? Log In
165 Pounds
Projected 165 Competitors:
#5 Cam Amine, Michigan
#7 Carson Kharchla/Bryce HepnerOhio State
#10 Izzak Olejnik, Northern Illinois
#15 Dan Braunagel, Illinois
#17 Gerrit Nijenhuis, Oklahoma
HM Caleb Fish, Michigan State
Tracy Hubbard, Central Michigan
Nate Urry, Cleveland State
Jordan Slivka, Ohio
Caleb Fish, Michigan State
Cameron Haddock, Utah Valley
The Favorites
There are two clear favorites at 165 in returning All-Americans Cam Amine and Carson Kharchla. The two have split in their head-to-head matches with Kharchla winning back in 2019 but Amine winning in overtime last year at the Big 10 tournament. After a slow start to the year, Amine turned it on at the end with a 3rd place finish at Big 10s and a 4th place finish at NCAAs. Kharchla will be looking for revenge and their potential final could be the match of the tournament.
The Contenders
Izzak Olejnik, Dan Braunagel, Gerrit Nijenhuis, Caleb Fish, and Bryce Hepner represent a group of wrestlers looking to break into the top tier of an insanely deep 165-pound field. This group of wrestlers have all proven to be contenders but have yet to secure significant victories to challenge the top tier of this weight. Of that bunch, Bryce Hepner stands out after defeating Carson Kharchla in their wrestle-off and will be very interesting to watch in East Lansing.
Predictions: 1) Carson Kharchla, 2) Cam Amine, 3) Izzak Olejnik, 4) Dan Braunagel
174 Pounds
Projected 174 Competitors:
#6 Ethan Smith, Ohio State
#7 Demetrius Romero, Utah Valley
Alex Cramer, Central Michigan
Carson Smith, Cleveland State
Edmond Ruth, Illinois
DJ Shannon, Michigan State
Max Maylor, Michigan
Hayden Pummel, Northern Illinois
Sal Perrine, Ohio
Grayden Penner, Oklahoma
The Favorites
Two 165-pound 2021 All-Americans represent the favorites in this field - Ethan Smith and Demetrius Romero. Last year, Smith fell just short of All-American honors when he lost in overtime to Dustin Plott in the round of 12. Romero only wrestled 2 matches last year before falling to injury and taking a medical redshirt. Smith and Romero have never wrestled in their college careers but if they meet in the finals, it should be a great match between these two All-American contenders.
The Contenders
After the two veterans, we could see two young contenders at 174 in Edmond Ruth and James Rowley. Ruth will man the 174-pound starting spot for Illinois after going 8-0 and winning two Open tournaments last year. In those competitions, Ruth had wins over national qualifiers Nick Incontrera and Mason Kauffman proving he'll be a force at 174 this year.
Predictions: 1) Ethan Smith, 2) Demetrius Romero, 3) Edmond Ruth, 4) Sal Perrine
184 Pounds
Projected 184 Competitors:
#4 Kaleb Romero, Ohio State
#13 Matt Finesilver, Michigan
#18 Layne Malczewski, Michigan State
HM Jacob Armstrong, Utah Valley
HM DeAndre Nassar, Cleveland State
Ben Cushman, Central Michigan
Dylan Connell, Illinois
Jake Evans, Northern Illinois
Luke Geog, Ohio State
Grayden Penner/Tate Picklo, Oklahoma
Jacob Armstrong, Utah Valley
The Favorite
184 is one of the deepest weights in the entire tournament with 6 total wrestlers ranked in the top 33. Despite that depth, there is a clear favorite - Kaleb Romero. He is the returning 6th-place finisher at the NCAA tournament and comes into this season ranked #4 in the country. Romero seems like an All-American lock and will be one of the dark horses this season to challenge Aaron Brooks for an NCAA title.
The Contenders
Of the four other ranked wrestlers, Matt Finesilver seems the most likely to challenge Romero. Finesilver is finishing his career at Michigan at 184 pounds after spending his first 5 seasons at Duke at 174. During those years at Duke, Finesilver qualified for the NCAA tournament three times and had a ton of quality wins. He's sure to be a threat to All-American in his final season for the Wolverines.
Freshman To Watch
Luke Geog is entering his redshirt year as a key member of Ohio State's top-ranked recruiting class. He'll look to take over the 184-pound spot after Romero graduates and the competition in this field could tell us a lot about what we should expect from him. If Geog is able to take out someone like Malczewski, Finesilver, or Moore, then we should expect him to be ready to make a significant impact right away for the Buckeyes next season.
Predictions: 1) Kaleb Romero, 2) Matt Finesilver, 3) DeAndre Nassar, 4) Tate Picklp
197 Pounds
Projected 197 Competitors:
#8 Gavin Hoffman, Ohio State
#12 Cam Caffey, Michigan State
#14 (at 184) Keegan Moore, Oklahoma
#16 Zach Braunagel, Illinois
HM Evan Bockman, Utah Valley
Cade Dallwitz/Cameron Wood, Central Michigan
Anthony Perrine, Cleveland State
Bobby Striggow, Michigan
Colin Jagielski, Northern Illinois
Carson Brewer, Ohio
The Favorites
197 is one of the more balanced weights at the MSU Open with 2 clear favorites in Gavin Hoffman and Cam Caffey. After a somewhat slow start to last year, Hoffman finished strong by taking 6th place at the NCAA tournament from the #21 seed. Caffey had his highs during the regular season with wins over All-Americans Gavin Hoffman, Greg Bulsak, and Max Dean. However, he fell short at NCAAs going just 2-2 after earning the #9 seed.
The Contenders
Look for Caffey and Hoffman to be challenged by Zach Braunagel, Keegan Moore, and Evan Bockman. Braunagel is moving up from 184 pounds after putting together the best season of his college career while finishing just 1 win shy of All-American honors. On top of that finish at NCAAs, Braunagel had regular season wins over All-Americans Kaleb Romero, Taylor Venz, and Britt Wilson. Braunagel should be able to make some noise up a weight this season.
Keegan Moore finished in the round of 16 last year at the NCAA tournament and had notable wins during the season over Dakota Geer (2 times), Tate Samuelson, and Layne Malczewski.
Evan Bockman was a national qualifier for the first time last season but went 0-2 at the "big show". Throughout the year, Bockman never had a win over an All-American but had close losses to Cam Caffey, AJ Ferrari, and Rocky Elam. If Bockman is able to make minor improvements this year, expect him to secure some upsets throughout the season and move up the ranks at 197 pounds.
Predictions: 1) Cam Caffey, 2) Gavin Hoffman, 3) Zach Braunagel, 4) Keegan Moore
285 Pounds
Projected 285 Competitors:
#3 Mason Parris, Michigan
#8 Tate Orndorff, Ohio State
#15 Josh Heindselman, Oklahoma
#23 Matt Wroblewski, Illinois
Bryan Caves, Central Michigan
Daniel Bucknavich, Cleveland State
Ryan Vasbinder, Michigan State
Terrese Aaron, Northern Illinois
Jordan Greer, Ohio
Jayden Woodruff, Utah Valley
The Favorite
Mason Parris is heading into his final year as a Michigan Wolverine as one of the best seniors in the country who haven't yet won an NCAA title. He was second to Gable Steveson in 2021 but took a slight step backward last year, finishing in 5th place. Look for Parris to dominate to a title at the MSU Open based on his past bonus point wins over Orndorff (1 major, 1 tech, 1 pin).
The Contender
While Tate Orndorff is a huge underdog to Parris, he's a big favorite against everyone else in the field. Orndorff was an All-American in 2021 and finished in the round of 12 last season. Orndorff only lost to All-Americans last season and there's no one in this field who has proven to be on his level (outside of Parris of course).
Predictions: 1) Mason Parris, 2) Tate Orndorff, 3) Josh Heindselman, 4) Matt Wroblewski
Mason Parris' win over Tate Orndorff from the 2021 season: