2022 NWCA All-Star Classic
Anthony Cassioppi vs Greg Kerkvliet All Star Classic Preview
Anthony Cassioppi vs Greg Kerkvliet All Star Classic Preview
A preview of the match between Tony Cassioppi and Greg Kerkvliet at the 2022 NWCA All-Star Classic on November 22.
Oct 3, 2022
by Jon Kozak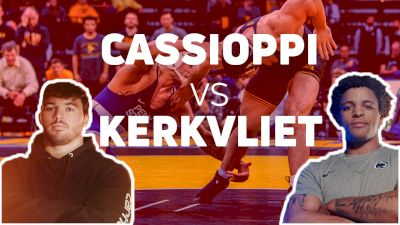 Anthony Cassioppi and Greg Kerkvliet will meet on November 22 at the NWCA All-Star Classic presented by Cliff Keen in a battle of 2, NCAA title contenders. These heavyweight giants have a storied rivalry on the mat which foreshadows what should be an outstanding bout when they square off in Austin, Texas. Check out a full preview for the upcoming match below.
Before we look at the matchup, take a look at a snapshot of both Anthony Cassioppi and Greg Kerkvliet's college careers. Below you'll see their college records, finishes at NCAAs, and a hitlist of their wins over past All-Americans.
Quick Stats:
52-10 career college record
2-time All American - 7th in 2022, 3rd in 2021
2021 U23 world champion
Cassioippi's college hitlist:
Greg Kerkvliet (3X)
Christian Lance (4X)
Jordan Wood
Trent Hillger (7X)
Tate Orndorff (4X)
Lucas Davison
Matt Stencel (2X)
Cohlton Schultz (2X)
Quick Stats:
32-7 career college record
2-time All-American - 4th in 2022, 7th in 2021
2018 U17 world silver medalist
2017 U17 world champion
Kerkvliet's college hitlist:
Mason Parris (3X)
Christian Lance (4X)
Lucas Davison
Tate Orndorff (3X)
Jordan Wood
Trent Hillger
Match History
Greg Kerkvliet and Anthony Cassioppi have met 3 times in the past two seasons with Cassioppi coming out on top each time. The two first met in the 3rd place match at the 2021 Big 10 tournament where Cassioppi controlled the match from the start to earn a 9-0 major decision. Then last season, Cassioppi and Kerkvliet met in January during the Penn State - Iowa dual and again in the semi-finals at the Big Ten Tournament. Though Kerkvliet narrowed the margin, Cassioppi cruised to a 7-2 decision in their match at the dual.
Things were much different at the 2022 Big 10 tournament where Kerkvliet held a 4-2 lead and was on top nearing the end of the match. In the midst of a scramble, Cassioppi secured a reversal with just 5 seconds left to send the bout into overtime. Then, Cassioppi secured a quick takedown in the extra frame to edge out Kerkvliet for the third straight match...this time by the skin of his teeth.
Check out a quick summary of the Cassioppi-Kerkvliet match history below:
March 6, 2021 - Cassioppi major dec. Kerkvliet, 9-0
January 28, 2022 - Cassioppi dec. Kerkvliet, 7-2
March 5, 2022 - Cassioppi dec. Kerkvliet, 6-4 SV-1
Check out their wild Big 10 match at 2:24:33
What To Expect At The All-Star Classic
Will Kerkvliet finally turn the tide on Cassioppi at the All-Star Classic or will Cassioppi move to 4-0 against his Nittany Lion rival? There's a case to be made for either option. Kerkvliet has gotten closer every bout and was only 5 seconds away from a victory in their last match. It feels inevitable that Kerkvliet will eventually come out on top. On the other hand, Cassioppi has proven to have the upper hand in the rivalry and, even though their last bout was close, he found a way to win. At the All-Star Classic, we should expect a close battle, similar to their last match at the Big 10 tournament with the potential for the bout to be decided in the final seconds.