2022-2023 Early NCAA Lineup Looks
Early Line-up Look: Stanford Cardinal
Early Line-up Look: Stanford Cardinal
A complete breakdown of the Stanford Cardinal for the upcoming 2022-23 NCAA season.
Sep 27, 2022
by Kyle Klingman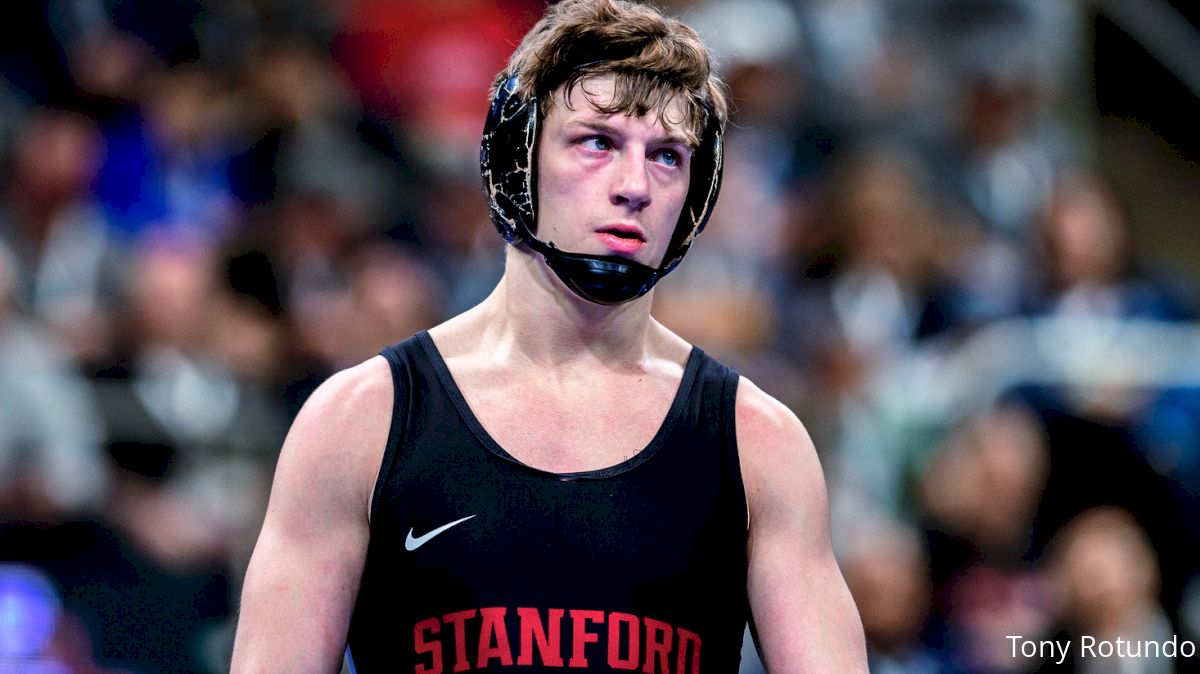 Overview
Head coach: Rob Koll (second season)
Assistants: Enock Francois, Grant Leeth, Ryan Deakin
2022 NCAA tournament finish: 19th
2022 NCAA tournament points: 31.5
2022 NCAA tournament record: 10-10
2022 Pac-12 tournament finish: 3rd
2022 dual record: 5-4 (3-2 conference)
Returning national qualifiers: Jackson DiSario, Jaden Abas, Shane Griffth, Tyler Eischens, Nick Stemmet
Returning All-Americans: Jaden Abas, Shane Griffith
Last NCAA champion: Shane Griffith (2021)
Highest NCAA team finish: 11th (2011)
Highest NCAA team finish under Koll: 19th (2022)
Most place winners under Koll: 2 (2022)
Stanford's Projected 2022-23 Line-up
125: Nico Provo, FR
133: Jackson DiSario, JR
141: Jason Miranda, SO
149: Jaden Abas, SO
157: Charlie Darracott, SO
165: Shane Griffith, JR
174: Tyler Eischens, JR
184: Brook Byers, FR
197: Nick Stemmet, SO
285: Peter Ming, SO
Summary
The second season of the Rob Koll era begins after he built Cornell University into a national wrestling power. His success with the Big Red (two runner-up finishes, five team trophies, and 15 top 10 finishes) has many wondering if he can do something similar at Stanford. The program has never tasted a top 10 finish, so that would be a good place to start as Koll builds on the success of returning national champion and two-time finalist Shane Griffith. Stanford has the #5 overall recruiting class so the Cardinal should be on an upward trajectory. The program was nearly dropped after the 2021 NCAA Championships but the hiring of Koll shows that Stanford is serious about building a successful wrestling team.
125: Nico Provo, FR
Provo will likely be the starter after taking a gap year. The Green Farms Academy (Connecticut) star had a stellar high school career that included two national prep titles and three New England Prep School championships. Time will tell if Provo is ready for the demands of a college season but there is optimism about his potential and his future at Stanford. Wyatt Richter and Suhas Chundi will compete for the spot.
133: Jackson DiSario, JR
2022 record: 19-10
DiSario missed out on the 2022 NCAA Championships after qualifying at 125 pounds each of the previous two years. Last season was highlighted by a third-place finish at the Reno Tournament of Champions following a tough schedule that included losses to Oklahoma State's Daton Fix and Cornell's Vito Arujau. Kyle Rowan will push DiSario after dealing with a series of injuries.
141: Jason Miranda, SO
2022 record: 7-7
Miranda is moving up to 141 pounds after spending the previous two seasons at 133. He competed at the Pac 12 Championships in 2021 and is projected to be the starter this season after sitting behind DiSario last year and replacing Real Woods who transferred to Iowa. Chayse LaJoie will likely redshirt but could see action with new rules that allow freshmen to compete at a handful of early-season varsity competitions.
149: Jaden Abas, SO
2022 record: 19-9
2022 NCAA tournament record: 1-2
Abas will be a focal point of the line-up as Stanford continues to make gains. He finished seventh at the 2021 NCAA Championships prior to qualifying for the 2022 tournament. That San Diego native has a highly entertaining style and can go with anyone in the loaded 149-pound field. A return to the national podium is crucial as the Cardinal make their way up the national pecking order. Abas has all the tools to make that happen.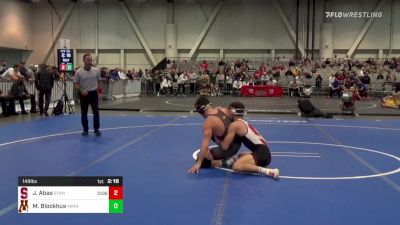 Unlock this video, live events, and more with a subscription!
Get Started
Already a subscriber? Log In
Jaden Abas defeated Michael Blockhus at the 2021 Cliff Keen Las Vegas Invitational
157: Charlie Darracott, SO
2022 record: 18-12
Darracott had a decent year but did not qualify for nationals despite placing third at the Pac-12 Championships. Eight of his losses were by four points or less so there's proof he can be competitive at the weight. Freshman Daniel Cardenas — the overall #23 recruit from 2022 — isn't necessarily behind Darracott but, for now, he will redshirt. The new redshirting rules allow Koll flexibility to see how he performs before deciding which wrestler will start at the end of the season.
165: Shane Griffith, JR
2022 record: 19-5
2022 NCAA tournament record: 4-1 (2nd)
Griffith is the heartbeat of the team after winning the 2021 NCAA Championships and reaching the finals in 2022. His 17.5 points at nationals were over half of the team's 31.5 total — so another deep run is needed for this team to make a climb. His biggest win of last season was an 8-7 NCAA tournament semifinal victory over Cal Poly's Evan Wick — an opponent he lost to three times during the season. This weight got tougher with the addition of Iowa State's David Carr and Princeton's Quincy Monday. True freshman Hunter Garvin (overall #15 recruit) will redshirt but is beefing up to 165 pounds after finishing his high school career at 152.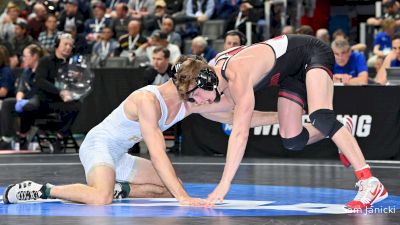 Unlock this video, live events, and more with a subscription!
Get Started
Already a subscriber? Log In
Shane Griffith picked up an 8-7 win in the semifinals of the 2022 NCAA Championships
174: Tyler Eischens, JR
2022 record: 20-12
2022 NCAA tournament record: 1-2
Well, we know that Eischens is capable of putting points on the scoreboard. His 13-12 opening-round win over Ohio State's Ethan Smith at nationals proved that. Eischens dropped his next two, so a couple more wins will help the Cardinal cause. The Anoka, Minnesota, native qualified for the 2020 COVID-cancelled nationals at 157 pounds but will continue to hold down the 174-pound spot for Stanford after winning the Pac-12 Championships.
184: Brook Byers, FR
Nick Addison is the returning starter after posting a 3-7 season record, but a fresh face will likely be in the line-up this year. Freshmen Brook Byers, Jack Darrah, and Luke Duthie will all contend for the spot. Byers is just a guess since this spot is truly up for grabs with no clear favorite.
197: Nick Stemmet, SO
2022 record: 21-12
Stemmet is a returning national qualifier from 2021 but missed out last season. He faced a handful of the top wrestlers in the weight and took big losses to all five. The Yorkville, Illinois, native got bigger, better, and stronger during the off-season and should add stability to the line-up. The team will need him to do big things over the next two seasons as Stanford continues to build.
285: Peter Ming, SO
2022 record: 12-14
Ming added 30 pounds over the off-season so Koll is expecting that to translate into more victories in 2023. That will be a tough task in the loaded heavyweight field — especially with Arizona State's Cohlton Schultz in the conference. Qualifying for nationals would be a big step for the Cardinal sophomore.
Where Will The Cardinal Place At NCAAs?
It feels like Stanford is a year away from making a breakthrough. Griffith and Abas provide stability and point potential at the NCAA Championships but there are too many unknowns to accurately predict where this team will finish. Provo should be a solid addition to the team and there are quality options at 184 pounds. Much depends on who will redshirt and who will be in the line-up for post-season tournaments. Koll has talent but some of it might be on display next season. Another top 20 finish in 2023 will keep the Cardinal on pace for a potential top 10 finish in the future.