2022-2023 Early NCAA Lineup Looks
Early Line-up Look: North Carolina Tar Heels
Early Line-up Look: North Carolina Tar Heels
A complete breakdown of the North Carolina Tar Heels for the upcoming 2022-23 NCAA season.
Sep 23, 2022
by Kyle Klingman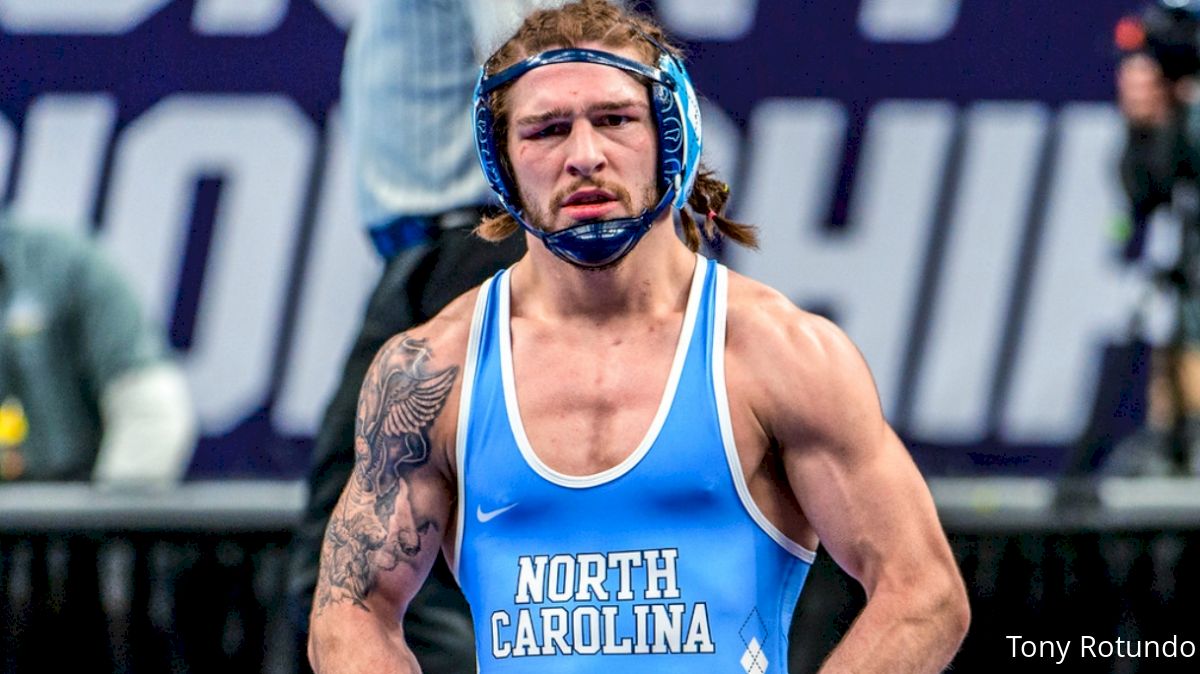 Overview
Head coach: Coleman Scott (7th season)
Assistants: Tony Ramos, Jamill Kelly
2022 NCAA tournament finish: 18th
2022 NCAA tournament points: 32
2022 NCAA tournament record: 15-13
2022 ACC tournament finish: 4th
2022 dual record: 8-6 (3-2)
Returning national qualifiers: Zach Sherman, Austin O'Connor, Clay Lautt, Gavin Kane, Jaime Hernandez, Brandon Whitman, Max Shaw
Returning All-Americans: Zach Sherman, Austin O'Connor, Clay Lautt
Last NCAA champion: Austin O'Connor (2021)
Highest NCAA team finish: 5th (1982)
Highest NCAA team finish under Scott: 16th (2021)
Most place winners under Scott: 3 (2022)
Summary
North Carolina continues to show consistent improvement under Coleman Scott's leadership. Scott brought the Tar Heels their first top 20 finish since 1995 when the team placed 20th in 2018. The 2012 Olympic bronze medalist took over during the 2015-16 season and UNC's national placings of 32, 41, 20, 19, 16, and 18 — in that order — paint a picture of where this program is going. Austin O'Connor's 2021 NCAA title was the first since 1995 and last year's three national place winners were the most since the Tar Heels had four in 1995.
North Carolina wrestles a tough dual schedule, including dates against Michigan, Ohio State, Virginia Tech, Pittsburgh, North Carolina State, and an appearance at the Collegiate Duals. Last year's 8-6 record and a fourth-place finish at the ACC Championships prove that this conference is gaining momentum at the national level. Scott's line-up is still undecided since the team doesn't wrestle live during pre-season training. It could feature up to six seniors but there are several talented underclassmen that will contest for select spots.
"We have some depth with young guys and senior leaders who are doing really well," Scott said. "We're very skill-based. We want to get better at skills. We believe at the end of the day we will be in shape. That's a controllable aspect in wrestling that we can take care of.
"The national tournament is what you have to look at in March and those later duals. What's going to be the difference when there are two equals and both guys are in shape — it's going to be the execution of skills. If you don't drill enough, if you don't do enough, if you don't understand the skill, if you don't put yourself in these hard positions — you'll never know how to execute."
North Carolina's Projected 2022-23 Line-up
125: Jack Wagner
133: Jaime Hernandez (NQ)
141: Lachlan McNeil
149: Zach Sherman (AA)
157: Austin O'Connor (NC)
165: Joey Mazzara
174: Clay Lautt (AA)
184: Gavin Kane (NQ)
197: Max Shaw (NQ)
285: Brandon Whitman (NQ)


125: Jack Wagner, SR
2022 record: 11-10
North Carolina has a handful of options here and most are young. Spencer Moore wrestled as a true freshman but might redshirt while Cole Hunt and Max Martin enter the program after successful high school careers. Northern Iowa transfer Jack Wagner might be the starter based on experience and need. This is his seventh season after beginning his career at Iowa. Wagner wrestled primarily at 133 so this will be his first time down to 125 after serving as a reserve most of his collegiate career. He wrestled at the 2018 Big 12 Championships and went 0-2.
Scott on 125: "We want to give those guys an opportunity to redshirt and we'll see where we're were at (during the season). We'll be competitive at that weight in the room. Once things pick up in October we'll see where we are."
133: Jaime Hernandez, SR
2022 record: 6-2
Hernandez gets the nod here based on experience. He qualified for the 2020 NCAA Championships with a 16-10 record but the tournament was canceled due to the COVID-19 outbreak. The North Carolina senior is in his sixth year and went 5-1 in duals during the early part of last season. Don't count out redshirt freshmen Caden McCrary and Joey Melendez, though. Both are in the mix to be the starter in March.
Scott on 133: "We have a couple of guys there. Jaime Hernandez has been in the line-up and is coming in for his sixth year. We have a redshirt freshman, Caden McCrary, out of Georgia who is going to push for the spot. He had a good summer and put a lot of work in. He's made some great strides in the room. We also have Joey Melendez coming back off of surgery but Hernandez is the guy with experience here."
141: Lachlan McNeil, FR
2022 record: 6-1
McNeil competed at 65 kilograms for Canada at the recent World Championships. Despite dropping his opening match 5-5, he showed that he can be competitive in one of the deepest weight classes in the world. McNeil hasn't earned any marquee wins in folkstyle yet, but there's anticipation that he could be a star in the line-up for years to come.
Scott on 141: "I'd say Lachlan is probably the leader here right now because of the year he had last year and the summer he's had and the work he's put in. He's going to be hungry. He can't wait to step foot on the mat in that UNC singlet. He's been talking about it all preseason and he's had a busy year with the amount of wrestling he's done since March for Team Canada. He's really made some great strides, he's a great human and we look forward to him coming in there. Danny Nini is really going to push those guys at 141 and 149."
149: Zach Sherman, SR
2022 record: 10-11
2022 NCAA tournament record: 2-2
Don't let Sherman's 10-11 record from last season fool you. All 11 of his losses were to high-caliber opponents after facing many of the best wrestlers in the weight. The Tar Heel senior has qualified for four national tournaments and placed seventh in 2021, but dealt with injuries in 2022. A healthy Zach Sherman will be a factor in the loaded 149-pound class.
Scott on 149: "Zach Sherman is coming off of a couple of surgeries but he's looking great. I don't know if we'll have him at the beginning of the year but we have a guy named Wil Guida who's jumped up a couple of weight classes. We'll have some young guys competing there with the new rule of having them being able to compete five times that first year. Those guys are going to be competing for that spot. Zach is probably the leader for the second half of the year but we'll see. It's a wide-open weight and we'll learn a lot at the beginning of October when we start to scrap it out a little bit."
157: Austin O'Connor, SR
2022 record: 21-3
2022 NCAA tournament record: 4-3 (8th)
O'Connor continues to be the focal point of the program and is the best Tar Heel wrestler of the past 25 years. His 2021 national title was the first in program history since 1995 and he placed third in 2019 and eighth in 2022. Two of his losses from last season don't count since he had to medically forfeit to eighth at the NCAA Championships. A healthy Austin O'Connor will be a favorite to win a second national title this season.
Scott on 157: "Austin had that unfortunate injury with his knee last year but he's coming back off of that and he's looking unbelievably great. His body is rested and his body is healed. I'm super happy with where he is right now. The guy has a chance to be a five-time All-American this year and he's already a national champion. He's a great leader on and off the mat and the guys just sort of feed off of that. He's that guy who is going to work just as hard or harder than anybody. He's going to hold them accountable. You don't have to guess what it takes with him. You can see it and look at it. He's done it. He's been there."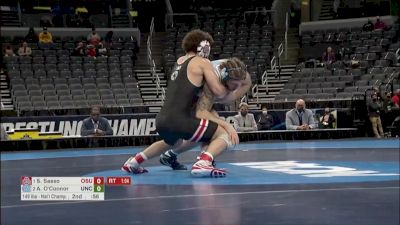 Unlock this video, live events, and more with a subscription!
Get Started
Already a subscriber? Log In
Austin O'Connor won the 2021 NCAA Championships at 149 pounds
165: Joey Mazzara, JR
2022 record: 10-2
This weight is wide open so it's anyone's guess who will end up here. Junior Joey Mazzara gets the nod since he's had starting time and experience. Other than that, anything is possible here. Sonny Santiago started last year but he's more of a 157-pounder so he could still be in the mix. Isaias Estrada and Michael Goldfeder are also options at a spot that is truly up for grabs.
Scott on 165: "We're planning on redshirting some guys this year so we can build for the future. We have some young guys who will make this a competitive weight, day in and day out. The guy who steps up and takes control of the weight class will be the guy that does the most."
174: Clay Lautt, SR
2022 record: 18-8
2022 NCAA tournament record: 3-3 (8th)
Lautt is a returning All-American who continues to develop during his time in Chapel Hill. A 4-15 true freshman campaign turned into a round of 12 finish in 2021 and a podium finish last season after qualifying for the COVID-canceled nationals in 2020. Lautt reached the NCAA quarterfinals before falling, 4-2, to returning national champion Mekhi Lewis of Virginia Tech. The Olathe, Kansas, native can go with virtually everyone in the weight class so his senior leadership and points at the NCAA Championships will be crucial for the Tar Heels this season.
Scott on 174: "Clay is a returning All-American and a guy who has made huge strides. He's stepped up day in and day out. We have young guys who are at 165 and 174 that will be pushing him. Clay is the front runner as we get started and he's coming back to finish up his master's of accounting. We'll see what he can do in his sixth year. He wasn't really satisfied with finishing eighth place."
184: Gavin Kane, SO
2022 record: 16-6
2022 NCAA tournament record: 0-2
Kane had a solid season that was not reflected in his end-of-the-year performance. An 0-2 record at the NCAA Championships as the 14 seed means there's nothing but upside for the Milton, Georgia, native. He picked up two wins over returning All-American Hunter Bolen of Virginia Tech last season so there's proof that he has podium potential this season.
Scott on 184: "Gavin Kane stepped up and had a really good year. He had some nerves and the Big Show got the best of him at the national tournament. We didn't see his best at the end of the year. He's a guy that's hungry. We have him for three or four more years and he's better than where he was seeded last year. It'll be fun to watch him. Blah Dahnweih might be stepping in and pushing Gavin."
197: Max Shaw, SO
2022 record: 11-10
Shaw missed making the 2022 NCAA Championships after reaching the tournament in 2021 and winning a match. Making the national tournament again and scoring a few points could make a big difference as North Carolina continues to trend upward. Redshirt freshman Cade Lautt will be a factor at this weight, as well.
Scott on 197: "Max Shaw has been the guy the last couple of years. It will take someone special to knock him off. We have a couple of guys in there in the room. As of today, Max is the front runner. Cade Lautt will be pushing him. (Cade is) one of those tweeners in the sense of being a 220-pounder but not being quite big enough for heavyweight. It'll be between him and Cade. If Cade has the same trajectory as his brother then he's going to be hard to beat. It's a competitive weight every day."
285: Brandon Whitman, SR
2022 record: 13-14
Whitman qualified for the NCAA Championships but that was back in 2019 when he was a freshman 197-pounder. This is his opportunity to close out his career with another appearance at nationals, but a win will be hard to come by in the deep and talented heavyweight field. Redshirt freshman Aydin Guttridge is also an option but Whitman's experience makes him the early-season pick.
Scott on 285: "Brandon Whitman has been with us for the last couple of years. We have Aydin Guttridge, too — and Aydin will be pushing him. Brandon probably has the nod today because he's been starting for four years but he needs to be pushed."
Where Will The Tar Heels Place At NCAAs?
Predicting where UNC will place at nationals is difficult since the team hasn't wrestled live in practice yet. Austin O'Connor is a returning national champion who could reach the summit again — and that's a solid place for the Tar Heels to start. Sherman and Lautt reaching the podium again will factor heavily into the team's success, and McNeil's ability to stay resilient through a demanding college season will, too. Kane and Shaw picking up wins will also help. Scott could have his best season, which would be a top 15 finish or better. The team has placed between 16 and 20 during the past four tournaments so it's reasonable to expect that this will be the bottom end of where North Carolina will finish in 2023.