Can Luke Stanich Dethrone No. 1 Jax Forrest This Weekend At Elite 8 Duals?
Can Luke Stanich Dethrone No. 1 Jax Forrest This Weekend At Elite 8 Duals?
Jax Forrest and Luke Stanich will likely collide on day 1 of the Elite 8 duals in Atlanta, GA. Mike Mal breaks down the keys to victory for each athlete.
Sep 21, 2022
by Michael Malinconico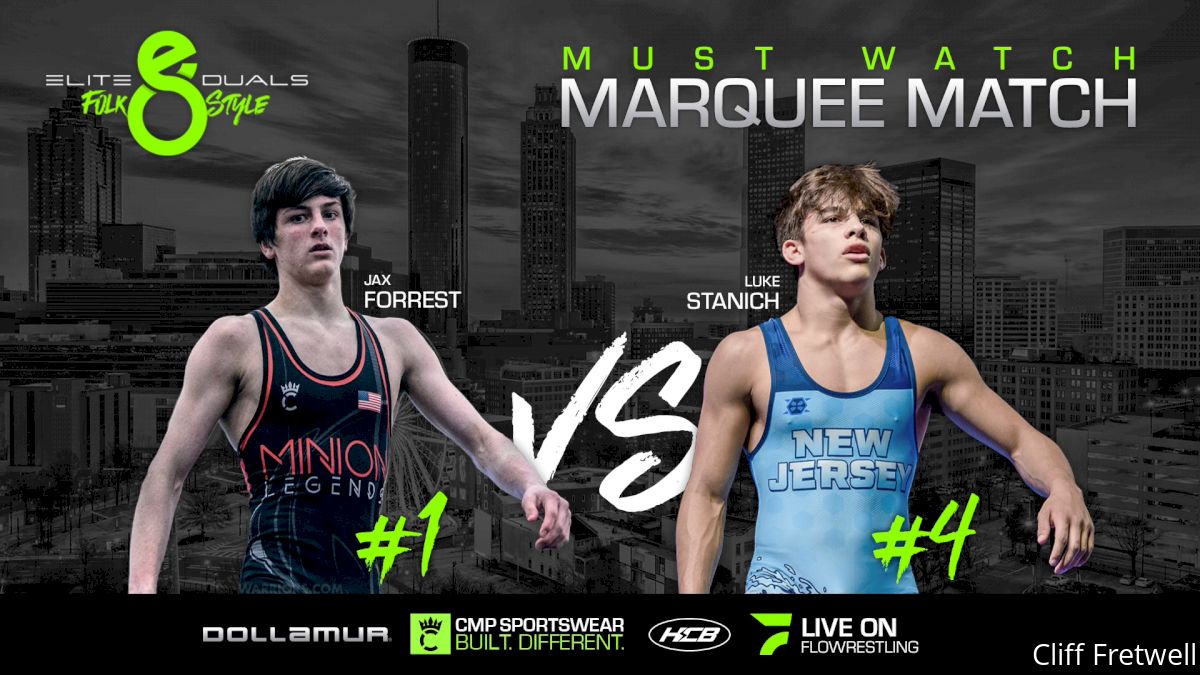 What is the greatest high school wrestling event in this country every year? Fargo? U17 World Team Trials? Super 32? You wouldn't be wrong if you answer with any one of those events, but even in its infancy, the Elite 8 duals can boast a higher concentration of talent than any other high school events on the calendar.
The thing that makes the Elite 8 Duals so interesting is the fact that so many ranked athletes will wrestle each other in such a short period of time. Let's use the matchup between Jax Forest and Luke Stanich as an example. If those two were in the same bracket at Super 32 they would have over 100 other wrestlers in their bracket and by the time they wrestled one another, they will have gone through anywhere between 4 and 6 matches depending on where they were seeded.
While we're on the subject of Forrest vs Stanich let's dig a little deeper into the matchup. Jax Forrest is the buzz right now. He came off a gritty U17 silver medal performance and went straight into Who's Number One where he came away with a solid victory over #2 Nate Jesuroga and retained his number one ranking.
But Elite 8 is where No. 1 rankings go to die.
Last year Nate Jesuroga went to Atlanta with a number one ranking and came away with 2 losses on the weekend. That kind of result is commonplace at this event.
Luke Stanich is looking to make a similar impact on Forrest's ranking this coming weekend, and he won't have to wait long to do it. The two should meet up on day one of the Elite 8 Duals as Team Dynasty takes on Team Carnage.
Elbows Make It Easy
Folkstyle season is upon us, and one thing that means to high school-aged athletes is that takedowns are a little harder to secure. Folkstyle wrestling allows for more risk-taking from the defensive athlete because they don't have to worry about exposing their back. That said, any time someone can get away with an effortless takedown in Folkstyle it should be encouraged.
Slide-bys are about as easy a takedown in folkstyle as you can get for two reasons. First, and most importantly, slide-bys are low-risk and high-reward. Second, as soon as your opponent's hand hits the mat it's 2 points, whereas in freestyle you need to break them down to an elbow, knee, or to their head.
Check out Jax Forrest's elbow control slide-by. It's Fast, it's clean, and it's effortless. If he can find his way on top of Stanich this easily, it's going to be a long day for Luke.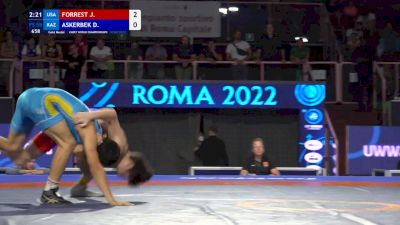 Stanich Should Stand Him Up
Ernie Monaco and The Edge School of Wrestling have been around longer than any other club in the country. In the early days of The Edge, they found a ton of success by implementing techniques that Ernie picked up by watching the Russians, more specifically, a 2-on-1. While many things in wrestling have changed since 1984, many things, like a good 2-on-1 tie, will never go out of fashion.
Keeping true to Edge-Style Luke Stanich has a number of different ways that he can score from that 2-on-1. His loss to Mason Gibson on the big stage in Fargo came down to the wire, but check out the takedown below. If Stanich wants to knock off Forrest he'll have to get him out of his stance with that 2-on-1 and keep him there as often as possible.