2022-2023 Early NCAA Lineup Looks
Early Line-up Look: Virginia Tech Hokies
Early Line-up Look: Virginia Tech Hokies
A complete breakdown of the Virginia Tech Hokies for the upcoming 2022-23 NCAA season.
Sep 13, 2022
by Kyle Klingman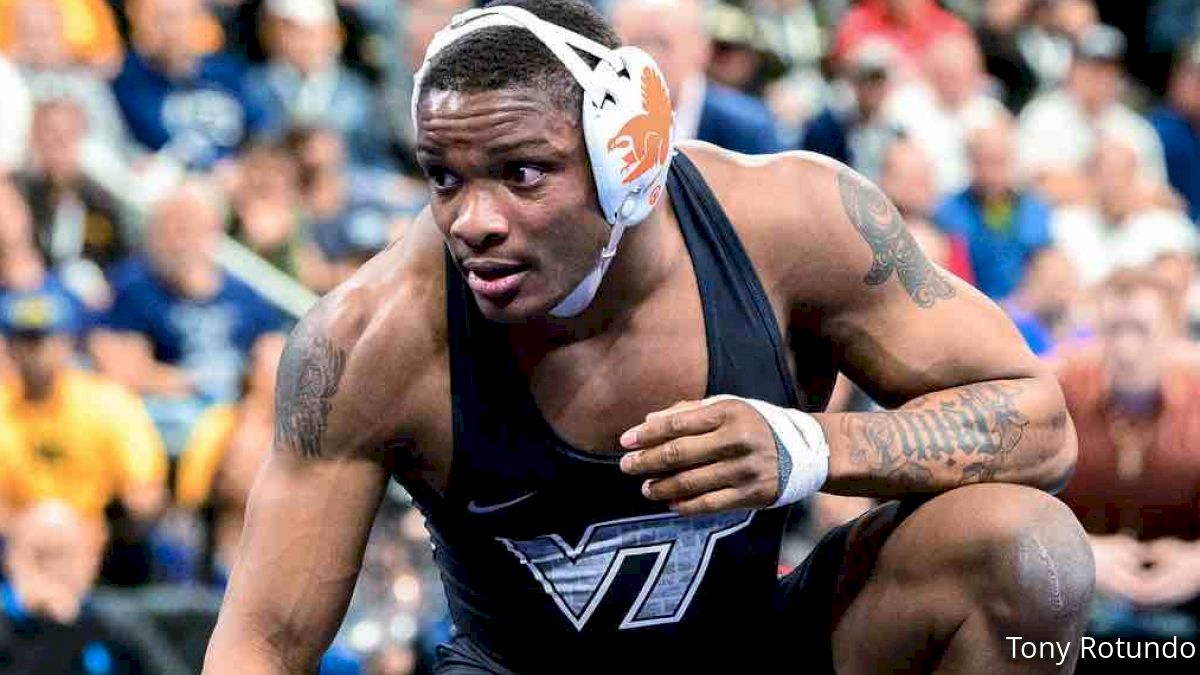 Overview
Head coach: Tony Robie
Assistants: Jared Frayer, Cody Brewer, Jared Haught
2022 NCAA tournament finish: 8th
2022 NCAA tournament points: 52.5
2022 NCAA tournament record: 19-15
2022 ACC tournament finish: 2nd
2022 dual record: 9-4 (4-1 conference)
Returning national qualifiers: 9 (Sam Latona, Collin Gerardi, Bryce Andonian, Connor Brady, Mekhi Lewis, Hunter Bolen, Hunter Catka, Drew Nicholson, Dakota Howard)
Returning All-Americans: 4 (Sam Latona, Bryce Andonian, Mekhi Lewis, Hunter Bolen)
Last NCAA champion: Mekhi Lewis (2019)
Highest NCAA team finish: 4th (2016)
Highest NCAA team finish under Robie: 6th (2017)
Most place winners under Robie: 5 (2017)
Summary
Virginia Tech shows no signs of slowing down after placing in the top 10 during seven of the past 10 contested NCAA Championships. The Hokies return nine national qualifiers and four national place winners with 2019 NCAA champion Mekhi Lewis leading the way. Robie will lean on a mix of seasoned veterans and promising freshmen this season. Don't expect some of the older wrestlers to be in the line-up for every dual or tournament.
The 2022-23 schedule will test this team from start to finish. Virginia Tech has duals with Ohio State, Missouri, Stanford, and Cornell before facing a tough ACC slate. The Hokies lost to conference rival North Carolina State, 21-10, in a dual and placed second to the Wolf Pack at the ACC Championships before outpacing their rival at nationals thanks to three All-Americans and six bonus point wins.
"We have four All-Americans coming back and I think that's happened for us only a couple of times since I've been at Virginia Tech," Robie said. "We have some young guys stepping in that can be really good with Caleb Henson being one of those guys. We have to put the pieces together and stay healthy and hopefully do our best wrestling at the end of the year. If we do, I feel good about how we can finish. Our schedule is no joke. We'll be battle-tested."
Virginia Tech's Projected 2022-23 Line-up
125: Eddie Ventresca
133: Sam Latona (AA)
141: Collin Gerardi (NQ)
149: Caleb Henson
157: Bryce Andonian (AA)
165: Connor Brady (NQ)
174: Mekhi Lewis (NC)
184: Hunter Bolen (AA)
197: Dakota Howard (NQ)
285: Hunter Catka (NQ)
125: Edde Ventresca, FR
2022 record: 15-6
Ventresca had a solid redshirt season but don't think for a second that he has this weight locked down. He defeated teammate Cooper Flynn twice last year by 2-1 scores so this weight is a toss-up. Ventresca wrestled in four tournaments and his biggest win was a 5-3 victory against Cornell's Greg Diakomihalis, who also defeated him by the same score at the same tournament. This weight was vacated by Sam Latona who is moving up to 133.
Robie on 125: "We've got two guys coming off of a redshirt year. They're both redshirt freshmen: Cooper Flynn and Eddie Ventresca. Those guys will fight it out at 125 and we'll see what happens. They're both going to be really good. My guess is we'll give them both opportunities to compete and see who's better in competition. If one guy is better in head-to-head competition then that obviously matters, too."
133: Sam Latona, SO
2022 record: 14-9
2022 NCAA tournament record: 2-2 (R12)
Latona won his first two matches at nationals to reach the quarterfinals before losing his next two. He placed sixth at the NCAA Championships in 2021 so this is a weight where Virginia Tech would like to score placement points in 2023. The Alabaster, Alabama, native faced many of the best wrestlers at 125 last season — taking a surprising loss or two along the way. Moving up in weight is a real opportunity to help the team make a push to the next tier.
Robie on 133: "I don't think there's a lot of competition for him here (for the spot)."
141: Collin Gerardi, JR
2022 record: 12-11
2022 NCAA tournament record: 0-2
Gerardi went 0-2 at the 2022 NCAA Championships after qualifying for the 2020 COVID tournament that was canceled. He is a solid spot in the line-up who doesn't give up bad losses. All 11 of his setbacks were by decision, so he can conceivably be in most matches this year. Winning a few more matches during the season and picking up a point or two at nationals could make all the difference for this team's final landing spot.
Robie on 141: "We have a couple of young kids. We have a guy named Tom Crook out of Florida who is a true freshman and is pretty solid. I would think Collin is going to be the guy again."
149: Caleb Henson, TFR
It's hard to know what a true freshman will do, but Henson appears to be as advertised. There are 11 returning All-Americans at this weight so the climb is steep. We'll find out early if he's up to the task.
Robie on 149: "This weight will likely be Caleb Henson who is a true freshman out of Georgia. He won Super 32, Fargo, and Who's Number One. He was the number one ranked wrestler in the country for most of his senior year who I think is really good."
157: Bryce Andonian
2022 record: 13-4
2022 NCAA tournament record: 5-1 (3rd)
Andonian has incrementally improved every season, which is good news for Virginia Tech. He qualified for the 2020 NCAA tournament that was canceled, reached the round of 12 in 2021, and placed third in 2022. This weight appears to be up for grabs with Iowa State's David Carr and Princeton's Quincy Monday moving up to 165. Andonian is a key piece of the line-up and his success throughout the season will determine if the Hokies leave Tulsa with hardware.
Robie on 157: "The plan is for Andonian to move up to 157 from 149. We also have a kid named Clayton Ulrey there who is moving down from 165 to 157 and could see some time or he could possibly redshirt. We're not sure what that's going to look like exactly."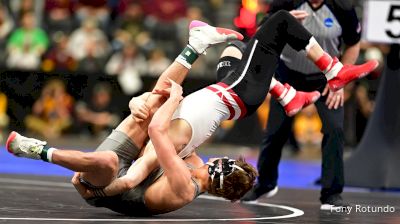 Unlock this video, live events, and more with a subscription!
Get Started
Already a subscriber? Log In
Bryce Andonian won by fall in the quarterfinals of the 2022 NCAA Championships
165: Connor Brady
2022 record: 13-11
2022 NCAA tournament record: 1-2
Other than a 25-10 loss to returning NCAA champion Austin O'Connor of North Carolina, Brady is a solid spot in the line-up. He won a match at nationals over former prep star Chase Saldate of Michigan State and has a chance to chip in with a few more points this year — if he makes the team. Drew Nicholson transferred from Tennessee-Chattanooga and will challenge for the spot.
Robie on 165: "Connor Brady is moving up to 165 from 157. We also have a transfer who is also a national qualifier named Drew Nicholson from Tennessee-Chattanooga. Those guys will compete for that spot."
174: Mekhi Lewis, JR
2022 record: 24-2
2022 NCAA tournament record: 4-1 (2nd)
Lewis will be the focal point of the line-up after winning an NCAA title at 165 pounds in 2019 and reaching the finals at 174 pounds in 2022. His semifinal fall at nationals over Michigan's Logan Massa was a highlight moment of the season. He eventually fell to Penn State's Carter Starocci in tiebreakers in one of the best matches of the season. This team goes where Lewis goes — and there's every reason to believe he will be on the raised stage in Tulsa.
Robie on 174: "We're probably not going to wrestle Mekhi all the time. Mekhi is in his sixth year and has another year next year if he wants it. He doesn't need to grind like the young guys do. That's something you have to take into consideration with that extra year since it's a lot of miles."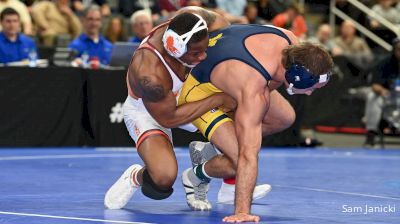 Unlock this video, live events, and more with a subscription!
Get Started
Already a subscriber? Log In
Mekhi Lewis secured a fall during his semifinal match at the 2022 NCAA Championships
184: Hunter Bolen, SR
2022 record: 23-7
2022 NCAA tournament record: 1-2
Bolen will ultimately determine where this team places at nationals. The Christiansburg, Virginia, native has qualified for the NCAA Championships three times and placed seventh in 2021 after a 24-2 season the year before. He consistently proves that he can go with most in the weight class but putting it all together for his senior season is key. A solid, consistent Hunter Bolen makes this team formidable when he's inserted into the line-up this season.
Robie on 184: "We have a kid named Sam Fisher at 184 who will add some depth for us there."
197: Dakota Howard, JR
2022 record: 13-10
Howard missed out on nationals after qualifying at 174 pounds in 2021. This is a toss-up weight with sophomore Andy Smith capable of making the team after a 9-4 freshman campaign.
Robie on 197: "Dakota Howard and Andy Smith are both really solid. It's the same situation as 125. It's always a one-point match one way or the other with these two."
285: Hunter Catka
2022 record: 10-6
Surviving is the name of the game in the deep and talented heavyweight division — especially if Minnesota's Gable Steveson returns. Virginia Tech has a quality wrestler here, but reaching the podium will be a tall task. Catka went 10-6 during his redshirt season after qualifying for nationals as a true freshman. Let's see how much he's improved. A win or two at nationals will help the Hokies.
Robie on 285: "I think Hunter has made a lot of progress in the off-season."
Where Will The Hokies Place At NCAAs?
This is a solid top 10 team since Mekhi Lewis and Bryce Andonian can make deep runs and score lots of points. Earning a trophy (given to the top four teams) is a long shot but it's not out of the realm of possibilities. Getting there will take Latona and Bolen to reach the podium again plus an additional placer or two.
The Hokies were 14 points away from fourth place in 2022 so it will take a balanced team effort. This team has potential, but some of it is unproven with fresh faces and proven wrestlers at new weights. Expect this team to place between seventh and 10th at the end of the year with the possibility of a magical trophy run.