2022-2023 Early NCAA Lineup Looks
Early Lineup Look: 2022-23 Illinois Fighting Illini
Early Lineup Look: 2022-23 Illinois Fighting Illini
A complete breakdown of the Illinois Fighting Illini for the upcoming 2022-23 NCAA season.
Aug 26, 2022
by Kyle Klingman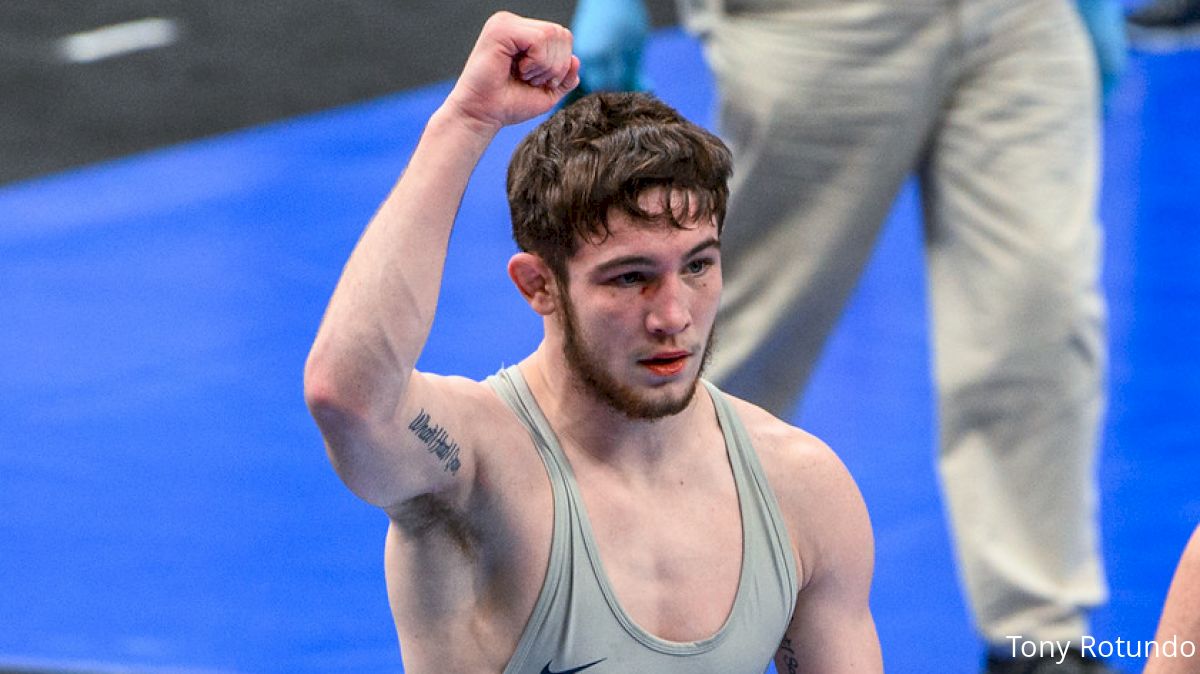 Overview
Head coach: Michael Poeta (2nd season)
Assistants: Ed Ruth, Jeremy Hunter, Isaiah Martinez, Bryan Medlin
2022 NCAA tournament finish: T-25th
2022 NCAA tournament record: 9-8
2022 NCAA tournament points: 17.5
2022 B10 tournament finish: 11th
2022 dual record: 3-7 (1-7 in B10)
Returning national qualifiers: 5 (Justin Cardani, Lucas Byrd, Danny Braunagel, Zac Braunagel, Luke Luffman)
Returning All-Americans: 1 (Lucas Byrd, 5th in 2021 and 2022)
Last NCAA champion: Isaiah Martinez (2016)
Highest NCAA team finish: 2nd (1930, 1938)
Highest NCAA team finish under Poeta: 25th
Most All-Americans under Poeta: 1 (2022)
Summary
Illinois is coming off of a season that was highlighted by the accomplishments of Lucas Byrd at the NCAA Championships. The Fighting Illini haven't had a superstar since Isaiah Martinez graduated in 2018, but he is back as an assistant so a storyline throughout the season will be his contributions.
Poeta enters his second season as head coach with an improved team but this is still a program in the midst of a rebuild, which could mean another three to five years before Illinois contends nationally. Making gains in the B10 isn't impossible but it's difficult if you don't have the right personnel. Slow and steady should be the formula here for Illinois. A few more dual wins, moving up a spot or two at the B10 Championships and five spots at the NCAA Championships show progress. Illinois should focus on incremental growth this season.
Projected 2022-23 Starting Lineup
125: Justin Cardani, JR (NQ)
133: Lucas Byrd, SO (AA)
141: Danny Pucino, SO
149: Kevon Davenport, SO
157: Joe Roberts, SO
165: Danny Braunagel, JR (NQ)
174: Edmond Ruth, SO
184: Dylan Connell, FR
197: Zac Braunagel, JR (R12)
285: Matt Wroblewski, SR/Luke Luffman, JR (NQ)
Justin Cardani, JR
2022 record: 12-11
2022 NCAA tournament record: 0-2
Cardani will have competition after qualifying for nationals twice and starting for three seasons. He won nine of his first 11 matches last year but lost nine of his last 12 and went 0-2 at the NCAA Championships. Cardani can be a threat if he gets to his offense. He only lost one match by major decision and seven of his 11 losses were by three points or less, including five matches where he was shut out. This is an important weight for Illinois as they continue to make progress at the national level.
Poeta on 125: "Cardani has been a staple for us the past three years. I think this is the first time where I think he's going to be challenged. I think the spot is open and I think it's between him and Maximo Renteria. Maximo has shown us signs that he can be an All-American and that's the thing that Cardani also has at times."
133: Lucas Byrd, SO (AA)
2022 record: 27-5
2022 NCAA tournament record: 6-2 (5th)
Byrd is the only returning All-American and he will continue to be the centerpiece of Poeta's line-up after placing fifth at the NCAA Championships each of the past two seasons. This weight is filled with top talent so the Cincinnati native will have to be at the top of his game this season to move up the podium. Byrd was pinned in the opening round of the 2022 NCAA Championships and wrestled back for fifth, going 6-2 at the tournament. He can pull out wins but scoring bonus points will be the key at nationals. The Illini will fly as high as Byrd decides to go.
Poeta on 133: "Lucas is a clear-cut guy. What he's been for us is really special and he's mentally as tough as anyone I've ever coached. We have high expectations for him this year against whoever he wrestles."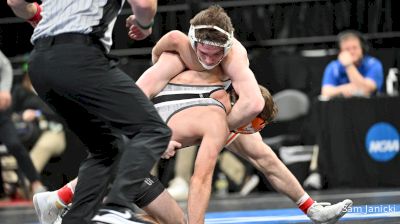 Unlock this video, live events, and more with a subscription!
Get Started
Already a subscriber? Log In
Byrd earned a fall during his fifth-place match at the 2022 NCAA Championships
141: Danny Pucino, SO
2022 record: 10-2
Pucino wrestled at the Lindenwood Open, UNI Open, and Don Parker Invitational last season and dropped two matches, including a 16-0 loss to Oklahoma State's Dusty Hone. We will learn more about Pucino when he gets a full slate of B10 competition.
Poeta on 141: "Danny wrestled for the Italian World team. He has dedicated himself this summer as much as anyone I've ever seen. He's exciting. His gas tank is great. His technique is great. He's fun to watch."
149: Kevon Davenport, SO
2022 record: 4-2
Davenport is the front-runner but this spot is up for grabs with freshman Jake Harrier in contention. Davenport transferred from Nebraska to Illinois last season but he hasn't been the starter yet. He has wins over national qualifiers Cael Carlson (Minnesota) and Henry Pohlmeyer (South Dakota State) but those came back in 2019. Much like 141, we will learn quickly how either Davenport or Harrier can navigate a daunting B10 schedule.
Poeta on 149: "There's going to be a big battle there. That will probably be one of the most up-in-the-air weight classes. Kevon is the front-runner but Jake Harrier is fighting for the spot. He's still a freshman. He's a transfer from Lindenwood. We knew he was a hard-nosed, tough kid and his performance at U23s went past our expectations starting out.
157: Joe Roberts, SO
2022 record: 11-16
Roberts was the starter last year but didn't qualify for nationals after going 1-2 at the B10 Championships. Luke Odom could also contend after a 1-2 season in 2022 and a 2-3 season in 2021.
Poeta on 157: "Joe Roberts and Luke Odom are the two main guys and both are Illinois state champs. I think Odom has been on the national scene longer. His name has been around. Both have great potential and will be guys that can go one way or the other: they can be with the elite or they can stay status quo. If their mindset is in the right place, I have confidence those guys can beat anybody."
165: Danny Braunagel, JR (NQ)
2022 record: 12-9
Braunagel couldn't wrestle at the B10 Championships last year due to a concussion. He stepped on the scale and made weight hoping to get an at-large bid but didn't get the nod after qualifying for the NCAA Championships each of the past two seasons. Poeta is counting on Braunagel to make strides as Illinois works its way up the national pecking order. Scoring a few points team points at nationals is crucial for the Fighting Illini to move into the top 20.
Poeta on 165: "I think the way his season ended has fueled him over the summer. He didn't just work hard, he was very strategic. He planned it out and mapped it out. He put himself in the best position to reach his goal this season, which is to be a national champ. It was impressive to see the discipline and sacrifice from him over the summer to make sure he's in the best position this year. He was honest with himself about what was holding him back from consistently winning more matches. I think he attacked that and did a great job over the summer."
174: Edmond Ruth, SO
2022 record: 8-0
Ruth could be a big boost for the program, but don't think he's guaranteed the starting spot. His brother, Ed, was a three-time NCAA champion for Penn State and is the top assistant at Illinois — so expectations are high. Edmond transferred from Lehigh where he had a 17-7 record in 2020 and an 8-0 record last season competing unattached. Hot on his heels are Caden Ernd and Trey Sizemore — a true freshman who was an Illinois state champion.
Poeta on 174: "We have two other tough guys and I'm not going to put Edmond in front of them right now. Edmond has shown that he can wrestle with anybody. Just like his older brother, I think he's a better folkstyler because of how good he is on top. Edmond is someone I have extremely high expectations for. Bringing him on the team was a huge bonus for us.
"Trey Sizemore has been a great part of our program. He's a guy who can pick up some big wins, so he's going to be in the mix and Caden Ernd. He's a coach's dream. He does everything you ask of him. His grades are great. His work ethic is great. He's improving on a pretty high trajectory. Those three are going to be fighting it out. The cool thing about 174 is they've been feeding off of each other."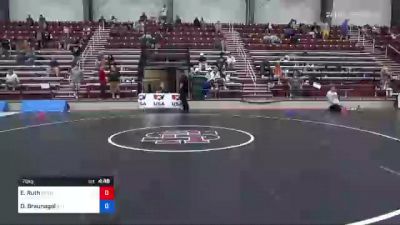 Unlock this video, live events, and more with a subscription!
Get Started
Already a subscriber? Log In
Danny Braunagel and Edmond Ruth faced each other at this year's U23 Nationals
184: Dylan Connell
2022 record: 22-6
197: Zac Braunagel, JR (NQ)
2022 record: 17-9
2022 NCAA tournament record: 2-2 (R12)
These two weights are grouped together since they may flip-flop based on pre-season training and evaluations from the coaching staff. As of today, it looks like Connell will wrestle at 184, and Braunagel — a three-time national qualifier who reached the round of 12 in 2022 — will move up after three seasons at the lower weight.
Braunagel won his first two matches at the NCAA Championships to reach the quarterfinals. He lost his next two matches, including a 3-1 sudden victory setback to Cornell's Jonathan Loew to become an All-American. Connell was busy during his redshirt year, wrestling in seven different open tournaments. He has an opportunity to make an impact this season but, again, this is the B10 so every win will be difficult.
Poeta on 184/197: "I'd say it's Zac Braunagel and Dylan Connell here. We're still trying to figure it out. It's going to be one or the other at either weight. We're going to figure it out sooner than later but right now we don't have a clear guy. They're both big 184-pounders and they're both not the biggest 197-pounders. It would be perfect if they were at 190.
"I'm leaning toward Dylan Connell at 184 and we'll bump Zac to 197. I think Zac Braunagel will do better at 197 just because of his style of wrestling. Every time he's wrestled bigger guys it's gone better for him. He's 2-0 against (former Minnesota NCAA tournament finalist) Brett Pfarr (in freestyle) right now at 202 (pounds). When he's not cutting a lot of weight he's feeling good. He really relies on his gas tank and it pays. I think 197 will be better for him.
"Dylan Connell is so tough and mean on top. I think he's like Edmond where folkstyle fits him way better because they're a blanket on top of you, it's nearly impossible to get away, and he can turn. They have an X-factor that a lot of guys in folkstyle don't have. I'm very confident in him and very excited for him to get out there."
285: Matt Wroblewski, SR
2022 season record: 4-11
285: Luke Luffman, JR (NQ)
2022 season record: 16-12
2022 NCAA tournament record: 1-2
This is the only weight where the starter might be determined by who will redshirt. Luffman — a two-time national qualifier with wins at the NCAA Championships — has that option, which means Wroblewski will fill in a heavyweight after five seasons at 197 pounds. This decision will get made throughout the season since Poeta isn't in a rush to name a starter.
Poeta on 285: "Matt Wroblewski is going to be fighting it out at heavyweight. Luke Luffman might redshirt. I'm figuring out heavyweight right now. I'm playing around with heavyweight right now with someone moving up, someone redshirting. I think at 184-197 we have two such clear-cut guys and they don't have a redshirt. Luffman has a redshirt. Wroblewski spent the summer getting bigger. He got himself up to 235. He's our potential heavyweight."
Where Will The Fighting Illini Finish At The NCAAs?
This team goes where Byrd and the Braunagels go. Byrd has proven he can reach the national podium, and now it's time for the Braunagels to join him. Edmond Ruth has podium potential but that potential won't win gritty and tough matches at the NCAA Championships. A full season in the B10 will offer clues about where he will be at the end of the season — if he's the starter. Poeta indicated that Sizemore and Ernd aren't taking a back seat and that this 174-pound trio will push each other the entire season.
There are still questions about who will be in the line-up so that could have some bearing on where this team will finish. There are a handful of wrestlers who can win matches at the NCAA Championships but staying healthy and surviving are always factors for anyone who runs the gauntlet of a B10 season. Look for this team to move into the 18 to 20 range in 2023 with two All-Americans. An additional place winner is possible if all goes well.