2022 U20 World Championships
Elor Repeats, USA Women Break Team Record With Six U20 Medals
Elor Repeats, USA Women Break Team Record With Six U20 Medals
Highlighted by Amit Elor's third age-group title, the USA U20 women's freestyle World Team collected a record six medals last week in Bulgaria.
Aug 22, 2022
by Derek Levendusky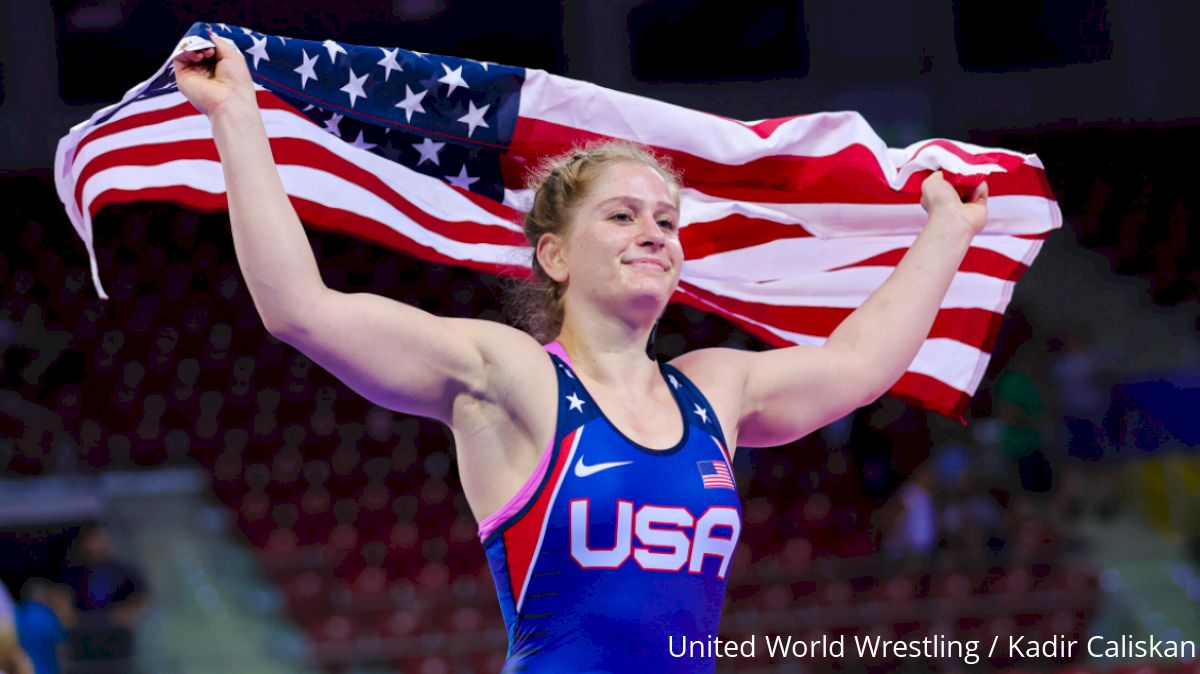 The USA women walked away from the U20 World Championships in Bulgaria with six medals, including a back-to-back world title performance by young star Amit Elor at 72 kg. The medal count included silver medals by Audrey Jimenez (50 kg) and Sofia Macaluso (57 kg); and bronze medals from Katie Gomez (53 kg), Adaugo Nwachukwu (62 kg), and Tristan Kelly (76 kg).
Though the 2022 team didn't win the team race and had fewer gold medals than last year's record team that had four World champions, this year's squad did eclipse last year's total medal count 6-5, setting a team record. Japan, absent last year, ran away with the team title again with 230 points, winning 8 of the 10 weight classes, though Team USA took the bronze spot with 124, behind second-place India with 160.
Elor captured her third age-group World title and second at the U20 level with a win over Kazakhstan's Anastassiya Panassovich in the 72 kg finals. Dominating with her left side underhook, Elor seemingly moved her opponent with ease, controlling the position for all of her points in the 10-0 technical fall. In fact, Elor won each of her matches by fall or technical superiority, just like last year. We've yet to see her ceiling at the World level. As a U.S. Senior World Team member, we'll get to see how she does at the highest level at the Senior World Championships in Serbia next month.
In the 57 kg finals, Macaluso had the lead at the break over Japan's U17 World champion Ruka Natami. It was a tight match until the end, with Natami scoring a late four to win 6-1. But the first-time American World teamer exceeded expectations, even her own, to dominate her way to the finals with three pins before falling to Natami in the finals. She won her quarterfinal with an upset victory over returning U20 World silver medalist Aurora Russo. Macaluso had never previously won an international match.
"I'm feeling like this is all a dream," she told USA Wrestling's Taylor Gregorio after her semifinal. "Being here right now is insane…I surprised myself."
High school junior Audrey Jimenez, after winning bronze last year at U17 Worlds, reached the finals this year, outclassing opponents with two technical falls and a pin before losing to former U17 champion Umi Ito of Japan.
Katie Gomez, Adaugo Nwachukwu, and Tristan Kelly all dominated their bronze matches, with Gomez and Nwachukwu both earning wins by technical superiority while Kelly won by fall. After previously making two age level World teams, this was Kelly's first medal at the World Championships. For returning U17 World champion Gomez, it was her first U20 medal. This was Nwachukwu's first World Team.
U20 WORLD CHAMPIONSHIPS
U.S. Women's Freestyle Results
50 kg – Audrey Jimenez (Tucson, Ariz./Sunkist Kids) – SILVER
WIN Gultakin Shirinova (Azerbaijan), 13-2
WIN Gabija Dilyte (Lithuania), 11-0
WIN Natalia Walczak (Poland), fall 2:48
LOSS Umi Ito (Japan), 10-0
53 kg – Katie Gomez (Van Nuys, Calif./Sunkist Kids) – BRONZE
WIN Emine Cakmak (Turkey), 10-0
LOSS Altyn Shagayeva (Kazakhstan), fall 4:48
WIN Nazife Tair (Bulgaria), 12-2
55 kg – Adriana Dorado Marin (Denver, Colo./Army WCAP) – NINTH
LOSS Roza Szenttamasi (Hungary), 12-2
57 kg – Sofia Macaluso (Otisville, N.Y./Team New York) – SILVER
WIN Sito Sito (India), fall 5:53
WIN Aurora Russo (ITA), fall 2:11
WIN Melda Dernikci (Turkey), fall 2:36
LOSS Ruka Natami (Japan), 6-1
59 kg – SaVannah Cosme (Denver, Colo./Sunkist Kids) – 11TH
LOSS Ebru Dagbasi (Turkey), 1-1
62 kg – Adaugo Nwachukwu (San Jose, Calif./Swamp Monsters WC) – BRONZE
WIN Iris Thiebaux (France), fall 2:56
LOSS Sonam Sonam (India), 5-5
WIN Tynys Dubek (Kazakhstan), 10-0
65 kg – Reese Larramendy (Reno, Nev./Nevada Elite Wrestling/Hawkeye WC) – FIFTH
WIN Zofia Polowczyk (Poland), 12-2
LOSS Mahiro Yoshitake (Japan), 10-0
LOSS Enikoe Elekes (Hungary), 9-2
68 kg – Destiny Rodriguez (West Linn, Ore./All-Phase WC) – 11TH
LOSS Laura Godino (Italy), 12-1
72 kg – Amit Elor (Walnut Creek, Calif./NYC RTC/ Titan Mercury WC) – GOLD
WIN Zaineb Sghaier (Tunisia), fall 1:34
WIN Zsofia Virag (Hungary), 10-0
WIN Reetika (India), 12-1
WIN Anastassiya Panassovich (Kazakhstan), 10-0
76 kg – Tristan Kelly (Erie, Colo./Army WCAP) – BRONZE
WIN Ana Julia Dos Santos (Brazil), 9-0
LOSS Ayano Moro (Japan), fall 4:28
WIN Daniela Tkachuk (Poland), fall 3:58
MEDAL MATCH RESULTS
50 kg
GOLD – Umi ITO (JPN)
SILVER – Audrey Jimenez (USA)
BRONZE – Gultakin SHIRINOVA (AZE)
BRONZE – Priyanshi PRAJAPAT (IND)
53 kg
GOLD - Antim ANTIM (IND)
SILVER - Altyn SHAGAYEVA (KAZ)
BRONZE - Ayaka KIMURA (JPN)
BRONZE - Katie Brianna GOMEZ (USA)
55 kg
GOLD – Moe KIYOOKA (JPN)
SILVER – Albina RILLIA (UKR)
BRONZE – Roza SZENTTAMASI (HUN)
BRONZE – Tuba DEMIR (TUR)
57 kg
GOLD - Ruka NATAMI (JPN)
SILVER - Sofia Kaur MACALUSO (USA)
BRONZE - Oleksandra KHOMENETS (UKR)
BRONZE - Sito SITO (IND)
59 kg
GOLD – Sakura MOTOKI (JPN)
SILVER – Viktoria BORSOS (HUN)
BRONZE – Ebru DAGBASI (TUR)
BRONZE – Madina AMAN (KAZ)
62 kg
GOLD - Nonoka OZAKI (JPN)
SILVER - Sonam SONAM (IND)
BRONZE - Adaugo Diana NWACHUKWU (USA)
BRONZE - Iryna BONDAR (UKR)
65 kg
GOLD - Mahiro YOSHITAKE (JPN)
SILVER - Priyanka PRIYANKA (IND)
BRONZE - Dilnaz SAZANOVA (KGZ)
BRONZE - Khadija JLASSI (TUN)
68 kg
GOLD – Ami ISHII (JPN)
SILVER – Nurzat NURTAEVA (KGZ)
BRONZE – Sophia SCHAEFLE (GER)
BRONZE – Nesrin BAS (TUR)
72 kg
GOLD - Amit ELOR (USA)
SILVER - Anastassiya PANASSOVICH (KAZ)
BRONZE - Sumire NIIKURA (JAP)
BRONZE - Reetika REETIKA (IND)
76 kg
GOLD – Ayano MORO (JPN)
SILVER – Priya PRIYA (IND)
BRONZE – Tristan KELLY (USA)
BRONZE – Veronika NYIKOS (HUN)