2022 Senior World Championships
97kg 2022 World Championship Preview: Snyder vs Mohammadian Rematch Awaits
97kg 2022 World Championship Preview: Snyder vs Mohammadian Rematch Awaits
A full preview and predictions for 97kg at the 2022 Senior World Championships in Belgrade, Serbia.
Aug 20, 2022
by Jon Kozak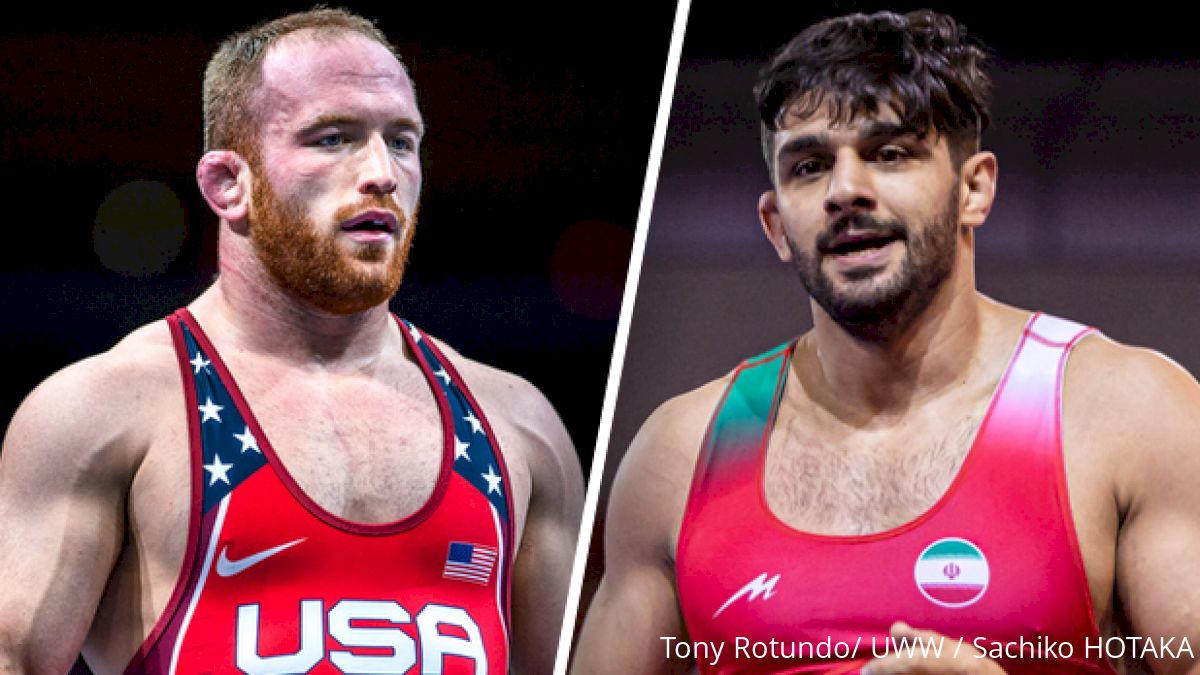 Kyle Snyder will represent Team USA for the 8th straight time at 97kg at the world championships and is looking to win his 8th straight medal. Check out a preview and predictions below of the entire 97kg field looking to challenge Snyder before they take the mat in Belgrade, Serbia on September 17-18.
The top 8 wrestlers will be seeded at the world championships based on rankings points accumulated since the Tokyo Olympics. Of those listed below, Karadeniz and Salas have yet to wrestle since they competed at the Olympics and worlds respectively. That means there's a good chance we don't see them in Serbia. Their absence would move the lower-seeded wrestlers up and make way for 2 new wrestlers to slide into the top 8.
Projected Seeds:
Kyle Snyder, USA
Magomedgadji Nurov, MKD
Batzul Ulziisaikhan, MGL
Mahamed Zakariiev, UKR
Mohammad Mohammadian, IRI
Batyrbek Tsakulov, SVK
Mamed Ibragimov, KAZ
Magomedkhan Magomedov, AZE
*Radu Lefter (MDA) and Mamed Ibragimov (KAZ) are the likely wrestlers to slide into the #7 and #8 seeds in the case Karadeniz and Salas do not compete.
Favorites
The best wrestlers in the field:
With Russia banned from the world championships, 97kg gold will be won by someone not named Abdulrashid Sadulaev for the first time since 2017. The two favorites this year - Mohammad Mohammadian and Kyle Snyder. Mohammadian won a world bronze medal at the 2014 world championships where he notably defeated Ed Ruth. However, Mohammadian tested positive for a banned substance in 2015 and was punished with a 4-year suspension. He returned with a vengeance in January 2020 and put the world on notice when he teched Bo Nickal and pinned Kyle Snyder at the Matteo Pellicone.
Though that performance at the Pellicone was amazing, it was a high point for Mohammadian in 2020-2021. Mohammadian went on to qualify for the Olympics but came up short against Elizbar Odikazde and failed to medal. This year, Mohammadian looks back to top form. He won the Asian Championships and defeated last year's world bronze medalist Mojtaba Goleij in two straight matches to make the Iranian world team. If Mohammadian is wrestling his best, he can defeat anyone in the bracket and win his first world gold.
Mohammadian's win over Kyle Snyder:
Unlock this video, live events, and more with a subscription!
Get Started
Already a subscriber? Log In
As mentioned, Kyle Snyder has made 8 straight world/Olympic teams and has won a medal every time (3 golds, 3 silvers, 1 bronze). He's the model of consistency and will almost assuredly be wrestling for a medal on September 18th. The question now - is he capable of defeating Mohammad Mohammadian and a host of other competitors he's never faced in competition?
We'll cover some of the other competitors later in this preview, but at this point, Mohammadian looks to be Snyders stiffest competition. The first time these two wrestled, Snyder fell behind 4-0 before Mohammadian hit a big 4-point move on a scramble ultimately pinning Snyder with 1:30 to go in the bout. In that match, Snyder forced unnecessary positions and over-pursued Mohammadian in ill-advised ways that resulted in points for Mohammadian. Snyder will assuredly approach their next bout with a better game-plan meaning we should expect a much closer match.
Snyder's last-second win over Iran's Mojtaba Goleij to make the 2021 world finals: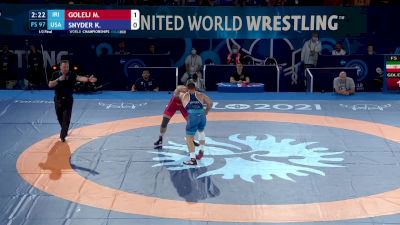 Unlock this video, live events, and more with a subscription!
Get Started
Already a subscriber? Log In
Contenders
The group with the most potential to medal or challenge the favorites:
2022 Has produced a host of new competitors at 97kg - most of them being former Russians now representing other countries. The most notable of that bunch - Batyrbek Tsakulov. Now representing Slovakia, Tsakulov won Russian nationals back in 2018 (at just 19 years old) and went on to represent Russia at the world championships that year, where he failed to medal after going 2-1 - losing to the eventual bronze medalist Alireza Karimi. The next year, Tsakulov won a silver medal at the U23 world championships, losing only to Bo Nickal in the finals. This year, Tsakulov won a bronze medal at Euros and gold at both the ranking series event in Kazakhstan and the Matteo Pellicone. In that time, he recorded impressive wins over Amir Firouzpour (IRI), Magomedgadji Nurov (MKD), Magomed Ibragimov (KAZ), Givi Macharashvili (GEO), Zbigniew Baranowski (POL), and Elizbar Odikadze (GEO). Tsakulov could hold the #8 seed and present a challenge to Snyder in the quarter-finals in Serbia. Even if he doesn't take out Snyder, he's a clear medal favorite in Serbia.
Tsakulov's win in the gold medal match at the Matteo Pellicone over Givi Macharashvili: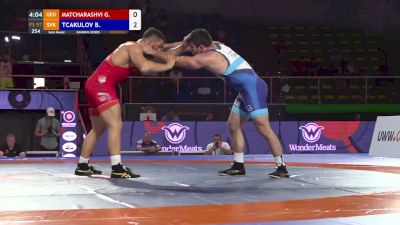 Unlock this video, live events, and more with a subscription!
Get Started
Already a subscriber? Log In
Magomedgadji Nurov is another Russian transfer who will be the #2 seed and a threat to medal in this bracket. Nurov won a bronze medal at the 2019 world championships where he only lost to Sadulaev (6-0) and defeated Kazakhstan's Alisher Yergali for bronze. Despite that performance, Nurov has had up and down performances since 2019 worlds. He failed to medal at the Tokyo Olympics, 2021 worlds, and 2022 Euros but most recently won the Mediterranean Games where he took out rising contender Feyzullah Akturk in the finals, 4-3. Nurov hasn't shown to be as elite as Snyder or Mohammadian, but could absolutely work his way into a medal match.
Since 2014, Elizbar Odikadze has represented Georgia at every worlds/Olympics at 97kg. He won a bronze medal at 2018 words and placed 5th a remarkable 5 times. However, Odikadze's run could come to an end this year with the emergence of Givi Macharashvili. The 25 year-old Georgian won a U23 world title in 2018, defeating Kollin Moore in the finals of that tournament, 10-0. More recently, Macharashvili won the Ziolkowski in July where he defeated Odikadze 3-2. On top of that, Macharashvili won a silver medal at the Matteo Pellicone recording victories over Vladislav Baitsaev, Magomedkhan Magomedov, and Erik Thiele before falling short in the finals to Batyrbek Tsakulov. If Macharashvili is the rep for Georgia at worlds, he won't be seeded making him a dangerous wildcard in this bracket.
Macharashvili's win over Vladislav Baitsaev: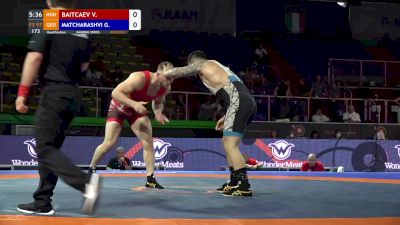 Unlock this video, live events, and more with a subscription!
Get Started
Already a subscriber? Log In
Sleepers And Landmines
The group that isn't projected to medal right now but has big potential to "blow up" the bracket:
The first 2 landmines to watch out for are Russian transfers Magomedkhan Magomedov and Vladislav Baitsaev - both of who will be randomly drawn into the bracket. Magomedov won a junior world championship in 2018 while representing Russia before transferring to Azerbaijan in 2022. He started this year off with great results winning both the Kolov and the European Championships. Magomedov experienced a slight setback at the Matteo Pellicone in June when he lost to Givi Macharashvili and forfeited out of the tournament with an injury. Despite that loss, Magomedov's wins over Elizbar Odikadze, Zbigniew Baranowski, Vladislav Baitsaev, and Aliksander Hushtyn prove he's more than capable of challenging for a medal at 97kg.
Magomedov's win over Baitsaev in the 2022 European Championship finals:
Unlock this video, live events, and more with a subscription!
Get Started
Already a subscriber? Log In
Vladislav Baitsaev was the #2 wrestler at 97kg for Russia behind Abdulrashid Sadulaev for the past 5 years-he won Russian Nationals in 2019 and placed silver in 2017 and 2018. Now representing Hungary, and at 32 years old, Baitsaev will have his first chance to wrestle at worlds and has proven to be one of the best in the world. This year, Baitsaev won silver at Euros in March and bronze at the Matteo Pellicone in June. In those 2 tournaments, he defeated Magomedgadji Nurov (MKD), Batyrbek Tsakulov (SVK), and Erik Thiele (GER) while only losing to Givi Macharashvili (GEO-14-9) and Magomedkhan Magomedov (AZE - 11-5). Baitsaev will be a wildcard drawn into the 97kg bracket that none of the top wrestlers will want to meet early in the tournament.
Baitsaev's win over Magomedgadji Nurov at the 2022 European Championships: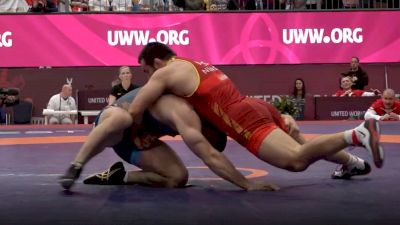 Unlock this video, live events, and more with a subscription!
Get Started
Already a subscriber? Log In
Magamed Zakariiev won world bronze last year - so why is he a sleeper? Zakariiev only wrestled at the Matteo Pellicone and Ziolkowski. He went 0-1 at the Pellicone, losing a 7-0 match to Poland's Zbigniew Baranowski. A month later at the Ziolkowski, Zakariiev looked much better making the finals before losing to Givi Macharashvili (5-2). Again, if Zakariiev is wrestling at his best, don't be surprised if he brings home another medal from worlds.
Watch Zakariiev's win over bronze at the 2022 World Championships over Aliksander Hushtyn: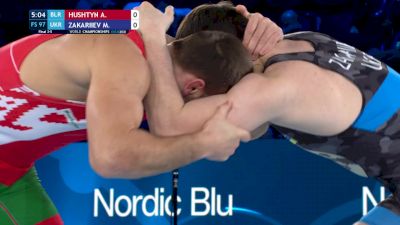 Unlock this video, live events, and more with a subscription!
Get Started
Already a subscriber? Log In
Predictions
Despite Mohammadian's last win over Snyder, I believe their potential rematch will look much different in Serbia. Mohammadian has not looked near as dominant since that win over two years ago losing against much lesser opponents than Snyder in that timeframe. On top of that, if any coaches have proven their ability in devising winning match strategies after a loss - it's Cael and company at the NLWC preparing Snyder for the big rematch. Because of that, and Snyder's consistency at world championships, Kyle Snyder is my pick to come out on top in Serbia and win his 4th career world/Olympic gold.
Full 97kg medal predictions:
Gold: Kyle Snyder, USA
Silver: Batyrbek Tsakulov, SVK
Bronze: Mohammad Mohammadian, IRI
Bronze: Vladislav Baitsaev, GEO
Get to know the 97kg field even better by looking at our World Championships Rankings - a ranking of the top 10 guys in every weight class based on head-to-head wins.