2022 U20 World Championships
Elor Headlines Women's U20 World Team Seeking Back-to-Back Titles
Elor Headlines Women's U20 World Team Seeking Back-to-Back Titles
Team USA is sending a talented young roster to Bulgaria this week, led by returning U20 World champ Amit Elor.
Aug 16, 2022
by Derek Levendusky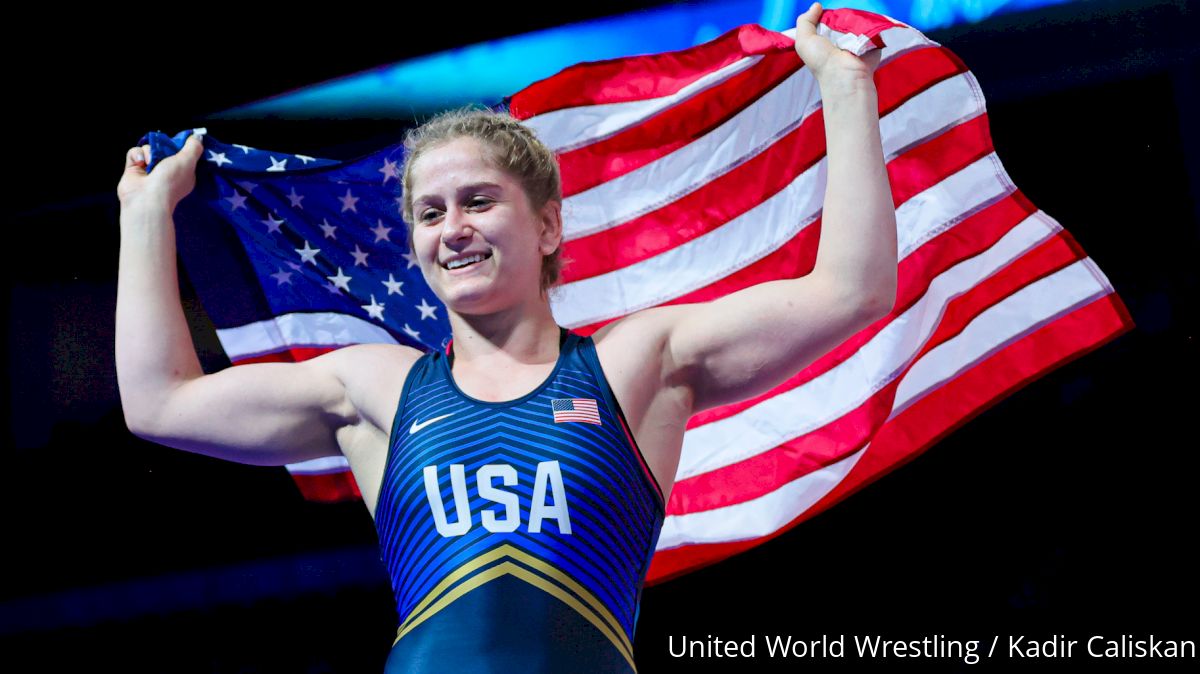 Last year will be a tough act to follow. The 2021 United States women's U20 world team not only walked away with the team title, but also secured a stunning four gold medals, and five total medals. Emily Shilson, Kennedy Blades, Amit Elor, and Kylie Welker all won World titles and Korina Blades won a bronze. The United States had never previously won more than one gold medal at any U20/Junior Worlds. Notable: Perennial women's freestyle power Japan wasn't there last year.
With Shilson aging out and the Blades sisters sitting out this year, Elor is the only returning World medalist, though Team USA is sending a talented young roster to Bulgaria this week. Oh, and Japan is coming.
Last year, the USA women won with 143 points, while Russia and India were both on their heels with 134 points. Japan not only won the last time it came to Junior Worlds in 2019 — the event was cancelled in 2020 — but the Japanese women walked away with eight of 10 gold medals.
Here's a quick look at the United States team:
50 kg — Audrey Jimenez
The high school junior from Tucson, Ariz., has been climbing the U.S. ladder for the last few years, winning a U15 gold medal at the Pan Am Games in 2019, and then a bronze medal last year at Cadet Worlds. This year, she handled college All-American Sage Mortimer in the finals of U20 Nationals, earning a 2-0 series win over the Utah star 11-0 and 7-2. Before earning her bronze at Cadet Worlds last year, Jimenez lost in the semifinals last year to Switzerland's Svenja Jungo, an opponent who is entered again this year in U20 Worlds. She'll also have to deal with former Cadet world champion Umi Ito of Japan. USA's Shilson won this weight last year.
53 kg — Katie Gomez
The returning Cadet World champion will try to win a U20 world title next week. She dominated her U20 Nationals final over Estrella Dorado Marin with two straight wins by technical superiority, 12-1 and 10-0. Cutting her teeth in California wrestling, Gomez has emerged as one of the most promising young talents in the country, recently earning a top 10 ranking at the Senior level for the first time. Returning bronze medalist Emine Cakmak of Turkey is entered again at 53 kg in Bulgaria, but Gomez seems ready to handle whatever the world throws at her.
55kg — Adriana Dorado Marin
Army/WCAP wrestler Adriana Dorado Marin took USA wrestling by storm when she won the U.S. Open this year with a last-second victory over McKendree two-time national champ Cameron Guerin. She followed that up by taking the U20 spot with a 2-0 series win over Amani Jones, a wrestler who made the national team last year and won the Junior Pan Am Championships. None of the world medalists from last year's event are entered at this weight this year, though Japan's Moe Kiyooka is a major obstacle for Dorado-Marin if she hopes to win a World title. An interesting side note: It was Kiyooka that defeated U.S. team's Cristelle Rodriguez in the Cadet World finals in 2018.
57 kg — Sofia Macaluso
Macaluso is heading to a city that bears her namesake. A good omen? The New Yorker beat returning World teamer Claire DiCugno 8-3 and 9-2 to win the U20 spot after coming off a remarkable year in folkstyle. Macaluso has lots of domestic accolades, but is a first-time World teamer. This fall, she'll head to East Stroudsburg University to join her sister Mia, a World teamer last year, on the roster of a rising NCAA program. Last year's U20 World silver medalist, Italy's Aurora Russo, is entered again at 57 kg. Japan's past U17 World champion Ruka Natami also adds depth to this weight.
59 kg — Savannah Cosme
The recently graduated senior from Denver, Colorado, had a huge series win in the U20 finals over U.S. Open winner Nanea Estrella. And it was a convincing performance, winning by fall and 7-1 decision in the 2-0 series victory. Cosme is a returning World teamer, competing at U17/Cadet Worlds last year where she went 0-2. This fall she's heading to work with the Sunkist Kids Wrestling Club in Arizona. Neither of the women she lost to at Cadet Worlds last year are entered in her group next week. One of last year's U20 bronze medalists, Kazakhstan's Madina Aman, is entered in the field. Japan's Sakura Motoki is also entered, a Senior World team member.
62 kg — Adaugo Nwachukwu
Nigerian-born Nwachukwu has been a revelation this year. The exciting young wrestler from California went from state champion in 2021 to NAIA college champ for Iowa Wesleyan in 2022. A few months later, she went to Texas and claimed her first World Team spot by defeating 2019 Cadet silver medalist Skylar Hattendorf 2-1 in best-of-three series. Nwachukwu will be fun to watch on the world stage. Azerbaijan's Birgul Soltanova is the sole returning medalist at this weight. However, Japan's Nonoka Ozaki is also entered, the Senior Worlds bronze medalist in Oslo last year. Another name to watch at this weight is India's Sonam Malik, a two-time U17 World champion and Tokyo Olympian.
65 kg — Reese Larramendy
Originally out of Reno, Nevada, Larramendy achieved most of her accolades wrestling for #1 Wyoming Seminary in high school. Though this is her first world team, she does have international experience, including winning the Junior Tallinn Open in Estonia last March at 65kg. The Iowa recruit faces a field that doesn't have a returning medalist, though Japan's Mahiro Yoshitake seems primed for a medal run.
68 kg — Destiny Rodriguez
To earn the spot, three-time Oregon state champ Destiny Rodriguez won a best-of-three series 2-1 over NCAA college All-American Tiera Jimerson out of North Central. She'll wrestle in U20 Worlds for the first time but brings significant domestic and international experience to the table. The 2021 Fargo champ won a gold medal at the 2018 Pan Am Games and was a U15 world champ last year. As USA's Elor won this weight last year and is going 72 kg this year, there is no returning champion at this weight, though Turkey's Nesrin Bas is a returning bronze medalist. Japanese Senior World teamer Ami Ishii is also entered at this weight.
72 kg — Amit Elor
Elor is widely considered to be one of the best young talents in America. She's a legitimate Olympic hopeful for 2024, a returning U17 World champion and U20 World champion who made three World teams this year — the U20, U23, and Senior World teams. She has handily beaten everyone domestically during all team trials, scoring tech falls in every single match in every best-of-three finals in U20, U23, and at Final X. It's still not clear where her ceiling is. She dominated a red-hot Skylar Grote 10-0 in two straight matches at Final X New York. Elor is the sole returning medalist in the 72 kg field in Bulgaria next week, though one interesting note is Adrian College NCAA All-American Nyla Burgess is competing as the Canadian rep. Elor would be the heavy favorite in that matchup. Japan's rep at this weight, Sumire Niikura, won a silver medal at the Senior Asian Championships. Kennedy Blades won this weight last year.
76 kg — Tristan Kelly
Kelly teched and pinned her way through U20 Nationals last May to win the U20 spot, getting two straight technical falls over Rose Cassioppi in the finals. This is not the first time Kelly has been on the World stage. She was a 2018 Cadet World teamer and 2020 Junior World team member, though Junior Worlds were canceled that year. Returning 72 kg bronze medalist Daniela Tkachuk of Poland is up a weight this year, entered at 76 kg. USA's Welker won this weight last year.
The UWW U20 World Championships can be watched live on FloWrestling August 15th-21st.