2022 U20 World Championships
2022 U20 World Championships Men's Freestyle Recap
2022 U20 World Championships Men's Freestyle Recap
All the big news for Team USA's men's freestylers from the 2022 U20 World Championships in Sofia, Bulgaria.
Aug 15, 2022
by Andrew Spey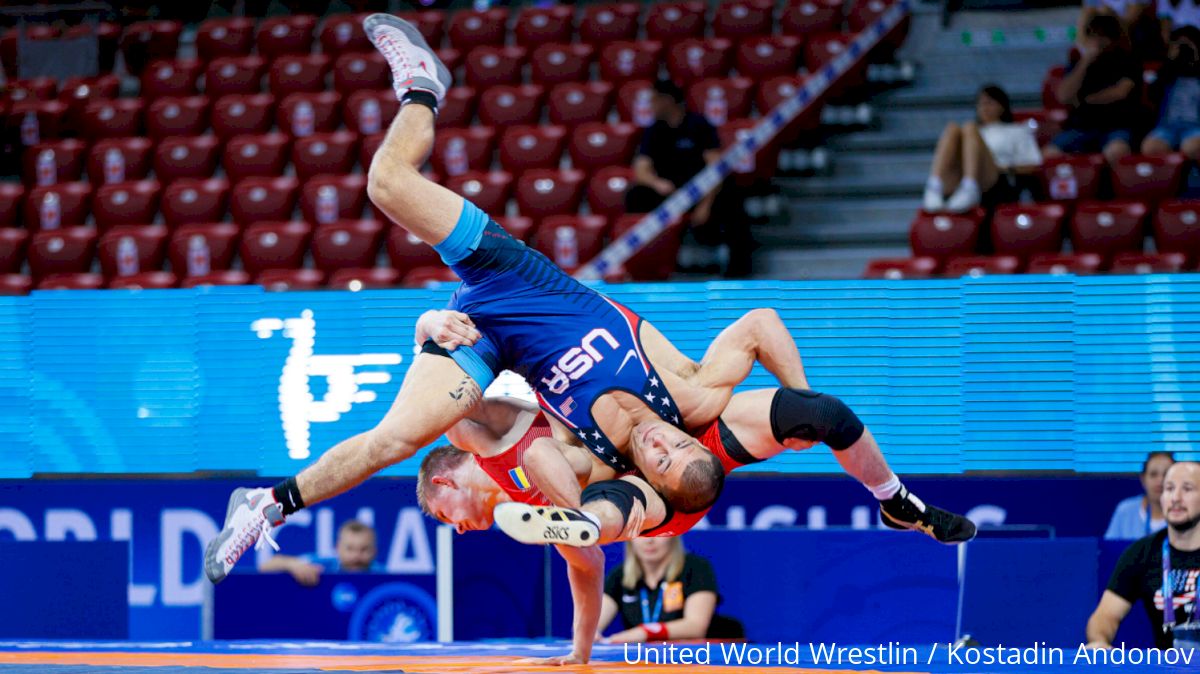 Greetings from lovely Sofia, Bulgaria. We're recapping the men's freestyle action at the U20 World Championships and there is quite a bit of action to cover. For a running tally of American results, skip to the very end of this article.
A quick and dirty recap of all 10 weights is directly below.
57: Jore Volk, GOLD
61: Nic Bouzakis, 7th
65: Vince Cornella, 5th
70: Mitchell Mesenbrink, SILVER
74: Alex Facundo, DNP
79: Brayden Thompson, 9th
86: Bennett Berge, SILVER
92: Jaxon Smith, 5th
97: Ben Keuter, GOLD
125: Nick Feldman, 5th
Team USA: Second Place
Read on for a day by day summary of all the major happenings from the Ameets Arena and peruse brackets, results, and more inside FloArena.
Day 1 Session 1
Here's the quick and dirty recap of a brilliant first session by the Americans.A more thorough recounting of events can be found directly afterwards.
57kg Jore Volk: 2-0, in the semis vs Georgia
65kg Vince Cornella: 3-0, in the semis vs Uzbekistan
70kg Mitchell Mesenbrink: 3-0, in the semis vs Armenia
79kg Brayden Thompson: 0-1, still alive, needs Iran to win in the semis
97kg Ben Kueter: 2-0, in the semis vs Georgia
Preliminary Rounds
Most importantly for the team race, USA beat Iran in three of four head-to-head bouts so far. Volk, Cornella and Messenbrink all beat their Iranian counterparts in dramatic fashion, putting Team Iran in the awkward position of having to root for the Americans in the semifinals to keep their medal hopes alive at those weight classes.
The Americans are in a similar spot at 79 kilos, however, as Brayden Thompson was felled by an extremely stout Iranian, Sobhan Yari, 6-1. Thompson pur forth a valiant effort but Yari punished Thompson's aggressiveness with heavy hips and impenetrable defense. The good news is Yari won his quarterfinal bout 8-0 over Turkey and is one win away from pulling Thompson into the repechage for a chance to win a bronze medal.
Brayden's four other teammates who wrestled today have been flawless. And in fact, the first five matches Team USA wrestled today were utter devastation for the opposition. The American contingent outscored their opponents 50-0, with Mesenbrink and Cornella racking up 2 shut-out wins and Kueter adding another clean sheet before Volk took the mat for his first match of the tournament.
The Wyoming commit by way of Minnesota drew Iran in the first round, which would be the first time USA faced off against their wrestling rivals. A back and forth match saw Iran get a takedown to take the lead 5-5 on criteria with just 30 seconds to go. Volk snared an ankle with seconds to go but the takedown was white paddled and ruled a no-takedown by the refs.
Coach Brandon Paulson wasn't sweating it though, as he confidently hit the challenge button. Coach Paulson was vindicated on review and Jore Volk would win the match 7-5 in the first of several triumphant matches that gave the Americans in attendance reason to stand up and cheer.
Thompson's opening bout loss would be the last of the prelims for Team USA, as four big quarterfinal bouts were now slated for the red white and blue.
Quarterfinals
Cornella and Kueter would wrestle their bouts simultaneously on opposite ends of the arena, giving the American attendees in the arena whiplash. It was like a grand slam tennis match except not boring! Kueter took care of business, soundly beating his Indian opponent 8-1.
Scoring highlights below: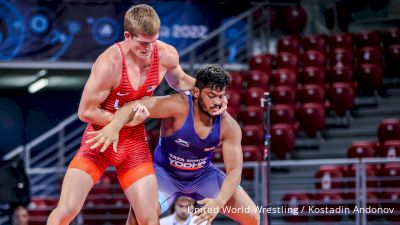 Cornella was apparently inspired by Volk and wanted to one-up him on drama, as he also had an Iranian and also required last-second heroics to secure victory. Cornella was down 5-2 with just a minute remaining in the match. Cornella had pulled to within two points on a second period takedown, but lost his hold while going for an assassin and gave up a reversal. The Cornell freshman would need four points in a minute, but didn't panic, and calmly went about wrist snapping and shrugging his opponent to the mat for two massively clutch takedowns.
Scoring highlights below: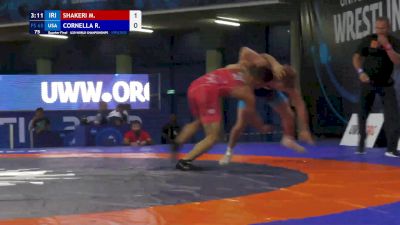 It was then Mesenbrink's turn to give everyone heart attacks. His Iranian opponent could match the California Baptist commit's funk, scoring in several scrambles that Mesenbrink usually finds himself getting the better of. But what the Iranian couldn't do is match Mesenbrink on stamina. Mitch was down 7-4 with just over two minutes to go in the match. But it was all Mesenbrink from then on out, as Iran tried every trick in the book to slow things down and run out the clock. He was unsuccessful, however, as Mesenbrink got the dub, 9-7.
Scoring highlights below: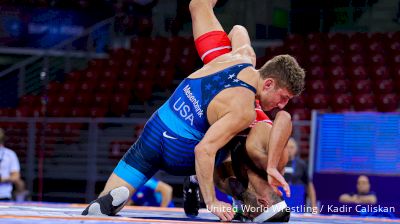 Volk's quarterfinal was a veritable walk in the park in comparison. He had a tough Uzbek who kept it close at first, but Jore opened things up and held on to win 7-2.
Scoring highlights below: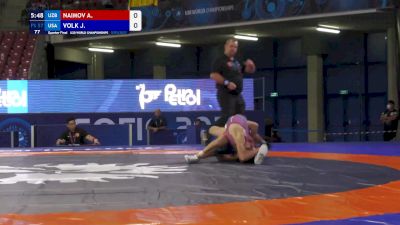 Now it's time to root for four Americans and one Iranian in the semifinals! And it's no longer the middle of the night in the Western Hemisphere, so you have no excuse not to watch!
Day 1 Session 1
Another quick and dirty recap of the quarterfinal bouts of the first five weights.
57: Jore Volk, USA defeats Luka Gvinjilia, GEO, 13-6
65: Umidjon Jalolov, UZB defeats Vince Cornella, USA 4-0
70: Mitchell Mesenbrink, USA defeats Hayk Papikyan, ARM, 6-3
97: Ben Kueter, USA defeats Luka Khutchua, GEO 17-14
Semifinals
Volk gave up the first takedown, but knotted things up at the end of the first period. The Minnesotan went on a tear in the second period, nearly securing the tech fall by dint of some hellacious top work (those Pinnacle club trained guys like their par terre) that included a lift from par terre that turned into what everyone thought was a four-point match-winning bomb, but Georgia challenged and won, getting an exposure in continuation so force more wrestling. A little more back and forth but Volk prevailed and guaranteed the first medal for Team USA in Bulgaria.
Watch highlights below: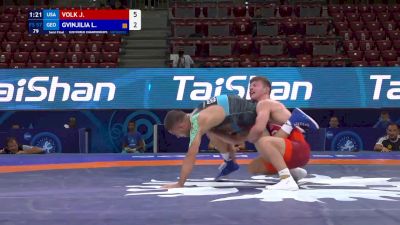 Volk will have Kyrgyzstan in the finals. Bazarbayev, Volk's opponent, doesn' have a much of a history (at least in the UWW database), but battled through three opponents (same number as Volk) to earn a gold medal match in Sofia.
Cornella got stopped by a 2019 U17 World Champ and one of Uzbekistan's brightest rising stars. Jalolov was able to shut down Cornella's offense and cool down USA hot streak. Cornella will have to wait until two repechage matches are wrestled before learning his opponent.
Mesenbrink picked things back up, gassing an otherwise impressive Armenian in the semis. 70 kilos attracted a bevy lanky scramblers to U20 worlds this year, but Mesenbrink as so far bested the two that were placed in his path. Although he's already been through a couple wars, it doesn't look to get much easier in the finals against Heybatov of Azerbaijan, a 2021 Euro U20 champ.
Watch highlights below: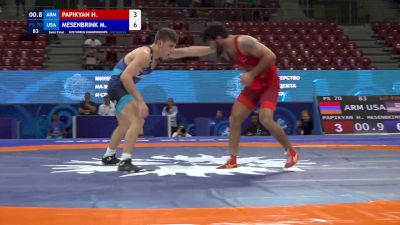 Team USA had a rooting interest in the 79kg semis, as Yari of Iran needed a victory to pull Brayden Thompson back into the repechage. Yari did his job, which means Thompson has a match tomorrow against Ovec of Turkey and then, if he is victorious, gets a crack at Adeishvili of Georgia for a bronze medal.
In one of the most intense bouts of the tournament, Ben Kueter dug deep and climbed out of a 8-0 first period deficit to eventually win a 17-14 slobberknocker. Going beast mode seems to come naturally to the multi-sport all-star. Kueter headed to Iowa next year not just to wrestle but also play football.
Watch highlights below:
Kueter will have Gidak of Turkey in the finals. Gidak defeated Azapira of Iran in what appeared, at least at the time, to be a minor upset. Iran is not having the tournament they had hoped for so far. They have one finalist at 79, one in the bronze medal match at 97, two in repechage at 70 and 57, and one eliminated at 65 kilos.
If you're looking for a non-American bout to check out, I'd suggest the other 65kg semifinal, as Ziraddin Bayramov of Azerbaijan (unsure if he is related Turan Bayramov, also of Azerbaijan) vs Sujeet of India. Both of those young wrestlers have bright futures on the senior circuit.
Day two is going to be a massive day for USA men's freestyle. All ten team members will take the mat, as the other five weights start their preliminary rounds (61, 74, 86. 92 & 125), three Americans wrestle for gold (Volk at 57, Mesenbrink at 79, and Kueter at 97), one for bronze (Cornella at 65), and one has to win two bouts to secure hardware (Thompson at 79).
We'll see you bright and early (4:00AM ET!) tomorrow morning!
Day 2 Session 1
A busy day for the Americans as all 10 men's freestyles will take the mat at some point in the day. A summary of the morning sessions event of Day 2 is below. Brackets, results, and more can be found inside FloArena.
Quick and dirty recap of the 5 newbies and 1 American in the repechage:
61kg: Nick Bouzakis: 2-1, still alive for repechage
74kg: Alex Facundo: 0-1, eliminated from the tournament
79kg: Brayden Thompson: 0-1, eliminated from repechage
86kg: Bennett Berge: 3-0, advances to the semifinals
92kg: Jaxon Smith: 1-1, still alive for repechage
125kg: Nick Feldman: 1-0, advances to the semifinals
Repechage
We'll quickly note that Brayden Thompson dropped another very tough bout, 2-1, where activity clock points were the only scores on the board. Thompson has another year of U20 eligibility though so he's got a chance to run it back next year.
Prelims
Nic Bouzakis put two torturous pinning holds on her first two opponents, both times falling behind early in the match. In his first-round bout Bouzakis stacked and packed his Uzbek opponent in one of the tightest cradles I have ever seen. In round two it was a good, old-fashioned half nelson and far wrist that did in his Turkish opponent.
Although the United States traditionally does very well at 74kg at all age levels, it was not meant to be in Sofia, Bulgaria this year. Penn State freshman Alex Facundo dropped an extremely tight bout to Elahi of Iran, 5-4, in his first round match. Elahi, a 2021 U20 champ, later lost to a 2021 U17 champ, Jaglan of India, ending Facundo's tournament and eliminating him from medal competition.
Team USA was back to it's winning ways at 86 kilos, as Bennett Berge picked up two tech falls in his first two bouts, a 10-0 blitz on Armenia and a 12-2 domination of Hungary.
Jaxon Smith had a bye to the round of 16, so he just had to win one bout to reach the quarterfinals, which he did, in a scrappy but highly entertaining 8-1 victory over Moldova.
Nick Feldman got a bye straight to the quarterfinals, so we can go ahead and get to that segment of the recap.
Quarterfinals
Bouzakis participated in one of the most exciting matches of the tournament, unfortunately, he was on the losing end of it, dropping a thrilling 13-11 bout to Iran. The match went back and forth several times but Habibzadeh, the Iranian, was just a hair to quick in a few key positions to edge out the Ohio State freshman. That result also pulled Iran back into contention in the team race.
Watch highlights below, but please watch your blood pressure as this video may be hazardous to your health: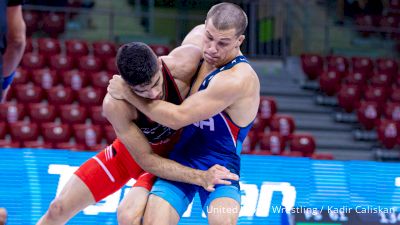 Unlock this video, live events, and more with a subscription!
Get Started
Already a subscriber? Log In
Berge picked up right where he left off in the round of 16, tech mauling his Ukrainian opponent 10-0.
Watch scoring highlights, all of which from the match belong to Berge, below: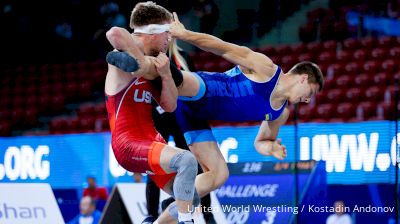 Feldman matched up against a mountain of a man in his quarterfinal bout, an incredibly sturdy Bulgarian by the name of Ivanov. A victory by Feldman set up the highly anticipated heavyweight bout with Masoumi of Iran in the semifinals.
Watch the brutish scoring highlights below: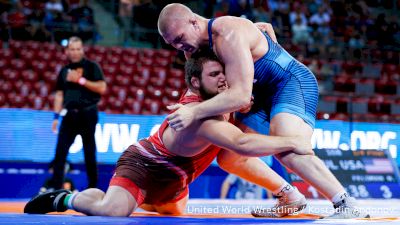 Semifinals are next, but first, the celebrated quirk of international wrestling tournaments: the Opening Ceremony!
Day 2 Session 2
After a scintillating opening ceremony, replete with traditional Bulgarian folk dancing and a world champion hip hop dancer in the youth division, we're ready for the semis. But first! The quick and dirty recap.
57: Jore Volk, Gold Medal World Champion
61: Vince Bouzakis, pulled into repechage, still alive for bronze
65: Vince Cornella, fifth place
70: Mitchell Mesenbrink, Silve Medal
86: Bennet Berge, in the finals
92: Jaxon Smith, pulled into repechage, still alive for bronze
97: Ben Kueter, Gold Medal World Champion
125: Nick Feldman, in the bronze medal match
Semifinals
We start with some good news, as Habibzadeh made the finals with a 3-0 win over France to pull Bouzakis into the repechage. The Buckeye freshman will have a match again Ukraine before a shot at France with a bronze medal on the line.
More results that help Team USA occurred at 74, as Kamiya of Japan wrestled fantastically in his semifinal bout with Jaglan of India. Jaglan had beaten 2021 U20 champ Elahi of Iran, which means Elahi is eliminated and won't make the medal stand. It also gives you an idea of how deep 74kg is, as Kamiya>Jaglan>Elahi>Facundo, and that's just one side of the bracket!
Bennett Berge gave Team USA a big boost when he overcame an early 5-0 deficit to completely gas and subsequently defeat his Turkish opponent, Kucuksolak. Kucuksolak also repeatedly called for injury time, despite being able to wrestle the entire match with no visible physical impediments, lungs notwithstanding. And yes, we did get a Cold Spray sighting.
92 kilos brought more good news, especially for Maryland terrapin fans, as their Jaxon Smith was given a new lease on his medal hunt when Georgia's Margishvili made the finals. Smith will have a match with Germany in the repechage before a potential bronze medal match.
The Iranian 125 kilogrammer truly puts the 'heavy' in 'heavyweight', outweighing Nick Feldman by approximately 50 pounds if I were to guess. Feldman fought valiantly but couldn't stop the gargantuan Iranian Masoumi and will wrestle for a bronze.
Medal Matches
The medal matches kick off with Iran winning bronze (boo), but then USA wins gold (yea!). Volk jumped out to a 3-0 lead, then held off a strong comeback attempt by Kazakhstan to the first gold of the tournament for Team USA.
Watch the highlights, the glorious, magnificent highlights: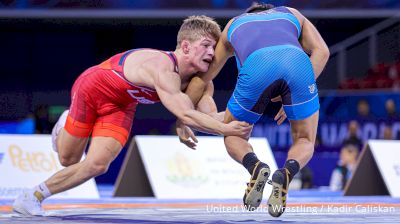 At 65 Cornella dropped an agonizing bout with Japan. The score at the end of 6 minutes read USA 6 Japan 4, but Aoyagi of Japan challenged and won, resulting in a 6-6 final score with Aoyagi winning via criteria. Cornella was down 4-3 with rear standing position but gave up an exposure in the ensuing scrambling, so his takedown and reversal was not enough to overcome his deficit.
Watch the exciting but lamentable highlights: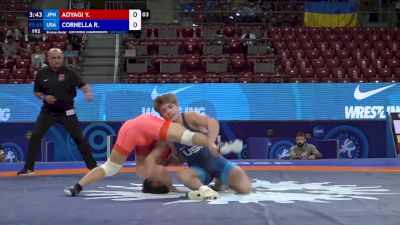 Still plenty of excellent moments from Cornella this tournament and a lot of reasons for Cornell fans to be excited about his future.
In the gold medal match, Jalolov of Uzbekistan won his second consecutive U20 gold, so watch for him on the senior circuit.
America earned a silver medal at 70kg, which is awesome, but this round was bittersweet as Mesenbrink lost too many scrambles and the gold medal to Heybatov of Azerbaijan (coached very enthusiastically by Azeri legend Jabryl Hasanov) and Iran won their bronze medal match, which puts Iran ahead of the USA in the team race.
Watch the thrilled yet bittersweet highlights: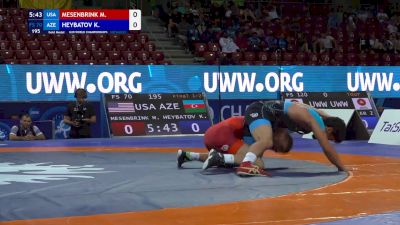 Mesenbrink was a delight to watch all tournament long and will have an immediate impact at California Baptist as they transition to D1.
USA scored four team points at 79 thanks to Brayden Thompson scoring match points in both of his losses (which got him two 'classification points') which were good enough for ninth place. Unfortunately, Iran won gold, which gives them 25 team points.
Of course Iran had to win their bronze medal match at 97 kilos. But you know what? Ben Kueter took the sting out of that result by going ham in his gold medal match and securing the second gold medal for Team USA here in Sofia. He gave up the first takedown but then reversed his Turkish opponent before slapping in an arm bar from hell (or bar arm from hell, as he is an Iowa), racking up a slew of turns before sticking the Turk for a fall.
Watch the scoring highlights that will make you stand up and cheer: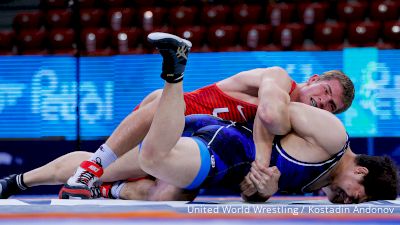 It's what you love to see.
That wraps up Day 2. Nice to end on a high note. Iran leads the team race 134 to 114 but there are still medal matches to go tomorrow. Not sure how that will all work out and I have a bus to catch so we'll get to that later. See you tomorrow bright and early!
Day 3 Session 1
The quick and dirty recap of our final day, in which two wrestlers started in the repchage and two had already made it to their medal matches yesterday.
61: Nic Bouzakis, 0-1, lost in the repechage
86: Bennett Berge, in the gold medal match
92: Jaxon Smith, in the bronze medal match
125: Nick Feldman, in the gold medal match
Repechage
Win some, lose some, and in this case, Team USA won one (Jaxon Smith) and lost one (Nic Bouzakis). The Bouzakis match was a heartbreaker, as the 16-15 score would indicate. Great match if you're not a fan of defense and don't care that it was American on the losing side of the ledger. Meanwhile, Smith's match may have lacked the drama but more than made up for it with a satisfying conclusion by way of a 10-0 tech fall.
Bouzakis came up short of his goals while Jaxon will wrestle Armenia for a bronze medal. Team USA still in the hunt for a team title but those chances are quite slim at this point.
Day 3 Session 2
Medal Matches
The pre-medal matches quick and dirty recap.
86: Bennett Berge: World Silver Medalist
92: Jaxon Smith, falls in the bronze medal match, takes fifth
125: Nick Feldman, falls in the bronze medal match, takes fifth
The only hope for Team USA's title hopes at this point is for Iran to lose all four of their medal matches and for the Americans to win all three of theirs. Japan lent a helping hand in the first Iranian medal match, winning gold at 61kg. Unfortunately we couldn't rely on our Azerbaijani friends to do the same at 74kg, where Iran beat Azerbaijan to win bronze, thus ending America's quest for a team title.
Second place is all wrapped up, so Bennett Berge can wrestle in the 86kg finals without having to worry about the team race. And let it not be said that Berge didn't leave it all out on the mat. To the dismay of American and South Dakota State fans, Magamadov of France had too many counters and too much strength late in the match for Bennett, and the Jackrabbit by way of Minnesota will have to settle for a hard fought silver.
Berge did have a lead late in the match and was able to get to Magamadov's legs on a consistent basis, it was a couple of counters, one of which was for four points, that was the difference. It goes without saying Berge has a bright future in Brookings, South Dakota.
In the first of two bronze medal matches, also the last men's freestyle matches of the tournament for Team USA, Jaxon Smith was defeated by Armenia's Sargysan. Smith showed flashes of brilliance, including a slick takedown early in the match, but Sargysan's defense was too stout, and pulled away late in the second, sealing the deal with a couple of leg laces to get the 12-2 tech-fall.
In the final bout for the USA, Nick Feldman also showed flashes of brilliance. He took his Georgian opponent to his back twice off high-c's. The first time he was countered for two. The second time Nick was countered to his back and was unable to bridge out of danger. The pinfall ended the Buckeye's medal hopes and the men's freestyle tournament for the Americans. A minor setback and nothing but upward progress from here for Feldman.
Final Tally
2 Golds
2 Silvers
3 Fifth-places
1 Seventh-place
1 Ninth-place
Team USA match-by-match results
57 Round of 16: Jore Volk (United States) VPO1 Ahmad Mohammadnezhad (Iran), 7-5
57 Quarterfinal: Jore Volk (United States) VPO1 Azizbek Naimov (Uzbekistan), 7-2
57 Semifinal: Jore Volk (United States) VPO1 Luka Gvinjilia (Georgia), 13-6
57 Gold Medal Match: Jore Volk (United States) VPO1 Merey Bazarbayev (Kazakhstan), 3-2

61 Round of 32: Nicholas Bouzakis (United States) VFA Arslan Rakhimov (Uzbekistan), 6-4 1:25
61 Round of 16: Nicholas Bouzakis (United States) VFA Abdullah Toprak (Turkey), 4-4 1:58
61 Quarterfinal: Armin Habibzadehsaroukolaei (Iran) VPO1 Nicholas Bouzakis (United States), 13-11
61 Repechage: Mykyta Abramov (Ukraine) VPO1 Nicholas Bouzakis (United States), 16-15
65 Round of 32: Robert Cornella (United States) VPO Olzhas Olzhakanov (Kazakhstan), 8-0
65 Round of 16: Robert Cornella (United States) VSU Ismail Pomakov (Bulgaria), 10-0 2:03
65 Quarterfinal: Robert Cornella (United States) VPO1 Mohamed Asadollah shakeri (Iran), 6-5
65 Semifinal: Umidjon Jalolov (Uzbekistan) VPO Robert Cornella (United States), 4-0
65 Bronze Medal Match: Yoshinosuke Aoyagi (Japan) VPO1 Robert Cornella (United States), 6-6
70 Round of 32: Mitchell Mesenbrink (United States) VSU Muhammad Abdurachmanov (Belgium), 12-0 0:52
70 Round of 16: Mitchell Mesenbrink (United States) VSU Kanat Kerimbekov (Kyrgyzstan), 10-0 1:59
70 Quarterfinal: Mitchell Mesenbrink (United States) VPO1 Hossein Mohammad aghaei (Iran), 9-7
70 Semifinal: Mitchell Mesenbrink (United States) VPO1 Hayk Papikyan (Armenia), 6-3
70 Gold Medal Match: Kanan Heybatov (Azerbaijan) VPO1 Mitchell Mesenbrink (United States), 13-7

74 Round of 16: Erfan Elahi (Iran) VPO1 Alexander Facundo (United States), 5-4
79 Round of 16: Sobhan Yari (Iran) VPO1 Brayden Thompson (United States), 6-1
79 Repechage Round 1: Bekir Ovec (Turkey) VPO1 Brayden Thompson (United States), 2-1
86 Round of 32: Bennett Berge (United States) VSU Gurgen Simonyan (Armenia), 10-0 1:41
86 Round of 16: Bennett Berge (United States) VSU1 Nandor Hajduch (Hungary), 12-2 3:33
86 Quarterfinal: Bennett Berge (United States) VSU Nazar Dod (Ukraine), 10-0 2:27
86 Semifinal: Bennett Berge (United States) VPO1 Ismail Kucuksolak (Turkey), 9-7
86 Gold Medal Match: Rakhim Magamadov (France) VPO1 Bennett Berge (United States), 10-5

92 Round of 16: Jaxon Smith (United States) VPO1 Ion Demian (Moldova), 8-1
92 Quarterfinal: Andro Margishvili (Georgia) VSU1 Jaxon Smith (United States), 12-2 4:13
92 Repechage: Jaxon Smith (United States) VSU Kiril Kildau (Germany), 10-0 2:28
92 Bronze Medal Match: Sergey Sargsyan (Armenia) VSU1 Jaxon Smith (United States), 12-2 5:33

97 Round of 16: Benjamin Kueter (United States) VSU Dimitrios Duscov (Moldova), 10-0 3:56
97 Quarterfinal: Benjamin Kueter (United States) VPO1 Niraj Niraj (India), 8-1
97 Semifinal: Benjamin Kueter (United States) VPO1 Luka Khutchua (Georgia), 17-14
97 Gold Medal Match: Benjamin Kueter (United States) VFA Rifat Gidak (Turkey), 10-2 1:39

125 Quarterfinal: Nicholas Feldman (United States) VPO1 Georgi Ivanov (Bulgaria), 5-2
125 Semifinal: Amirreza Masoumi valadi (Iran) VSU1 Nicholas Feldman (United States), 11-1 3:55
125 Bronze Medal Match: Merab Suleimanashvili (Georgia) VFA Nicholas Feldman (United States), 8-7 2:32