Women's Weekly
Tela O'Donnell Is Using The Power Of Wrestling To Change The World
Tela O'Donnell Is Using The Power Of Wrestling To Change The World
Alaska native Tela O'Donnell made the 2004 women's freestyle Olympic team. Today, she is using wrestling to influence women across the globe.
Aug 11, 2022
by Kyle Klingman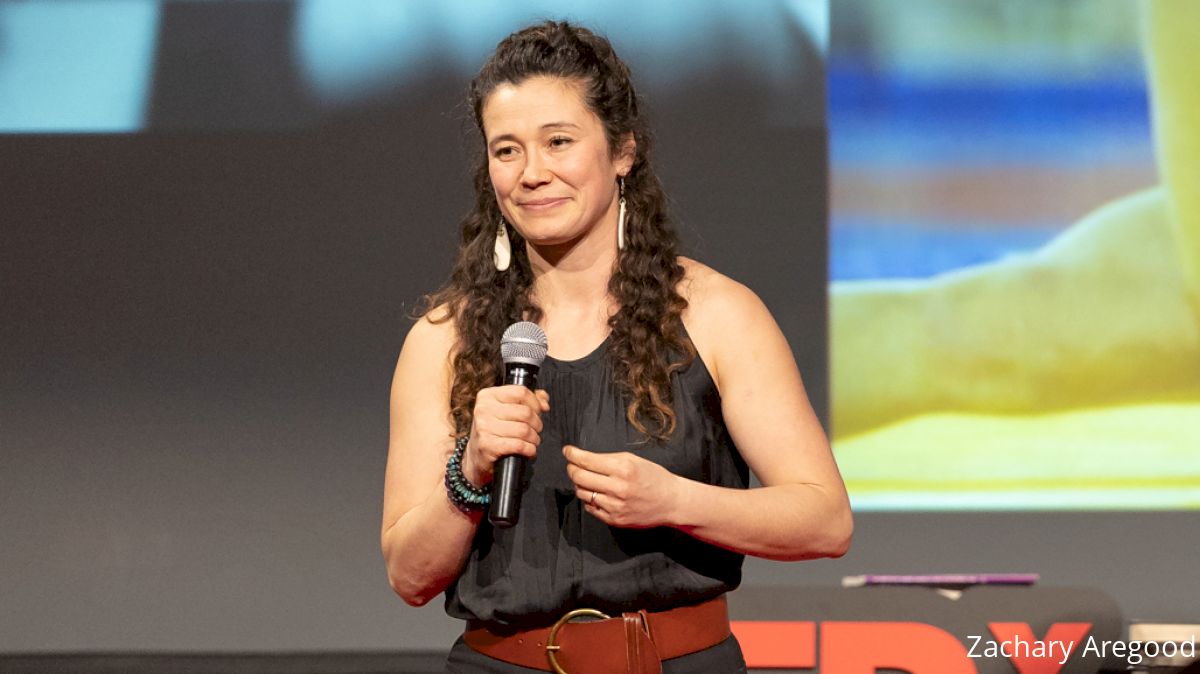 Ask Tela O'Donnell about her wrestling experience and she will rave about the sport's virtues. O'Donnell can tell you about the confidence she gained and the inner strength she has attained and the friendships she made — all because of wrestling.
Her path to get there is unlike any other in American history. How else can you explain becoming one of four U.S. women to make the inaugural women's freestyle Olympic team in 2004?
Did we mention that she was an only child raised in Homer, Alaska, by a single mother who built a log cabin with her bare hands and that singer Jewel was her occasional babysitter? Claire O'Donnell was a mime who moved from Chicago to Alaska, bought land, cut down trees, and built a log cabin by herself.
She wore a pillow around her pregnant belly to provide a sound barrier when she used a chainsaw. Tela was born when the house was eight logs high.
"We did a lot of surviving off the land," Tela said. "My mom did what she could. She's an artist by trade so she figured out how to survive as an artist. I grew up low income with not a lot of money but a very rich lifestyle because of the work we put in.
"We had good food growing in our garden. We had sheep when I was a kid and we'd eat those when the bears didn't. If the bear only ate half of it then we could have the other half. She just made it work. She was a really independent, fierce woman who has never had a 9 to 5 job because it just doesn't suit who she is. She just makes it happen for herself."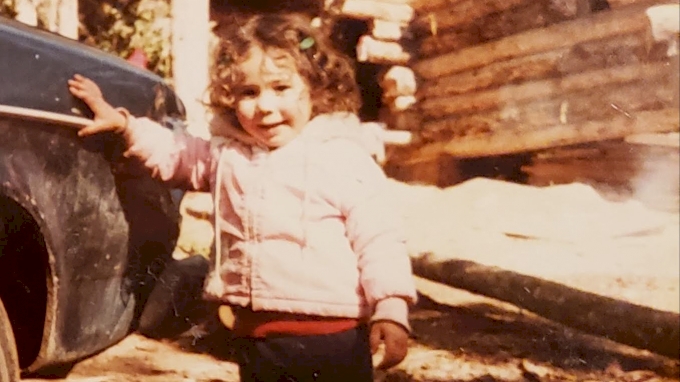 Tela grew up in a log cabin outside of Homer, Alaska, that was built by her mother, Claire
Tela just made it happen for herself when she started wrestling — and the road wasn't easy, either. That's not to say she wasn't supported by her high school coaches, because she was. They figured out how to incorporate a girl into an all-boys environment.
It was less about acceptance and more about navigating a space that wasn't designed for a girl. There was the underlying expectation that O'Donnell had to be there for the right reasons — and nothing else.
No making friends. No finding a boyfriend. No having fun. Her only objective was to fit in and not be noticed.
"I think as a woman in a male-dominated space you're accepted if you're a good soldier and you do the right things," O'Donnell said. "There's no room for error in terms of making poor choices or having a bad day. You figure out how to read the room and what you need to do to not be kicked out of the room.
"It builds a really great work ethic, but you're shy to stand out or to use your voice because you don't necessarily want to be noticed for anything other than working hard. I think it builds some great skills for success but it doesn't necessarily provide flexibility to make mistakes and do anything outside of this really narrow norm of what is expected of you. If you fall short, not only are you falling short for yourself, but you're falling short for any other girl who will come after you because that's setting the expectation."
While O'Donnell is proud of all that wrestling offers, she admits to feeling like an imposter at times because she was constantly forced to take a backseat. She couldn't wrestle in tournaments at the beginning so she just took it. It wasn't fair, but, at that time, you didn't push back. You just showed up and didn't make waves.
"Here in Alaska, I'm always surprised when I walk into a room and someone will say, 'Hey, Tela will show a move,'" O'Donnell said. "I'm always surprised because women weren't valued in terms of their wrestling knowledge. I also have this innate insecurity of being an outsider and not being valued at the same level and so I have insecurities about my skillsets and how I show moves and what I do. I'm a developing coach, too. I'm not perfect."
No wrestler or coach is perfect, but O'Donnell found the perfect fit with her role as National Camps Manager with Wrestle Like A Girl. She continues to live in Alaska with her husband and three children on the same homestead that her mother purchased when Tela was born. Former teammates rave about O'Donnell, and one of her former competitors said that the world would be a better place if we were all a little more like Tela.
Reaching the world through wrestling is O'Donnell's gift to humanity. She lights up when discussing U.S. diplomacy exchange programs with Mongolia and Pakistan. Wrestle Like A Like Girl has a subcontract with Women Win, an international organization that works with women's sports. Wrestling will be used to address social change.
O'Donnell is also involved in building a coaches education program through 2030 with a lofty goal to grow women's wrestling to unprecedented levels. And, of course, she is investing heavily in her native state. She's working to bring wrestling to rural communities so the next generation of girls can become solid human beings through the sport.
"Sport is powerful," O'Donnell said. "I didn't realize how powerful it was to change the world."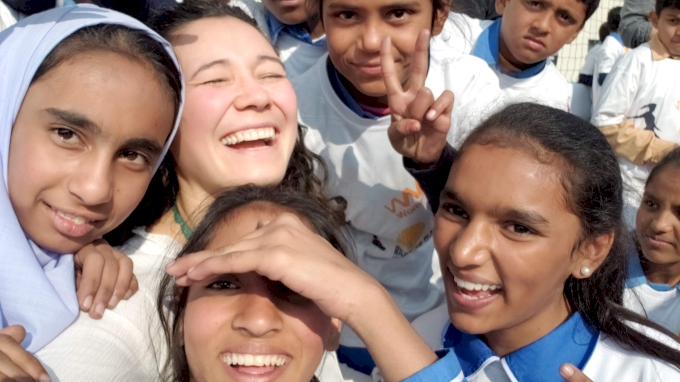 Tela O'Donnell was part of a wrestling exchange program with Pakistan. A Mongolian exchange is in the works.