2022 U20 World Championships
Nick Feldman On A Collision Course With Monster Iranian Heavyweight
Nick Feldman On A Collision Course With Monster Iranian Heavyweight
A breakdown of the potential heavyweight matchup between at U20 Worlds between Nick Feldman and Iran's Amirreza Masoumi.
Aug 9, 2022
by Jon Kozak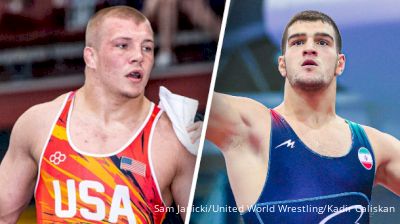 Nick Feldman was the #1 ranked pound-for-pound wrestler in the class of 2022 and brings an incredible amount of hype with him to Ohio State. He's won practically every tournament a high school wrestler can win and hasn't lost in well over 2 years. Feldman looks poised to earn multiple All-American honors and challenge for national titles every year. He has to be the favorite to win gold at the U20 world championships, right? Not so fast! Let me introduce you to Iran's 125kg U20 World Team representative - Amirreza Masoumi.
Who Is Amirreza Masoumi?
Amirreza Masoumi is only 18 years old and one of Iran's top young prospects. To start, Masoumi comes from a great pedigree. His dad is Fardin Masoumi - a 2008 Olympian (placing 5th), a four-time Asian Champion, and a two-time world medalist placing bronze in 2006 and silver in 2009 (both at 120kg). Fardin Masoumi has notable wins over Americans Steve Mocco, Tolly Thompson, and Tervel Dlagnev.
Beyond the pedigree, Masoumi is building his own impressive resume. He won the U17 world championships last year at 110 kg in dominant fashion going 4-0 with three technical superiority wins, outscoring his opponents 35-1. American fans will likely remember him for his 10-0 win in the u17 world finals over Jim Mullen. Check out that win for Masoumi over Mullen below:
Unlock this video, live events, and more with a subscription!
Get Started
Already a subscriber? Log In
Masoumi On The Senior Level
This year, Masoumi made the jump to the senior level and had instant success. He won the prestigious Takhti Cup in June and notably defeated last year's U20 world champ in the semis, Ali Akbarpour, 9-0. That performance earned Masoumi an invitation to Iran's world team trials where he faced off against veteran heavyweight Yadollah Mohebbi - the 2022 Asian Champ and two-time world team member for Iran (2017 and 2019). Mohebbi notably defeated Nick Gwiazdowski 5-2 at 2019 Worlds. Masoumi controlled Mohebbi and was leading 4-2 before hitting a 4-point throw late in the match to win 8-2, earning a wrestle-off against defending world champion Amir Zare.
Check out Masoumi's win over Mohebbi:
In the match against Zare, Masoumi came out firing with a single-leg off the whistle to take an early, 1-0 lead. Zare, however, responded with his patented under-hook and forward pressure to take a 4-1 lead to the break. Zare continued to outwork Masoumi and built a 9-1 lead before Masoumi scored a takedown late in the second period to close the gap to 9-3. Masoumi surrendered a takedown at the end of the match after attempting to jump over Zare, ultimately losing 11-3. Despite that loss, Masoumi showed he's ready to challenge the top 125kg wrestlers in the world and is currently ranked #14 in the world in our international rankings.
Zare's win over Masoumi:
The Feldman vs Masoumi Showdown
Nick Feldman vs Amirreza Masoumi is one of the most anticipated matches of the U20 world championships and has the potential to be the best match of the tournament. Masoumi will have the size advantage over Feldman and has a fierce under hook that could present a challenge Feldman has never seen. Feldman will need to use his speed to finish quickly on leg attacks to negate Masoumi's size and strength. Will Feldman continue to live up to his hype and prove he's ready to challenge the best in the world at 125kg? Or will Masoumi prove to be the better heavyweight prospect? One thing's for certain, we'll find out when these two take the mat on August 16-17 in Sofia, Bulgaria!