2022 Senior World Championships
70kg 2022 World Championships Preview: Zain Retherford's Time To Medal
70kg 2022 World Championships Preview: Zain Retherford's Time To Medal
A preview and predictions for 70kg at the 2022 World Championships in Belgrade, Serbia.
Aug 8, 2022
by Jon Kozak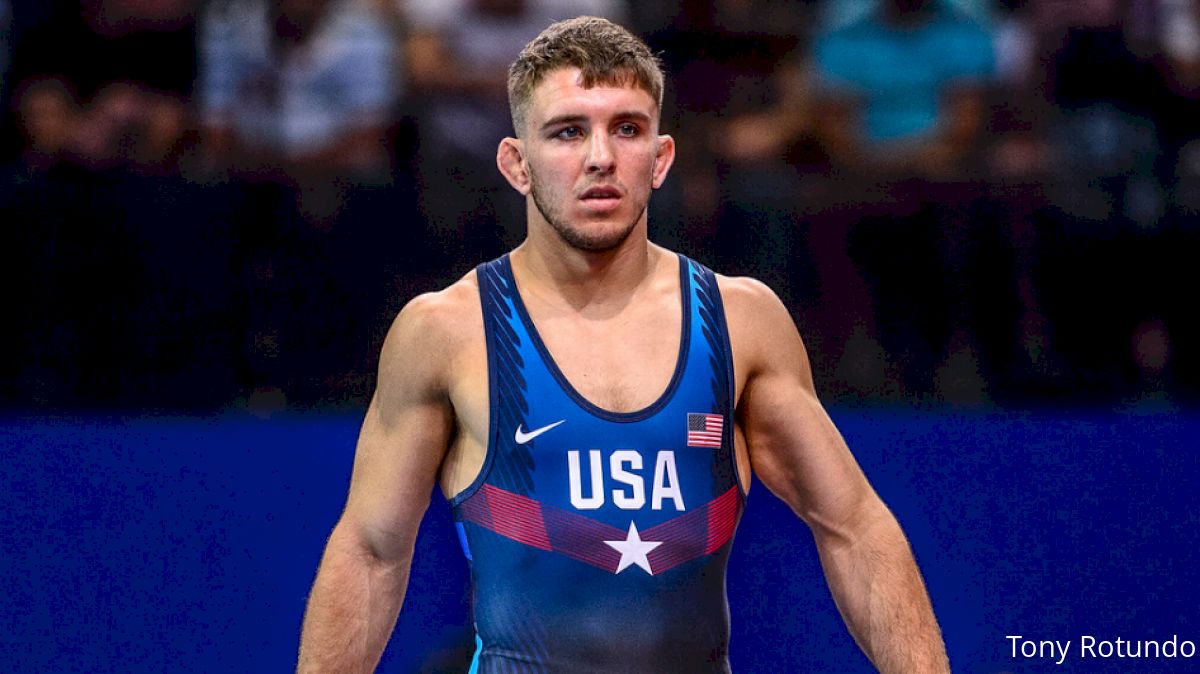 Zain Retherford will represent the United States at 70kg at the World Championships on September 15-16 in Belgrade, Serbia. Where does Zain stack up against the world's best? Find out below to see a full preview with medal predictions for this incredibly deep 70kg field.
The 2022 World Championships will mark the first time the top 8 will be seeded based on rankings points accumulated over the past year. Most of the top contenders have earned seeds however there are a few notable wrestlers who will be randomly drawn into the bracket. We'll note those throughout the preview but for now, it's worth mentioning that Zain Retherford is currently projected just outside the top 8. However, Retherford has the ninth most rankings points meaning if any of the below 8 wrestlers are not entered in the bracket, Retherford will slot into the #8 seed.
70kg Seeds:
Ernazar Akmataliev, KGZ
Zurabi Iakobishvili, GEO
Arman Andreasyan, ARM
Syrbaz Talgat, KAZ
Amir Yazdani, IRI
Zain Retherford, USA
Servat Coskun, TUR
Bacar Ndum, GBS
Favorites
The best wrestlers in the field:
Magomedmurad Gadzhiev is the defending world champion at 70kg but recently announced that he will not be participating in this year's world championships. That leaves Amir Yazdani and Tiashi Narikuni as the favorites entering this year's tournament. Yazdani won a silver medal at the world championships last year and is moving up to 70kg in search of gold. Yazdani has been impressive up in weight to start the year winning two loaded tournaments - the Yasar Dogu and the Takhti Cup. At the Dogu in February, Yazdani took out 2017 world champion Zurabi Iakobishvili (10-0) before defeating James Green in the finals (8-2). Then at the Takhti Cup in June, Yazdani defeated 2022 European silver medalist Arman Andreasyan in the finals, 3-1. Currently, Yazdani holds the #8 seed and will face a crucial quarterfinal bout against returning world silver medalist Ernazar Akmataliev. If he can get by that match, Yazdani will be the favorite to reach the finals.
Yazdani's win over James Green from the 2022 Yasar Dogu: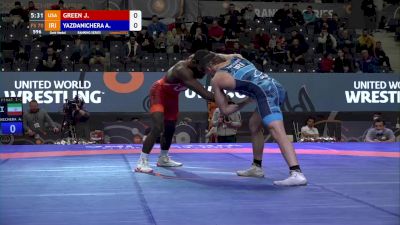 Unlock this video, live events, and more with a subscription!
Get Started
Already a subscriber? Log In
Taishi Narikuni burst onto everyone's radar at 70kg when he won the Asian Championships and defeated the aforementioned Akamatliev in the finals, 4-3. In that tournament, Narikuni showed off his outstanding defensive abilities and some high-flying offense. His style is a nightmare matchup for anyone in the world at 70kg. Why is Narikuni such an unknown? He reportedly tested positive for a banned substance back in 2017 and was forced to serve a 4-year suspension. Because of that lack of competition, Narikuni will be unseeded and the wild card draw into this bracket.
Narikuni's win over Akmataliev in the 2022 Asian Championship Finals: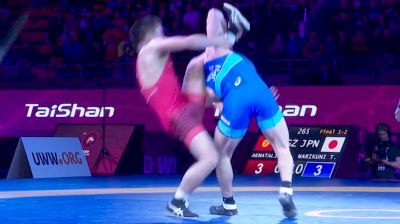 Unlock this video, live events, and more with a subscription!
Get Started
Already a subscriber? Log In
Contenders
The group with the most potential to medal or challenge the favorites:
Ernazar Akmataliev will be the #1 seed at 70kg in Serbia and is one of the most exciting wrestlers in the world. Akmatliev wrestles a wide-open style and always has the ability to score on a big throw or end the match with a pin. Akmataliev's offense propelled him to world silver last year as he put up 40 points in 4 matches to make the finals before dropping a close, 2-1 bout to Magomedmurad Gadzhiev. For Akmataliev to win gold this year, he'll need to figure out how to defeat some of the better defensive wrestlers in this bracket.
Watch Akmataliev's quarter-final thriller against Iran's Erfan Elahi: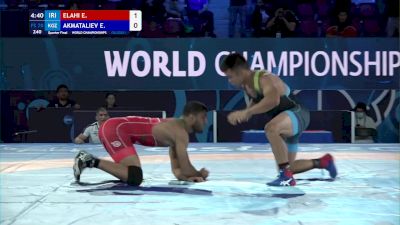 Unlock this video, live events, and more with a subscription!
Get Started
Already a subscriber? Log In
Zain Retherford looks to be wrestling as good as ever this year and has a great chance to challenge for a medal. American fans of course know that Retherford made the world team by knocking off nemesis Jordan Oliver in an epic, 3-match series in Stillwater. However, he's also impressed internationally winning the Dan Kolov tournament in February and the rankings tournament in Tunisia in July. In both of those tournaments, Retherford defeated experienced senior-level athletes proving himself as a contender at 70kg in Serbia.
Retherford's win over Kazakhstan's Syrbaz Talgat from July 2022: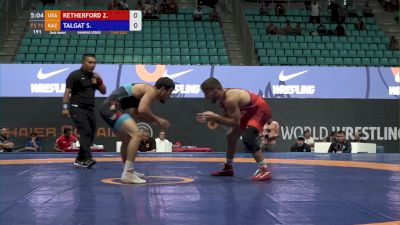 Unlock this video, live events, and more with a subscription!
Get Started
Already a subscriber? Log In
How can we not include a past world champion in the contender's list? Zurabi Iakobishvili won a world title in 2017 and has twice won bronze since - in 2018 and 2021. This year, Iakobishvili has had mixed results. He won the European Championships in March and placed bronze at both the Yasar Dogu in February and Ziolkowski in July. However, at the Matteo Pellicone in June, Iakobishvili failed to place and surprisingly lost to Joshgun Azimov (AZE) and Servet Coskun (TUR). That performance illustrates why Iakobishvili is not a favorite - while he seems to wrestle well at some of the biggest tournaments, he has the propensity to lose to lower-ranked wrestlers more times than he should.
Sleepers And Landmines
The group that isn't projected to medal right now but has big potential to "blow up" the bracket:
Joshgun Azimov, AZE
Ramazan Ramazanov, BUL
Arman Andreasyan, ARM
Ilyas Bekbulatov, UZB
The above four wrestlers have yet to medal at a senior world championship but have shown great potential within the past year. First up, the only seeded wrestler of the bunch - Arman Andreasyan. The Armenian almost broke through for a medal at last year's world championships but came up just short for 5th after losing in the bronze medal match to Russia's Evgenii Zherbaev. More recently, Andreasyan won a silver medal at the European Championships losing to Iakobishvili in the finals, 2-1, and then won the Ziolkowski tournament in Poland where he beat Alec Pantaleo in the finals, 3-2.
Joshgun Azimov has been wrestling on the senior level for the past 10 years but has only represented Azerbaijan at the world championships once - last year at 74kg. Azimov went 1-1 last year in Oslo and failed to bring home a medal. However, now down at 70kg, Azimov looks to be a threat to challenge some of the best in the world in this bracket. In June, Azimov won the Matteo Pellicone with impressive victories over Murad Evloev (AZE), Servet Coskun, and Zurabi Iakobishvili. It's clear Azimov will be a dangerous draw wherever he lands in the bracket in Serbia.
Azimov's win over Zurabi Iakobishvili from June 2022:
Unlock this video, live events, and more with a subscription!
Get Started
Already a subscriber? Log In
Ramazan Ramazanov is a Russian transfer now representing Bulgaria. This year Ramazanov won a silver medal at the Dan Kolov tournament in February and then a bronze medal at the European Championships in March. In that time, Ramazanov's only losses were to Zain Retherford (10-6) and Zurabi Iakobishvili (12-2). While he'll be an underdog to win gold, Ramazanov certainly has the ability to make a deep run in this bracket and an outside chance to bring home a medal.
And then there's the true dark horse - Ilyas Bekbulatov. He's a Russian transfer who at one time was one of the best wrestlers in the world at 65kg. Bekbulatov has won 4 Yarygin titles and won Russian nationals back in 2015 by defeating world and Olympic champion Soslan Ramonov. No up at 70kg representing Uzbekistan, Bekbulatov has the ability to defeat anyone in this bracket and win gold.
70kg Medal Predictions:
Gold: Taishi Narikuni, JPN
Silver: Zain Retherford, USA
Bronze: Ernazar Akmataliev, KGZ
Bronze: Zurabi Iakobishvili, GEO
Get to know the 70kg field even better by looking at our World Championships Rankings - a ranking of the top 10 guys in every weight class based on head-to-head wins.