2022 Senior World Championships
61kg 2022 Worlds Preview: Seth Gross Ready For The World's Best
61kg 2022 Worlds Preview: Seth Gross Ready For The World's Best
A preview and predictions for 61kg at the 2022 World Championships in Belgrade, Serbia.
Aug 4, 2022
by Jon Kozak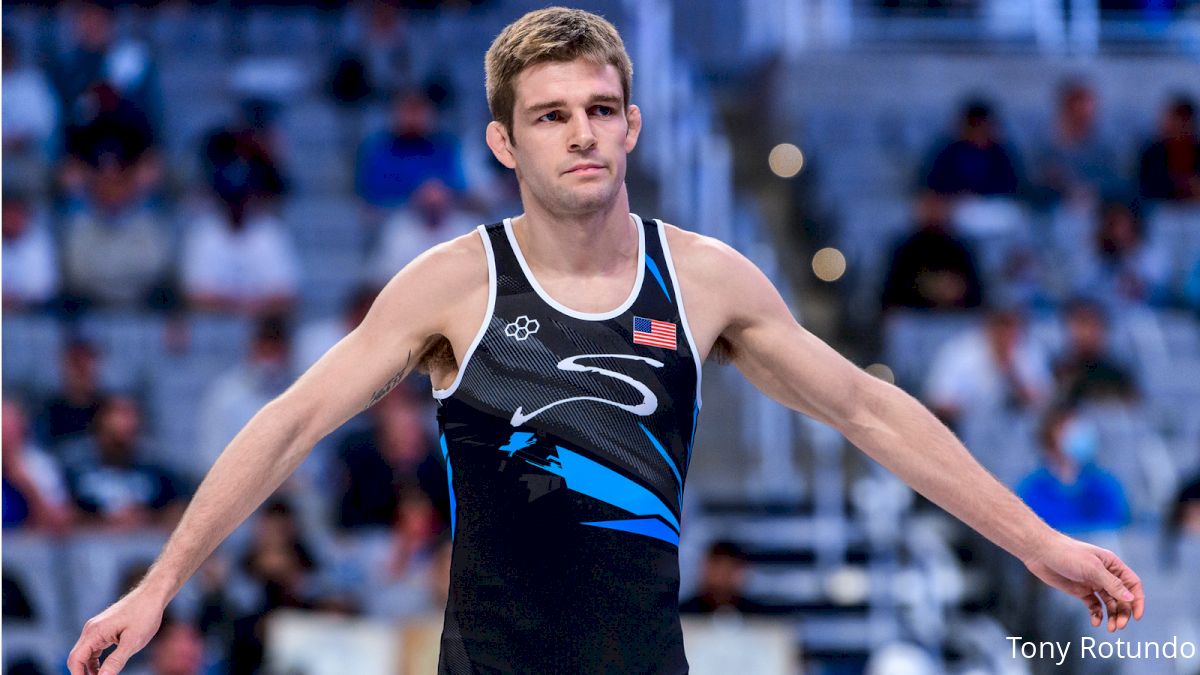 61kg is one of the most interesting and wide-open weights in the entire world. How will Seth Gross perform in his first senior world championships? Take a look below to see where Gross stacks up in this weight class along with a full breakdown of the favorites, contenders, and landmines.
This is the first year UWW is moving to 8 seeds (previously 4) and will give us a much better picture of the potential bracket at 61kg in Serbia. The below seeds leave out many of the top wrestlers in this weight making the random draw vastly important. We'll get into some of the best-unseeded wrestlers in this bracket but for now, it's worth noting that many of the best wrestlers will enter 61kg without a seed at worlds.
61kg Seeds:
Arsen Harutyunyan, ARM
Georgi Vangelov, BUL
Ulukbek Zholdoshbekov, KGZ
Suleyman Atli, TUR
Eduard Grigorev, POL
Teimuraz Vanishvili, GEO
Islam Bazarganov, AZE
Rei Higuchi, JPN
Favorites
The best wrestlers in the field:
With Russia banned from the world championships, defending world champ Abasgadzhi Magomedov will obviously not compete in Serbia. Also, returning silver medalist Daton Fix lost at Final X to Seth Gross and will not be in Serbia. On top of that, 2021 bronze medalist Toshihiro Hasegawa has descended to 57kg and will represent Japan at worlds there. That leaves 2021 world bronze medalist Arsen Harutyunyan (ARM) as the lone returning medalist from last year's world championships. Harutyunyan will be a big contender to win worlds and proved the world medal was no fluke when he won the 2022 European Championships in March. On his way to gold, Harutyunyan had notable wins over Eduard Grigorev and two-time world medalist Suleyman Atli.
Harutyunyan's win over Ravinder in the bronze medal match at 2021 worlds: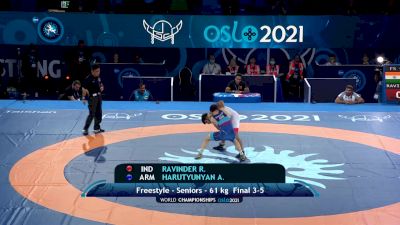 Unlock this video, live events, and more with a subscription!
Get Started
Already a subscriber? Log In
Along with Harutyunyan, Rei Higuchi should be considered a favorite to win worlds at 61kg. Higuchi won an Olympic silver medal in 2016 but this will be his first time representing Japan at a world championship. Despite not making a team from 2017-2021, Higuchi has impressive wins during that time period, including victories over world champ Yowlys Bonnne Rodriguez, world medalist Tulga Tumur-Ochir, world champ Yuki Takahashi, and world/Olympic champ Takuto Otoguro. Of anyone in the 61kg field, Higuchi has the best wins and the draw no one wants on their side of the bracket.
Higuchi's win in the Asian Championship Finals:
Unlock this video, live events, and more with a subscription!
Get Started
Already a subscriber? Log In
Contenders
The group with the most potential to medal or challenge the favorites:
Eduard Grigorev won a bronze medal at the 2022 European Championships where he lost only to the aforementioned Harutyunyan in a thrilling 13-8 semi-final bout. Despite that loss, Grigorev impressed at Euros with wins over Italy's Shamil Omarov and Albania's Zelimkhan Abakarov (two Russian transfers). Grigorev, a Russian transfer himself, will be the #7 seed at the world championships and is capable of making the finals. It's worth mentioning that Grigorev recently wrestled 65kg at the Ziolkowski tournament in July, but expect to see him back down at 61kg come time for worlds.
Grigorev's win over Zelimkhan Abakarov at the 2022 European Championships: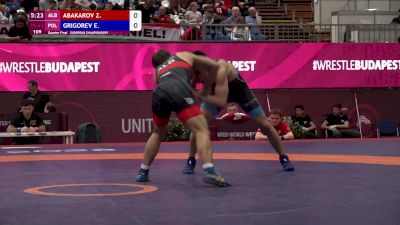 Unlock this video, live events, and more with a subscription!
Get Started
Already a subscriber? Log In
After Grigorev, Ravinder Dahiya (IND) is a contender who had a great showing at the world championships placing 5th with wins over Georgi Vangelov, Sunggwon Kim, and former world champion Beka Lomtadze. Ravinder hasn't wrestled since those world championships but proved last year in Oslo he's ready to compete with the best in the world at 61kg.
Landmines
The group that isn't projected to medal right now but has big potential to "blow up" the bracket:
Yes, the above list is enormous. However, the length of this list speaks to how wide-open 61kg is and how many wrestlers could come away with a medal in Serbia. It's also worth noting that all except Atli will be unseeded in the bracket and randomly drawn in. That means any one of these wrestlers could draw a favorite or contender in the very first round.
Because this list is so large, it's worth quickly highlighting why each of the above wrestlers is dangerous. First, there's two-time world medalist Suleyman Atli. He won world bronze in 2018 and silver in 2019 at 57kg but has struggled recently up at 61kg. Atli was teched by both Seth Gross and India's Aman at the rankings series tournament in Tunisia. Despite that performance, Atli is the most experienced competitor in the field and shouldn't be underestimated come September.
As mentioned, Seth Gross teched Suleyman Atli and has looked incredibly over the past few months. Beyond that, Gross' wins over Daton Fix prove he's a force to be reckoned with and that he can beat anyone in the world at 61kg. Still, Gross has limited international experience making him a huge unknown in this bracket.
Seth Gross' win over Suleyman Atli at the Tunisia tournament in July: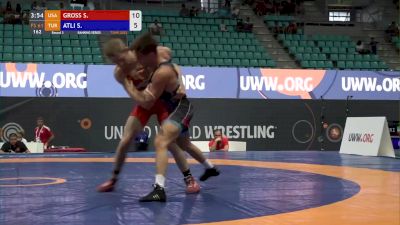 Unlock this video, live events, and more with a subscription!
Get Started
Already a subscriber? Log In
Reza Atri will be Iran's rep at 61kg and is coming up from 57kg at taking 5th at the Olympics. Atri most recently won the Takhti Cup where he took out Armenia's Arsen Harutyunyan in the finals. So why isn't Atri more of a contender? He'll be unseeded and has limited experience up in weight. While he could make a deep run, he could also draw face a tough draw in the first round and go 0-1.
In 2021 Andrii Dzhelep burst onto the scene at 61kg by finishing second at the European championships where he notably defeated former world champion Beka Lomtadze. However, because of an injury, Dzhelep didn't wrestle at the 2021 world championships. Dzhelep is back but didn't look optimized when he won silver at the Matteo Pellicone in June. If Dzhelep is 100%, he'll be a major threat in this bracket.
Dzhelep's win over world champ Beka Lomtadze: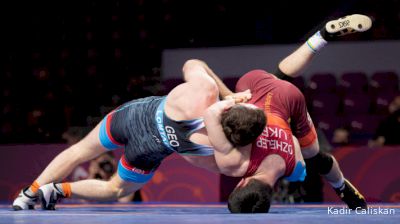 Unlock this video, live events, and more with a subscription!
Get Started
Already a subscriber? Log In
Zelimkhan Abakarov and Shamil Omarov are two Russian transfers and potential landmines in this bracket. Omarov has most recently been wrestling at 65kg but competed at 61kg at the European Championships where he lost a close, 2-1 match to Eduard Grigorev. Abakarov has had much better results over the past few months and I wouldn't be surprised if he won a world title. This year, Abakarov has wins over Stevan Micic and Olympic silver medalist Ravi Kumar and notably won bronze at the Yarygin - only losing a 6-3 bout to defending world champion Abasgadzhi Magomedov.
Abakarov's win over Olympic silver medalist Ravi Kumar at the 2022 Kolov in February:
The final landmine - Stevan Micic. The 3-time All-American Michigan alum will be wrestling in his home country of Serbia and is up in weight after qualifying for the Olympics at 57kg. At the beginning of the year, Micic tested the waters up at 65kg where he wrestled at both the European Championships and Mediterranean Games. He failed to place at Euros going 0-1 but had a much better showing at the Mediterranean Games. There he won a bronze medal highlighted by a win over Turkey's Recep Aktas (a 2022 Euro bronze medalist). 61kg is the perfect weight for Micic and could make a deep run at worlds if wrestling his best.
Micic's win over world medalist Andrey Yatsenko:
Predictions
As mentioned, Seth Gross has the tools to take out anyone in the world at 61kg. He's greatly improved his neutral offense and he has the ability to end any match with his parterre game on top. Despite that, I'm not ready to predict a medal for Gross for a few reasons. First, he'll be drawn into the bracket and could have any of the top contenders as early as the first round. Also, Gross has still shown holes in his defense and has the bad habit of going behind by a few points before mounting a comeback. That match strategy won't work against many in this bracket and gives me pause in predicting him to medal.
I have no reservations about Rei Higuchi. He looked phenomenal at the Asian Championships where he dominated the competition by going 4-0 with 4 tech falls. Higuchi looks to be the best wrestler in this field and the odds on favorite to win a world title.
61kg 2022 World Championship Predictions:

Gold: Rei Higuchi, JPN
Silver: Reza Atri, IRI
Bronze: Ulukbek Zholdoshbekov, KGZ
Bronze: Arsen Harutyunyan, ARM
Get to know the 61kg field even better by looking at our World Championships Rankings - a ranking of the top 10 guys in every weight class based on head-to-head wins.