Fargo Dramatics Add To Josh Barr's Brilliant And Budding Resume
Fargo Dramatics Add To Josh Barr's Brilliant And Budding Resume
For the second straight year, Josh Barr won a Fargo freestyle title in dramatic fashion, adding to his growing list of wrestling accomplishments.
Aug 3, 2022
by Mark Spezia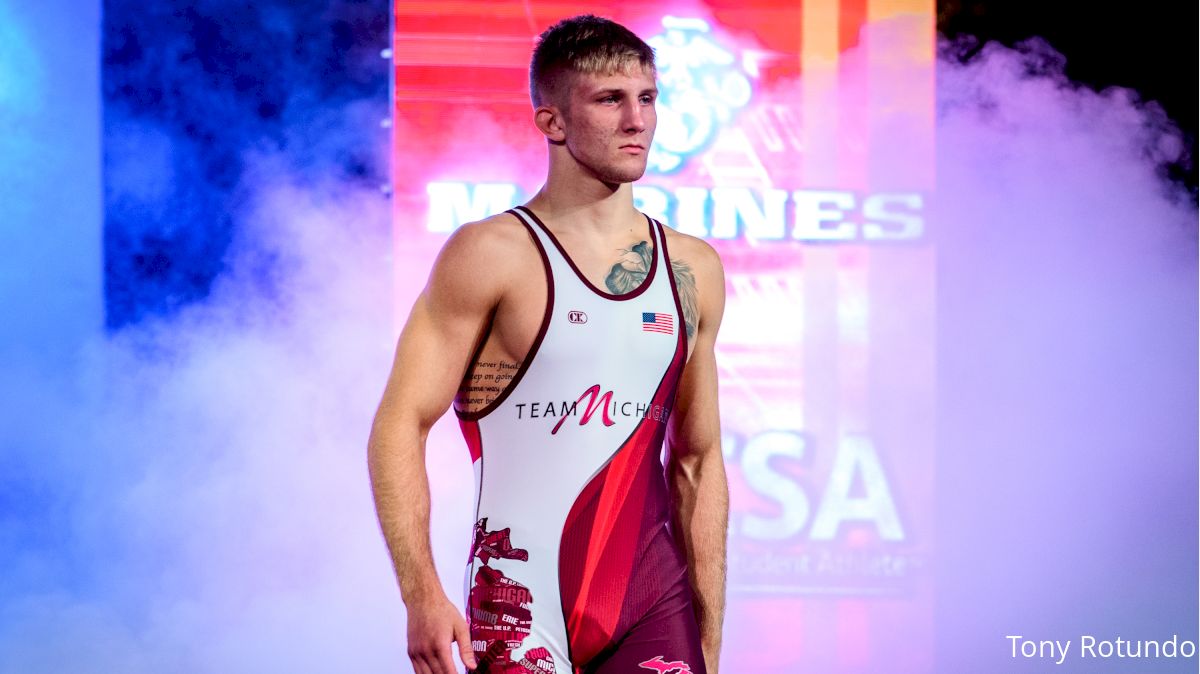 Facing a seemingly desperate situation, Josh Barr was not panicking.
Trailing Pennsylvania's Rocco Welsh, 5-3, in the 170-pound Junior Freestyle title match at this year's Cadet and Junior National Championships in Fargo, the three-time Michigan state champion had less than 30 seconds to make something happen.
Welsh, an Ohio State recruit and the nation's #3 170-pounder, knew full well that Barr, a Penn State signee ranked #16 pound-for-pound and #6 at 170, had no choice but to come after him.
Barr's unwavering faith, however, had prepared him for moments like this.
The soon-to-be Davison High School senior possesses strong faith in his abilities, steadfast faith in the coaches who have molded him into one of the country's top Class of 2023 talents and devout faith in God, strengthened by regularly watching sermons online.
Just two words separated by a bullet point — Jesus and wrestling — appear atop his Facebook and Instagram accounts.
Welsh fought off Barr's next shot and attempted to get behind him for a potentially match-clinching takedown, but Barr was having none of that. He countered Welsh's move, taking him to the mat, clutching his leg and getting on top him for a takedown to make it 5-5 with 25 seconds left.
Barr kept Welsh in his clutches, turning him on his back and taking the lead (7-5) with just 18 seconds to go. Barr added another point when Welsh stepped out of the bounds in the waning seconds for an 8-5 win and second straight Fargo championship.
"All I was thinking about was scoring the next point and I am always prepared to wrestle hard for a full six minutes which helped me stay calm," Barr said. "I was not going to let myself get too caught up in the deficit, but just keep wrestling and I could hear him starting to breathe harder. I've always had a strong faith in God, my training and coaches."
Barr and Welsh remained mostly on their feet, entangled in close quarters, for much of the opening period. The only scoring was a shot clock penalty which put Barr up, 1-0.
Welsh wasted little time erasing that deficit with two takedowns and a step out all within the first 40 seconds of the second period for a 5-1 advantage. Welsh's problem, however, is that he did not score again and Barr began his comeback with a takedown with 1:37 remaining.
"Josh has a ton of heart and guts and it was a gritty championship win where he took his opponent to deep waters," said Davison coach Zac Hall, a five-time Fargo freestyle All-American. "I thought he kept his composure and used nice snaps and fakes to create great flurries and transitions."
Overall, Barr went 7-0 in Fargo, including five technical falls. He knocked off Wisconsin's Noah Mulvaney (#20 at 170 pounds) in the semifinals. Barr also dispatched New Jersey state champion Simon Riuz, who was 32-1 last season, and Rhode Island state runner-up Isael Perez.
Elite Company
Barr becomes just the sixth Michigan wrestler to capture more than one Junior Freestyle championship in Fargo, joining Davison's Brent Metcalf (2003-05) and Paul Donahoe (2002-03) as well as Fowlerville's Adam Coon (2012-13), Williamston's Nick Simmons (1998-200) and Cedar Springs' Andre Metzger (1977-78).
A year ago, Barr bested two-time Iowa state champion Aiden Riggins (#5 at 160) for the 160-pound title, which Riggins won this year. Barr took care of two-time Wisconsin state champion Braeden Scoles (#8 at 160) en route to the final.
"Comparing the two, I'd say my first Fargo title was a bit more exciting just because the first time accomplishing something like that is just so special," said Barr, also a 16U Fargo All-American in 2019. "Also, recruiting had opened up about a month before which really helped raise my profile, but winning this year was obviously very satisfying too, especially beating a talented, tough guy like Rocco who always does really well in big-time events."
College interest in Barr, #8 on the Class of 2023 Big Board, indeed ramped up following his first Fargo win and he committed to Penn State in January over Iowa, Ohio State, Michigan and Virginia Tech.
By then, Barr was in the midst of a high school season that saw him lead the Cardinals to a second consecutive Division 1 team state championship, remain on track to become a four-time individual state champion and finish 28-1.
"Josh's success stems from his dedication to a successful lifestyle," Hall says. "He takes every aspect of his training seriously — from lifting, to recovery, diet, sleep, conditioning, etc. He is very self-motivated and loves to push his boundaries.
Barr has only lost once in 96 high school matches, a 3-2 decision to Detroit Catholic Central's Manny Rojas, an Iowa State recruit who is #17 pound-for-pound and #7 at 170.
Barr avenged that loss twice when they met with the stakes even higher later in the season. He edged Rojas, 4-3, in the team state-title match before taking a more decisive 5-2 decision when they clashed for the individual state championship a week later. Rojas was seeking a third state title.
"That was certainly my favorite high school season so far even though there was a loss on my record," Barr said. "That loss to Manny still stings because it was my first one in high school, but, at the same time, it was a good loss. I took a long look at my training methods, started doing some things differently and bounced back to have different results when we wrestled again."
Making Noise At U20 Trials
Barr tuned up for Fargo with impressive results at the U20 World Team Trials in June, including taking out four-time Georgia state champion and 2021 Super 32 champ Matt Singleton, who is ranked #13 pound-for-pound and #1 at 182.
Barr then beat four-time Oregon state champion James Rowley, #8 at 170, and Pennsylvania state champion Joey Milano, who went 23-6 in open competition during his true freshman season at North Carolina State.
He reached the Challenge final at 79 kilograms before falling to Brayden Thompson of Illinois, 4-1. Thompson is #15 pound-for-pound and #1 at 170.
"One of my biggest goals is to start making World teams and I feel like I'm getting closer," Barr said. "I always learn a lot from facing competition like I did at the U20 trials and always come away from it highly motivated and confident about doing better the next time."
Barr's wrestling journey began around the age of seven in a youth program where he grew in Swartz Creek before joining a newly-formed youth club run by Donahoe, a 2007 NCAA champion and three-time All-American.
While he did not experience immediate success, Barr appreciated the benefits of wrestling almost immediately.
"I was certainly not the best when I started wrestling and it was a rough couple of years before starting to have some success," said Barr, whose family moved to Davison before he entered middle school. "At first, I stuck with it mostly because a lot of my friends were also wrestling, but I soon started to see how wrestling does make everything else in life easier. It really helped me to have to get tougher and that made me a more confident person."
Career Takes Off
Motivated to maximize his potential, Barr eventually began making noise at major tournaments.
He finished second in the Elementary 80-pound division at the Grappler Fall Classic in 2014 before winning the 90-pound title the next year. He moved up to the Elite Division in 2016 and finished third at 98 pounds.
Those showings proved just a warmup for Barr, who racked up some stunning GFC results the next two years against high school wrestlers.
As a seventh-grader in 2017, he finished fifth in the Elite, 105-pound division, shocking Flint Powers sophomore Sean Spidle, who had won a state title the previous season. Barr also beat Michigan state medalist Nolan Datema, a Carson City junior, and Parker Decker, who had placed third in the Texas state tournament.
The next year, Barr was eighth in the Elite, 130-pound class, upsetting Florida's Chris Rivera, who had won the second of four state titles about eight months earlier, and Logan Bailey, who was third in the Indiana state tourney the previous season.
Barr took sixth in the Elite 145 competition in 2019 before winning the Elite 160 title in 2020 against a field that included four-time state champion and Purdue signee Stoney Buell (Dundee).
Winning again in Fargo, of course, earned Barr a spot on the Who's #1 card for the first second straight year. This time, the event takes place just an hour from Davison in Ann Arbor.
"Oh, I can't wait for that because so many friends and family members are going to there," he said. "It's going to be awesome."
Barr dropped a 4-1 decision to future Penn State teammate Levi Haines (#7 pound-for-pound, #1 at 160) of Pennsylvania at last year's Who's No. 1.
"I will be training hard and be ready, as usual," he said. "Of course, I'll study video of who I'm facing, but the biggest thing is just doing my thing and not getting too caught up in who my opponent is. That's how I focus my training — improving myself as a whole."
Bright Future
Barr intends to become Davison's fourth, four-time state champion next season, joining Metcalf, Lincoln Olson and Alex Facundo. Michigan recruit Caden Horwath (#5, 126) could also join that exclusive club next season.
The Cardinals, who will return the majority of their starting lineup, have not won three straight team titles since the likes of future NCAA champions Metcalf, Donahoe and Jon Reader helped them capture five straight from 2002-06.
"Certainly, a big goal is winning more state titles, team and individual, but I'm also excited about using next season to help the younger wrestlers get ready to take over and continue Davison's success when my class is done," Barr said.
Barr then hopes to make his first age-group World team before joining Penn State, where he will likely wrestle at 174 or 184 pounds.
"I know I will have to improve in order to make a World team, so I'll continue to focus on getting better every day, closing matches more strongly and eliminating mistakes," he said. "I'll also keep putting myself against the best competition possible. I can't wait to become part of that amazing room at Penn State. How can you go wrong with atmosphere, that coaching staff and those training partners?"
Hall, a 2017 NCAA qualifier while wrestling for Michigan, is grateful to be coaching Barr for another season and eager to witness what he accomplishes in a Nittany Lions uniform.
I'm incredibly excited for what the future has in store for Josh," he said. "He has next-level offense that I think will allow him to compete with the best guys in college immediately."