2022 U17 World Championships
UWW U17 World Championships Live Blog - Day 4
UWW U17 World Championships Live Blog - Day 4
Real action in real time as four American women compete in medal matches in Day 4 of the 2022 U17 World Championships.
Jul 28, 2022
by Andrew Spey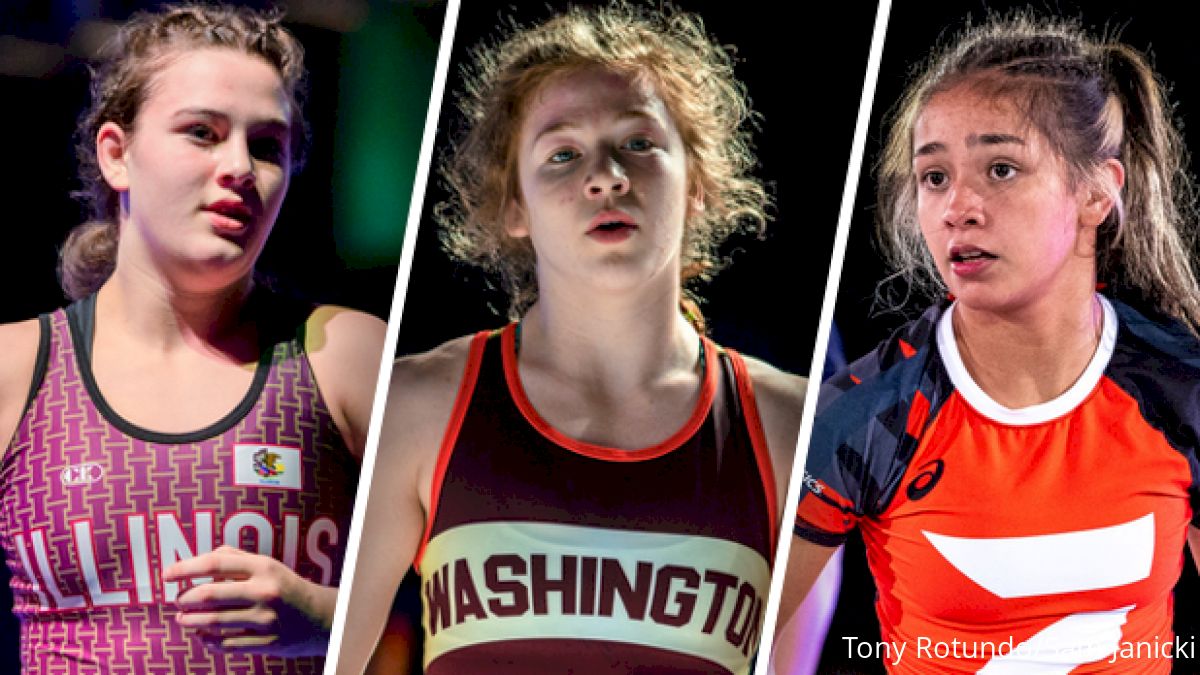 The American women are on the prowl for medals in the Eternal City. Gabriella Gomez and Valerie Hamilton are in the semis while Erica Pastoriza is in the gold medal match at 43 kilograms, and Shelby Moore, Sydney Perry, and Kaiulani Garcia are going for bronze at 57, 65 and 73 kilos.
Follow the action here as we bring you LIVE updates of the matches!
For a recap of the previous day's results, check out these links: Day 1 | Day 2 | Day 3 | Day 4
46kg Semi-finals - Gabriella Gomez (USA) vs Kornelia Laszlo (HUN)
1st period: Laszlo looks to tie up the left arm of Gomez but Gomez pulls her into front headlock position. Gomez goes on the clock first after being warned by the ref and is unable to score on a few go-behind attempts. Laszlo goes up 1-0. Laszlo then gets in on a single-leg but Gomez shows some good defense and the period ends still at 1-0.
2nd period: Laszlo gets back in on a single-leg and Gomez looks to go-behind but surrenders the takedown to go down 3-0. Gomez continues to fight from the bottom position and is able to get to a leg and earn a reversal to close the gap to 3-1. While on top, Gomez digs for a leg-lace and almost gets the turn but falls just short - score remains at 3-1 with a minute to go. They get back into the front headlock position but instead of looking for the shuck by, Gomez goes head-in-the-hole and gets a takedown to take the 3-3 criteria lead with 30 seconds to go. Laszlo takes a half-hearted shot and Gomez defends with the front headlock to win on criteria and move into the world finals! Gomez's finals opponent will be Koko Matsuda (JPN).
---
61kg Semi-Finals - Valerie Hamilton (USA) vs Sevinch Sultonova (UZB)
1st period: A lot of handfighting in the middle of the mat to start the match and Sultonova goes on the clock first a minute in. Sultonova shows very little interest in scoring and takes zero shots while on the activity clock - Hamilton goes up 1-0. Very uneventful first period, no shots, just handfighting, Hamilton stays in the lead, 1-0 at the break.
2nd period: More handfighting to start the second period. They get into the over-under position for a brief moment and Sultnova threatens with a throw. Hamilton then changes levels for a nice duck-under for a takedown and extends her lead to 3-0. Sultonova threatens a headlock a few times but nothing serious enough to score. With just over 10 seconds left, Sultonova takes her first shot of the match, almost gets a takedown, but Hamilton takes her through with a crotch lift and gets the 5-0 win! Hamilton is on to the world finals where she'll face India's Savita.
43kg Bronze Medal Matches
Karimzada (AZE) vs Abdullina (KAZ) - Karimzada gets the early takedown and gut to go up 4-0 then adds another 2 off an exposure to take the 6-0 lead into the break. Karimzada really good defensively, scores off another shot taking Abdullina to her back and getting the fall. Karimzada wins bronze.
Gulnura Ruslanova (UZB) vs Anastasiia Polska (UKR) - Polska gets a takedown and lace as the period closes to go up 4-1 at the break. Ruslanova gets a takedown with 45 seconds left to close the gap to 4-3, she works hard for a turn but doesn't get it. 5 seconds left and Ruslanova gives up a caution +1 for pulling the singlet and Polska wins - 5-3.
43kg Gold Medal Match
Erica Pastoriza (USA) vs Ritika (IND)
1st period: Pastoriza circling exclusively to her left side as Ritika looks to go double overhooks to start the match. Ritika attempts a dumb from the double-over position and almost scores but Pastoriza is able to defend. With a minute in and still no score, Pastoriza goes on the activity clock first. Pastoriza takes a nice single leg attempt but Ritika defends and scores on a single of her own. She gets another off the activity clock and it's 3-0 Ritika. With just 10 seconds to go in the first, Ritika gets in on another single and scores a takedown making the score 5-0 at the break.
2nd period: Ritika comes out hard in the first - moving Pastoriza around the mat with an underhook. Ritika continues to control with double overs and snaps Pastoriza down and runs behind for 2 more - 7-0 now. Pastoriza takes a few more shots out of desperation but gets caught underneath - Ritika is able to throw Pastoriza to her back and gets the fall with about 15 seconds left in the match. Pastoriza comes away with the silver - impressive performance from Ritika.
---
49kg Medal Matches
Bronze: Reka Hegedus (SVK) vs Fabiana Rinella (ITA) - Rinella scores early with a go-behind and takes the 2-0 lead. Not much action for the rest of the first and the score remains 2-0 at the break. Rinella continues to control in the second countering an arm spin and scoring a go-behind. Never in doubt, Rinella wins 7-0 and secures the bronze on home turf!
Bronze: Sevval Cayir (TUR) vs Aiymgul Abylova (KAZ) - Cayir controls the match early with a takedown and activity clock point - 3-0 at the break. Cayir comes out in the second with a nice headlock but only scores 2. Abylova gets in on a shot but Cayir counters and takes Abylova through for 2 more on an exposure. After another headlock and counter exposure, Cayir gets the 11-0 technical superiority win for bronze.
Gold: Mihoko Takeuchi (JPN) vs Ruzanna Mammadova (AZE) - Mammadova goes on the clock early but Takeuchi doesn't wait and hits a beauty of a duck for a takedown. She scores another on the activity clock point and goes up early - 3-0. Pace slows a bit and Takeuchi holds the 3 point lead into the break. Mostly handfighting to start the second and Takeuchi is put on the clock. Mammadova hits a powerful single-leg to a dump and scores two. The activity clock also runs out for Takeuchi and Mammadova takes the 3-3 criteria lead with just 15 seconds left. Takeuchi pursuing but Mammadova hits an arm-spin and wins 5-5 and the gold medal at 49kg! Really fun match.
Unfortunately, American rising star Audrey Jimenez dropped her first match of the tournament to Italy, who was then felled in the semifinals by Japan, ending Jimenez's tournament earlier than expected. However, Audrey made the U20 world team as well, so she will seek redemption in a few weeks at the U20 World Championships in Bulgaria.
---
57kg Bronze Medal Match
Shelby Moore (USA) vs Ulmeken Esenbaeva (UZB)
Moore dropped a tough quarterfinal bout to one of the vaunted Japanese wrestlers but battled her way to a bronze medal match with a commanding tech fall in the repechage.
1st period: Moore falls behind early after a go behind by Esenbaeva in the first minute. Moore battles back though, grabs a single leg and finishes just before the period ends to take the lead via criteria 2-2.
2nd period. Moore defending but after a lengthy scramble Esenbaeva comes out behind and will collect the go-ahead two. Less than a minute to go. Moore tries to whip Esenbaeva over from neutral but Esenbaeva is being stubborn. Moore tries a go behind and beats Esenbaeva's defense but Esenbaeva holds on to a triceps, sits out and scrambles back to neutral. Just 10 seconds to go now and Moore can't get a score. She'll drop a heartbreaker and finish in fifth.
57kg Medal Matches
Turkey beats India to collect the other bronze medal.
In the gold medal match, Uchida of Japan, who beat Moore and Esenbaeva, demolishes Hungary, racking up 6 points before horsing her opponent over for the pin. Uchida has a bright future to go with her U17 gold medal.
---
65kg Bronze Medal Match
Sydney Perry (USA) vs Zharkynai Nurlan Kyzy (KGZ)
Perry was pressed into service after world team trials winner Lizzie Shunn got injured in training camp, which necessitated Perry flying to Rome right after winning a Junior national title in Fargo, North Dakota.
1st period: Blast double by Nurlan and Perry is driven off the mat, giving up the first point in the process. Nurlan gets a single leg and converts for two more. Add a gut wrench turn to run the score to 5-0, all in the first 45 seconds. Perry tries to change the momentum, takes a couple shots but Nurlan drops heavy hips on her and stops Perry's offense. Still 5-0 at the break.
2nd period: A double leg off the whistle by Nurlan is stopped by Perry as the American seems to be on more solid ground now, defensively speaking. A shot from Perry is anticipated by Nurlan and the Kyrgyzstani counters and powers Perry to the mat for two more points and a 7-0 lead. Less than a minute to go. Perry looking for an inside-trip homerun but the move doesn't land. Nurlan backing out of Perry's ties and runs out the clock. Perry will finish fifth.
65kg Medal Matches
Netherlands pins Slovakia for a rare wrestling medal from one of the Low Countries in the other bronze-medal match.
Slow first period in the gold medal match between Pantiru of Romania and Sato of Japan, with just a shot clock point for Japan. At least until Japan shoots and Romania counters with a belly whizzer roll thru for two. A scramble in the closing seconds and Japan beats the clock for a go behind to make it 3-2 at the buzzer.
Pantiru desperately trying to hold on to Sato's head in a scramble and tries to kick Sato over for an exposure but Sato won't go over and instead gets a go behind to make it 5-2. 30 seconds to go. Pantiru goes for broke but Sato holds on to win and another gold medal is collected by the powerhouse that is Japan.
---
73kg Bronze Medal Match
Kaiulani Garcia (USA) vs Alina Yertostik (KAZ)
Like Perry, Garcia was also called up when the U17 trials champ at her weight suffered an ill-timed injury, so Garcia is wrestling for Team USA, and Amarisa Manuel, who was the world team member had to bow out.
1st period: It's up to Garcia to try and snap the USA's losing streak today, not that she needs any more pressure with a world bronze medal on the line. Headlock hip toss from Yertostik missing and it's ruled a slip. No scores after 49 seconds and it's Garcia who goes on the activity clock first. Yertostik being very physical, trying to look up a throw. She goes for the lat drop but Garcia counters and has Yertostik on her back. Can she get the fall? Fantastic high bridge from Yertostik who squirms her way out of bounds while still on her back so she gets called for fleeing and gives up two more points (Garcia got two on the counter), collects and caution and will go back down in par terre on the restart. The period ends and Garcia is leading 4-0.
2nd period: Yertostik goes back to upper body ties. She's locked up two over hooks and is moving Garcia around the mat. Garcia doing a good job circling while bundled up. Yertostik again goes for the lat drop and Garcia was more than ready for her. Two more points for Garcia and they're brought back up with 30 seconds to go. Polish throw for Yertostik, and the outside trip gets Garcia. 15 seconds to go and Garcia is fighting off her back. If she can last 10 more seconds she'll win on points. Alas, she cannot, there's the fall, with 7 seconds left on the clock. Garcia loses in the most heartbreaking manner of the day. USA goes 0-4 in medal matches.
73kg Medal Matches
Germany leg laced Japan into oblivion in a rare Japanese loss in a medal match for bronze. Germany has some history with women's upperweights, as evidenced by the 2020 Olympic 76kg champ, Aline Rotter-Focken.
India goes to work on Ukraine in the gold medal match, jumping out to a 4-0 lead at the break. Priya of India keeps pouring it on and gets the tech fall for a gold medal for India, who is having an excellent tournament.
That will do it for Day 4. Disappointing for sure but still a quality performance that bodes well for the future of Team USA. We'll see you tomorrow for more medal matches as we have at least two more gold medal matches to wrestle!