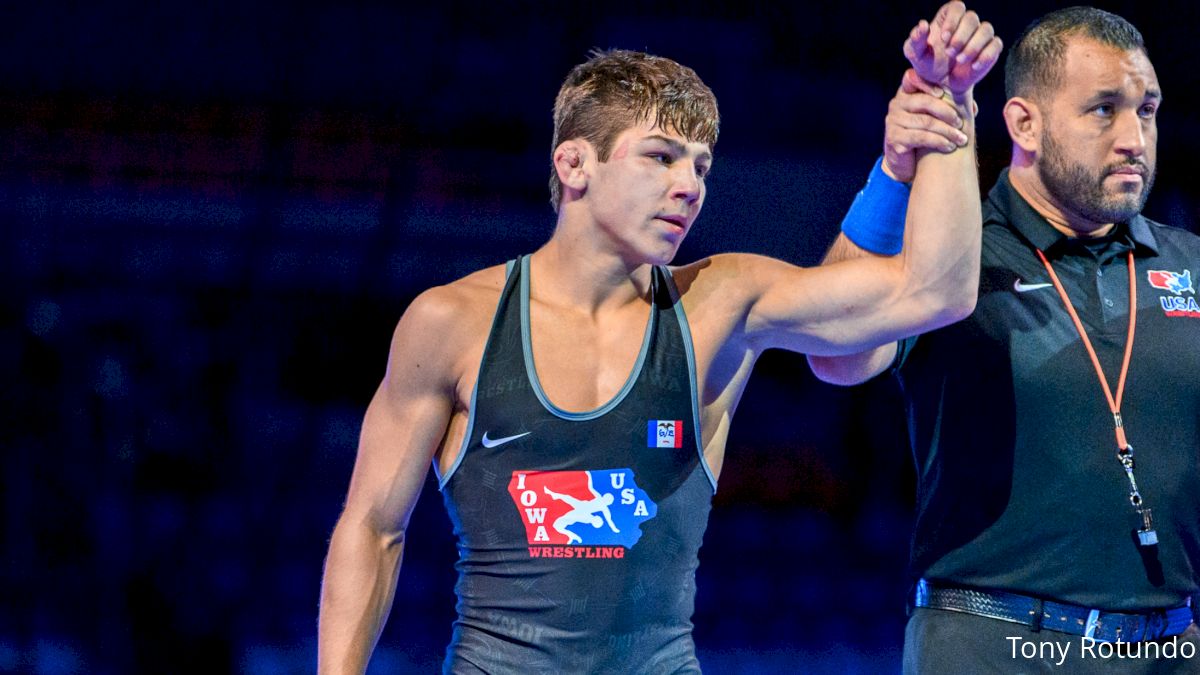 Of course, no college teams actually compete at Fargo. But armed with our recruiting knowledge and a set of complete men's freestyle results from Fargo, courtesy of FloArena, we can see how many points each school earned by their committed wrestlers.
Fargo is scored 25-20-15-12-9-7-5-2 team points placing 1-8 in that order. The final team leaderboard can be found below followed by each team's individual performances. This only takes freestyle results into account, no Greco.
Iowa blew every other team out of the water. It's good to see Little Rock finishing in the top seven. In addition to a freestyle champ, they had two in Greco.
If I missed anyone please let me know! jd.rader@flosports.tv
---
Arizona State
Nicco Ruiz, Team California (2nd at 160) - class of 2023
Jacob Meissner, Team Minnesota (DNP at 195) - class of 2022
Army West Point
Samuel Cartella, Team Ohio (DNP at 138) - class of 2023
Augustana
Max Ramberg, Team Wisconsin (8th at 220) - class of 2022
Bucknell
Noah Mulvaney, Team Wisconsin (5th at 170) - class of 2023
California Baptist
Max Acciardi, Team New Jersey (6th at 285) - class of 2023
Columbia
Nolan Neves, Team Ohio (DNP at 285) - class of 2022
Cornell
Mason Gibson, Team Pennsylvania (1st at 16U 126) - class of 2024
Simon Ruiz, Team New Jersey (7th at 170) - class of 2023
Aiden Hanning, Team Massachusetts (DNP at 195) - class of 2022
Michael Dellagatta, Team New Jersey (DNP at 195) - class of 2023
Carter Tate, Team Nevada (DNP at 132) - class of 2022
Clarion
Chase Cordia, Team Missouri (DNP at 182) - class of 2022
Duke
HM Connor Barket, Team Indiana (DNP at 195) - class of 2022
Illinois
Kannon Webster, Team Illinois (2nd at 132) - class of 2023
Braeden Scoles, Team Wisconsin (3rd at 160) - class of 2023
Kole Brower, Team Illinois (7th at 138) - class of 2022
Indiana
Tyler Lillard, Team Ohio (6th place at 170) - class of 2022
Iowa
Nathanael Jesuroga, Team Iowa (1st at 120) - class of 2023
Ryder Block, Team Iowa (1st at 138) - class of 2023
Cody Chittum, Team Tennessee (1st at 152) - class of 2022/2023
Aiden Riggins, Team Iowa (1st at 160) - class of 2023
Bradley Hill, Team Iowa (1st at 220) - class of 2022
Kolby Franklin, Team Iowa (2nd at 220) - class of 2022
Joel Jesuroga, Team Iowa (4th at 145) - class of 2022
Iowa State
Tate Naaktgeboren, Team Iowa (3rd at 182) class of 2023
Lehigh
Luke Stanich, Team New Jersey (2nd at 126) - class of 2023
Kimo Leia, Team California (DNP at 145) - class of 2022
Little Rock
Kyle Dutton, Team Missouri (1st at 145) - class of 2022
Brendon Abdon, Team Florida (7th at 160) - class of 2022
Cael Keck, Team Missouri (8th at 132) - class of 2022
Van Hoecke, Team Florida (DNP at 145) class of 2022
Stephen Little, Team Kentucky (DNP at 195) - class of 2022
Michigan
Caden Horwath, Team Michigan (2nd at 120) - class of 2023
Beau Mantanona, Team California (2nd at 145) - class of 2023
Rylan Rogers, Team Idaho (2nd at 195) - class of 2022
Hayden Walters, Team Oregon (4th at 195) - class of 2023
Dylan Gilcher, Team Michigan (6th at 145) - class of 2023
Cameron Catrabone, Team New York (DNP at 138) - class of 2024
Codei Khawaja, Team Indiana (DNP at 182) - class of 2022
Michigan State
Braden Stauffenberg, Team Illinois (DNP at 160) - class of 2022
Missouri
J Conway, Team Indiana (6th at 160) - class of 2022
Zeke Seltzer, Team Indiana (DNP at 138) - class of 2022
Carter McCallister, Team Missouri (DNP at 138) - class of 2023
Navy
Ryder Rogotzke, Team Minnesota (4th at 182 lbs) - class of 2023
NC State
Jeremiah Price, Team North Carolina (8th at 152) - class of 2023
Vincent Robinson, Team Illinois (DNP at 138) - class of 2023
Koy Buesgens, Team Minnesota (DNP at 145) - class of 2023
North Dakota State
Boeden Greenley, Team North Dakota (5th at 152) - class of 2023
Gavin Drexler, Team Wisconsin (7th at 145) - class of 2022
Nebraska
Ismael Ayoub, Team Ohio (2nd at 138) - class of 2022
Alan Koehler, Team Minnesota (3rd at 120) - class of 2023
Kael Lauridsen, Team Nebraska (5th at 120) - class of 2023
Northern Colorado
CJ Hamblin, Team Washington (DNP at 170) - class of 2022
Northern Iowa
Cory Land, Team Alabama (1st at 132) - class of 2022
Wyatt Voelker, Team Iowa (3rd at 195) - class of 2022
Northwestern
Joseph Martin, Team California (DNP at 182) class of 2022
Ohio State
Vincent Kilkeary, Team Pennsylvania (7th at 120) - class of 2023
Rocco Welsh, Team Pennsylvania (2nd at 170) class of 2022
Oklahoma
AJ Heeg, Team Oklahoma (2nd at 182) - class of 2023
KJ Evans, Team Oklahoma (DNP at 145) - class of 2023
Dylan Russo, Team Ohio (5th at 220) - class of 2023
Oklahoma State
Cael Hughes, Team Oklahoma (DNP at 132) - class of 2023
Jersey Robb, Team Oklahoma (DNP at 195) - class of 2023
Oregon State
Nash Singleton, Team Oregon (4th place) - class of 2022
DJ Gillett, Team Oregon (DNP at 138) - class of 2023
Penn
Jude Swisher, Team Pennsylvania (3rd at 152) - class of 2022
Max Gallagher, Team New York (5th at 126) - class of 2023
Penn State
Josh Barr, Team Michigan (1st at 170) - class of 2023
Braeden Davis, Team Michigan (4th at 120) - class of 2023
Princeton
Ty Whalen, Team New Jersey (2nd at 152) - class of 2022
Drew Heethuis, Team Michigan (DNP at 126) - class of 2023
Holden Garcia, Team Pennsylvania (DNP at 170) - class of 2023
Christopher Martino, Team Idaho (DNP at 138) - class of 2022
Purdue
Brody Baumann, Team Indiana (DNP at 170) - class of 2022
Rutgers
Luke Gayer, Team California (DNP at 170) - class of 2022
South Dakota State
Kail Wynia, Team Minnesota (6th at 220) - class of 2022
Stanford
Zach Hanson, Team Minnesota (3rd at 145) - class of 2023
Lorenzo Norman, Team New Jersey (3rd at 170) - class of 2023
Aden Valencia, Team California (6th at 126 lbs) - class of 2024
Jack Darrah, Team Missouri (7th at 195) - class of 2022
Virginia
Gable Porter, Team Iowa (DNP at 126) - class of 2023
Virginia Tech
Logan Frazier, Team Indiana (DNP at 126) - class of 2023
Wisconsin
Greyson Clark, Team Wisconsin (DNP at 132) - class of 2023
Wisconsin Parkside
Shane Corrigan, Team Wisconsin (7th at 126) - class of 2022