2022 USMC/USAW Junior and 16U National Championships
Stars Shine Bright, Iowa Rises At 16U Women's Nationals
Stars Shine Bright, Iowa Rises At 16U Women's Nationals
Iowa captured its first women's freestyle title and four returning champs doubled up in Fargo in the 16U division.
Jul 20, 2022
by Derek Levendusky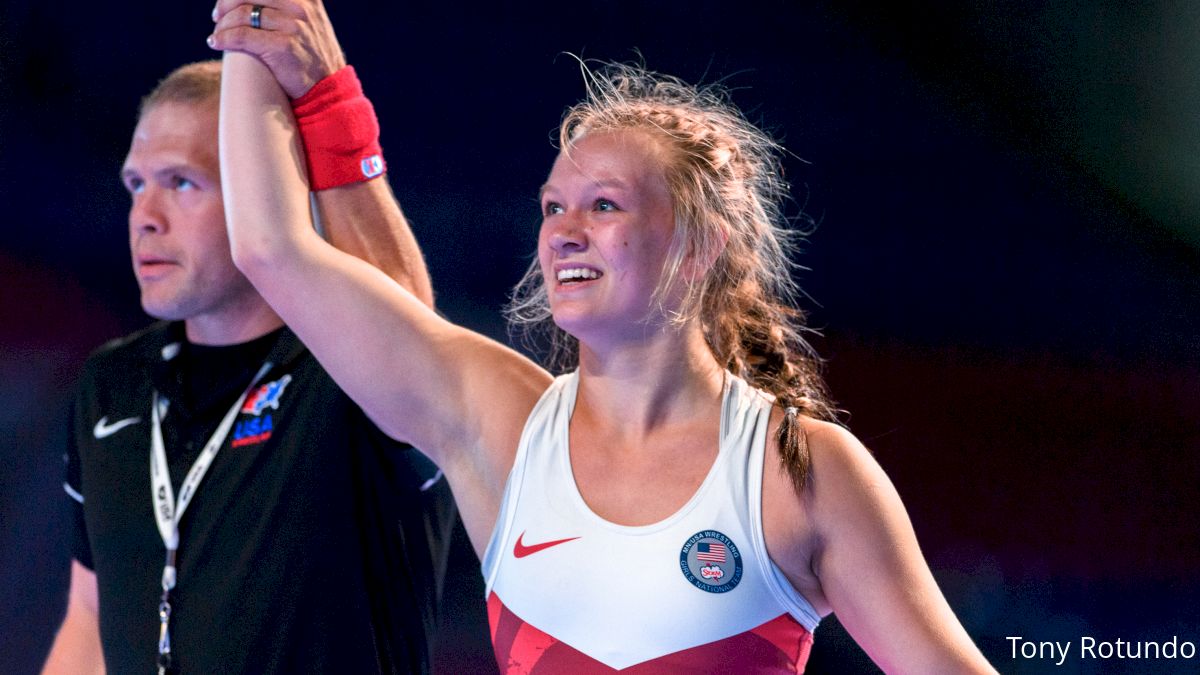 For the first time, a state other than California (2012-2019, 2021) or Hawaii (2011) won the girls 16U team race in Fargo, and for the first time, the Iowa girls are standing on top.
Iowa's team title run was led by the Cinderella of the tournament, 112-pounder Molly Allen, who pulled a stunning upset over returning national champ Cecilia Williams in the semis.
Iowa scored 90 points to win it, followed by Missouri with 87, California with 86, Michigan with 82, and Minnesota with 81. It's notable that Arizona took eighth place after landing in 33rd in this division last year, a massive step forward for the state program.
Michigan and Minnesota both had two champs, Iowa and Missouri each had one, while surprisingly, California didn't have a single champ this year. In fact, 117-pound runner-up Isabella Marie Gonzalez was California's lone finalist.
The highly anticipated finals at 127 between returning national champions Skylar Little Soldier and Cadence Diduch was as competitive as advertised, a 3-2 victory for Little Soldier. She took a 2-0 lead to the break, but Diduch tied it up in the middle of the second with a takedown. Little Soldier immediately countered with what turned out to be the match-deciding reversal. With the win, Little Soldier secured back-to-back titles at Fargo. In fact, In fact, four of the six returning champs went back-to-back, including 144-pound Nebi Tsarni from Maryland, 164-pound Ella Pagel from Minnesota, and 180-pound Sabrina Nauss from Michigan.
2021 Cadet Worlds bronze medalist Ava Ward looked the part, winning her final 10-0 over Heather Crull, and outscoring opponents 51-0 in the division. Ella Pagel was nearly as dominant, defeating Piper Fowler 10-0 in the finals and outscoring opponents 47-2 with four technical falls and a pin throughout the tournament. Pagel flipped the script on Fowler, who beat her at U17 Nationals in May.
138-pound Sarah Henckel of Connecticut landed the Outstanding Wrestler Award, earning a 3-2 win over Faith Bartoszek in the finals. It was Henckel's first trip to Fargo, coming into the event ranked #13 at 144, while Wyoming Sem's Bartoszek was ranked #12. Henckel had to come back from a 2-0 deficit to win the match, and did so in dramatic fashion with a takedown in the final seconds, adding another point when Bartoszek's corner lost a challenge on the call. With the title, Henckel joins her brother, William, with a Fargo national title. He won a 16U freestyle title last year.
At 122, Arizona's unranked Everest Leydecker seemed to come out of nowhere, earning a national title in the finals with an 8-4 win over Wisconsin's Carley Ceshker. Other Fargo first-timers earned stop signs, with 94-pound Katey Valdez (Colorado) and 132-pound Carina Giangeruso (New Jersey) both winning it all on their first trip to North Dakota. Giangeruso had to come back from a 3-0 deficit to beat Kentucky's Lauren Walton 3-3 by criteria.
Interestingly, three other winners all improved on fourth-place finishes last year, as Indiana's Rianna Murphy earned a title at 100 pounds, Colorado's Persaeus Gomez won at 117, and Michigan's Mishell Rebisch won at 152. Ohio's Savannah Isaac, the 200-pound champ, took third last year. Isaac had perhaps the most shocking moment in the finals, throwing her opponent Mariyah Brumley to her back 17 seconds into the match to secure the fall at :20.
16U finals results
94: Katey Valdez (Colorado) over Joely Slyter (Idaho) 10-0 (1:32)
100: Rianne Murphy (Indiana) over Mary Manis (Florida) by fall (3:20)
106: Ava Ward (Missouri) over Heather Crull (Indiana) 10-0 (1:34)
112: Molly Allen (Iowa) over Karlee Brooks (Arizona) by fall (1:08)
117: Persaeus Gomez (Colorado) over Isabella Marie Gonzalez (California) 12-2 (3:26)
122: Everest Leydecker (Arizona) over Carley Ceshker (Wisconsin) 8-4
127: Skylar Little Soldier (Minnesota) over Cadence Diduch (Illinois) 3-2
132: Carina Giangeruso (New Jersey) over Lauren Walton (Kentucky) 3-3
138: Sarah Henckel (Connecticut) over Faith Bartoszek (Wisconsin) 3-2
144: Nebi Tsarni (Maryland) over Skylar Slade (Iowa) 10-2
152: Mishell Rebisch (Michigan) over Genevieve An (Georgia) 9-6
164: Ella Pagel (Minnesota) over Piper Fowler (Tennessee) 10-0 (2:53)
180: Sabrina Nauss (Michigan) over Kali Hayden (Oklahoma) by fall (2:28)
200: Savannah Isaac (Ohio) over Mariyah Brumley (Missouri) by fall (:20)