2022 USMC/USAW Junior and 16U National Championships
Iowa's Running Away With The Junior Freestyle Team Race
Iowa's Running Away With The Junior Freestyle Team Race
Junior freestyle is nearly over, and Iowa is well in control of the team race. Get caught up on where every All-American honor is coming from tomorrow.
Jul 19, 2022
by David Bray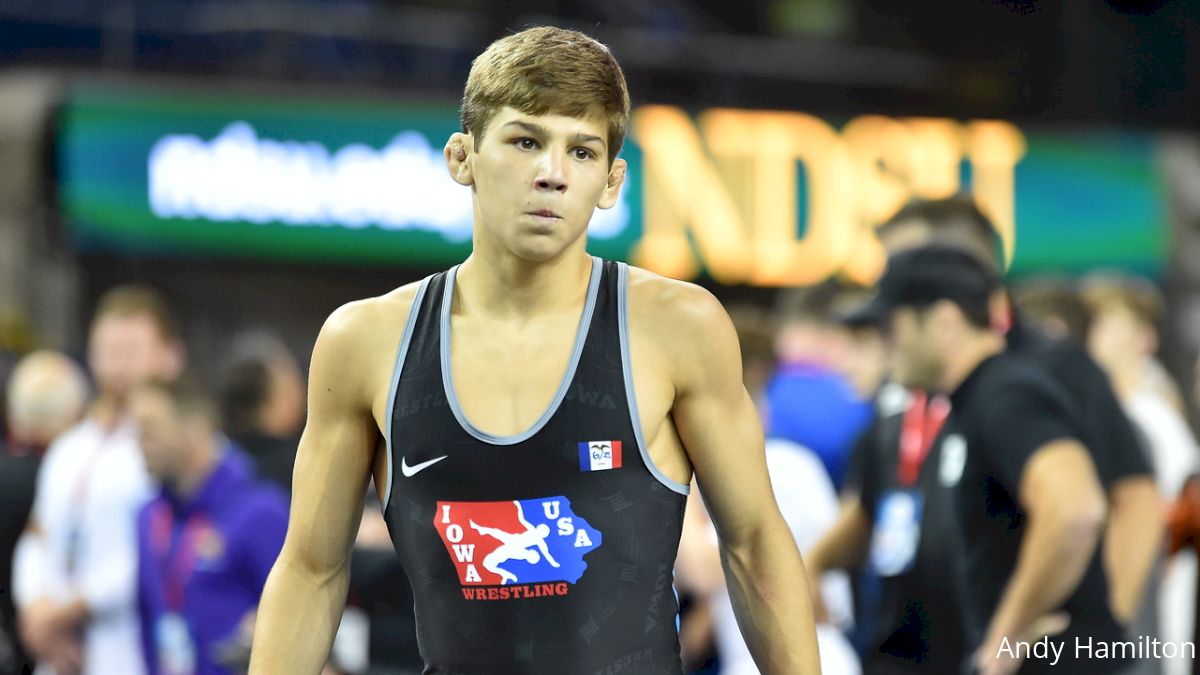 Each summer wrestling fans use Fargo team scores to assess the depth of wrestling in each state. This summer, Iowa fans have a lot to be excited about. With only placing matches left to wrestle, Iowa has secured the top spot in Fargo with 176 points, 13 All-Americans, and five in the finals. Here are a few more takeaways from the Junior freestyle team race.
Iowa's Having One Of The Best Summers Ever
In June, Iowa swept both Freestyle and Greco at the Junior duals, and now they've secured the top spot in Junior Freestyle in Fargo after winning 16U girls freestyle yesterday. Iowa's squad leads California by 74 points, and only four states have even half as many points as the Hawkeye state.
Many of Iowa's points came from their five finalists, but they've been getting it done on the back side of the bracket, too. Six of their eight All-Americans in the consolations will be wrestling on the third-place mat.
28 States Have All-Americans
Despite Iowa's dominance this summer, there's plenty of success to go around. Wrestlers from 28 different states will stand on the podium, and wrestlers from 14 different states will compete in Tuesday's 15 finals matches.
Behind Iowa, the states with the most AA honors are California and Wisconsin with nine, Pennsylvania, Ohio, and Minnesota with eight, New Jersey and Illinois with 7, and Michigan with 6. Idaho has five All-Americans, but they're sitting in 4th place because four of their five AAs are in the finals.
Behind Iowa's five finalists and Idaho's four, California, and Illinois have three, Pennsylvania, New Jersey, Ohio, Michigan, and Missouri have two, and Wisconsin, Oklahoma, Maryland, Tennessee, and Alabama each have one.
How Will Iowa Fare In The Finals?
While Iowa has already cemented itself as the top team in Fargo, a stellar finals round would only add to their legendary performance. Iowa's max number of champs is four, and they're guaranteed one because the final at 220 lbs features two Iowa wrestlers, Kolby Franklin and Bradley Hill.
#1 Nate Jesuroga will be the favorite in his final at 120 lbs, but #5 Caden Horwath is extremely good. Their first meeting in high school will be with a #1 ranking on the line.
Ryder Block checks in at #10, and he's already taken out Pierson Manville, Emilio Ysaguirre (by injury default), and Tyler Vazquez. His finals opponent is Ismael Ayoub, a wrestler who has been in the top twenty but isn't currently. Ayoub has been as hot as Block this week with victories over Zeke Seltzer, Cam Catrabone, and DJ Gillett. Block is the on-paper favorite, but that match should be fun.
Aiden Riggins, the final Iowan in the finals, will need to avenge a loss to Nicco Ruiz in order to secure a stop sign. Ruiz won their last meeting in dramatic 10-8 fashion at the U20 World Team Trials. Riggins' attack in the closing seconds came up short, but he showed he's right in that match.
Current Team Scores