USA Wrestling
Fargo Team Preview: Illinois Is Bringing Another Deep Squad
Fargo Team Preview: Illinois Is Bringing Another Deep Squad
A delayed high school season cut into the Team Illinois depth last summer, but the state is loading up once again for another strong Fargo run.
Jul 6, 2022
by Mark Davino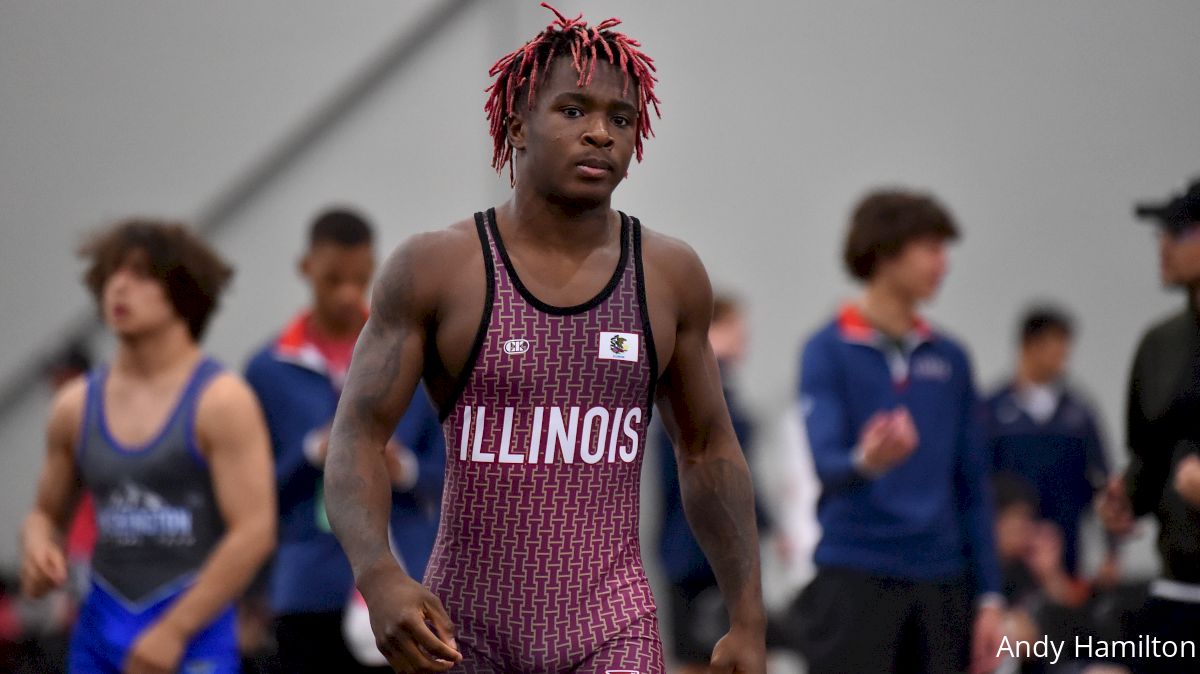 In 2021, the delayed high school season in Illinois overlapped with the freestyle season and forced several of the state's elite wrestlers to choose between the two. Coming off a pair of gold pool finishes at the 16U and Junior Duals this year, Illinois will be back at full strength and boast several nationally ranked wrestlers in both divisions in Fargo. Here are the established standouts who are on the Fargo roster and a few who are under the radar for now but looking to break out later this month.
2022 Freestyle Team Finishes
16U — ninth
Junior — first
2021 Freestyle All-Americans
16U
Jameson Garcia — fifth at 106
Seth Mendoza — champion at 100
Jaydon Robinson — fourth at 138
Dominic Thebeau — fifth at 182
Junior
Ben Aranda — second at 113
Nasir Bailey — champion at 132
Andrew Blackburn-Forst — seventh at 220
Ryan Boersma — third at 285
Kole Brower — eighth at 138
Ty Edwards – eighth at 106
Deanthony Parker — seventh at 182
Vincent Robinson — fifth at 126
Adam Thebeau — eighth at 160
Brayden Thompson — second at 170
Kannon Webster – champion at 120
Hammers To Watch
#3 Nasir Bailey (Junior/138) — A returning Fargo champion and three-time state champion will be a strong contender at this weight. Bailey is coming off a 5-1 performance at the Junior Duals.
HM William Baysinger (Junior/138) — A talented state finalist who has shown he has the ability to beat anyone he faces regardless of seed or rankings. He will be a bit of a dark horse at this weight but definitely not a match up anyone is hoping to draw early on.
#4 Benjamin Davino (16U/126) — A two-time state champion, 15U national champion and U17 bronze medalist. Davino will be up a weight in Fargo and looking to shake off the disappointment of the U17 World Team Trials and cap off the summer with a Fargo title.
HM Tyler Guerra (Junior/138) — Guerra had a strong showing at Central Regional and followed it up with a 9-1 run at the NHSCA Duals, besting nationally-ranked competitors. He will be looking to add All-America honors to his resume in Fargo.
#20 Deion Johnson (Junior/113) — An Ironman placer who has shown he can compete with the best. Coming off a 5-1 showing at the Junior Duals, he will be looking to bring All-America honors back to Illinois.
#6 Seth Mendoza (16U/106) — The returning Fargo champion and U17 Trials runner-up will be looking to add another title to his impressive resume. The Illinois state champion will be entering the bracket as a strong contender to bring home a stop sign.
HM Chris Moore (Junior/170) — A state champion and multi-time Illinois folkstyle finalist. He is in the rankings at 160 and will be looking for All-American Honors in Fargo.
#3 Kannon Webster (Junior/132) — Illinois boasts two of the best 132-pounders in the bracket, starting with Webster. The returning Fargo champion and two-time state champ has the tools to take home championships in both styles.
#4 Vincent Robinson (Junior/132) — Another strong contender for Illinois. The North Carolina State commit captured an Ironman title in December. Robinson also comes in as a threat to walk away with the gold at both styles.
HM Ethan Stiles (Junior/160) — A two-time state who earned Fargo freestyle All-America honors in 2019 in the 16U division.
#12 Dillan Johnson (Junior/285) — Johnson left a trail of destruction at the NHSCA and Junior Duals. The incredibly athletic two-time state champion is still somewhat off the radar due to limited offseason exposure — he's a Division I football prospect as a defensive lineman — but he likely won't be flying under the radar after Fargo.
Up-And-Coming Prospects Who Need To Be On Your Radar
James Hemmila (16U/88) — The rising freshman took home a state freestyle championship back in April and followed that up with a 4-1 freestyle performance at the 16U Duals.
Wyatt Medlin (16U/120) — Medlin has the pedigree to be a contender, but as he showed at the 16U Duals, he possesses toughness as well. If the scrappy rising freshman gets on a hot streak, he definitely has the tools to find All-American status in a deep 120-pound field.
Peyton Cox (16U/132) — Cox posted an 8-1 record at the 16U Duals, losing only to nationally ranked Maddox Shaw. The state runner-up and freestyle state champ figures to be a contender in his bracket at Fargo.
Dom Serio (16U/145) — Serio seems to improve every time he gets on the mat. This was evident at the 16U Duals, where he went 5-3 and took nationally ranked competition to the wire. While he may be coming into Fargo a bit under the radar, it shouldn't surprise anyone if he walks away with All-American honors.
HM Bradley Gillum (Junior/170) — Gillum is no stranger to the national spotlight. He's a three-time Fargo All-American. The multi-time state finalist and freestyle state champion is coming off a strong performance at the Junior Duals, where he went 6-2.
Wyatt Schmitt (16U/285) — The big boys put on a show at the 16U Duals for Team Illinois. While Schmitt's counterpart, Lee Smith will not be competing in freestyle, Illinois is very well represented with the freestyle state champion leading the heavyweights into competition in Fargo. Schmitt has the size and athleticism to find All-American honors in Fargo.