2022 USMC/USAW Junior and 16U National Championships
Fargo Team Preview: Iowa Looking To Flex In The FargoDome
Fargo Team Preview: Iowa Looking To Flex In The FargoDome
Fresh off sweeping both titles at the Junior National Duals, Iowa is looking to continue reestablishing itself as a national power.
Jul 5, 2022
by Andy Hamilton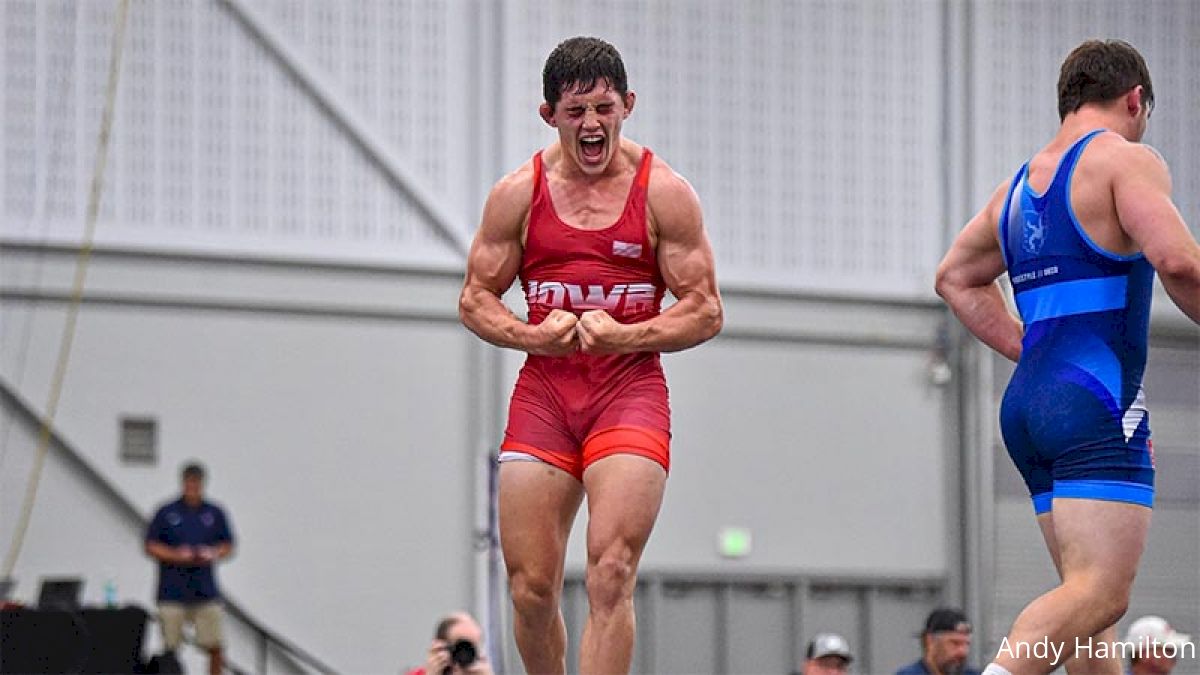 Fresh off sweeping both titles at the Junior National Duals, Iowa is looking to continue reestablishing itself as a national power. The state has taken big steps in recent years with high-level performances from individual stars such as Drake Ayala, Nate Jesuroga, Hunter Garvin and Ben Kueter, and Iowa's talent pool is getting deeper, evidenced by the roster the state has assembled for Fargo.
2021 Freestyle Team Finishes
16U — eighth
Junior — fifth
2021 Fargo All-Americans
16U Freestyle
Dru Ayala — seventh at 100
Maddux Borcherding-Johnson — fourth at 285
Nick Fox — third at 152
McCrae Hagarty — third at 195
Tyler Harper — seventh at 94
Jacob Walker — second at 220
Junior Freestyle
Drake Ayala — champion at 126
Connor Fiser — fifth at 106
Griffin Gammell — eighth at 182
Ben Kueter — second at 220
Caleb Rathjen — second at 145
Aiden Riggins — second at 160
Wyatt Voelker — eighth at 195
Hammers To Watch
#9 Dru Ayala (Junior/106) — A returning Fargo All-American who went 7-1 at the Junior Duals with six techs. His only loss there came on criteria. Ayala placed seventh last year in Fargo in 16U freestyle.
#10 Ryder Block (Junior/138) — An Iowa-bound three-time state finalist and two-time champ. Block went 5-2 last year in the Junior freestyle division. He's coming off a 5-1 showing at the Junior Duals — highlighted by technical superiority wins against Ismael Ayoub and then-#2 Nasir Bailey — which vaulted Block up from 17th to 10th in the national rankings.
#8 Kolby Franklin (Junior/220) — A five-time Fargo All-American and four-time finalist. Franklin won 16U titles in both styles before placing fourth last year in Junior freestyle. He piled up those accolades for Pennsylvania. After signing with Iowa, Franklin made the move to Iowa City and he was a key contributor to Team Iowa's freestyle title run at the Junior Duals, where he teched all seven of his opponents.
#12 McCrae Hagarty (Junior/195) — Hagarty placed third in both styles last year in Fargo in the 16U division and followed that up with a terrific junior year. He won his second state title in February and was one of the fastest-rising prospects in the national rankings coming out of the U17 World Team Team Trials. His third-place finish in Las Vegas included wins over Sonny Sasso, Austin Johnson and Sawyer Bartelt and took him from outside the rankings up to #9 at 195.
#1 Nate Jesuroga (Junior/120) — One of the most decorated wrestlers on the Fargo entry list. The top-ranked 120-pounder's resume includes a Cadet World bronze, two Iowa state titles, a Super 32 belt and a win at Who's #1. Now the Iowa recruit is looking to add some Fargo hardware to his list of accomplishments.
#8 Tate Naaktgeboren (Junior/182) — An Iowa State commit who's headed into his senior season with two state titles and a runner-up finish. Naaktgeboren went 5-2 last year in Fargo and fell one victory short of the freestyle podium. He's coming off a terrific performance at the Junior Duals, where he went 8-0 in freestyle, punctuated by a 9-0 win against Ironman champ Brody Conley.
#5 Kale Petersen (Junior/126) — Rocketed up the national rankings this spring, going from outside the top 20 to inside the top five after picking off a series of wins against high-level opponents on his way to a fourth-place finish at the U17 World Team Trials.
#5 Aiden Riggins (Junior/160) — Registered technical superiority wins in each of his first six matches last year in Fargo before a late takedown sunk his title hopes in a 4-4 defeat against Josh Barr. The Iowa-bound two-time state champ is coming off an 8-0 freestyle performance at the Junior Duals that included a win against three-time Fargo champ Jordan Williams.
#6 Wyatt Voelker (Junior/195) — A two-time state champion and four-time Fargo All-American who won a Junior Greco title last year when he also placed eighth in freestyle. The Northern Iowa recruit posted a 5-0 record in freestyle last month at the Junior Duals, where he notched a win against Fargo champ Seth Shumate.
Up-And-Coming Prospects Who Need To Be On Your Radar
HM Nick Fox (Junior/170) — Fox hasn't broken into the national rankings — yet — but he's making a push after a terrific performance at the Junior Duals, where he went 7-1 in freestyle. He also placed third last year in both styles in Fargo and captured an Iowa state title this past season.
HM Jace Hedeman (16U/106) — Collected a state title in February to complete an undefeated freshman season. Followed that up last month by going 6-1 in freestyle at the 16U National Duals, highlighted by a win over Pennsylvania state champ Aaron Seidel.
#20 Carter Pearson (16U/100) — Coming off a terrific spring that elevated him into the national rankings at 106 and onto the Class of 2025 Big Board at #89. Pearson placed third at the 16U World Team Trials, won the Northern Plains freestyle title and registered five shutout victories in six matches at the 16U National Duals.
Dreshaun Ross (16U/195) — Ross won't make his high school debut until next winter, but he's already created a buzz with superb performances at elite-level tournaments. He's a six-time Tulsa Nationals champ a six-time state AAU champion and he blitzed through the U15 Nationals in April, winning titles in both styles and registering techs in all three of his freestyle matches.