Big Ten
Kevin Jackson Continues To Break New Ground
Kevin Jackson Continues To Break New Ground
Kevin Jackson carved out a unique place in American wrestling history while his rivalry with Royce Alger might be the fiercest in history.
Jun 30, 2022
by Kyle Klingman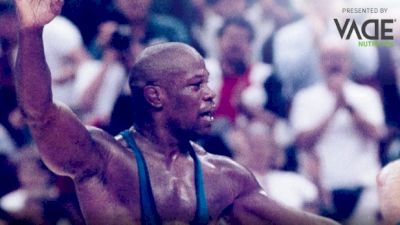 Kevin Jackson is looking for a pedestal. On that pedestal are spots reserved for the greatest wrestlers in America.
Jackson deserves a spot, but his concern relates to our lack of awareness of wrestling's greatest champions. With the exception of a few wrestlers who transcend the sport, our best wrestlers often live in the shadows.
"These accomplishments don't get brought up," Jackson said. "There are a lot of things that don't get brought up enough. I think the recognition for our athletes that are World and Olympic champions don't get put on a pedestal so the youth of our country know their history."
If you want to learn about history, then Jackson is a good place to start. His unique journey hasn't been replicated in the United States before or since.
It's hard to argue that anyone but Jackson deserves the top spot as the best wrestler to never win an NCAA Championship. The Lansing, Michigan, product attended Louisana State where he placed third, third, and seventh at the NCAA Championships from 1983-85. He transferred to Iowa State after LSU dropped the program and lost to Iowa's Royce Alger, 10-4, in the 1987 NCAA tournament finals.
Jackson was part of a team championship that prevented the Hawkeyes from winning 10 titles in a row.
Former Iowa State teammate Mike Van Arsdale remembers the intense battles with Jackson in college and during freestyle practices. Timing favored both since Jackson competed at 167 pounds for the '87 season so his teammate could redshirt. Van Arsdale won a title the following year.
"We'd practice at night and turn the video on and we would go a certain amount of matches and a certain amount of drills — different things to make us tougher," Van Arsdale said. "We would spend hours with our hands behind our back with the other guy trying to push your head down. We'd spend hours pummeling to see who could push the other person out of a little circle. We were doing unorthodox things that others weren't doing and I felt it made us strong.
"If he beat me — this is no joke — I would cry. I just couldn't accept that. We would be walking out of the room and he'd ask if I wanted to go again — then we'd go again. That's what I remember. Those were good days. Do I like Kevin? Yes. Do I like him as a competitor? No."
Jackson needed every bit of that unorthodox training to overtake Alger — a legendary hand fighter who could wear down an opponent. It's hard to argue that there has been a fiercer domestic rivalry than Alger vs Jackson.
Name another duel where two World medalists wrestled 17 times during their college and international careers? And these weren't just matches — they were all-out wars.
Alger has a 10-7 career edge, winning all three college matches and five of the first seven on the freestyle circuit. The former Cyclone star turned the tide after that — winning five of the final seven, including a technical fall at the 1996 Olympic Trials.
This is the stat that matters most: Jackson won World titles in 1991 and 1995, and an Olympic gold medal in 1992. He also made five straight World/Olympic teams and was a member of team championships in 1993 and 1995 — the first two in U.S. history.
Even though he competed at Iowa State for a season, Jackson has the most World and Olympic gold medals among all wrestlers from an Iowa school.
No American men's freestyle wrestler has won a World title and an Olympic gold medal without winning an NCAA title — except for Jackson.
That singularly unique experience served Brandon Slay during his quest to win the 2000 Olympics. Jackson was the resident coach at USA Wrestling when he trained Slay at the Olympic Training Center.
"I was having some doubts when I moved from Penn to the Olympic Training Center," Slay said. "I remember telling him that I never was an NCAA champion and that I got second twice. If I can't be the best in the nation then how can I be the best in the world?"
"He immediately stopped me in my tracks and said, 'I never became an NCAA champion. I never won the NCAA tournament and I was an Olympic champion and two-time World champion.'
"That was a really important statement for me and it made an impact on my confidence. He never won nationals and he became an Olympic champion. If he can do it, I can do it. And he's my coach. His sharing that with me was really important. It was a big confidence builder for me."
Final result: Both placed second at the NCAA Championships and both won Olympic gold medals.
The two have been connected ever since. They coached numerous international teams together and still stay in touch despite their involvement with different programs. For Slay, that's greater than gold.
"During the 24 years I've known him he's been extremely loyal, extremely consistent, and extremely genuine," Slay said. "There are people who coach titles, but when they are loyal and genuine and consistent — that's even greater."
Greatest Domestic Rivalry Ever?
Kevin Jackson's freestyle record vs Royce Alger: 7-7
1989 US Nationals: Lost, 4-2
1990 US Nationals: Lost, DQ 4:54
1990 World Team Trials: Won, 3-2
1990 World Team Trials: Lost, 4-2
1990 World Team Trials: Lost, 2-1
1991 Yarygin Tournament: Won, 5-2
1991 Tbilisi Tournament: Lost, 2-1 OT
1992 Olympic Trials: Won, 1-0 OT
1992 Olympic Trials: Won, 2-0
1994 US Nationals: Lost, 2-0 OT
1994 World Team Trials: Won, 5-1
1994 World Team Trials: Lost, 0-0 OT
1994 World Team Trials: Won, 4-3
1996 Olympic Trials: Won, 11-0