Michigan High School Notebook: Amarisa Manuel on a roll
Michigan High School Notebook: Amarisa Manuel on a roll
Michigan prep news roundup: Romeo's Amarisa Manuel has been on a tear, six make National Duals all-tourney teams and Michigan's weight classes are changing
Jun 26, 2022
by Mark Spezia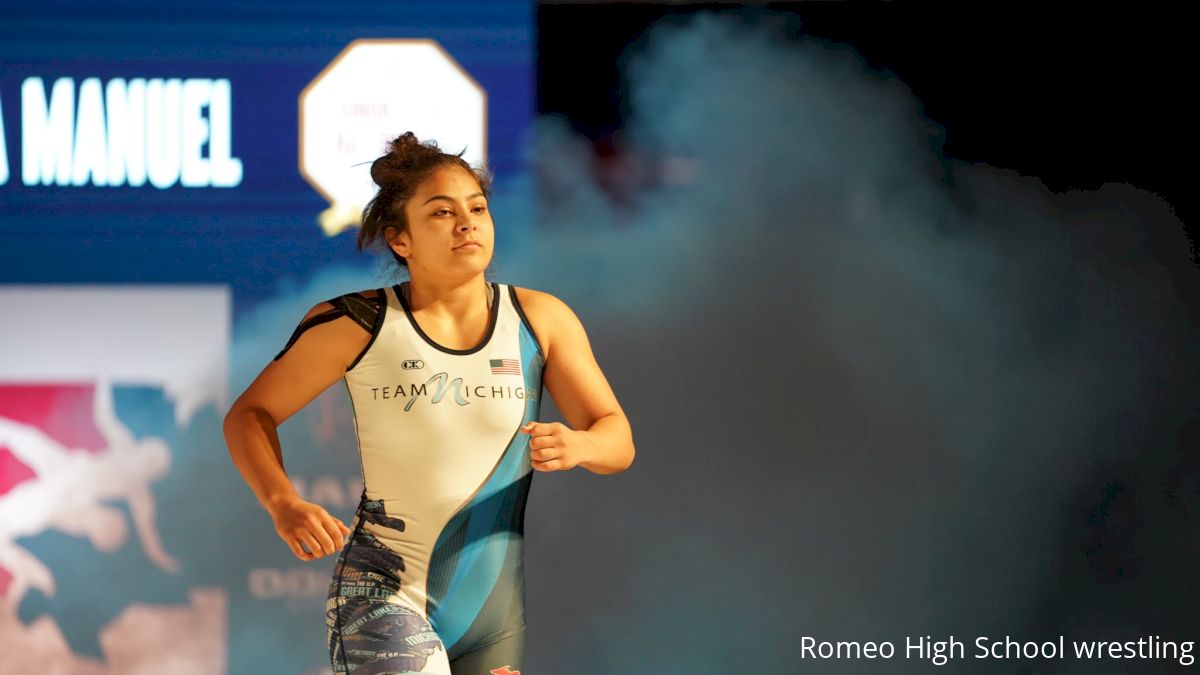 Amarisa Manuel was not about to let a World Team berth slip away.
Facing Tennessee's Piper Fowler in the deciding match of the U17, 73-kilogram, best-of-three Women's Nationals freestyle final, the Romeo High School sophomore was up 8-3 with less than 1:20 remaining.
Fowler, a state champion who is ranked No. 5 in the nation at 152 pounds, then struck for a takedown with 1:14 to go before driving fellow state titlist Manuel to the edge of the mat for another takedown with 32 seconds to go, drawing within 8-7.
As the match resumed and both wrestlers remained on their feet, Fowler seemed intent on doing same thing, but Manuel, ranked ninth at 152, had other ideas. With less than 10 seconds left, the pair remained entangled and on their feet while pushing each other toward the edge of the mat.
When they reached the outer circle, Manuel stopped, planted her feet, swung Piper and took her down as time expired for a 10-7 win before leaping to her feet and throwing her arms into the air and clapping her hands in celebration.
As a result, Manuel will wear the Team USA singlet at the World Championships in Sofia, Bulgaria come August.
On the way to the final, Manuel knocked off California's Kaiulani Garcia (No. 21, 164 pounds), and Iowa's Naomi Simon (No. 9, 164).
The best-of-three final featured wild momentum swings as Manuel dominated the first match via an 11-2 technical fall only to see Fowler roar back and pin her in just 74 seconds in match two. Manuel never trailed in the last match, but Fowler did not go quietly.
Manuel's nationals showing in early May represents only a portion of the serious tear she has been on since concluding the high school season with a loss to Boyne City's Lydia Krauss (No. 8, 152) in the 155-pound state championship match.
Manuel, a state champion in 2021, has gone 9-1 in her last 10 matches against ranked foes.
Earlier this month, she went 7-0 at 164 pounds in helping Michigan Blue to a second place at the Junior National Duals, easily earning a spot on the All-Tournament team.
Manuel's wins included Washington state champion Shannon Workinger (No. 6, 164), a 26-second pin of Illinois' Wendy Riley-Washington (No. 6, 164) and a pin of Oklahoma's Sidney Milligan (No. 23, 164).
Roughly a week prior to nationals, Manuel stunned three-time Missouri state champion Haley Ward (No. 3, 152) by pinning her in 5:24 in the finals of the National Recruiting Showcase in Las Vegas. Manuel also beat Workinger there.
Last autumn, Manuel won the Grappler Fall Classic, beating Krauss, and placed fourth at Super 32.
She was also a double All-America at Fargo last summer, reaching the U16 final and placing third in the 144-pound, junior competition.
Among those Manuel beat in Fargo were Connecticut's Ella Nichols (No. 7, 152), Wisconsin's Faith Bartoszek (No. 8, 144) and Alexandra Hofrichter (No. 11, 152), Virginia's Stella Steigler (No. 14, 152) and two-time Utah state champion Lizzie Shunn (No. 22, 144).
Manuel is also ninth in the latest USA Wrestling U16 Future Olympian rankings.
6 MAKE DUALS ALL-TOURNAMENT TEAMS
In addition to Manuel, Michigan's Eliana Bommarito (Hartland) and Sabrina Nauss (Brighton) were also named to the Junior National Women's Duals All-Tournament team and went 7-0 during the event.
Bommarito, No. 8 in the national pound-for-pound rankings and No. 1 at 225 pounds, dominated her competition, pinning five opponents in a combined time of less than four minutes, including finishing off 2021 Fargo runner-up Kiera Ganey of Illinois (No. 4, 225) in just 1:18.
The four-time state champion's other two wins came via forfeit.
Bommarito, who captured a freestyle national championship in Fargo last year, was also Michigan's 2022 winner of the Tricia Saunders High School Excellence Award.
Nauss, ranked No. 17 pound-for-pound and No. 1 at 180, racked up four pins and three technical falls against stellar competition.
She needed just 1:47 to pin California's Sam Calkins, who is No. 16 pound-for-pound and the nation's top-ranked 200-pounder. Calkins was also the 200-pound junior national freestyle champion in Fargo last year. Nauss was U16, 180-pound national champion and finished third in junior competition at that weight in Fargo.
Nauss, a two-time state champion, also knocked off Washington's Alivia White (No. 2, 180) with a 12-2 technical fall and pinned Missouri's Mariyah Brumley (No. 13, 200) in 2:33. She blanked Indiana's Avalyn Mosconi (No. 18, 180) with an 11-0 technical fall.
Nauss is the third in the USA Wrestling U16 Future Olympian rankings while Bommarito is third in the junior rankings.
On the boys side, Woodhaven's Nathan Jerore made the freestyle duals All-Tournament team while Lowell's Jackson Blum and Gladstone's Drew Hansen were named to the Junior Greco-Roman All-Tournament squad.
Jerore, who is part of Michigan's 2022 recruiting class, recorded six technical falls by a combined margin of 67-5 and a forfeit win at 145 pounds.
The Division 1, 145-pound state champion blanked state runner-ups Joseph Jernegan (Oklahoma) and Smokey McClure (Washington) by a combined 21-0 score, helping Michigan Red place sixth in the Copper/Bronze division.
Jerore went 38-1 during the high school season, beaten only by Division 3 state champion Aiden Davis (Dundee). The three-time state medalist finished with a 128-10 high school record.
Blum, who won the Division 2, 112-pound state title as a freshman, went 5-0 at 120 pounds, helping Michigan Blue win the Red/Blue pool.
Among those Blum, who was 37-3 during the prep season, defeated are two-time Minnesota state champion Jack Nelson (5-2), Texas state champion Ashton Bennert (13-5) and Georgia state titlist Hunter McCullough (8-0).
Hansen, third in the Division 3 state tournament at 112 last season, was 7-0 at 113 pounds, helping Michigan Red to fifth place in the Yellow/Green pool. His best win was a 20-14 decision over South Carolina state runner-up Teague Strobel.
Hansen, who just finished his sophomore year, was third in the state at 103 as a freshman. His high school record is 72-7.
ANOTHER MAJOR DETROIT EVENT
After the star-studded Rudis Super Match card at Motor City Casino and the NCAA Championships at Little Caesars Arena in March, downtown Detroit hosted another big-time event June 2 -- the nine-match Beat The Streets Detroit Gala at Detroit Athletic Club.
It featured several nationally-ranked high schoolers and culminated with University of Michigan sophomore Dylan Ragusin, a two-time NCAA qualifier, edging 2018 European U23 champion Ibragim Ilyasov of Russia, 11-10.
Perhaps the most thrilling matchup pitted three-time Michigan state champion Caden Horwath, ranked No. 5 in the nation at 126 pounds, against Perrysburg, Ohio's Marcus Blaze, who went 55-0 last season as freshman, capturing a state championship. He is ranked No. 9 at 120.
Horwath, 30-0 during the high school season, edged Blaze, 3-2.
Grandville's Josh Vasquez, who was third in the state in Division 1 at 112 last season as a freshman, upset Detroit Mumford's Marcus Smith, a Division 2 state champion at 103, who is ranked 17th in the country at 106, with a thrilling 16-15 decision.
Highland's Marcello Milani, who did wrestle during the high school season, knocked off Lowell's Jackson Blum, a Division 2 state champion at 112, by a 7-2 score. Blum had beaten Milani at last year's Super 32.
Detroit Catholic Central's Clayton Jones, a Division 1 state champion at 130, took care of 130-pound Division 2 state champion Louden Stradling (Gaylord), 7-3.
Jones' teammate Drew Heethius, a two-time state titlist, had little trouble with 125-pound Division 3 state champion Cam Chinavre (Dundee), 11-0. Davison's Justin Gates, a state champion in 2021 and second to Heethius last season, made short work of Division 2 125-pound state champion Owen Segorski (Lowell), 11-0.
Birch Run's Caylynn Chandler, who finished third in the girls state tournament at 130 pounds, upset 135-pound state champion Danni Swihart (Hanover Horton), 16-5.
State 115-pound champion Maggie Buurma (Fowlerville) pinned eighth-grade phenom Paisley Denault (Clarkston) in 3:50. Denault had earlier beaten Buurman in U15 competition.
COACHING LEGEND RETIRES
Dundee's Tim Roberts, who last season become the first Michigan High School coach to win 10 team state titles, has retired after 23 seasons and a 574-80-1 record. Dundee won eight of its championships during the past 10 seasons.
Roberts, a 1986 Dundee graduate, also coached 55 individual state champions during his tenure which began with the 1999-2000 season when he was promoted to the head coaching position after eight seasons as an assistant.
During that time, Roberts honed his coaching skills under Jim Wittibslager, who left some big shoes fill. Wittibslager compiled an overall record of 333-36-3 in two stints as Dundee coach (1975-77 and 1990-98), including four state championships.
Now, two of Roberts' assistants -- Garrett Stevens and Nate Hall -- must somehow attempt to fill his even larger footwear.
Stevens also wrestled under Roberts, helping the Vikings win one of their state titles as a senior in 2007. He was also a three-time state medalists, finishing third in the state as a senior. Stevens posted a 144-42 record during three seasons he made the state-tournament podium.
Hall, one year younger than Stevens, wrestled for nearby Blissfield High School, finishing sixth in the state as a junior and second as a senior, raking up a 96-10 record those two seasons.
DIVISION SWITCHES
The Michigan High School Athletic Association has announced that 34 teams either moved up or down one divisions for next season, including two programs which reached the state quarterfinals last season.
No team, however, has bounced back and forth more than Whitehall, which made the Division 2 semifinals.
The Vikings have dropped back down to Division 3 where they competed in 2021, reaching the state championship match. Whitehall has Division 2 in 2020 and Division 3 in 2019 when the Vikings also reached the semifinals.
Division 1 quarterfinalist Warren Woods-Tower has dropped to Division 2.
The moves will also shake up some weights at next season's individual state tournament as six wrestlers who placed in the top four will be competing in different divisions, including Whitehall's Shane Cook, who has third at 215 and WW-T's Dominic Gumtow (fourth, 103).
Noah Etnyre (Lutheran Westland), second at 171 in Division 4, will be in Division 3 as will Laingsburg's Mikey Brooks (third in Division 4 at 189).
Muskegon Reeths Puffer's Ian Cook (third in Division 2 at 103) will be in Division 1 as will Swartz Creek's Mason Feudale, who finished fourth at 119 in Division 2.
Here is the complete list of teams that will be wrestling in different divisions next season:
D2 to D1: Bay City Western, Ferndale, Flint Carman-Ainsworth, Harper Woods, Mattawan, Reeths Puffer, South Lyon East, Swartz Creek
D1 to D2: Alpena, Jackson, Lansing Everett, Walled Lake Western, Warren Woods Tower, Waterford Kettering
D3 to D2: Croswell Lexington, Otsego
D2 to D3: Allegan, Eaton Rapids, Kelloggsville, Whitehall
D4 to D3: Hartford, Ishpeming Westwood, Laingsburg, Lutheran Westland, Mason County Central, New Haven, Niles Brandywine, Tawas
D3 to D4: Benzie Central, Comstock, Erie Mason, Jonesville
WEIGHT CLASS OVERHAUL
The Michigan High School Athletic Association also approved a switch from current boys wrestling weight classes to those determined by the National Federation of State High School Associations (NFHS) -- 106, 113, 120, 126, 132, 138, 144, 150, 157, 165, 175, 190, 215 and 285 pounds.
The NFHS will begin use of those weights nationally in 2023-24, but MHSAA member schools will make the switch beginning with 2022-23.
The MHSAA also approved a change to one girls weight, from 255 pounds to 235, aligning all Michigan girls weight classes with those determined by the NFHS.