NCAA
Top Targets Still In The Transfer Portal
Top Targets Still In The Transfer Portal
A run down of the best available D1 wrestlers currently in the NCAA Transfer Portal.
Jun 21, 2022
by Andrew Spey
With the advent of the NCAA Transfer Portal, wrestlers -- and student-athletes of all sports-- have been able to more easily and efficiently find new homes to continue their academic and athletic careers. We've been keeping track of all these wrestling transfers with our aptly named Transfer Tracker.
Even though folks will continue to go in and out of the portal for as long as such a thing exists, we'll pause the action for a moment to take a closer look at the most enticing targets in the portal who have yet to publicly announce to where they are transferring.
And let us know if there is someone who you think belongs on this list or if there's any information we missed!
285: Yaraslau Slavikouski, Harvard
Slavikouski has yet to wrestle a full season, though he did have an excellent 2020, qualifying for the NCAAs and earning the #10 seed. He was also ranked eighth in the nation according to FloWrestling (the most accurate and correct rankings of them all). Of course, Slavikouski did not get a chance to earn NCAA All-American honors that season as there was no NCAA Championship Tournament.
The Ivy League shut down all of their sports for the 2020-21 season, and an injury in the Cliff Keen Las Vegas Invitation in December of 2021 cut his 2022 season short. Thus, Slavikouski could have as many as three years of eligibility remaining (and no less than two) and brings definite All-American potential with him, as evidenced by his wins over 2022 6th placer Lucas Davison and 2021 8th placer Tate Orndorf at the ill-fated 2021 CKLV.
Slavikouski will finish his undergrad at Harvard and wrestle for the Crimson during the 2022-23 season, but then will have to use his remaining years of eligibility elsewhere due to Ivy League rules. Yaraslau is looking for a new destination for the 2023-24 season to both compete in wrestling and pursue a master's degree.
Watch Slavikouski defeat Orndorff: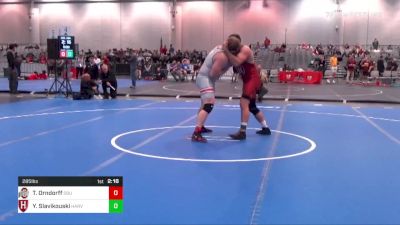 Unlock this video, live events, and more with a subscription!
Get Started
Already a subscriber? Log In
165: Shane Griffith, Stanford
Though he's wrestled in two NCAA tournaments since entering the portal on December 9, 2020, Griffith is technically still listed in the transfer portal, hence, he is still listed on this blog.
Griffith is by far the most accomplished wrestler in the portal, having won an NCAA championship in 2021 and finished as runner-up in 2022. Griffith has also finished his fourth year at Stanford and has likely completed his undergrad, opening up the possibility that he might pull a grad transfer manuevre.
Will the man who saved 11 sports at Stanford stick with his alma mater, or will pursue new challenges and opportunities at a different university? We will all find out together!
133: Kyle Burwick, Wisconsin
A lot of Burwick's value comes from the fact that he has three years of eligibility remaining, so you're getting a battle-tested and experiences two-time NCAA qualifier for 3/4 of a typical career.
With two-time All-American Eric Barnett at 125 and 2021 5th placer Taylor LaMont transferring in from Utah Valley, it's no surprise Burwick has decided to ply his trade elsewhere.
Monday is a three-time national qualifier with two years of eligibility remaining. He took all of the 2021-22 season off, with his sights presumably set on a career in MMA, but it appears he will come back for at least one more collegiate season. He'll also participate in this week's Stalemates Street League card against 2021 NCAA finalist and Rider grad, Jesse Dellavecchia.
Kennedy narrowed down his list of teams to four: Arizona State, Michigan, Penn State and Rutgers. The purpose of this blog is not to speculate on landing spots but we'll still point out that Michigan has a returning All-American at 165, Penn State has Alex Facundo primed to take over that weight class, and Rutgers is a very short drive from Princeton, where Kennedy's brother wrestles, NCAA finalist Quincy Monday.
But we shall see. Whoever gains the services of Kennedy will get a wrestler capable of a deep run in the NCAA tournament.
Watch Kennedy defeat John Van Brill of Rutgers in the 2018 CKLV quarterfinals: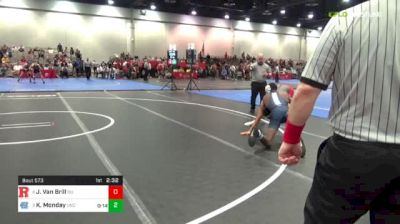 Unlock this video, live events, and more with a subscription!
Get Started
Already a subscriber? Log In
Ortz will have either one or two years of eligibility remaining, depending on if he received a medical redshirt for his 2019 season.
Ortz was a stalwart for the Golden Eagles, starting for three seasons and qualifying for NCAAs in 2018. He's since graduated and will make a solid experienced addition to the middleweights wherever he lands.
133: Jacob Rundell, Purdue
A U17 Pan-Am gold medalist from 2019, Rundell was a blue-chip recruit that still has four years of eligibility left, assuming 2022, in which he did not wrestle a match, does not count against his NCAA maximum. In 2021, a year that does not count for NCAA eligibility purposes, Rundell qualified for the national championships.
Tagg is also a blue chip recruit who is looking to take his talents to a new school. He's got three years of eligibility, potentially even four (who even knows these days!). His brother, Gabe, also started at UNC but is now at South Dakota State University where he was a starter for the Jackrabbits at 133-pounds.
Tagg recently placed fourth in a very deep field at the U23 World Team Trials, taking out Chance Rich of CSUB in the quarterfinals, a match you can watch in the video below.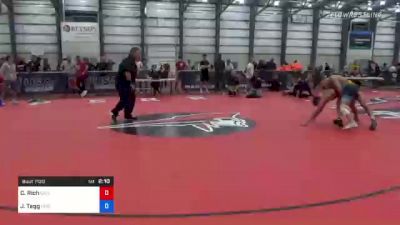 Unlock this video, live events, and more with a subscription!
Get Started
Already a subscriber? Log In
Shannon was another big-time recruit who started the last two seasons for the Illini but has yet to qualify for the NCAAs. He's got at least two years of eligibility wherever he wrestles next.
Cole Manley started his collegiate career at Virginia Tech but after a redshirt season, made his home in Lock Haven, where he was a solid contributor for four seasons. He'll have one more season to make his mark at NCAAs.
Jeremiah Reno has three years of eligibility remaining, and 125-pounders with eligibility never go out of style in college wrestling. Reno started for the Huskers last season but it looks like veterans Liam Cronin and Boo Drydan will be back at 125 and 133 respectively, which may be why Reno is on the move.
Ryder was a three-year starter for the Pride of Long Island, with two years of eligibility remaining thanks to 2021 not counting and him taking a redshirt during the 2022 season. As an experienced 125-pounder, he should have plenty of options.
184: Brian Bonino, Columbia
As a graduate of Columbia, an Ivy League school, Bonino will have to find a new team on which to wrestle. Brian was a three-time starter for the Lions and thus has one year of eligibility remaining.
125: Logan Heil, Cleveland State
One of the many wrestling Heils of Brunswick, Ohio, which notably include two-time NCAA champ, Dean Heil, Logan will have two years of eligibility remaining after starting for the Vikings in 2020 and 2022.
157: Tony Negron, Penn State
Tony Negron has a year of eligibility remaining, and though he wasn't able to crack the Penn State lineup last year, that says more about how good the defending national champions are than anything else.
The Nittany Lions appear to be going with Terrell Barraclough and Alex Facundo 157 and 165 respectively, but Negron showed he can hang with the best in the country during his short stint in Happy Valley.
EDIT: Since publication, Negron has announced his decision to transfer to Arizona State. Congrats and best of luck Tony and the Sun Devils!
133: Garrett Lautzenheiser
Lautzenheiser started last season for the Mountaineers but it looks like blue-chip recruit Jordan Titus will be the guy going forward. Or perhaps Titus will bump up to 141 and David Rhoads will get the nod. We'll have to wait until the fall to know for sure!
184: Zach Ancewicz, Edinboro
Ancewicz will have one or two years of eligibility left. He started for the Fighting Scots in 2018 and 2019, then took a redshirt in 2020, and then just didn't wrestle at all in 2021 or 2022.
133: Tye Varndell, Edinboro
Another two-time starter for the Fighting Scots is still in the portal. Varndell was the 133-pounder for Edinboro in 2020 and 2021.