2022 Junior National Duals & 14U Girls Duals
Iowa Completes Demolition Of The Junior Duals
Iowa Completes Demolition Of The Junior Duals
Thanks to an all-in approach from the state's top hammers, Iowa followed up its Greco-Roman title by throttling the freestyle field in Tulsa.
Jun 19, 2022
by Andy Hamilton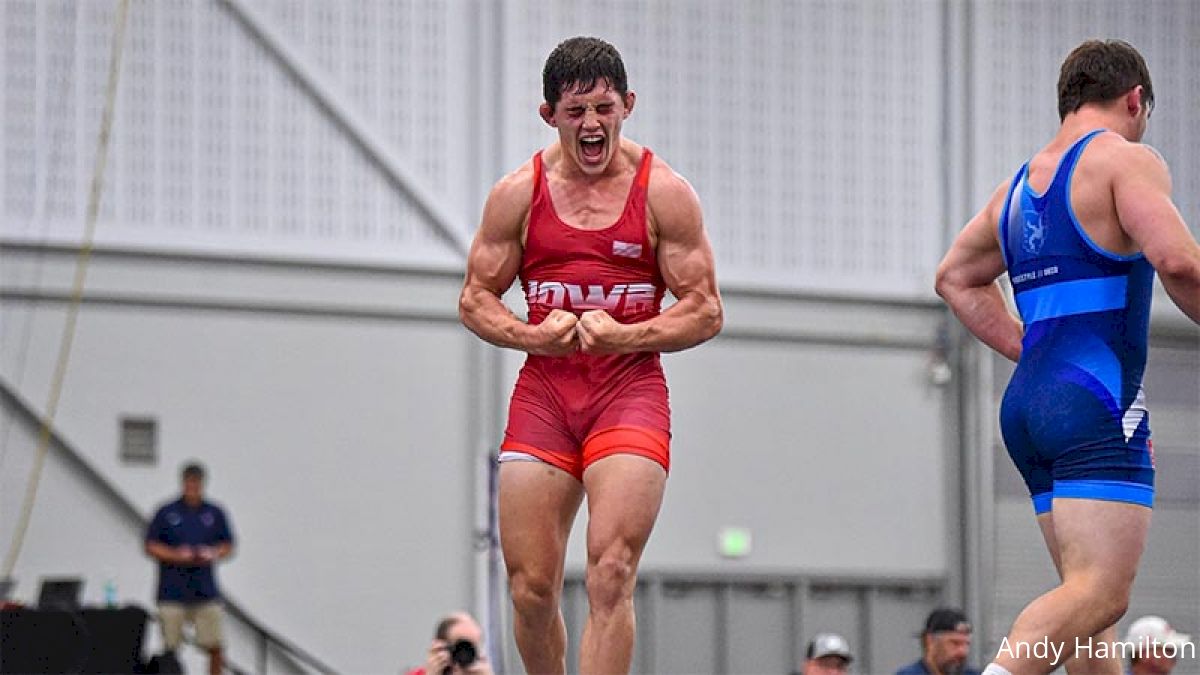 Throughout his tenure as Iowa's USA Wrestling Junior director, Brent Jennings has been tasked with the challenge of assembling the state's National Duals rosters.
It's typically an exercise in persuasion to get the top wrestlers across the state to fully collaborate and chase championships together. But Iowa captured its first freestyle Junior National Duals title in 16 years last summer and Jennings had a lighter lift than usual with his recruiting efforts this spring.
"Night and day," Jennings said. "This year it was turning kids away who wanted to come, and a lot of times in the past I'm begging kids to get them to come. This year was much easier. Everybody wanted to be on the team after we won last year and it made a big difference."
Iowa's all-in approach led to an all-out throttling of the field, culminating with a 47-14 beating of Ohio in the freestyle finals. The two-day performance produced eye-popping statistics — the kind that haven't been seen at the highly-competitive Junior Duals in recent years. It came on the heels of the state's first Junior Greco title.
Iowa outscored its opponents by a combined 426-90 count, an average victory margin of 42 points per dual. Its smallest margin of victory came Saturday in the third round of Gold/Silver pool competition when it notched a 47-19 win against Minnesota.
Iowa went 57-3 in matches during Friday's pool competition and followed that up by going 47-13 when the degree of difficulty ramped up in the Gold/Silver pool.
"That's the cherry on top," Iowa freestyle coach Ryan Morningstar said of the team's massive margins. "You put a team like that together and there's a lot of firepower there. All the way up and down the lineup there's a lot of accolades and guys who are tough-minded. You feel good about the team, but you never know what to expect when you get down here. Absolutely, there's potential there, but it's a matter of going out and doing it."
Iowa had seven wrestlers who went undefeated with at least five victories on the weekend and three more who went 7-1. Junior World bronze medalist Nate Jesuroga went 8-0 with seven shutout techs and a 5-0 win against Ohio hammer Marcus Blaze. Stanford-bound Hunter Garvin went 8-0 with seven techs and a forfeit. Iowa recruit Aiden Riggins went 8-0 and kicked off his Saturday with a win against highly-decorated Oklahoman Jordan Williams. Iowa State recruit Tate Naaktgeboren's 8-0 freestyle run included a 9-0 victory in the championship dual against Ironman champ Brody Conley.
The upperweight quintet of Wyatt Voelker, Kolby Franklin, Jackson Dewald, Jared Thiry and Ben Kueter split duties from 195 to heavyweight and combined to go 18-0 with 12 techs and five pins.
While Iowa was running roughshod through its side of the championship pool, Ohio was doing the same on its path to the finals. In five contested duals, Ohio racked up 256 classification points while allowing 64.
"They were in situations where they had to come back, they had to grind, they had to make it happen in individual matches where sometimes it was unlikely they were going to win, but they made it happen against very good competition," Team Ohio coach Erik Burnett said. "I was impressed with the way our kids were hammers and kept grinding and their resilience was huge."
Ohio's performance set the stage for a titanic showdown in the finals. But Iowa extinguished Ohio's hopes early by winning eight of the first nine matches and collecting shutout technical superiority wins from Ryder Block (138), Garvin (152), Riggins (160) and Franklin (220) and a fall from Kueter.
"They were really good," Burnett said. "Sometimes it's just that (the opponent is) really good. Mad credit to Iowa for the team they have, the team they put together and the way their kids competed. They competed really, really hard — and our guys tried hard. It wasn't like they were out there laying down for them. They tried hard, it just wasn't enough. (Iowa was) that good."