Women's Weekly
Tamyra Mensah-Stock Was Born To Be A Superstar
Tamyra Mensah-Stock Was Born To Be A Superstar
Olympic champion Tamyra Mensah-Stock is back for another season, but the decision was difficult after her popularity skyrocketed last year.
Jun 18, 2022
by Kyle Klingman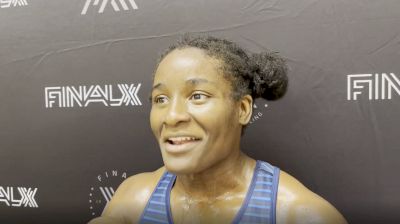 You can't blame Tamyra Mensah-Stock for wanting to take a break or contemplating retirement. Her popularity skyrocketed after winning the 2020 Olympic Games last summer.
Not only did Mensah-Stock become the second American to win an Olympic gold medal in women's freestyle, but she also became the first Black woman. Her emotional 4-1 win over Nigeria's Blessing Oborududu was a tribute to her late father who was killed in a car crash coming home from one of her meets.
Mensah-Stock vowed to buy her mother, Shonda Wells, a food truck with her $250,000 winnings from the Living the Dream Medal fund but Cameron Davies — the owner of a food-truck manufacturing company called Cruising Kitchens — donated a truck to the family instead.
The world found out what wrestling fans knew for years: there's no one quite like Tamyra Mensah-Stock.
"I've always been a hot commodity. I think it's how it's always been but now it's on the world stage. It's like a big high school. I'm definitely not unfamiliar with it.
"I remember in high school I would run into so many people I knew in the hallways in between classes. I would be a minute late every single time. I would hear the first bell ring for that three-minute bell before class started and within that three minutes of me running to class, I'd say hi to 10 people — almost every single day. Now it's on a bigger stage."
Mensah-Stock's bigger stage includes several perks, like a new car, appearances on the Kelly Clarkson Show and WWE's Wrestlemania, and, best of all, she got to meet rapper Wiz Khalifa at a PFL MMA fight. WWE could still be a career move but nothing has materialized with the company — yet.
The new car was a product of Tamyra being Tamyra. Doggett Ford in Houston took notice after Mensah-Stock said she loved America during her post-match interview at the Olympics. That's all it took.
"What! Are you kidding me? I got this free car because of who I am? I love the fact that after I won the Olympics that someone wanted to reward me for who I am," Mensah-Stock said. "That was incredible. They wined and dined me and my husband. They put us in a five-star hotel. I brought my dogs and they had dog treats and dog beds and dog toys. It was awesome. It was so great.
"The Doggett family — the father and the son — are incredible. The son used to wrestle and he knows the ins and outs of wrestling. He knew all the names. He knew names I didn't even know."
The food truck factored into Mensah-Stock's decision to return at 68 kilograms instead of a heavier weight class. USA Wrestling Women's National Team Coach Terry Steiner suggested three months of training before she made a comeback.
Mensah-Stock received an automatic bid to Final X at 68 kg but she had to enter the World Team Trials in Coralville, Iowa, on May 21-22 if she moved up to 72 or 76 kg. The tournament was the same weekend her mother received a food truck — so the decision was made to stay at the lower weight.
"I had to be in San Antonio to see my mom's face when she saw her food truck for the first time," Mensah-Stock said. "That was the determining factor."
Mensah-Stock is also determined to have children, but travel and a hectic schedule prevented that from happening. She had numerous conversations with Adeline Gray — a six-time World champion who is pregnant with twins — about becoming a mother, but, for this year at least, Mensah-Stock will continue competing.
That means wrestling gets its most colorful personality and one of its biggest superstars back for 2022. Mensah-Stock was pinned during her semifinal match at the 2021 World Championships and came back for bronze. She has an opportunity to avenge that loss after winning straight matches over Sienna Ramirez, 14-3 and 10-0, at Final X Stillwater.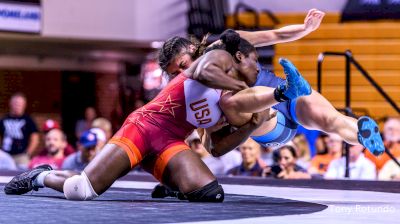 Unlock this video, live events, and more with a subscription!
Get Started
Already a subscriber? Log In
Mensah-Stock outscored Sienna Ramirez 24-3 during her two matches at Final X Stillwater
Steiner was instrumental in getting Mensah-Stock to view wrestling through a new lens. A few opportunities dropped by the wayside over the past eight months, which made the decision to compete that much easier.
In addition to padding her legacy as a wrestler, Steiner wants Mensah-Stock to look toward the next generation. She has an opportunity to lead from the front with a solid women's World team, but a Division I coaching job might be her next play. Staying through 2024 allows women's college wrestling to flourish as her standing continues to grow.
"Everyone wants to be around Tamyra in this sport and around this sport," Steiner said. "It's not just because of the kind of wrestler she is — it's the kind of person she is. She has something unique she can offer. It's just helping her understand that.
"She can have a big influence for a large number of years. What she will do in the next two years will build on what she's started and really set herself apart from everyone. She has the ability to do that. No matter how much you love something you don't always want to do it. It's not always enjoyable. You have to really work sometimes to get yourself in the right frame of mind to accept and absorb what's in front of you and what platform you have."
A ranking series event in Tunisia on July 14-17 is Mensah-Stock's next scheduled competition before the World Championships. It's another chance for wrestling to watch one of its greatest performers on an international stage.