2022 Final X NYC
David Taylor's "Win Rocky Win" Moment Re-Ignites Fire For World Gold
David Taylor's "Win Rocky Win" Moment Re-Ignites Fire For World Gold
David Taylor confirms he's wrestling through 2024 and has a fire to win another world gold.
Jun 17, 2022
by Jon Kozak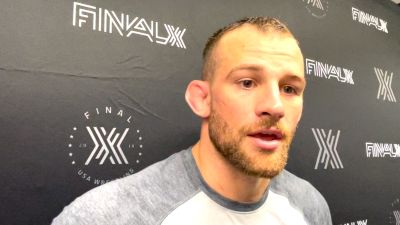 Unlock this video, live events, and more with a subscription!
Get Started
Already a subscriber? Log In
After making the world team at Final X NYC, David Taylor opened up about the challenge of competing in the 2021 world championships directly after accomplishing his lifelong dream of winning an Olympic gold medal. Final X was notedly his first competition back since his world silver performance last October and Taylor admitted he had thoughts of retiring. You can listen to him share those details in the above video about 40 seconds into the interview.
Win David Win! Taylor To Wrestle Through 2024 Olympics
So what changed Taylor's mind about competing? Again in the above video, Taylor shared an important, and emotional, conversation with his wife Kendra 6 to 7 weeks before Final X lit the fire back inside of Taylor to compete, and most importantly win (Taylor goes into detail at 1:05 and 6:30 in the video). The great news for American freestyle fans, Taylor also shared that the conversation helped solidify his decision to compete through the 2024 Paris Olympics.
Taylor's Last 5 Years = Remarkable Dominance
It's a bit shocking Taylor contemplated retirement considering the level he's been wrestling over the last 5 years. Since the beginning of 2017, he's put together a 76-3 record with 38 tech falls, 14 pins, and outscored his opponents by a combined 662-120. In those 76 wins, Taylor has 5 wins over world/Olympic champions and another 10 over world/Olympic medalists. Simply put, David Taylor is wrestling at an ability rarely achieved on the senior level.
Because of what we've seen from him over the past few years, we should expect Taylor to remain a favorite to wrestle in the finals every year until he retires. Iran's Hassan Yazdani has proven to be the only wrestler in the world at 86kg who can compete with him and Taylor holds the series lead in that rivalry - 3-1.
Check out some of David Taylor's other senior-level stats:
Senior Level Record - 126-18
Technical Superiorities - 56
Falls - 22
Outscored Opponents - 1089-298
Wins against world/Olympic champs - 7
Record against non-World/Olympic medalists - 104-2
Taylor's first win over Yazdani at the 2017 World Cup:
Unlock this video, live events, and more with a subscription!
Get Started
Already a subscriber? Log In
Is A Limited Schedule The Future For Taylor?
As mentioned above, Taylor had not competed since October 2021. That 8-month layoff was the second-longest of his career - only behind the 10 months he took off after he was recovering from a torn ACL from May 2019 to March 2020. With the knee surgery and limited match from the Covid-19 pandemic, Taylor has only wrestled 27 matches since the beginning of 2019. In the previous 4 years, Taylor was much more active on the senior level wrestling 74 matches from 2015 to 2018.
So the question is - will we see a limited competition schedule moving forward in order to preserve his body and extend his career? This is something we often see from some of the best international wrestlers - think world and Olympic champions Abdulrashid Sadulaev or Taha Akgul. Once these wrestlers have reached the top, we often see them limit their competition schedule but maintain their dominance. Taylor has proven to be one of the best pound-for-pound wrestlers in the world and his performance at Final X proved he can take time off competition and still perform at the highest level when returning to the mat.
Scoring Highlights from Taylor's 2 wins over Zahid Valencia at Final X: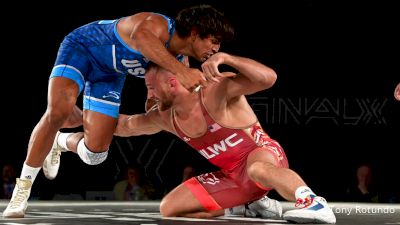 Unlock this video, live events, and more with a subscription!
Get Started
Already a subscriber? Log In
Beyond 2024?
While Taylor shared his intention to wrestle through 2024, he didn't explicitly state he'll retire after the Paris Olympics. At 31 years, he will be 33 at the time of the 2024 Games and 37 at the time of the Los Angeles Olympics. John Smith (1988 & 1992), Bruce Baumgartner (1984 & 1992), and George Mehnert (1904 & 1908) are the only three Americans to ever win 2 Olympic gold medals in freestyle wrestling. Gold in 2024 would place Taylor as one of the greatest wrestlers of all time but he could make his case for "The Goat" if he continues past 2024. Is this looking too far ahead? Absolutely! However, David Taylor is looking to make history, and if anyone can do the impossible, it's the Magic Man.