2022 Final X Stillwater
Daton Fix vs Seth Gross Final X Preview
Daton Fix vs Seth Gross Final X Preview
A breakdown of the Final X 61kg matchup on June 3 between Daton Fix and Seth Gross.
May 31, 2022
by Jon Kozak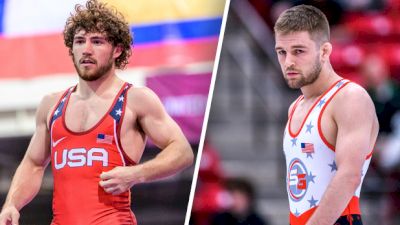 Daton Fix and Seth Gross will take the mat in a best of 3 series on June 3 at Final X presented by Tezos. Take a look below at a full preview of their matchup with the 61kg world team spot on the line in Stillwater, Oklahoma.
Daton Fix - The Favorite
Daton Fix is the returning world team member at 61kg and will be a big favorite in the matchup against Seth Gross. Not only did Fix win silver at last year's world championships, but he also defeated Seth Gross at the 2021 World Team Trials, 11-0. In that match, Fix got out to a quick start with a takedown and turn in the first 10 seconds. Gross was able to slow down Fix's offense in the first period only allowing a step-out to make it 5-0 Fix at the break. However, Fix solved the riddle of Gross' defense in the second period securing 3 takedowns and the tech fall win.
Daton Fix's win over Seth Gross at the 2021 World Team Trials: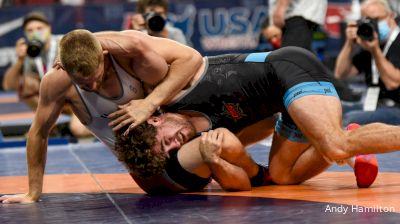 Unlock this video, live events, and more with a subscription!
Get Started
Already a subscriber? Log In
Daton Fix's run from the world team trials to the world finals was remarkably impressive. Between the two tournaments, Fix put together 9 straight wins to make the world finals while outscoring his opponents 81-5 with 6 tech falls in that stretch. Fix lost a close, 4-1 match in the world finals to Russia's Abasgadzhi Magomedov, but Russia is currently banned from the world championships leaving Fix as the clear favorite to win Worlds this year at 61kg. The first step for Daton Fix to accomplish that goal - take out Seth Gross in their best 2 of 3 series in Stillwater.
Hear from Daton Fix after his 2021 World Championships performance: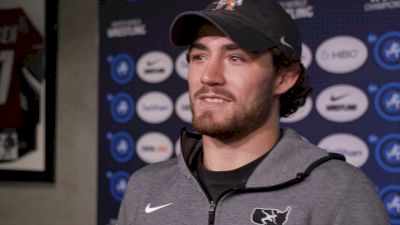 Unlock this video, live events, and more with a subscription!
Get Started
Already a subscriber? Log In
Can Seth Gross Shock Stillwater?
The odds are stacked against Gross - Fix is a returning world medalist, he teched Gross last year, and Fix has home mat advantage at Gallagher-Iba Arena. However, Seth Gross proved at the world team trials two weeks ago that he should never be underestimated - especially when his back's against the wall or as the underdog. In his opening match at trials, Gross was down 12-3 to Jesse Mendez before he stormed back to win 13-12. In that bout, Gross showed how dangerous he can be when he gets on top scoring 4 consecutive turns in the par terre position. Then, in the semis, Gross had a rematch with Nico Megaludis. Just 2 weeks prior at the US Open, Megaludis defeated Gross in a controlling 4-1 decision but at the trials Gross dominated by getting out to a 6-0 lead before pinning Megaludis.
The point - don't count out Seth Gross! He improves with any loss and has the unique ability to score in bunches from the top position. Gross can also end any match with a pin if his opponent makes a mistake. Gross will absolutely enter his matches against Fix with an improved game plan and poses unique challenges to Fix from every position.
Seth Gross' win over Nico Megaludis in the semis at the 2022 World Team Trials: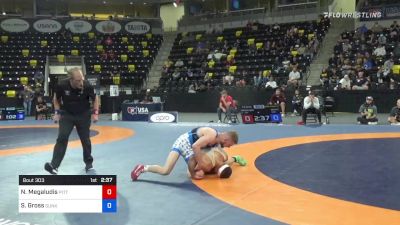 Unlock this video, live events, and more with a subscription!
Get Started
Already a subscriber? Log In
Who Wins At Final X?
Daton Fix will be the favorite against Seth Gross at Final X. Fix is a complete freestyle wrestler - he possesses incredible athleticism, holds position well, finishes quickly on leg attacks, and has outstanding par terre offense. With all of that being true, we still should expect a very different match from their last one. In his post-match interview after the world team trials, Gross talked about the importance of feeling the athleticism Daton Fix last year and being more prepared to face him in their upcoming match. Gross will need to make major adjustments to slow down Fix's offense and force Fix into uncomfortable positions. Will Gross be able to pull off the upset or will Fix's run to a world title begin with dominant wins over Gross? We'll find out when these two take the mat in Stillwater on June 3 at Final X!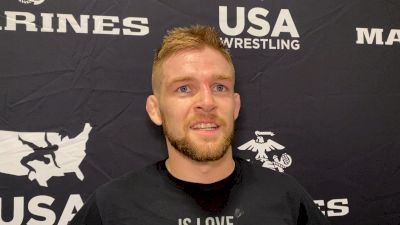 Check out all of the Final X Stillwater matchups here.