Big 12
Casey Swiderski looks back on amazing prep career, ahead to Iowa State
Casey Swiderski looks back on amazing prep career, ahead to Iowa State
After a storied high school career and big-time national wins, Michigan's Casey Swiderski is eager to join Iowa State
May 25, 2022
by Mark Spezia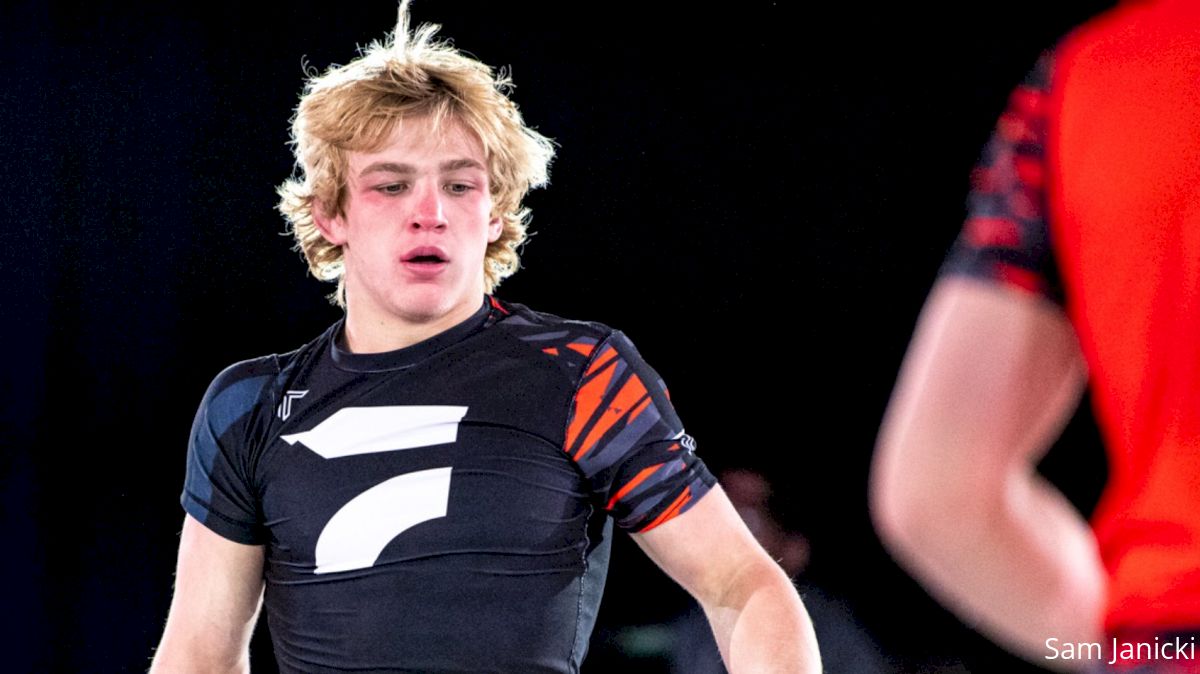 Shaking his arms, rocking from side to side and exhaling, Casey Swiderski could hardly contain himself while being introduced at last year's Who's Number One event.
There was no hiding his eagerness to sprint to the mat and embrace the challenge of facing Jesse Mendez of Crown Point, Indiana, then the nation's top-ranked, pound-for-pound high school wrestler.
Though a three-time Michigan state champion from powerhouse Dundee who had taken out top-10, Class of 2021 pound-for-pounder Drake Ayala (Iowa) the year before, Swiderski was viewed by most as the underdog against Mendez. After all, his opponent's resume also included three state titles and placing eighth in the World Junior Championships a month earlier.
Undaunted, Swiderski struck for the first takedown following a feeling-out process just over minute into the 138-pound match. That's when the wild clash of titans, which featured three lead changes and two ties, really began.
The match was deadlocked at 4-4 entering the final period which Swiderski began in the down position. Mendez kept Swiderski under wraps for the first 43 seconds before he burst free and took the lead for good with an escape and takedown in a span of just 13 seconds. Swiderski fought off Mendez's takedown attempt in the final seconds for a 7-6 win at the Hyatt Regency in Dallas.
Swiderski celebrated with a yell while forcefully clapping before driving his left fist into the palm of his right hand.
"Maybe the thought was that I was somebody they could put against Mendez, who could give him a good match, but he was going to win," Swiderski said recently while reflecting on the match. "I trained to win and when you hit that wall in a match, you go to the level of your training which directly mirrors how you respond when stuff hits the fan. I was really confident from the first takedown and felt I had him."
Those who had watched Swiderski fiercely prepare for the match, like then-assistant Dundee coach Garrett Stevens, felt the same way.
"None of us closely involved in Casey's training were surprised he won," says Stevens, who was recently promoted to co-head coach along with Nate Hall. "Casey had a really good training camp where we got his weight training and wrestling regimen dialed in. Jesse is a tremendous wrestler, but we had a lot of video on him and felt we could exploit some things. The most important thing for Casey was making sure his mind was right. He knew, believed and did the work."
That work commenced soon after Swiderski accepted a Who's Number One invitation he was a bit surprised to receive after dropping a 7-2 decision to Minnesota recruit Tagen Jamison of Texas in the 138-pound freestyle national championship match in Fargo.
"I knew I was going to Who's Number One for sure if I won in Fargo, but it was up in the air after I came up short," says Swiderski, who has not lost since. "I got the call and was like 'here is your opportunity, dude, let's run with it'."
A FATHER'S INFLUENCE
Helping Swiderski run with the opportunity was his father Dale, who has been instrumental and a stickler for details while guiding the careers of Casey and older brother Tyler. He also served as Dundee's strength coach from 2013-17.
"Dad's like 'hey, we are seven weeks out from facing Mendez, so take a few days and then we will start training to win'," Casey recalls. "That was six weeks of hardcore training, the toughest I've ever done which made me much better. Even if I lost, I was going to come out of the whole experience really improved."
Already the first member of Iowa State's 2022 recruiting class, Swiderski's stock soared after upsetting Mendez. Not part of the national pound-for-pound rankings and No. 72 on the Class of 2022 Big Board prior to the match, he is now No. 2 on the Big Board and No. 5 pound-for-pound.
Swiderski concluded his high school career with a memorable senior season, going 45-0 and finishing with a 166-3 career mark. He never lost to another Michigan wrestler in prep competition.
He joined Davison's Brent Metcalf (2002-05), his future assistant coach at Iowa State, Lowell's Austin Boone (2017-20) and former Dundee teammate Stoney Buell (2018-21) as Michigan's only four-time team and individual state champions.
The Vikings compete in Division 3, but Swiderski beat this season's Division 1 (Darius Marines, Detroit Catholic Central) and Division 2 (Army recruit Micah Hanau, Stevensville-Lakeshore) state champions.
MR. WRESTLER
State coaches named him the 2022 Michigan Wrestling Association Mr. Wrestler award winner, presented to Michigan's top senior.
Former Dundee coach Tim Roberts, who stepped down following the season after 23 years, a record 10 state titles and a 574-80-1 duals record, penned a tribute to Swiderski which accompanied the announcement on the MWA website.
"Casey was a very tough and aggressive youth who always competed hard (and) it was awesome to watch him develop and become a real student of the sport," wrote Roberts, who also coached 55 individual state champions. "By eighth grade, it was very noticeable he has something extra in how he sees wrestling and learns technique. Throughout high school, he put a lot of work into continuous learning and growing, (but) as good as he became (Casey) never felt he was too good to be coached and was always grateful for the help."
Fittingly, Swiderski put the finishing touches on the Vikings' fifth straight team state championship, and eighth in 10 seasons, with a pin in the final match.
A week later, Swiderski stopped all four of his individual state tournament foes in less than four minutes for the Division 3, 152-pound title. He celebrated with a backflip before embracing Roberts, who smiled and briefly rubbed the top of Swiderski's head.
"I'll always be grateful for my time at Dundee because it is the place to be in high school wrestling," he says. "Being able to put trust in your coaches, put your training in their hands and know they are going to make you better and stronger is huge in this sport. It was a super exciting four years."
In addition to four state titles, Dundee also recorded 41 all-state (top-eight) finishes during Swiderski's time there, including winning 41% (23 of 56) of all Division 3 individual state championships from 2019-22.
"Casey comes from a blue collar background where hard work and mental fortitude is engrained in his nature and he always chased the best competition even at the possible expense of a loss," Stevens says. "I think what really separates Casey is that no matter how good he gets, he knows he can still get better. He also brings a very humble, selfless approach to the sport, putting others first."
An example of that came during Swiderski's sophomore season when, having won a state title at 103 pounds the year before, he jumped all the way to 135 pounds to strengthen the team's lineup though he had only grown to about 119 pounds.
"Casey did that to give his teammates their best odds of having a shot to win state titles of their own," Stevens says.
Still, Swiderski's sacrifice for the team did not sacrifice his chances of winning another state championship. Despite giving away so many pounds, he recorded two pins, a technical fall and major decision on the way to a second title.
THE REMATCH
Just 11 days after capping his Michigan high school career, Swiderski faced Mendez, who had also become a four-time state champion, again in a highly-anticipated rematch less than an hour from Dundee during the Rudis Super Match event March 16 at Detroit's MotorCity Casino.
The rematch was not nearly as close as the Who's No. 1 meeting. Swiderski never trailed after scoring a takedown seconds into the match with a beautifully-executed ankle pick on the way to a 10-4 win.
"I had been working on that ankle pick for three weeks and really wanted to hit it," he says. "I was really confident going against Jesse the second time because I knew we were both coming out of our high school seasons and felt there was no way he doing all the extra work I had done like practicing with coach Scotty Burnett (at Burnett Trained Wrestling) in Ohio. Good luck beating me."
Metcalf chimed in on Twitter following the match.
"@CycloneWR, future is bright, Great performance," he wrote.
THE JOURNEY BEGINS
Swiderski's journey to a bright wrestling future began when brother Tyler, older by less than two years, came home from school with a flyer for a local wrestling club while in first grade. Soon, Casey joined him and their father began playing an active role in fostering his sons' development.
"Dad noticed were doing well with the first wrestling club we joined and he kept moving us from room to room to always put us in a place where we might get our butts kicked, but also would keep improving," Casey says.
The brothers also improved by initiating informal, impromptu household brawls with each other.
"Yes, we were those brothers wrestling around the house and sometimes dad would be a part of it because one of us start something by jumping on his back," Swiderski recalls. "We had some crazy scraps and it would not be a good one if there were no flying elbows or somebody getting thrown into the couch."
The brothers began to see up close what Dundee's program is all about when Dale began bringing them to practices after becoming strength coach.
Tyler went on to win two state championships and was an NCAA Division 2 qualifier as a Lake Erie College true freshman last season.
"Casey was knee high standing next to his dad the first time I saw him wrestle," Stevens said. "We were fortunate that Dale joined our staff and all that he asked was that his boys could be around to watch, learn, and grow from the high school wrestlers. At a young age, Casey was high energy and physical. We always knew potential was there."
Powerhouse college programs began seeing potential in Swiderski after he hit high school. Swiderski ended recruiting speculation just before his junior season, selecting the Cyclones over Purdue, Michigan, North Dakota State and Michigan State.
"I was leaning toward Michigan at first to wrestle close to home, but then things began to change for me," Swiderski says. "I went to Iowa almost every year pheasant hunting with my dad and started wanting to be in that state. Also, there was just something about the way those guys and the coaching staff approached wrestling. It's going to be great to work with Brent Metcalf and Ames is a beautiful place for hunting and fishing."
OFF TO IOWA STATE
Never one to place any limits on himself, Swiderski hopes to join Iowa State's starting lineup as a true freshman, filling the void at 141 pounds left by the graduation of four-time NCAA qualifier Ian Parker.
He will be just one of several candidates, the most experienced of which is sophomore Zach Redding, a 2021 NCAA qualifier at 133 pounds.
Swiderski, however, is not wasting any time.
He heads to Ames next month to begin training with Cyclone RTC, working directly with Metcalf, Cyclones' head coach Kevin Dresser and other staff members.
"I'm very excited to become part of a very strong Iowa State program, watch out for us," Swiderski says. "My goals are doing whatever it takes to develop into the best wrestler I can be and win team and individual NCAA titles. That's what I'm all about."