2022 World Team Trials Challenge Tournament
You Can't Miss World Team Trials Session 4
You Can't Miss World Team Trials Session 4
Session 4 of the World Team Trials will offer enticing best of three matchups in all three styles. Here's what's on tap.
May 22, 2022
by David Bray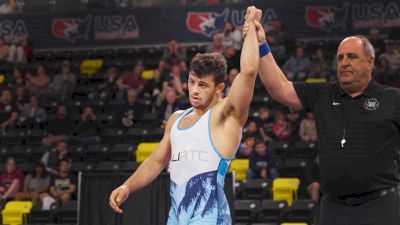 The final session at the 2022 World Team Trials features best of three series for the right to take on former World Medalists in Final X. We'll see good action in all three styles. Here's what you need to know before the last session of Trials action.
Men's Freestyle Best of Three Matchups
57kg - Vito Arujau vs Jakob Camacho
61kg - Seth Gross vs Daniel DeShazer
74kg - Jason Nolf vs Joey Levallee
79kg - Chance Marsteller vs Vincenzo Joseph
86kg - Mark Hall vs Zahid Valencia
92kg - Nate Jackson vs Isaac Trumble
97kg - Mike Macchiavello vs Kollin Moore
Vito Arujau is a favorite over Jakob Camacho having won their 2020 Senior Nationals quarterfinal by technical superiority. Seth Gross and Daniel DeShazer are the #5 and #6 seeds respectively at 61kg. Their matchup is a true clash of styles as DeShazer uses physicality and quick finishes while Gross tends to extend positions and score from unconventional situations. At 74kg, Jason Nolf and Joey Levallee will meet in a rematch of the 2017 NCAA finals. Nolf won that bout convincingly, and he'll be a favorite in this afternoon's series as well.
Chance Marsteller and Vincenzo Joseph have provided incredible highlights already this weekend in a bracket that many wrestling fans expected to steal the show. Chance Marsteller has been on a path of redemption, avenging losses Carter Starocci and David McFadden. Vincenzo Joseph, who was retired from competition a couple months ago, beat Alex Dieringer for the second time in as many attempts to prove that his return to competition is for real.
Chance Marsteller's day of redemption against Starocci and McFadden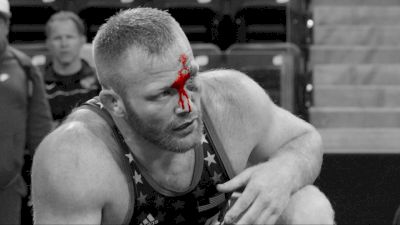 The 86kg series may be a best of three, but Mark Hall and Zahid Valencia have already met over a dozen times since their youth wrestling careers. They're friendly off the mat, but there's no love lost between the two when they compete.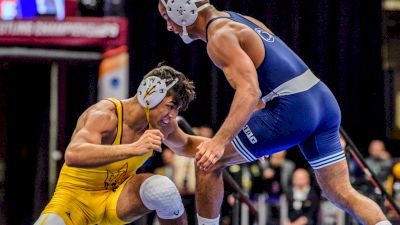 Unlock this video, live events, and more with a subscription!
Get Started
Already a subscriber? Log In
Nate Jackson is a big-time favorite in his matchup against Isaac Trumble. He's overcome a whole bunch of adversity just to continue his career, and he believes he's ready to contend for a World Team spot against J'den Cox. At 97kg, we'll see Mike Macchiavello vs Kollin Moore. These two have traded wins, and while Moore won most recently, Macchiavello has solved the Kollin Moore puzzle in the past.
Nate Jackson's post-semifinals interview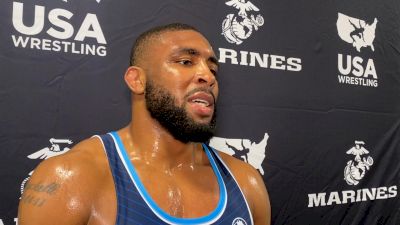 Women's Freestyle Best of Three Matchups
50kg - Erin Golston vs Alyssa Lampe
55kg - Jacarra Winchester vs Lauren Mason
57kg - Cameron Guerin vs Alex Hendrick
62kg - Jennifer Rogers vs Macey Kilty
65kg - Emma Bruntil vs Mallory Velte
68kg - Sienna Ramirez vs Solin Piearcy
The women's weights start with 50kg where veterans Alyssa Lampe, a former World medalist and Erin Golston, a Junior World finalist, square off for the chance to take on Sarah Hildebrandt at Final X. World champ Jacarra Winchester will be a heavy favorite over #3 seed Lauren Mason in their series at 55kg as she controlled their meeting at the US Open.
Cameron Guerin won her semifinal convincingly at 57kg while Alex Hedrick had to come back in one of the most exciting bouts of the women's semifinals. At 62kg, Macey Kilty is the favorite against Jennifer Rogers. She's made the World finals at the Cadet, Junior, and U23 level and will look to take out a very solid Jenn Rogers for a shot at Senior World silver medalist Kayla Miracle in the best of three series at Final X.
Alex Hendrick's comeback in yesterday's semifinals
Unlock this video, live events, and more with a subscription!
Get Started
Already a subscriber? Log In
65kg offers perhaps the most highly anticipated best of three series between World bronze medalist Mallory Velte and Emma Bruntil, a former U23 World teamer who has been surging lately. She has victories over both Velte and World medalist Forrest Molinari and wants to run the gauntlet against both in consecutive best of three series. The final series features Sienna Ramirez and Solin Piearcy. Ramirez won the US Open and earned the top seed while Piearcy punched her ticket to the best of three from the six seed with a victory over #3 Alara Boyd along the way.
Highlights from Emma Bruntil and Mallory Velte's US Open final
Unlock this video, live events, and more with a subscription!
Get Started
Already a subscriber? Log In
Greco-Roman Best of Three Matchup
97kg - Haydn Maley vs Braxton Amos
Big Braxy Amos from Mineral Wells, West Virginia is already a U20 world bronze medalist and a Tokyo Olympic Team Trials finalist. Now he's looking to make his first senior-level world team in Greco-Roman wrestling. He'll have to get through Haydn Maley, a Stanford grad who returned to his home state of Oregon to train at the Beaver Dam RTC on the campus of Oregon State.