2022 World Team Trials Challenge Tournament
The Complete World Team Trials Greco-Roman Preview
The Complete World Team Trials Greco-Roman Preview
Greco guru Tim Hands breaks down the field for this weekend's World Team Trials in Coralville and lays out the Final X favorites.
May 20, 2022
by Timmy Hands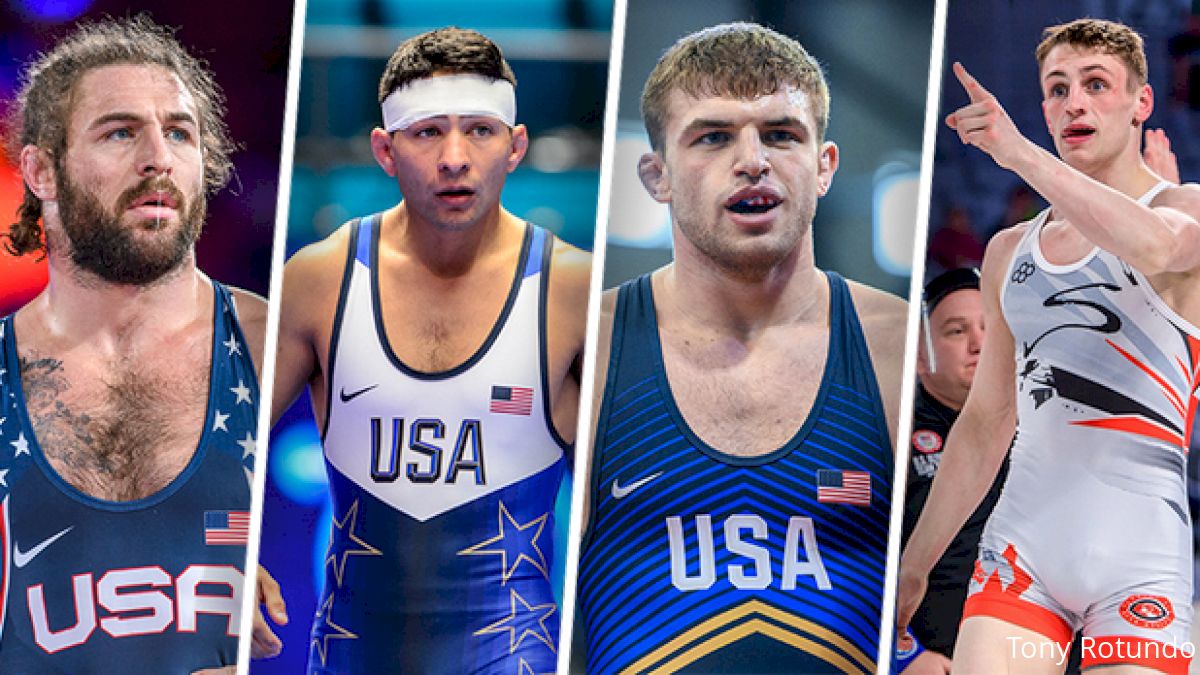 The sprint to the Final X Series hits full speed this weekend in Coralville, Iowa as the 2022 US Greco-Roman World Team Trials Challenge Tournament unfolds with a different look than to which most are accustomed. Familiarity is still available. Nine of the 10 members from last year's World Team will be on hand to battle it out for the right to represent Team USA in Serbia this coming September.
But several well-known athletes are out of the mix for the moment, leaving the door wide open for new faces, and stories, to emerge. While the U.S. program is not quite in "turnover" mode, there is an influx of young, hungry competitors who are beginning to assert themselves on an increasing basis in various weight categories. A few may already have what it takes to make a definitive impact this weekend. For others, the goings-on inside of Xtream Arena will provide a valuable education pertaining to their development as Paris 2024 creeps closer on the horizon.
That said, the veterans on the circuit are, for the most part, still in firm command – especially in a tournament that, for all brackets but one, will end following the semifinal round. The 2022 U.S. World Team Trials is going to move quickly, and it will be up to the standard-bearers to ward off new and old threats coming from every direction.
Featured Weight Classes
It is not every year when upper-weight categories are in the spotlight, but here we are.
97 kg
The only bracket in Coralville that will require a best-of-three final offers three athletes who have, in fact, previously contested '21 World bronze G'Angelo Hancock in a best-of-three final: top-seed Nick Boykin ('21 WTT), #2 seed Braxton Amos ('20 OTT), and #3 seed Luke Sheridan ('19 Final X).
Of the trio, Sheridan is the one who stuck it out the closest with Hancock insofar as individual matches are concerned. Boykin was game last September, and Amos gave an intense effort with the Tokyo spot on the line. But all three were ultimately left wanting in the end.
Whether or not Hancock is vulnerable or in potential peril come June is not important this weekend. The path is what matters. Khymba Johnson, seeded fourth, is the X-factor of the bracket. Boykin has bested Johnson with some distance most recently; and to be sure, the Tennessee native has improved even more since the last time they traded paint. But Johnson is different now, too, and capable of a run to Sunday's final round.
Boykin has also defeated Sheridan and Amos; and Amos defeated Sheridan and Boykin during his memorable ride to the Olympic Trials best-of-three some 13 and a half months ago. It would be just so very easy to figure Amos coming into this rusty, what with not having time on target Greco-wise in quite a while. Except, this is about competition, not technical mastery. And from a strictly competitive standpoint, Amos stands extremely tall, never mind his actual wrestling ability.
There is a natural resistance to bypass the field in favor of focusing on who is anticipated to comprise the semifinal. After all, there are other athletes available, like Chad Porter, like Hadyn Maley… Two young but skilled wrestlers with viable age-group and Senior experience. The problem? If indeed 97 is seen as the most interesting bracket coming up this weekend, Boykin, Johnson, Amos, and Sheridan are the reasons why that is. Therefore, it is difficult to picture a scenario that excludes them from deciding who gets to be Hancock's dance partner in Stillwater.
82 kg
One weight class. Only six athletes. At a Trials. What seems like a major disappointment in terms of participation actually is not. Sometimes – not always, but sometimes – a condensed field in a domestic event is almost preferable because at least we know there will be no waiting around for narratives to develop.
On one hand you've got Ben Provisor, who keeps making Teams, winning "stop signs", and shutting down the output of his opponents as if by second nature.
On the other is '21 U23 World rep Spencer Woods, who has fallen to "Big Ben" in three straight U.S. finals, including the Trials of last September.
Woods has had one item going for him. He has been the more physical of the two in their match-ups thus far. While so many others wilt and wane in what are often treacherous tie-ups, Woods instead head-hunts for snaps and clubs that have resulted in Provisor resetting in spaces few others have been able to compel.
But – in a turn-and-not-get-turned weight class, physicality is just window-dressing unless par terre is equalized. In their short history together, that has not been the case. Provisor's edge in both PT offense and defense is still significant.
There are three others who could wreck a Final X pitting Provisor against Woods yet again: Tyler Cunningham, Ryan Epps, and '21 U23 World Team member Tommy Brackett.
Cunningham is playing the hot hand; he has a "W" over Epps from April, has stayed tight with Provisor, and is fresh off of a Pan-Ams bronze. Epps – already a WTT and National runner-up – is legitimately right in this mix. His main struggle is seizing advantage of "need to have 'em" scores. Epps will push and punish antagonists, which is super; but he's not yet feasting from PT top. If he is to reach the next-level, that needs to change. An obvious declaration.
Brackett is Brackett. No one, maybe not even Provisor, is as adept at making the other guy wade through thickets like Brackett consistently does. Rarely out of position, an innately-tuned underhook machine, and beholden to a severely-underrated gas tank. If Brackett does advance to the semis, the only surprised folks would be new casuals.
Yes, Sunday might produce another collision course between Provisor and Woods. Ask around, and the feedback will mirror such. It is just not a given considering those threats who reside on the perimeter.
72 kg
There is one question to navigate, only one: how close to being fully back and "recovered" is Benji Peak? Ignore his Open win late last month. In his first tournament since tearing his shoulder this past October, Peak sure did win the Nationals – and he sure was pressed in spots by newcomer Pete Ogunsanya (who is not even competing in Iowa).
This is the world Peak now calls home. Upon returning from a major injury, the focus is not on his result, but how it was achieved. The burden of expectation, one might suggest.
If Peak's blades are sharper and he is adequately prepared, his first job will be to get past Ryan Wheeler, who had a very impressive Open performance in his own right. In the decisive bout to make Final X, aka the semifinal, it will either be Michael Hooker or Eddie Smith. Peak has defeated Hooker previously, but this is no slam dunk. When Hooker is not hobbled by nagging injuries, or shooting himself in the proverbial foot in-match, he is absolutely a dangerous proposition.
The man at the top is Patrick Smith, who is eyeing his fourth U.S. World Team spot mere weeks after earning his fourth Pan-Am Championship gold. Smith needs no further introduction, no rattle-on preamble. He is the country's best pressure-fighter this generation and his match IQ is off the charts. Can Noah Wachsmuth slow the Smith train down? Perhaps, though it is not supposed to be his time to shine just yet. If Jamel Johnson hits the semis, is there room for what most would deem an upset? Sure. Johnson went into Vegas with zero wrestling training under his belt in months and still competed well. With this space in between, he is undoubtedly in better shape. But he has to walk into the arena in utterly outstanding shape, probably, in order to ignite the type of offensive dynamite capable of derailing Smith's trek to Final X.
Lightweight Focus
Brief walkthroughs of the four lightest weight categories at the 2022 U.S. Greco-Roman World Team Trials.
55 kg
Top Side
Now a four-time U.S. National champ, Max Nowry begins the Challenge Tournament as the #1 seed. A World Teamer in '19 and '21, Nowry owns advantages in each and every meaningful area of Greco-Roman wrestling compared to everyone else on his side of the bracket. Drew West, iron tough and a welcomed addition to Greco. Jacob Cochran, a terrific athlete with huge upside. But neither of the two are likely to threaten Nowry's chances of making Final X.
Bottom Side
Brand-new Pan-Am gold Brady Koontz could, potentially, engage in a tough match or two this weekend. The primary challenger for him? Dalton Duffield. Koontz has downed Duffield in the past, including at the '19 Trials. Duffield, however, is sharper now and overflowing with workout partners who give him the looks he needs. Camden Russell and Jakason Burks, both from MWC in Nebraska, are two young, promising wrestlers who won't back down to a Koontz or Duffield type. Will their effort and gameness be enough to generate shockwaves? In another year, perhaps. But '22 is too early.
60 kg
Top Side
So long as there is not a last-minute entrant, reigning World Team member Dalton Roberts needs only one win to nail down his Final X bid. On Sunday, Roberts will face either Randon Miranda or Max Black. Black, originally from Colorado but now a student at Northern Michigan, took second at the Open and is by and large thought of as a future star. Meanwhile, Miranda – Pan-Am gold this year, and one of the nation's most active combatants – has been a serious contender in this event over the past four years. He also has a pronounced history of which to speak when it comes to Roberts; in addition, he bombed Black once before, which came at the '22 Farrell.
Bottom Side
Two-time Olympian Ildar Hafizov will start opposite Phillip Moomey, who is yet one more in a long line of formerly-established age-groupers present in this tournament. Moomey is highly-skilled, gritty, and unafraid of offensive risk. The issue is Hafizov. Despite his age (33), the native of UZB remains the best technical wrestler in the US, as well as its most experienced. Dylan Koontz has a window with which to work opposite Mitchell Brown of Air Force. A prospective Koontz/Hafizov semifinal could be entertaining, provided Koontz can stay within striking distance in the second period.
63 kg
Top-seed Sammy Jones is in the midst of the best stretch of his career. That's it. Not much more to the whole thing. Jones has reached an intriguing stage where his zeal for throws and bombs is tempered by a more patient approach. He is not in a rush. Jones figures it is an eventuality that he will grab a multi-point score, so he does not need to hastily abandon bogging ties and recklessly lock and load. He is seeing positions from which to score earlier, or so it seems, and that is indicative of growing confidence.
Top Side
Will Jones be pressed in Coralville? Will the situation ever be in doubt? It is possible, depending on the relative chutzpah brought to the table by David Stepanyan or Corbin Nirschl. Jones still has some distance, perceptively, on both athletes; but Nirschl has been in the trenches plugging away in earnest, while Stepanyan is coming off of a respite after putting together a fine '21 campaign. Stepanyan did not scare Jones at last year's Trials, but he did show that ground could be made up faster than most might have previously thought.
Bottom Side
One of the best bottom brackets in the event. Jesse Thielke, head of the class as it were, is gunning for his fourth Senior-level Team. A National final rematch against Aidan Nutter, that could be a thing. Thielke blew past Nutter in Vegas, which is OK because it did not take away from the NMU'er's overall stellar performance. We Rachal, the raw materials are there and once sculpted he might turn into a verifiable star. The most polished on this side, other than Thielke, is Mason Hartshorn. CYC product, former NMU'er, Junior stud, etc. Hartshorn is the real deal because he exhibits well-tuned "feel" for classical positions others take for granted.
67 kg
The one thing for which Alex Sancho deserves credit is that he saw it coming. He always sees it coming. Last year, after winning the Olympic Trials, Sancho noted the infusion of top young athletes at 67 kilos and said, "You see it every quad." What he might not have noticed so much is how quickly said younguns were closing the gap. Sancho found that out first-hand when Peyton Omania completed his memorable blitz at the WTT in September by sweeping their finals series.
Top Side
On Sunday, Sancho and Omania are presumed to comprise the top-side semifinal. In the time between their initial physical discourse, Omania endured a college season and finished fourth at the Open. Sancho, he won the Farrell, then later the Open by forfeit (Lenny Merkin took a pass to protect injury following what was a long layoff). Omania had been on the Greco shelf for seven months prior to the Nationals. He's now reset, back to baseline, and should be clicking on all cylinders for this weekend. Sancho, he's in the best room for lightweights in America.
Bottom Side
Alston Nutter keeps coming closer and closer to a Senior breakthrough. He has given Sancho a tough time on a couple of occasions and has beaten nearly everyone else put in front of him, with Hayden Tuma an exception post-Fort Worth. Equally polished and aggressive, Nutter is a difficult match-up for all involved, and they know it. #3 seed Lenny Merkin delivered the best Senior performance of his career in Vegas, not an easy feat considering he had only recently recovered fully from shoulder surgery. Merkin, normally a salto-or-bust kind of guy, looked stronger, more robust, when mining through tie-ups and scanning for throws. Nutter/Merkin, should it occur, will bring just as much heat as hardcore fans imagine.
Quick Overviews
77 kg
Yes, 77 kilograms still owns the designation as the nation's deepest weight class. Proof? '22 National champ Britton Holmes and his runner-up Alec Ortiz are seeded fourth and fifth, respectively.
But in a bracket that has RaVaughn Perkins seeded 1st, '21 World Team member seeded second, and Kamal Bey seeded third, this is what happens. 77 is not for the timid; and with Payton Jacobson now surging up the ladder…and '21 Trials second-place Frtiz Schierl downright dissed by being given the eighth seed, what you get is a weight class that will once again dominate the news cycle – even though it is missing some key characters.
87 kg
Ildar Hafizov is the cleanest lightweight technician in the United States. Alan Vera is the same thing as an upper-weight. Vera, a World Teamer last year and now-two-time National Champion, plays a different game than most everyone in this bracket. His par terre offensive prowess is unrivaled by this field; and while it would be nice to see Tyler Hannah or Christian DuLaney come with a full-court press, it is asking a bit too much.
The two names to watch are on the bottom side – Timothy Young and Open runner-up George Sikes. Sikes, he's familiar to most by now. But Young is just getting started and is already turning heads thanks to an explosive, fun-to-watch methodology.
130 kg
An improved field at heavyweight should deliver a few interesting battles, particularly if the bottom side of the bracket holds. That would mean #2 seed Tanner Farmer vs. #3 West Cathcart in the semifinal. Forgetting all of the personal dynamics at play (they are teammates/training partners, Cathcart helped school Farmer's entry into Greco last year, they're friends, etc.), this match-up would be one to watch due to their current statuses. Farmer, vastly improved, kept a very active profile during a period in time when Cathcart was out recovering from injury. Then Cathcart returned for the Nationals and appeared in better form than he did at the Olympic Trials. This is a match-up that is worth prioritizing.
David Tate Orndorff, thankfully, came back to Greco for the Open and performed nicely considering his time away from the discipline. If he survives against Courtney Freeman (Marines, who is steadily gaining forward progress), Orndorff will get another crack at Cohlton Schultz. Their prior bouts have all gone in one direction, including three weeks ago in Vegas. The Greco program really likes Orndorff despite his reluctance to jump in full-time, or even consistently part-time. And even though Schultz himself touches legs during the cool-weather months, there is a difference: Schultz is a Greco athlete who wrestles in college; Orndorff – a National Teamer in '18 and Open runner-up the next year as well as U23 World rep – comes off more as a folk wrestler who flirts with Greco in his downtime. Fair or unfair, that's the perception and also an important distinction to make when Team selection is the objective. Expect a Schultz/Orndorff dustup on Sunday to be more competitive than their most recent affair even if the eventual outcome stays the same.