2022 World Team Trials Challenge Tournament
2022 World Team Trials Seeds - Men's Freestyle
2022 World Team Trials Seeds - Men's Freestyle
The seeds for every weight at the 2022 World Team Trials in men's freestyle.
May 16, 2022
by Jon Kozak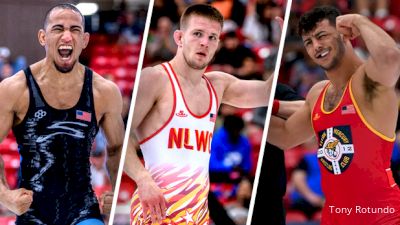 Unlock this video, live events, and more with a subscription!
Get Started
Already a subscriber? Log In
The World Team Trials will go down May 21-22 and will establish the wrestlers who will participate in Final X. Check out the seeds released below for every weight in men's freestyle.
Seeds released by USA Wrestling:
57 kg
1. Matthew Ramos Boilermaker RTC
2. Vitali Arujau Spartan Combat RTC
3. Zane Richards Titan Mercury Wrestling Club (TMWC)
4. Jakob Camacho Wolfpack Wrestling Club
5. Anthony Molton Buies Creek Wrestling Club
6. Caleb Smith Boone RTC
7. Gregory Diakomihalis Spartan Combat RTC
8. Gabriel Townsell California Regional Training Center (CA RTC)
9. Aden Reeves Viking Wrestling Club (IA)
10. Michael Tortorice Knights RTC
11. Timothy Levine New England Regional Training Center
61 kg
1. Nico Megaludis Titan Mercury Wrestling Club (TMWC)
2. Joshua Rodriguez Nittany Lion Wrestling Club
3. Tyler Graff New Jersey RTC
4. Jesse Mendez Titan Mercury Wrestling Club (TMWC)
5. Seth Gross Sunkist Kids Wrestling Club
6. Daniel DeShazer Gopher Wrestling Club - RTC
7. Josh Kramer Sunkist Kids Wrestling Club
8. Shelton Mack New York City RTC
65 kg
1. Kendric Maple Sunkist Kids Wrestling Club
2. Yianni Diakomihalis Spartan Combat RTC
3. Joseph McKenna Pennsylvania RTC
4. Nick Lee Nittany Lion Wrestling Club
5. Matthew Kolodzik New York Athletic Club
6. Ian Parker Cyclone Regional Training Center C-RTC
7. Luke Pletcher Pittsburgh Wrestling Club
8. Evan Henderson Ohio Regional Training Center
9. Patricio Lugo Hawkeye Wrestling Club
10. Dean Heil Titan Mercury Wrestling Club (TMWC)
11. Beau Bartlett Nittany Lion Wrestling Club
12. Carter Young Cowboy RTC
13. Joshua Saunders Spartan Combat RTC
70 kg
1. Alec Pantaleo Cliff Keen Wrestling Club
2. Ryan Deakin Titan Mercury Wrestling Club (TMWC)
3. Jordan Oliver Sunkist Kids Wrestling Club
4. Zain Retherford Nittany Lion Wrestling Club
5. Doug Zapf Pennsylvania RTC
6. Michael Blockhus Gopher Wrestling Club - RTC
7. Sam Sasso Titan Mercury Wrestling Club (TMWC)
8. Tyler Berger California Regional Training Center (CA RTC)
9. Anthony Ashnault New York Athletic Club
10. Dayne Morton Wolves Wrestling Club
11. Jarod Verkleeren Cavalier Wrestling Club
74 kg
1. Jason Nolf Nittany Lion Wrestling Club
2. Joshua Shields Sunkist Kids Wrestling Club
3. Thomas Gantt Wolfpack Wrestling Club
4. David Carr Cyclone Regional Training Center C-RTC
5. Collin Purinton Sunkist Kids Wrestling Club
6. Peter Pappas Patriot Elite Wrestling Club
7. Joey Lavallee Lehigh Valley Wrestling Club
79 kg
1. David McFadden Pennsylvania RTC
2. Vincenzo Joseph California Regional Training Center (CA RTC)
3. Alex Dieringer Cliff Keen Wrestling Club
4. Carter Starocci Nittany Lion Wrestling Club
5. Chance Marsteller Titan Mercury Wrestling Club (TMWC)
6. Isaiah Martinez Beaver Dam Wrestling Regional Training Center
7. Taylor Lujan Panther Wrestling Club RTC
8. Nick Reenan Wolfpack Wrestling Club
9. Brayden Thompson Illinois
86 kg
1. Mark Hall Pennsylvania RTC
2. Zahid Valencia Sunkist Kids Wrestling Club
3. Trent Hidlay Wolfpack Wrestling Club
4. Drew Foster Panther Wrestling Club RTC
5. Marcus Coleman Cyclone Regional Training Center C-RTC
6. Owen Webster Gopher Wrestling Club - RTC
7. Caden Steffen Mustang Wrestling Club
8. Caleb Hopkins Buies Creek Wrestling Club
9. Julien Broderson Cyclone Regional Training Center C-RTC
10. Andrew Morgan Spartan Combat RTC
92 kg
1. Cameron Caffey Michigan Wrestling Club
2. Nathan Jackson New York Athletic Club
3. Jonathan Aiello Cavalier Wrestling Club
4. Pat Downey
5. Isaac Trumble Wolfpack Wrestling Club
5. Max Shaw Tar Heel Wrestling Club
6. Levi Hopkins Buies Creek Wrestling Club
7. Michael Battista Cavalier Wrestling Club
97 kg
1. Michael Macchiavello Wolfpack Wrestling Club
2. Kollin Moore Ohio Regional Training Center
3. Timothy Dudley Sunkist Kids Wrestling Club
4. Samuel Mitchell Bulls Wrestling Club
5. Ethan Laird Broncs Wrestling Club
6. Duncan Lee Cyclone Regional Training Center C-RTC
7. Jason Carter MontCo Wrestling Club
125 kg
1. Hayden Zillmer Gopher Wrestling Club - RTC
2. Nick Gwiazdowski Titan Mercury Wrestling Club (TMWC)
3. Anthony Cassioppi Hawkeye Wrestling Club
4. Dominique Bradley Sunkist Kids Wrestling Club
5. Ty Walz Southeast Regional Training Center, Inc
6. Kyven Gadson Sunkist Kids Wrestling Club
7. Demetrius Thomas Pittsburgh Wrestling Club
8. Lucas Davison Wildcat Wrestling Club
9. Jordan Wood Lehigh Valley Wrestling Club
10. Christian Lance Sunkist Kids Wrestling Club
11. Derek White Cliff Keen Wrestling Club
12. Ceron Francisco Nittany Lion Wrestling Club