2022 Pan-Am Championships
Five Women's Freestyle Takeaways From The Pan Am Championships
Five Women's Freestyle Takeaways From The Pan Am Championships
The Pan Am Championships provided fans with a look at a new wave of 76-kg standouts, a pair of sisters who grabbed golds an intriguing team race and more.
May 14, 2022
by Olivia Lichti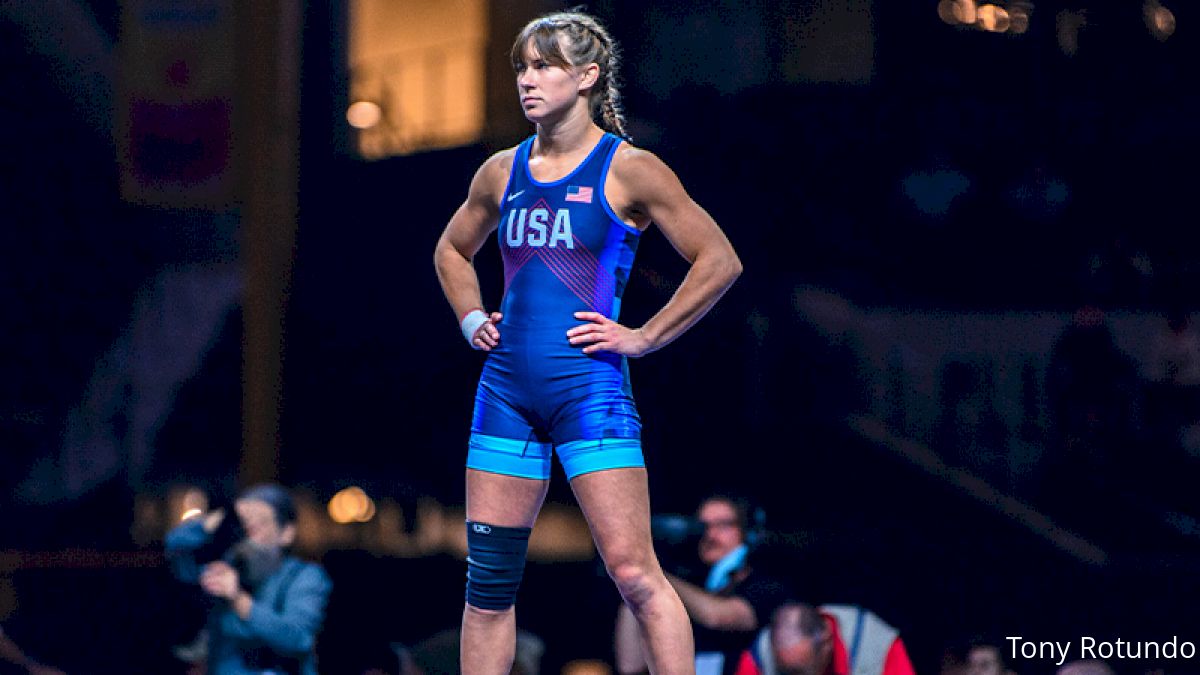 The Pan Am Championships provided women's freestyle fans with a look at a new wave of 76-kilogram standouts, a pair of sisters who grabbed golds an intriguing team race and more. Here's a look at five takeaways from last weekend's tournament in Acapulco.
76 Kilograms Is Still Deep As Ever
The 76-kilogram bracket in Acapulco didn't need six-time World champion Adeline Gray or Olympic gold medalist Erica Wiebe to be considered one of the deepest brackets in recent Pan Am history. It had plenty of talent to establish itself as such, evidenced by the names that didn't make the podium, including Junior and U23 World champion Milaimys Marin Potrille and U23 World silver medalist Tatiana Renteria of Colombia. Rising star Genesis Reasco Valdez of Ecuador had one of the most impressive performances of the weekend, earning a couple significant upsets — most notably a 10-4 win over 2018 World champion Justina Di Stasio — before ultimately being stopped by Dymond Guilford in a 1-1 finals nailbiter.
Guilford's performance this weekend shouldn't be understated. To come out on top of a bracket as rich with talent and accolades as the one in Acapulco is no small feat, and is further testament to America's growing depth at the 76-kilogram weight class.
The Godinez Sisters Shined
Karla and Ana Godinez Gonzalez returned to their homeland for two very impressive Pan Am title performances. The Canadian sisters were born in Mexico, but fled to British Columbia with their family when they were young due to the dangerous living conditions of their country. Though they originally spoke no English and were unfamiliar with the new culture, the two eventually found wrestling and quickly achieved success.
Karla kicked things off for the Godinez family in Mexico, winning gold with two huge upsets. She defeated U23 World Champion Lucia Yepez of Ecuador 4-2 in the preliminary round-robin before uprooting Jacarra Winchester 8-5 in a dynamic and exciting finals match. Ana followed things up the day after and earned a respectable win over tough Brazilian Lais Nunes en route to her family's second gold medal of the weekend. The Godinez sisters are a huge part of the future of wrestling in Canada and their matchups with American opponents will be great rivalries to follow.
Although not in the sport of wrestling, the third and eldest Godinez sister had a fantastic weekend as well: Loopy Godinez won her first UFC fight shortly after her sisters earned their gold medals.
Parrish Stamps Herself As A 53 KG Favorite
With Olympian Jacarra Winchester back up at 55 kilos, 53 kg will be one of the most wide-open weight classes to be contested at next weekend's World Team Trials. Dominique Parrish might have just established herself as the favorite to win the weight with an impressive gold-medal performance in Acapulco. Parrish's run was peppered with come-from-behind victories and most notably featured an upset in the semifinals over 2021 World bronze medalist Sam Stewart of Canada, as well as an impressive pin in the finals against eight-time Pan-Am medalist Luisa Valverde Melendres of Ecuador.
Though there'll be lots of other tough contenders at 53 kg — and lots of opportunities for new stars to come out of the woodwork — Parrish certainly seems like the woman to beat after her performance in Acapulco.
Team Race Was Tighter Than Expected
The American women, as expected, largely dominated in Acapulco, (even without all of the #1 wrestlers on the USA ladder!) but the team race margin was a little closer than originally anticipated. Team USA, with eight medals and five champs, held off a strong performance from Canada, earning 190 points to their northern neighbor's 165. The two nations had many compelling head-to-head matchups (go check out Dom Parrish vs Sam Stewart and Karla Godinez vs Jacarra Winchester if you haven't already!) and kept fans of both countries on their toes during the finals rounds.
Beyond USA and Canada, home nation Mexico cemented itself in third, though this was significantly bolstered by the fact that it was one of the only teams to field a full lineup, earning six total medals. Ecuador also earned four medals. Many of the South American countries are building solid talent in their youth that has yet to translate to the senior level, but it seems probable that many rising stars will soon be coming out of some of the lesser-known countries.
Notable Performances From Hildebrandt, Verdecia, Caraballo
Four different nations managed to propel wrestlers to the top of the podium in Acapulco. Among the most impressive of these performances was Sarah Hildebrandt's gold medal run. The 'Lace Queen' won all three of her matches by technical superiority, with most of the points accumulated within her 3 minutes and 24 seconds of total mat time being scored in par terre. The gold medal in Acapulco marked her seventh Pan American title since her continental debut in 2013; she has never lost a match at the Pan Am Championships.
While such a dominant performance was expected from Hildebrandt, two other competitors rose out of the woodwork to put on strong showings for their country. Venezuela secured its first female Pan Am champion since 2009 with 68 kg champion Soleymia Caraballo Hernandez, who dominated her way to the title. Additionally, young Cuban star Yaynelis Sanz Verdecia came out on top of a tough 57-kilo bracket, earning gold with a win over Mexican Olympian Alma Valencia in the finals. Sanz is only 19 years old and will be a name to watch as Cuba's women's team continues to show flashes of brilliance.