2022 World Team Trials Challenge Tournament
6 Wide Open Weights At The World Team Trials
6 Wide Open Weights At The World Team Trials
A breakdown of some of the most interesting weights at the 2022 World Team Trials.
May 13, 2022
by Jon Kozak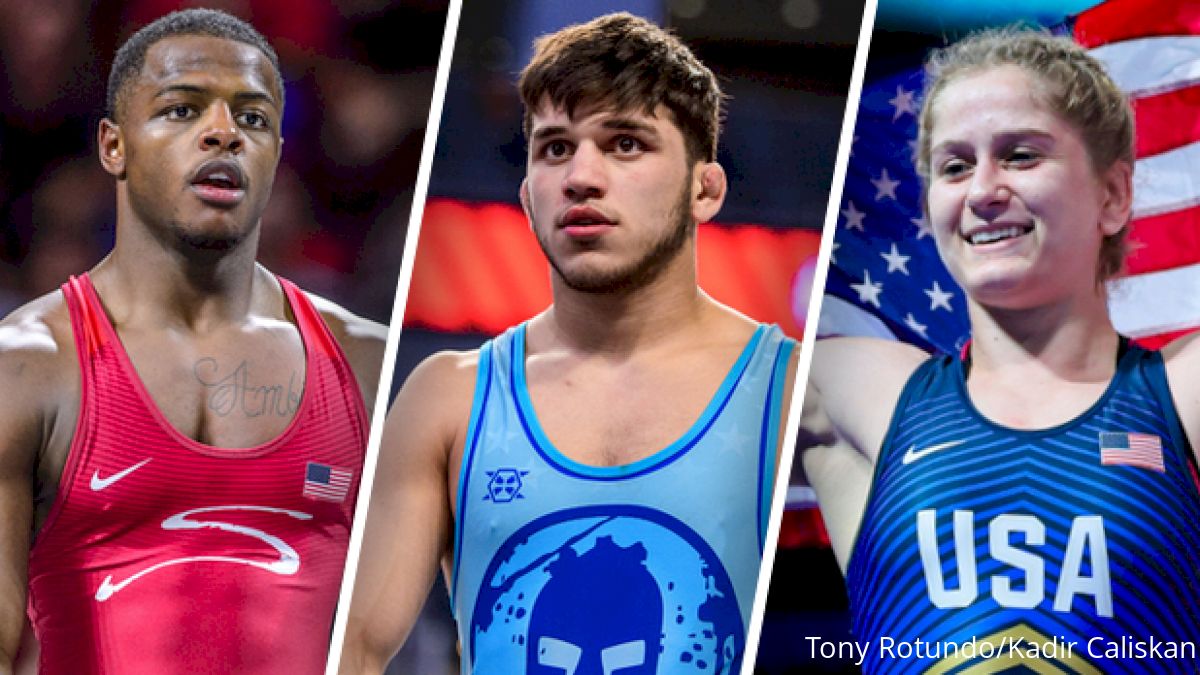 The World Team Trials Challenge Tournament will take place on May 21-22 in Coralville, Iowa, and will set the competitors for Final X in June. While every weight will be filled with America's best wrestlers, there are a few that stand out above the rest. Check out a breakdown of those incredible weights below.
Men's Freestyle - 65kg
65kg will be fascinating to watch unfold at the World Team Trials. First, the #1 seeded Kendric Maple came out of retirement because he lost a bet with last year's junior world champion Keegan O'Toole (Kendric describes that bet here)! Maple looked incredible at the US Open where he blitzed his way through a talented bracket by pinning both Luke Pletcher and Matt Kolodzik. After Maple, there are questions about how the weight will be seeded. Will Yianni be the #2 as the returning world team member or will Nick Lee's win over Yianni from last year's Olympic Trials take precedence? It's also worth noting that Nick Lee hasn't even registered yet! Then, there's Joey McKenna who has had the best international results this year. McKenna took out 2-time world medalist Akhmed Chakaev at the Yarygin in January and is fresh off a gold medal performance at the Pan-Am Championships.
To add to the above layers of intrigue, the United States hasn't won a medal in this weight class since current head coach Bill Zadick won a world title back in 2006. With Russia out of the world championships, and with a talented top 4, this could be the year Team USA's 65kg rep breaks the streak and brings home a medal from the world championships.
Highlights of Kendric Maple's win over Matt Kolodzik in the finals of the US Open: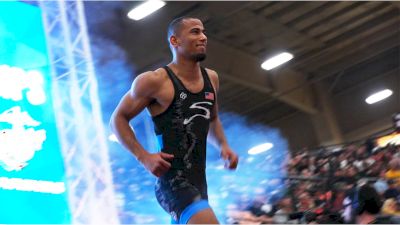 Unlock this video, live events, and more with a subscription!
Get Started
Already a subscriber? Log In
Men's Freestyle - 70kg
The United States will have a new rep at 70kg for the first time since 2015 with James Green announcing his retirement after holding the 70kg spot for 6 straight years. The question now - who is next in line? The good news for Team USA is that 70kg is deeper than ever with at least 4 main contenders and a host of challengers. US Open champ Alec Pantaleo will be the #1 seed with Ryan Deakin, Jordan Oliver, and Zain Retherford rounding out the top 4. Pantaleo is 3-0 against Jordan Oliver, has split matches with Deakin, but has never defeated Zain Retherford. Pantaleo and Retherford are likely to meet in the semi-finals with the winner moving on to Final X Stilwater on June 3. Will this be the year Pantaleo breaks through or will Retherford continue to control the series? One thing's for sure, the Pantaleo-Retherford match has the potential to be the best semi-final of the trials.
Jordan Oliver and Ryan Deakin will likely meet in the bottom-side semi-final. While they've both had success at 70kg over the past few years, they've never met in competition. Deakin finished second at 70kg to James Green in both 2019 and 2021. Oliver won the Olympic trials last year at 65kg and has been in the top 3 for Team USA at 65kg or 70kg for almost 10 straight years!
After the clear top 4, this bracket will be filled with a number of guys who could prove to be "landmines" and spoil the above potential semi-final matches. Tyler Berger, Anthony Ashnault, Sammy Sasso, and Doug Zapf will all be scattered throughout this bracket and pose as serious threats.
Alec Pantaleo's win over Jordan Oliver in the finals of the 2022 US Open: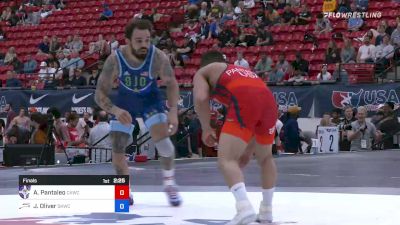 Unlock this video, live events, and more with a subscription!
Get Started
Already a subscriber? Log In
Men's Freestyle - 79kg
79kg has to be the deepest bracket at the world team trials! Check out this list of contenders - Alex Dieringer, David McFadden, Chance Marsteller, Vincenzo Joseph, Isaiah Martinez (who needs to qualify at Last Chance), and Carter Starocci. That list alone represents 7 NCAA titles and 20 All-American honors! Remarkably, one of the non-NCAA champs, David McFadden will be the #1 seed because of his incredible performance at the US Open. There, he defeated Isaiah Martinez, Chance Marsteller, and Vincenzo Joseph in successive matches. It will be interesting to see how the rest of the seeds are sorted out but the quarter-finals of this weight class will be outstanding.
Of the above challengers, I'm most looking forward to watching 2-time NCAA champion Carter Starocci. He's had limited freestyle results but placed third at last year's world team trials where he lost to Taylor Lujan but defeated Chance Marsteller, Evan Wick, and Jason Nolf. Starocci is an incredible freestyle prospect and might have the best "tools" to challenge Jordan Burroughs. Starocci holds great position, finishes quick on leg attacks, and has the strength and athleticism to match anyone in the world at 79kg.
Carter Starocci's win over Jason Nolf in the 3rd place match of the 2021 world team trials: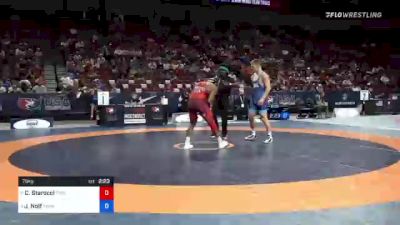 Unlock this video, live events, and more with a subscription!
Get Started
Already a subscriber? Log In
Women's Freestyle - 53kg
When it comes to Team USA's women's squad, 53kg might be the most wide-open and unpredictable weight of the trials. First, there's the #1 seed, surprise US Open Champion Felicity Taylor. Taylor won the US Open with 2 pins and a tech, highlighted by her 14-3 win over two-time world bronze medalist Alyssa Lampe in the finals.
After Taylor, look for Ronna Gross to be the #2 seed based on her runner-up finishes last year at both the Olympic Trials and World Team Trials. The curveball with Gross is that she hasn't competed down at 53 kg since November when she went 1-1 at the U23 world championships. Will Gross make the weight and be back to last year's form? If so, she's a dangerous threat to everyone in the bracket at 53 kg.
Areana Villaescusa and Dom Parrish should earn the #3 and 4 seeds respectively at the trials. Villaescusa was the #1 seed at the US Open but forfeited out due to injury and holds a win over Parrish from last year's world team trials. Parrish has had a great start to her 2022 season with a third-place finish at the Yasar Dogu in February and gold at the Pan-Am Championships earlier this month. To win gold at Pan-Ams, Parrish defeated 2021 world bronze medalist Sam Stewart (CAN) in a come-from-behind, 5-4 victory. Parrish looks to be wrestling as good as she ever has and will be a contender to not only win the world team spot but challenge for a world medal at 53kg.
Dom Parrish's win over 2021 world bronze medalist Sam Stewart: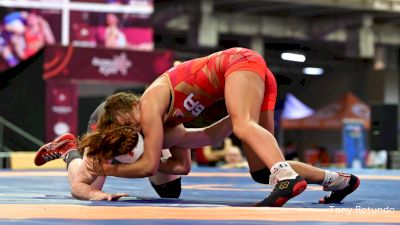 Unlock this video, live events, and more with a subscription!
Get Started
Already a subscriber? Log In
Women's Freestyle - 72kg
Kylie Welker had an incredible season in 2021 - she made the finals of the Olympic trials, won a junior world title, made the senior world team, and took bronze at U23 worlds. Welker looks poised to make a number of senior world teams and win world medals for years to come. However, she is still recovering from injury and might not be ready in time to wrestle at this year's world team trials.
If Welker's not ready to go by trials, the door will be opened for a new rep to emerge at 72kg. There are two, clear favorites at 72kg without Welker at the weight - Skylar Grote and Amit Elor. Grote is coming off dominant gold medal performances at both the Pan-Am Championships and the US Open. Between those 2 tournaments, Grote recorded 4 tech falls and outscored her opponents by a combined 40-0.
Amit Elor had an incredible 2021 where she won cadet and junior world titles. Last week at Women's Nationals, Elor won both the U20 and U23 world team trials at 72kg where she went a combined 10-0 (7 techs and 3 pins) and outscored her opponents 105-2. If Welker is in the bracket, she will have to go through Elor in what could be an amazing semi-final bout. If there's no Welker, we should see an Elor-Grote matchup at Final X.
Amit Elor's gold medal match at the 2021 junior world championships: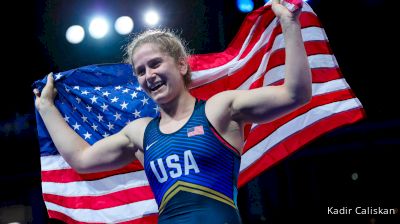 Unlock this video, live events, and more with a subscription!
Get Started
Already a subscriber? Log In
Men's Greco-Roman - 77kg
There will be 3 main contenders at the World Team Trials at 77kg - Jesse Porter, Ravaughn Perkins, and Kamal Bey. Porter won both the Olympic and World team trials last year and defeated Bey in a controversial semi-final match at the Bill Farrell in March. Perkins placed third at the Olympic Trials where he only lost to Porter but then avenged that loss in the finals of the Farrell.
And then there's Kamal Bey - one of the brightest prospects for Team USA's Greco squad in the past 10 years. Bey won a junior world title in 2017 and then made his first senior world team in 2018. However, Bey ran into adversity when he lost to Mason Manville at 2019 Final X and then was suspended by USADA in 2021 - missing the Olympic and World team trials. Bey will likely be the #4 seed at the trials and will have to go through US Open Champ Britton Holmes to make Final X. Is Bey ready to get back on top of the USA at 77kg? That question will certainly be answered at the trials!
Jesse Porter's win over Kamal Bey at the 2022 Bill Farrell: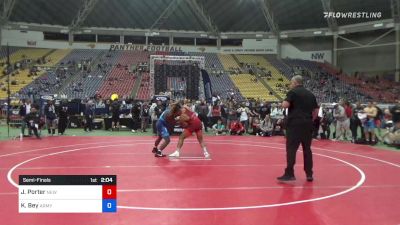 Unlock this video, live events, and more with a subscription!
Get Started
Already a subscriber? Log In
While these are some of the most interesting weights to watch at the world team trials, there will be a number of other incredible weights with fascinating matchups throughout. You can check out everyone currently registered for the trials here.