2022 USMC US Open Wrestling Championships
U20 Bracket Reactions And Early Matches To Watch
U20 Bracket Reactions And Early Matches To Watch
The brackets are out for U20 Nationals! Here's some instant reactions and early matches to watch.
Apr 29, 2022
by JD Rader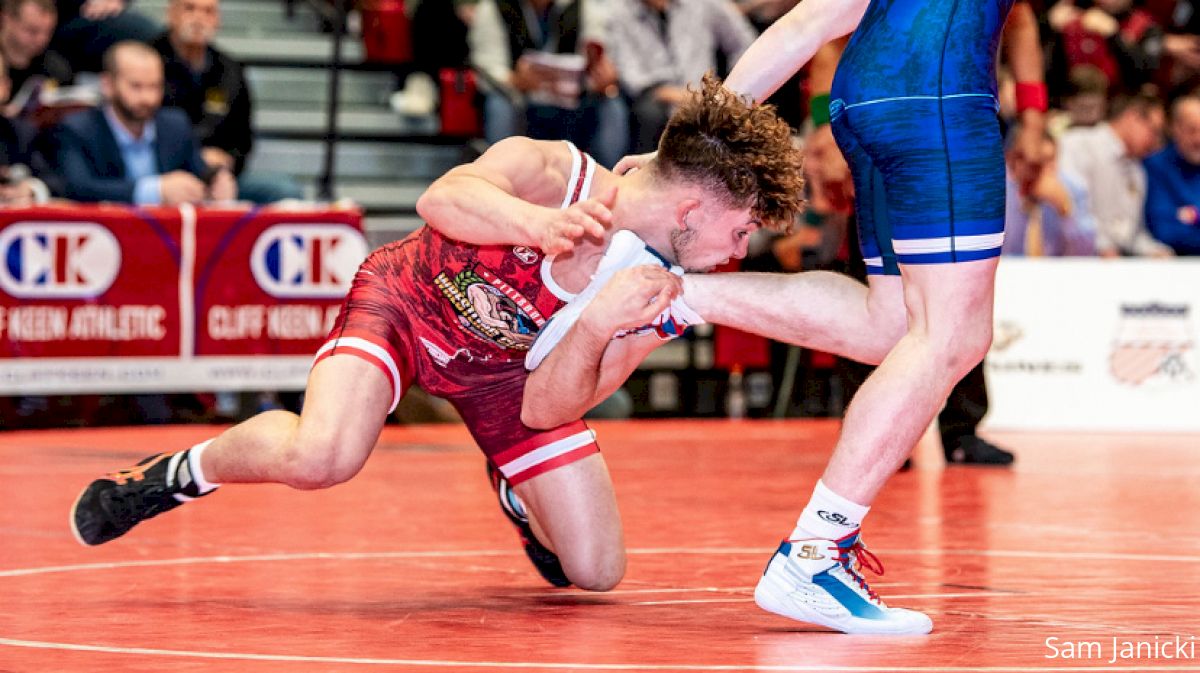 The U20 action at the US Open is sure to be incredible. Check out a handful of the best matches we're expecting to see early on in Vegas.
57 kg
We'll se some excellent early action in the lightest weight class. Penn State's Robbie Howard and High School #1 Troy Spratley are two of the favorites, but the're set to meet up right away as are High School #11 Gable Porter and Ohio State freshman Andre Gonzalez. Crazy! Penn State true freshman Gary Steen could see HS #5 Jore Volk in the second round as well. It is worth noting that Steen and Howard are on opposite sides of the bracket. Howard is down below, and Steen is up top on the same side as last year's World teamer Richard Figueroa.
Round of 64
Robbie Howard vs Troy Spratley
Gable Porter vs Andre Gonzalez
Round of 32
Gary Steen vs Jore Volk
61 kg
This bracket will have plenty of early action, but it's fairly well balanced. Two matches that stand out are National Prep and Powerade placer Kai Owen vs U17 finalist Brock Bobzien in the round of 64 and a potential showdown between Rutgers' Dean Peterson vs ASU commit Emilio Ysaguirre in the round of 32. Both matches should have some high level exchanges you won't want to miss.
Round of 64
Kai Owen vs Brock Bobzien
Round of 32
Dean Peterson vs Emilio Ysaguirre
65 kg
This weight starts in the round of 128, and it wastes no time getting good. #1 Cody Chittum will see #3 Kyle Dutton right away. The winner gets Navy breakout freshman Josh Koderhandt. In the round of 64, we'll also see Iowa commit Joel Jesuroga against NC State's Ryan Jack along with Cornell's Vince Cornella and Maryland's Ethen Miller. Projecting a bit, it's possible that we'll see a fun round of 32 bout between Iowa's Caleb Rathjen and Northwestern's Joel Vandervere.
Round of 128
Cody Chittum vs Kyle Dutton
Round of 64
Joel Jesuroga vs Ryan Jack
Vince Cornella vs Ethen Miller
Cody Chittum/Kyle Dutton vs Josh Koderhandt
Round of 32
Caleb Rathjen vs Joel Vandervere
70 kg
Expect the action to get especially good in the round of 16 as we could see matchups like Kilic vs Lamer, Herrera-Rondon vs Skellenger, Henson vs Mesenbrink, and more. In the meantime, an early matchup between Wyoming's Bryce Dauphin and Virginia Tech commit Caleb Henson sounds really fun.
Round of 64
Caleb Henson vs Bryce Dauphin
74 kg
In another well-balanced bracket, we have some fun potential round of 32 action. ASU's potential starter at 165 lbs next season, Kendall Norfleet, will see Iowa commit Aiden Riggins, and Minnesota commit Hunter Lyden will see NDSU freshman Michael Caliendo in what should be a fun one.
Round of 32
Kendall Norfleet vs Aiden Riggins
Hunter Lyden vs Michael Caliendo
79 kg
James Rowley got the #1 seed, but it will be far from easy for the Wisconsin commit. Pitt freshman Luca Augustine, Minnesota sophomore Andrew Sparks, and Arizona State freshman Cael Valencia among others are all on the top side of the bracket as well. I think fans might be sleeping on Andrew Sparks. If healthy, he can bust up this bracket.
On the bottom half of the bracket you've got Iowa State commit Manny Rojas, Navy commit Danny Wask, Iowa State commit Tate Naaktgeboren, Ohio State commit Rocco Welsh, and NC State commit Matthew Singleton among a lot of other solid guys who could pull off an upset or two. The match I've got circled prior to the quarters is Wask vs Naaktgeboren.
Early Matches To Watch
Luca Augustine vs James Rowley
Danny Wask vs Tate Naaktgeboren
86 kg
This 86 kg bracket is fun because of its difficulty to predict, but that leads to a lot of fun early matches to watch, especially on the top side of the bracket. Northern Iowa's Kalob Runyon surprisingly got the top seed. UNI fans should be worried about his round of 16 match with NC State's Joey Milano. People forget because Milano is and will be behind Trent Hidlay in the Wolfpack starting lineup, but Milano was a top-50 recruit coming out of high school.
Being the gunslinger that he is, every Ryder Rogotzke match is one to watch. His first test will come in the round of 32 against Cornell's Luke Duthie.
The name that could blow up this entire bracket is Tate Picklo. Picklo has been off of the mat for almost two years with an injury but was one a Fargo champ and Greco Cadet World Team member coming out of high school. Also, one of my favorites to watch.
On the bottom side, Penn State freshman Lucas Cochran is going to get tested right off the bat with Penn commit Brian Soldano. Soldano is currently ranked #4 at 182 lbs.
Early Matches To Watch
Kaleb Runyon vs Joey Milano
Ryder Rogotzke vs Luke Duthie
Wyatt Voelker vs Tate Picklo
Lucas Cochran vs Brian Soldano
92 kg
Things don't really start to get good at this weight until the quarterfinals. My personal most quarterfinal will be Caden Rogers vs Kolby Franklin. Rogers is currently ranked #9 at 220 and Franklin #8 at 195.
Prior to the quarterfinals, my match to watch is Evan Bates vs Silas Allred. Bates was a top-100 recruit coming out of high school last year and has spent the past year at Northwestern where he has surely improved. Allred is poised to be the Nebraska starter next year at 197. As a backup to Taylor Venz this season, Allred went 7-0 with a win over Yonger Bastida.
Early Matches To Watch
Evan Bates vs Silas Allred
97 kg
A bit of a sad bracket with only nine competitors. Michigan freshman Dzhabrail Khurshidov and Iowa commit Ben Kueter both received byes, confirming they will meet in the quarterfinals. This will be a good opening test for Ben Kueter who is the #9 overall recruit in the class of 2023.
North Carolina commit Noah Pettigrew will be a heavy favorite to make it to the finals out of the top side.
Early Matches To Watch
Ben Kueter vs Dzhabrail Khurshidov
125 kg
Looks like Nick Feldman got the #3 seed, but this is his weight to lose in my opinion. The high school senior is highly a touted a recruit as any of the past couple of years. He should cruise to the semifinals where he'll most likely have Purdue's Hayden Copass who is a monster of a human being and I assume weighing all of 125 kg.
The top half is a little bit harder to predict. The early-round match I'm looking forward to the most will be Ryan Boersma vs Chase Horne. The winner will most likely get #1 seed Hunter Catka.
Early Matches To Watch
Ryan Boersma vs Chase Horne