Women's Weekly
Why Would Sam Schmitz Leave McKendree?
Why Would Sam Schmitz Leave McKendree?
Sam Schmitz is leaving McKendree after building a dynasty. His departure leaves questions that only Schmitz can answer.
Apr 20, 2022
by Kyle Klingman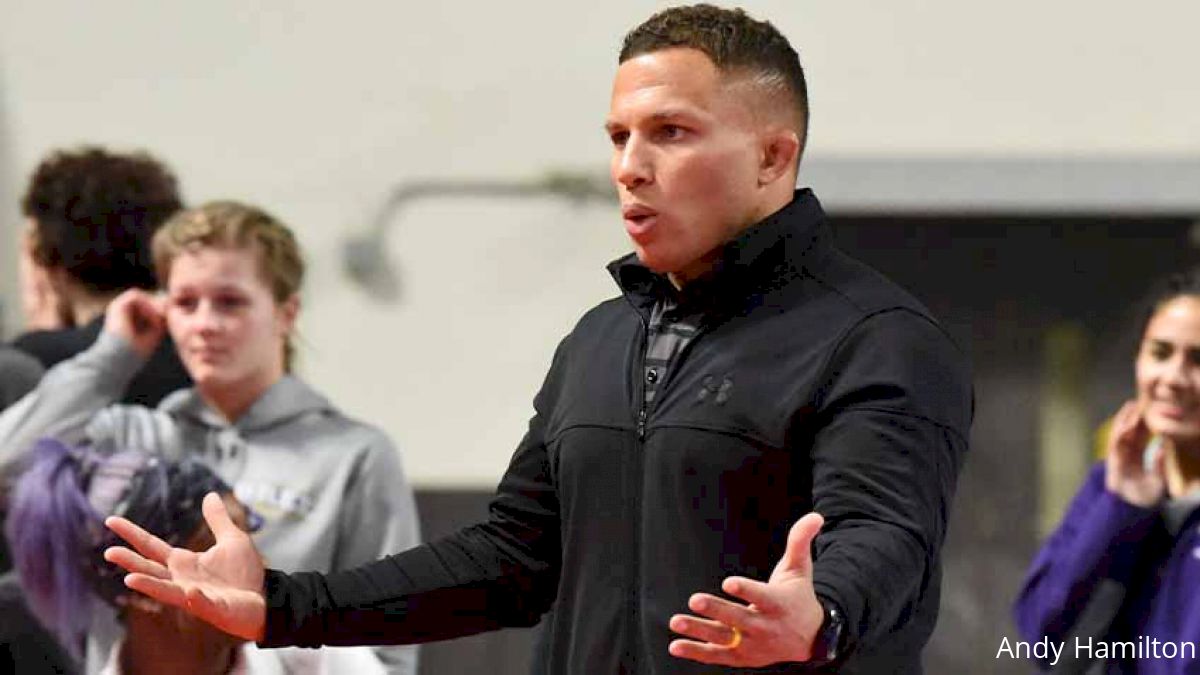 Sam Schmitz's departure from McKendree is a head-scratcher. Why would you build a women's wrestling dynasty and leave at the height of its powers?
The Bearcats have been the team to beat ever since NAIA programs and NCAA programs went their separate ways. McKendree has won the past three National Collegiate Women's Championships (NCAA schools) and it had the firepower to win again next year. Schmitz made McKendree women's wrestling relevant.
Now he's leaving.
The former Bearcat head women's coach and assistant men's coach accepted the role of wrestling director and head men's coach at Central Methodist — an NAIA program in Fayette, Missouri.
For comparison's sake, that would be like Steve Costanzo of St. Cloud State accepting the head women's role at an NAIA women's program. Constanzo has led his team to five D2 NCAA titles during the past seven contested championships.
The difference is that Constanzo didn't build the program from scratch. Schmitz did.
Schmitz accepted the role of the upstart McKendree women's program in March of 2013 with zero wrestlers. The fiscal year didn't begin until July so he was hired on a part-time basis until the school year began. The then 27-year-old supplemented his income by working as a waiter at The Old Spaghetti Factory in Lebanon, Illinois.
His first day as women's coach was walking into an office with a phone, a computer, and a singular task: sign girls up to attend McKendree. He had no connections in women's wrestling so his first recruiting trip was to Folkstyle Nationals in Oklahoma City.
McKendree paid for the flight but he was on his own for everything else. He had $93 in his bank account and he had a pre-paid debit card where his hourly wage from The Old Spaghetti Factory would be added. His room was $80 so he had $13 left for food. He hitched a ride to the tournament with Wayland Baptist and tagged along with other coaches so he could eat.
Schmitz spent the night at the airport since he didn't have enough money for a second room night.
Attending the tournament paid off. His first three commitments were Tayler Resuriz, Olivia Seppenni, and current McKendree assistant Gabby Weyrich.
"I was sitting in my car in the parking lot of our gym and they had just told me they were signing and sent in their letters of intent," Schmitz said. "It was toward the end of the day and I got behind the wheel and I just started sobbing because I knew where my life was at that point.
"I realized I can do it. I can really do this. This isn't an easy job where you get to just put your shoes on and wrestle with kids every day. It takes some personal sacrifice. You have to erase your selfishness."
Those first three commitments turned into 17 wrestlers for the inaugural 2013-14 season. It grew to 27 the next season and 35 the season after that. Schmitz built something different and sustainable during his nine years as head coach, highlighted by the first three women's collegiate national championships in wrestling history.
"I went to McKendree because Sam believed in me," Resuriz said. "I met Sam at Folkstyle Nationals and I was supposed to attend Oklahoma City University. The way Sam talked to me, the way Sam talked to my dad — his communication skills are great. I felt confident right away. He was very transparent by telling us it was a new program. My dad loved the positive energy he gave off. I basically changed my mind about going to OCU and I went to McKendree.
"The thing I loved most about Sam was the confidence that he instilled in all of us. He was disciplined but he loved each and every one of us. It didn't matter if you were the worst kid on the team or the best kid — he treated us basically the same."
Even his rival coaches marvel at Schmitz's success. Aaron Meister — head men's and women's coach at Friends — was the one who gave Schmitz a ride to Folkstyle Nationals when he was the head women's coach at Wayland Baptist.
"He's a hell of a competitor and a coach," Meister said. "I was surprised to see him make a move like that since he was doing so well. I'm envious of his success. Not just envious but happy. There are a lot of people who want a team championship."
Simon Fraser women's coach Justin Abdou battled Schmitz and McKendree for the past three seasons. His teams placed second and third to the Bearcats in 2020 and 2022, respectively.
"He built an incredible program at McKendree and I enjoyed competing against his teams and seeing him regularly," Abdou said. "We became good friends over the years and he will be missed on the women's circuit. I'm sure he will be successful with his new challenge."
So, why would Schmitz walk away from everything he built?
It's the same reason he slept in airports and worked part-time at The Old Spaghetti Factory. He needed to find that hunger and challenge that drove him for the past nine seasons.
"I'm going to have to pour myself back into it at Central Methodist and I'm excited about it," Schmitz said. "I'm finally excited about doing something again. I needed to be revived and, hopefully, this is a revival that will help other people, too.
"This is a chance for everybody to re-evaluate and a chance for everybody to find something they were missing. That could mean a different school or location. There are no hard feelings. It's time for a change for everybody."
Alara Boyd has been a staple of the McKendree program for the past three seasons, placing second, first, and second at nationals. She has also been a consistent force for Team USA by making four age-level World teams and winning two medals.
Boyd is uncertain of her future at McKendree. Her focus is on the upcoming Pan-Ams and the World Team Trials. The sting of losing her coach was real, though.
"I was pretty upset at first," Boyd said. "He's been my coach for the last three years but I've known Sam since I was in seventh grade. After I got past all the emotions I realized it was in the best interest for him and his family and that he's not done being part of my wrestling career. We'll always have that relationship and he'll always be a positive person in my life — on the mat and off the mat."
If Schmitz is looking for a challenge then he's found one at Central Methodist. Grand View University has won 10 of the past 11 men's NAIA Championships by lapping the field during most years. Grand View's first individual national champion was Matt Burns — and he defeated Schmitz in the 149-pound finals.
"Sam has proven to be a successful coach and I'm excited to have him in the Heart of America Conference," Grand View coach Nick Mitchell said. "It should raise the level of your own program anytime the competition gets tougher."
Schmitz is starting from scratch again. And he wouldn't have it any other way.