Big Ten
Bella Mir Used UFC To Make College Decision
Bella Mir Used UFC To Make College Decision
Bella Mir, daughter of two-time UFC champion Frank, will wrestle at Iowa in the fall — and an unlikely source suggested she become a Hawkeye.
Apr 15, 2022
by Kyle Klingman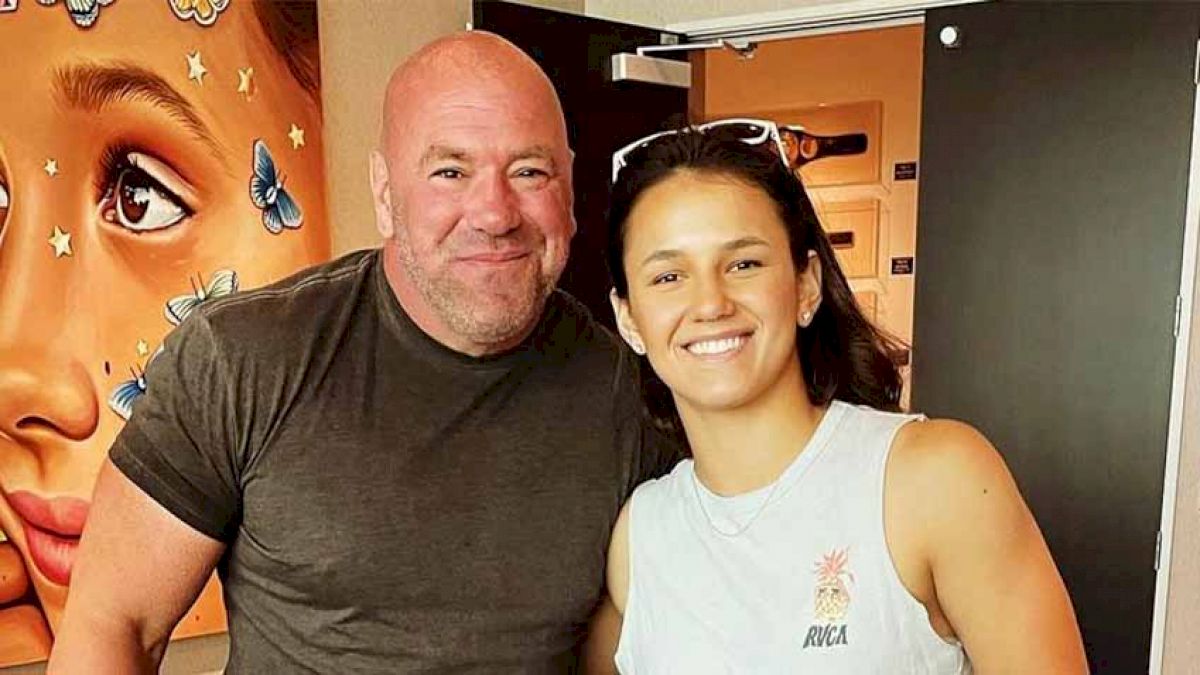 Bella Mir has committed to Iowa — and an unlikely source urged her to wrestle there.
Mir is the daughter of former two-time UFC heavyweight champion Frank Mir — so she is well connected with the Mixed Martial Arts world. In fact, she is 2-0 as a fighter and wasn't planning to wrestle in college so she could focus on MMA.
UFC president Dana White suggested that Bella continue her wrestling career and it was former Oklahoma State star Daniel Cormier that suggested attending a rival program. Cormier was a two-time Olympian (2004, 2008) and a former light heavyweight and heavyweight UFC champion.
"I actually had a meeting with Dana and Daniel Cormier and we talked about fighting," Bella said. "My dad fought in the UFC so he knows Dana really well. We were having dinner and a little meeting and (Dana) actually told me to go to college first and not fight right out of high school. He said I should develop and get better at wrestling. I obviously agreed because I feel like he knows what he's talking about. They were the ones that helped me to decide.
"Daniel was the one to help me decide to go to Iowa because I didn't know what college to go to. I wasn't getting recruited since I told everyone that I was going to go straight into fighting. Daniel told me that I needed to go to Iowa since he knows the coach and she's really cool. He actually put in a good word for me. One of my coaches down here, Chase Pami, knows Clarissa pretty well — so I had people putting in a good word for me."
Mir is one of 10 wrestlers who have committed to wrestle for Clarissa Chun at Iowa. She will spend her first year developing before competition officially begins during the 2023-24 season.
"I want to get to know the team and Clarissa during the first season." Bella said "I know Clarissa but I want to get to know her on a personal level. I want to get that bond going. It's another year I can get better at wrestling. I'm definitely not going to take this year for granted. I'm going to focus on getting better for my actual season, which is my second year."
Current Iowa Commits
Kylie Welker — #1 at 164 pounds
Ella Schmit — #6 at 122 pounds
Reese Larramendy — #1 at 144 pounds
Nyla Valencia — #3 at 112 pounds
Emilie Gonzalez — #10 at 106 pounds
Brianna Gonzalez — #1 at 100 pounds
Nanea Estrella — 2nd at 2022 NAIA Championships
Ava Bayless — #12 at 112 pounds
Bella Mir — #6 at 144 pounds
Sam Calkins — #1 at 200 pounds