Big Ten
Women's Weekly: NAIA Gets Championship Status
Women's Weekly: NAIA Gets Championship Status
Big news for women's wrestling dropped last week, a four-time World medalist is back in the coaching game, and more in this week's edition.
Apr 13, 2022
by Kyle Klingman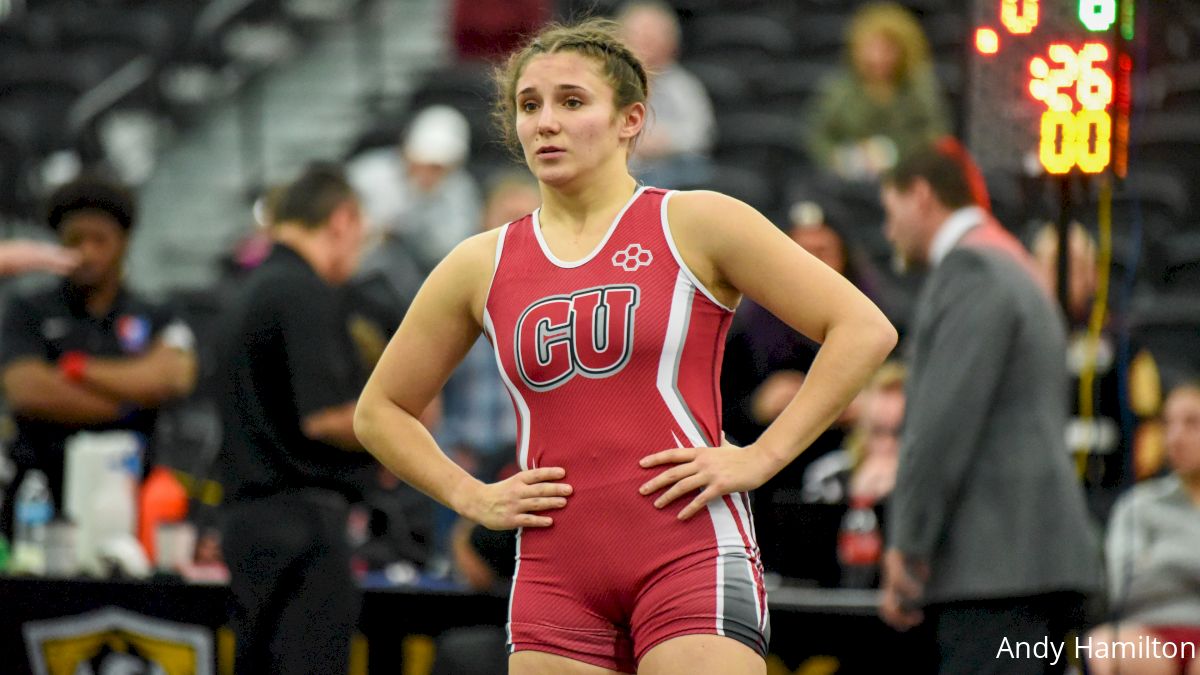 It's Official!
A big piece of news for women's wrestling dropped over the weekend when the NAIA voted to adopt women's wrestling as its 28th national championship sport beginning next season. An NAIA Invitational has taken place since 2019 but this will be the first time women's wrestling will have an officially-sanctioned collegiate national championship at any level.
For any sport in the NAIA to achieve championship status, it must achieve a minimum of 40 institutions to sponsor the sport as a varsity program to receive consideration. There are currently 43 NAIA schools that offer women's wrestling.
"This is a great day for the sport of wrestling and all of our women's wrestling student-athletes," said NAIA President and CEO Jim Carr in a press release. "Women's wrestling has seen sustained growth, and we are proud to become the first collegiate athletics association to offer this as a championship sport."
Making Sense Of It All
College women's wrestling has had a long and winding history — especially since the NAIA and NCAA went their separate ways. The first women's national collegiate championship took place in 2004 prior to the first Women's Collegiate Wrestling Association (WCWA) championship in 2008. The final WCWA Championships were held in 2020.
Any college regardless of division could compete at the WCWA Championships until it disbanded following the 2020 season. An NAIA National Invitational was held in 2019 while NCAA programs hosted a stand-alone event the following season.
Below is a brief timeline of college championship events along with team champions in each division.
2004-2007: Women's College Nationals
2008-2020: WCWA Nationals
2019, 2021-22: NAIA National Invitational
2020-22: National Collegiate Women's Wrestling Championships (NCWWC) for all NCAA programs
Women's College Nationals team champions
2004: Missouri Valley
2005: Missouri Valley
2006: Cumberlands
2007: Cumberlands
WCWA team champions
2008: Cumberlands
2009: Oklahoma City
2010: Oklahoma City
2011: Oklahoma City
2012: Oklahoma City
2013: Simon Fraser
2014: King
2015: King
2016: King
2017: King
2018: Campbellsville
2019: Menlo
2020: Campbellsville
NCWWC team champions
2020: McKendree
2021: McKendree
2022: McKendree
NAIA Invitational team champions
2019: Menlo
2021: Campbellsville
2022: Campbellville
The State Of College Wrestling
Lori Ayres of Division 1 Women's Wrestling created the following graphic, which illustrates the current state of women's college wrestling. Andrea Yamamoto with USA Wrestling High School Development Committee and the National Wrestling Coaches Association (NWCA) compiled the following data.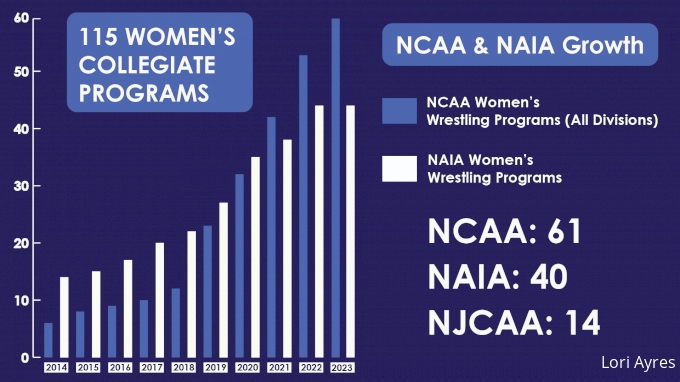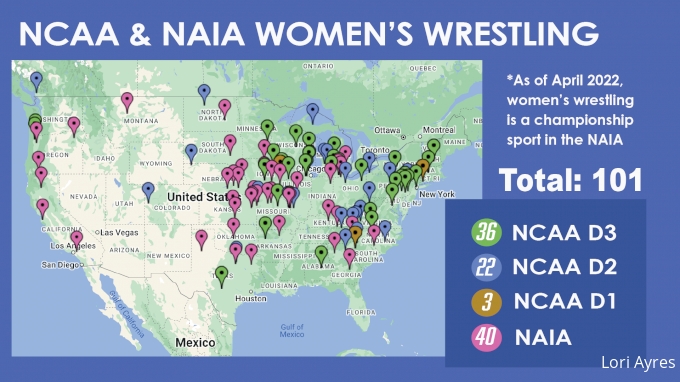 The Hawkeyes Are 10 Deep
Iowa coach Clarissa Chun has been on the recruiting trail lately — and her inaugural class looks good on paper. Chun currently has 10 commitments with plenty more to come in the months ahead. The Hawkeyes begin competition during the 2023-24 season.
Iowa's inaugural recruiting class — so far.
Kylie Welker — #1 at 164 pounds
Ella Schmit — #6 at 122 pounds
Reese Larramendy — #1 at 144 pounds
Nyla Valencia — #3 at 112 pounds
Emilie Gonzalez — #10 at 106 pounds
Brianna Gonzalez — #1 at 100 pounds
Nanea Estrella (transfer from Menlo) — 2nd at 2022 NAIA Championships
Ava Bayless — #12 at 112 pounds
Bella Mir — #6 at 144 pounds
Sam Calkins — #1 at 200 pounds
She's Back!
Four-time World silver medalist (1991, 1993-94, 1997) Shannon Williams-Yancey will start coaching in the Liberty High School district in California. Williams was at the forefront of advancing women's wrestling when she participated in her first World Championships in 1990.
"I'm looking for girls who like to compete, train hard, learn from the best form of self-defense, and be part of something special," said Williams-Yancey.
Williams-Yancey discussed her new role and the history of women's wrestling during a recent appearance on The Bader Show.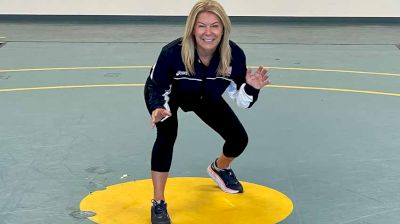 Everything Women's Wrestling
Be sure to check out the most recent edition of Everything Women's Wrestling with Lori Ayres. Afsoon Johnston and Olivia Lichti join the show to talk about their stories in wrestling and the growth of the sport.