2022 NCAA Championships Watch Party
Overcomers: Pac-12's Sudden And Stunning Turnaround Culminated In Detroit
Overcomers: Pac-12's Sudden And Stunning Turnaround Culminated In Detroit
The Pac-12 went from a perilous position this time a year ago to putting half of its NCAA qualifiers on the podium in Detroit.
Apr 7, 2022
by Andy Hamilton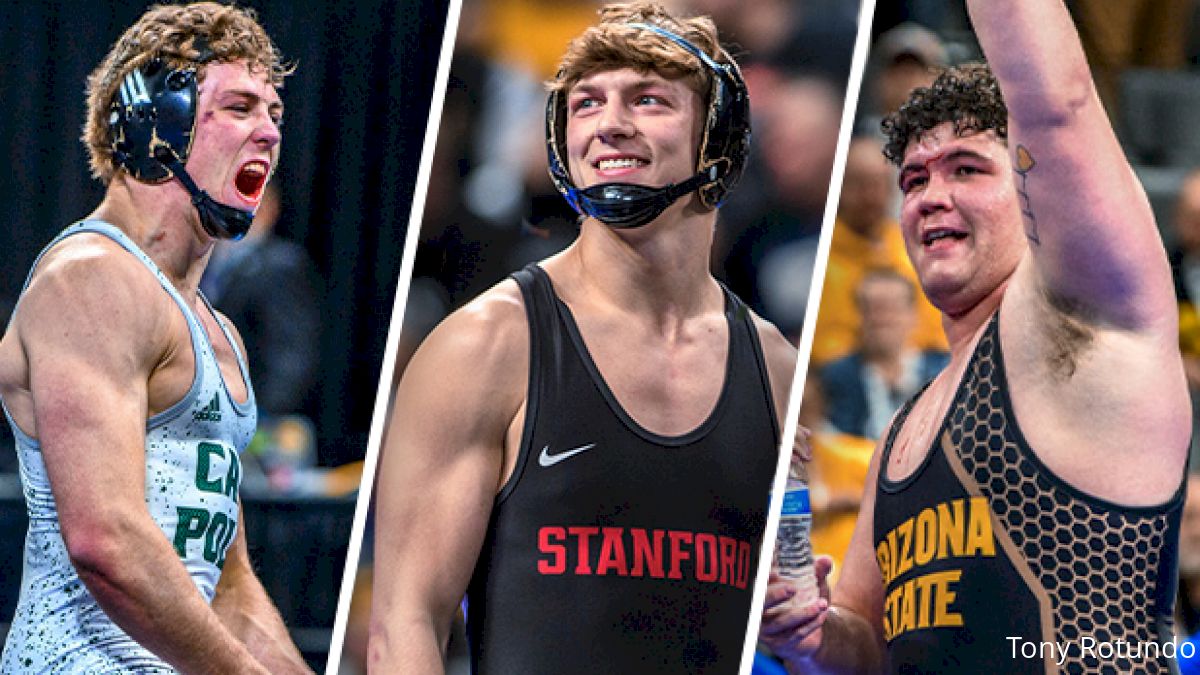 Unlock this article, live events, and more with a subscription!
Get Started
Already a subscriber? Log In
This is the fourth installment of a multi-part series highlighting wrestlers, programs and conferences that overcame odds and obstacles to shine at the NCAA Championships in Detroit.
Pac-12 wrestling was in such a perilous state last year that Chris Pendleton was fielding calls from colleagues gauging his interest in taking Oregon State to another league.
At the time, Stanford's program was on the chopping block, leaving the Pac-12 with two member institutions, three affiliates and a collection of questions about what to do next.
"We were so blindsided by the shortsighted decision Stanford had made that it kind of put us all back on our heels," Pendleton said. "Up until that point, we were talking about how we were going to expand the conference and then we literally had to flip our minds to how are we going to survive? Other conferences were calling us like, why don't you come over to the Big 12? Why don't you petition into the Big Ten? I didn't know what wrestling would look like on the West coast at the collegiate level this time last year."
The Pac-12 didn't just survive, it whipped a sudden and stunning U-turn, highlighted by Stanford's revival, Cal Poly's continued rise, Oregon State's resurgence and Arizona State's best two-year stretch in decades.
Arizona State coach Zeke Jones paused last week to ponder this question: This is the best shape Pac-12 wrestling has been in since when?
"That's a good question," Jones said. "Maybe ever -- or maybe before our times."
The correct answer is probably 1996 when three Pac-12 programs occupied top-10 spots at the NCAA Championships -- CSU Bakersfield (third), Oregon State (eighth) and Arizona State (10th). Still, the sudden and stunning turnaround by the Pac-12 was one of the storylines coming out of last month's national tournament.
No conference hit for a better average than the Pac-12, which sent 26 wrestlers to Detroit and went home with 13 All-Americans -- a total that matched the conference's All-American count in the previous two national tournaments combined.
Eleven Pac-12 wrestlers entered the tournament seeded eighth or better and 10 reached the podium, along with Oregon State's Brandon Kaylor, Devan Turner and Hunter Willits, who outperformed their seeds.
Arizona State collected a team trophy for the second straight year, Oregon State had one of its best showings in decades, Stanford finished 19th and Cal Poly landed in 22nd, finishing a half-point out of the top 20.
This doesn't appear to be a flash in the pan, either.
All five of Arizona State's All-Americans have eligibility remaining. Pendleton and company are just getting started in Corvallis. Same with Rob Koll at Stanford, which has two-time NCAA finalist Shane Griffith coming back and a top-flight recruiting class on the way.
Two-time All-American Bernie Truax has provided Cal Poly with a lineup anchor to build around.
"And I think the other two (programs) are very capable," Jones said. "You've got great leaders in (CSU Bakersfield coach) Luke (Smith) and (Little Rock coach) Neil Erisman. These guys are good guys and they're good coaches and it's just a matter of time before we can get all six (thriving)."