2022 NCAA Championships Watch Party
Overcomers: Stick By Stick, Beavers Are Building The Dam In Corvallis
Overcomers: Stick By Stick, Beavers Are Building The Dam In Corvallis
Eight qualifiers and four All-Americans spurred Oregon State to one of its best showings in decades at the NCAA Championships.
Mar 31, 2022
by Andy Hamilton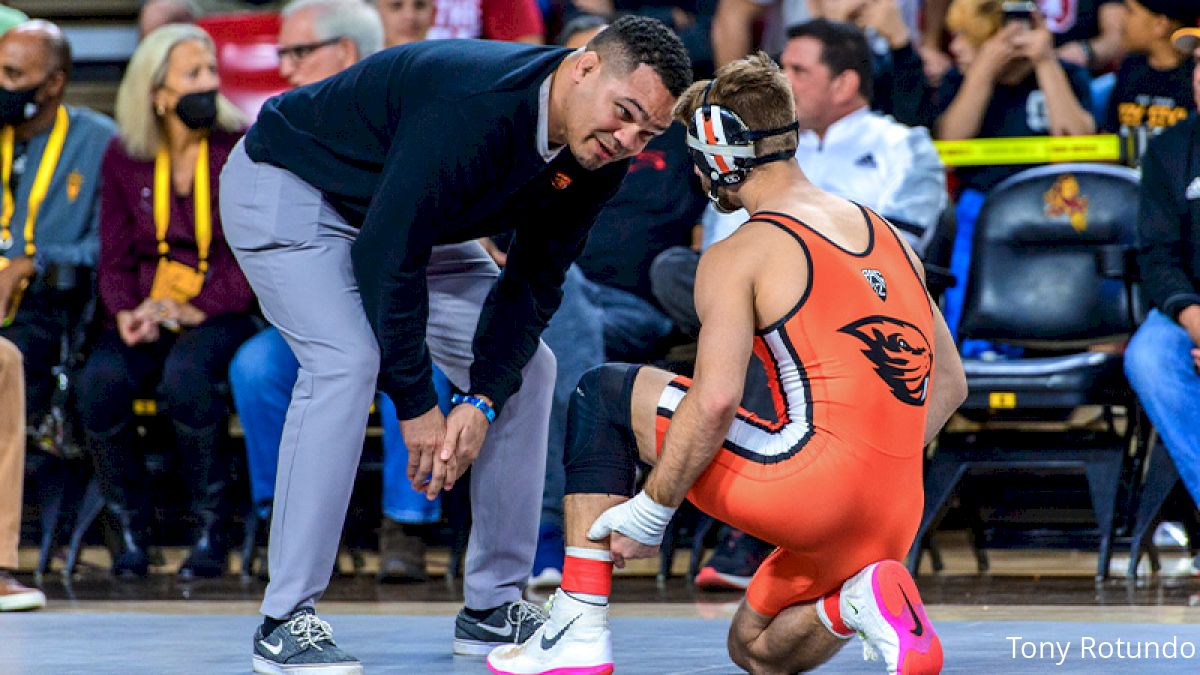 Unlock this article, live events, and more with a subscription!
Get Started
Already a subscriber? Log In
This is the third installment of a multi-part series highlighting wrestlers, programs and conferences that overcame odds and obstacles to shine at the NCAA Championships in Detroit.
Chris Pendleton inherited an Oregon State program two years ago that had two national qualifiers in 2020: 12th-seeded 133-pounder Devan Turner and Grant Willits, the #29 seed at 141.
But brick by brick — or perhaps stick by stick is a better descriptor — the Beavers have been successful in carrying out Pendleton's plan to "Build the Dam" in Corvallis.
"Reshaping the culture is a thing that everybody likes to talk about and (use in) recruiting pitches," Pendleton said. "But the implementation of the culture, the follow-through, the buy-in not from just me but the staff and knowing these kids understand what I value, what I believe in, I told them, 'This is how we're going to play catch-up to these other programs. We have to live a little bit better lifestyle, we have to do a little bit more hard work.'
"Knowing we had some talent in the room — we knew we had talented individuals who could achieve a lot — we had to give them a little bit better surroundings, a little bit better culture, a little bit better nourishment, and they were able to perform."
Oregon State had one of its best showings in decades at the NCAA Championships. Six Beavers reached the blood round and four secured spots on the podium in Detroit — Brandon Kaylor (eighth at 125), Turner (eighth at 133), Grant Willits (fourth at 141) and Hunter Willits (seventh at 157) — the most All-Americans for Oregon State since 1995.
Turner credited the Oregon State coaches, a mindset shift and "finally believing in myself" for his ascent to the podium as a senior.
"All these years I've been one of the top wrestlers in the country, but I never fully believed it, though," Turner said. "The coaches have instilled belief in us since they've gotten here."
Thanks to a +17 seed/place differential, which ranked second to North Carolina at +18, Oregon State finished 12th in the team race, the third-best finish for the Beavers since 1999.
Though it's been a quick turnaround for Oregon State, the foundation isn't flimsy or hastily assembled. A few high achievers can lead to a rapid ascent up the NCAA ladder, but the Beavers have done this primarily with the development of wrestlers who were in-house when Pendleton arrived.
In Pendleton's first few weeks on the job, the Beavers began operating with a mantra: Build the Dam. The succinct meaning is a community effort to assemble something sustainable without taking shortcuts.
"It takes a community to stop a flooding river," Pendleton said. "It takes people who want to go do the hard things together, pushing and pulling in the right direction. That's what a dam is. You're stopping a raging river and you have to do it the right way. You can take the All-American transfer or take the risk on kids that might have behavior, but it won't pay off in the long run and it's not sustainable.
"We want a program that's going to be here for generations with success. We looked at schools like N.C. State and Missouri. How are these guys doing it? They might not be the flashiest programs, but they're doing it at an elite level that we aspire to get to."
This season was a big step for the Beavers in their quest to get there. Oregon State dropped duals to Lehigh and Penn State in November and finished eighth at the Cliff Keen Las Vegas Invitational before closing the regular season with seven wins in their last eight duals.
The Beavers finished second to Arizona State by a half-point at the Pac-12 Championships. On the eve of the NCAA Championships, Pendleton characterized Oregon State's performance on the year as "a semi-successful season."
A couple weeks later, he chalked it up as a year of "growth."
"The growth of the program, the growth of the kids," he said. "The belief I saw in them going into the tournament and watching them when they won and watching them, more importantly, when they lost. Unfortunately, we didn't have anybody go undefeated at the tournament, but I can tell you the heartbreak, the tears, the emotion when some of them lost, said we are on the right track. These are kids that really have bought in, that really believe, that have been living great lifestyles and now we're ready to take another step as a program."