2022 NCAA Championships Watch Party
Overcomers: Efficient Wildcats Cleared Hurdles To Make Northwestern History
Overcomers: Efficient Wildcats Cleared Hurdles To Make Northwestern History
Northwestern qualified 10 wrestlers for the NCAA Championships for the first time since 1970 and then posted its fourth-best finish in school history.
Mar 30, 2022
by Andy Hamilton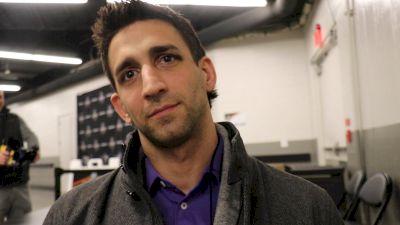 Unlock this video, live events, and more with a subscription!
Get Started
Already a subscriber? Log In
Unlock this article, live events, and more with a subscription!
Get Started
Already a subscriber? Log In
This is the second installment of a multi-part series highlighting wrestlers, programs and conferences that overcame odds and obstacles to shine at the NCAA Championships in Detroit.
The hurdles at Northwestern -- the budget constraints, roster restrictions and entrance requirements -- are higher than most places.
The school's attendance costs are upwards of $83,000 per year. And the transfer portal has primarily been a one-way street leaving town.
But Matt Storniolo's program continues to climb higher on the NCAA leaderboard. The Wildcats appeared primed for a top-10 finish in 2020 with a pair of #1 seeds heading into Minneapolis before the cancellation of the national tournament. They checked in at 10th last year in St. Louis and finished sixth earlier this month in Detroit, the fourth-best showing in program history.
"Our admission standards are Ivy League (level), we have a roster of 25 guys and we're not a team that reloads with transfers," Storniolo said. "Challenges go along with it, but we're obviously getting it done -- and it's not a flash in the pan.
"I think we're a program that's easy to forget about. Seems like we're in the headlines more for Chicken Little-type stuff. The sky is falling. Oh no, what's happening with Northwestern? But we just keep poking through."
Northwestern's past success at the national tournament was fueled by high-level performance by a select few. The Wildcats finished fourth at the NCAA Championships in 2007 with six qualifiers, three of whom placed third or better. Northwestern took five wrestlers to the NCAA Championships in 1990 and four placed fourth or better to lead a fourth-place team finish.
Top-to-bottom balance has been hard to achieve at Northwestern. But that was a part of the story this year for the Wildcats, who had 10 NCAA qualifiers for the third time in school history and first time since 1970.
"That's a huge accomplishment," 157-pound NCAA champion Ryan Deakin said. "I don't think it fully hit me until getting to nationals and we've got a full bus and you're kind of kicking for leg space."
Said Storniolo: "In the past, people looked at Northwestern as a team that has a couple of standout individuals that can make some noise at the national tournament because we've got a couple of big horses. But I think this March puts us on the map as a program that can be solid throughout and not have holes in the lineup and have good team performances, not just individual performances."
Deakin became the ninth Wildcat to win an NCAA title, Michael DeAugustino placed fourth at 125, Lucas Davison finished sixth at heavyweight and Chris Cannon took seventh at 133. It was the first time Northwestern put four on the podium since 2007.
Deakin arrived with strong high school credentials, but he was far from a can't-miss prospect. He won a pair of Colorado high school state titles and placed twice in Fargo in Greco and once in freestyle. He sneaked into the top 100 list in the Class of 2016 at #97.
"He was a worker, loved wrestling, liked competing and liked working hard," Storniolo said. "I've said this a ton of times about Ryan: He's a really good wrestler, but there are a lot of really good wrestlers out there. What sets him apart from everybody else is his attitude. The attitude and work ethic go hand in hand, but he has a really special outlook and approach to things and a ton of maturity and positivity that he carries with him."
Deakin developed into one of Northwestern's all-time greats. He captured a Junior World silver after his redshirt year before winning 64 matches in his first two seasons in the Northwestern lineup. He finished his career with a 114-15 record, posting the third-best winning percentage in program history at .884.
Those are tough shoes to fill, but the Wildcats have continued clipping along in recent years, unfazed by key graduations, early departures and once-committed recruits who surfaced elsewhere.
Storniolo wants to take Northwestern to unprecedented heights, which means cracking the top three at the NCAA Championships for the first time in program history. That's a tall task, especially in the transfer portal era. Of the top six teams at the NCAA Championships, Northwestern was the only squad that didn't benefit from a transfer addition.
Storniolo understands that while the Wildcats might have some built-in advantages that other programs don't, the margin for error remains small at Northwestern.
"We just have to find the people that are going to appreciate the things that Northwestern has to offer in addition to the wrestling, and when you have those guys targeted, you've got to hope you don't miss because there aren't too many that are going to fit the Northwestern mold," he said.
"At the end of the day, I feel pretty good about Northwestern wrestling. I feel good about where we're at right now, especially with where we've come from. I think when you get down to the X's and O's we're the most efficient wrestling program in the country, hands down. I don't care if it sounds cocky, I'm gonna own this one. We're it. There's not another program that has the obstacles we have with the output we have."