2022 NCAA Championships Watch Party
Overcomers: Kizhan Clarke Laid Down The Law During Run To NCAA Finals
Overcomers: Kizhan Clarke Laid Down The Law During Run To NCAA Finals
In his first trip to the NCAA Championships, Kizhan Clarke reached the 141-pound title bout as the #15 seed.
Mar 29, 2022
by Andy Hamilton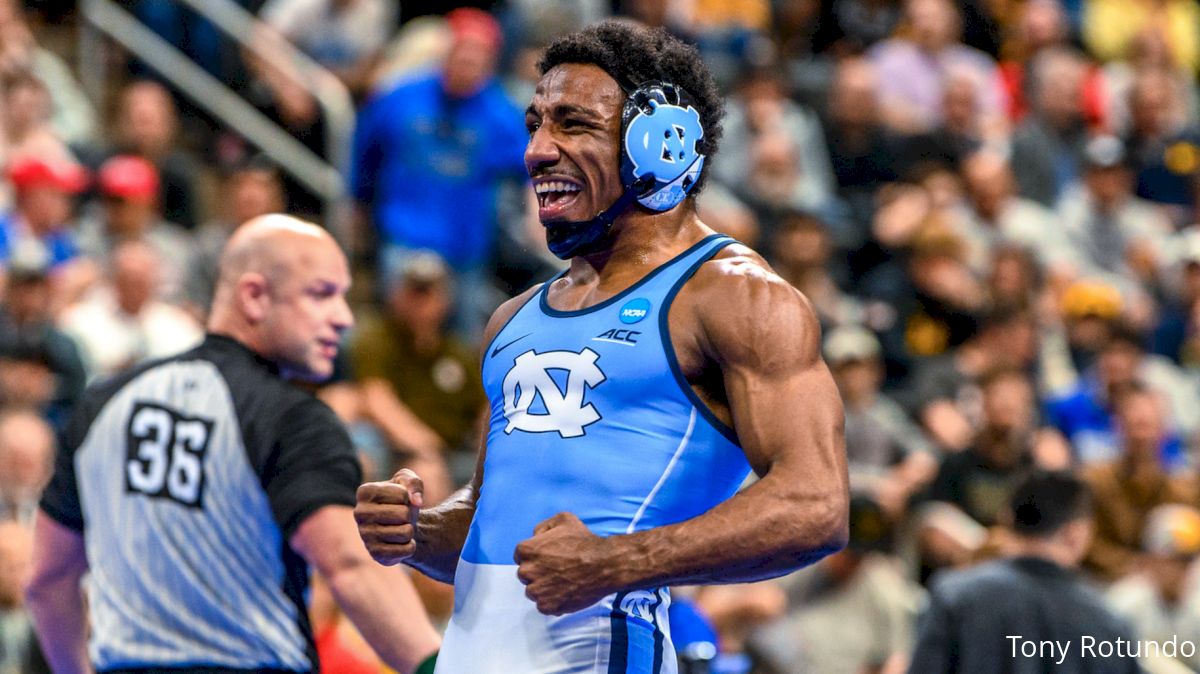 Unlock this article, live events, and more with a subscription!
Get Started
Already a subscriber? Log In
This is the first installment of a multi-part series highlighting wrestlers, programs and conferences that overcame odds and obstacles to shine at the NCAA Championships in Detroit.
Kizhan Clarke has wanted to be a lawyer for as far back as his memory stretches.
"I think (initially) it was because lawyers wore the fancy suits and walked around with briefcases and looked professional," he said. "I was like, 'I want to be like that.'"
Through the years, he began seeing the same end goal through a different lens. Nowadays, the Tampa native is driven to get into criminal law.
"A lot of the people I grew up around were getting into trouble a lot and getting into trouble with the law, and I felt there's a lot that can be done for people who come from where I come from and look like me in the criminal justice system," Clarke said. "I feel like there's a lot of good that can be done in the criminal justice system, so that's ultimately why I have this ambition to go into criminal law."
Clarke is on track to finish law school at North Carolina next year. Wrestling made this possible.
The Tar Heels' 141-pounder picked up the sport as a freshman at Riverview High School. Clarke was a football player then and Willie Sargable, the school's wrestling coach, convinced the freshman that wrestling would enhance his skills on the gridiron.
Clarke was immediately drawn to wrestling's physical and mental challenges and the solitary battles within the sport -- even though it took him time to figure out some of wrestling's integral details.
"My first competition, I was a 120-pounder and I come in weighing 123," Clarke said. "Coach tells us all to step on the scale before we head out to our competition and he sees that I'm 123. He looks at me and says 'What are you doing? You know you're overweight, right?' I was like, 'I didn't know we actually had to step on the scale and weigh in.'"
Weight issues aside, Clarke picked up on things rather quickly. He topped the 30-win mark as a freshman and came one victory short of reaching the Florida state tournament.
He was hooked. He quit football the next year and went all-in on wrestling. Sargable made sure Clarke understood how more wrestling doors would open if he thrived in the classroom, and Kizhan locked in on academics, as well.
After reaching the Florida state finals as a junior and capturing a state title as a senior, Clarke signed with American University and became the first person in his family to go to college.
He compiled a 16-13 record at 149 pounds as a freshman. He moved up to 157 as a sophomore and went 21-8, falling one spot short of qualifying for the NCAA Championships through the EIWA tournament.
Clarke piled up 37 wins in 2020, but the cancellation of the NCAA Championships prevented him from making his tournament debut. Then last year, after the pandemic wiped out most of American's season, Clarke tested positive for COVID on the eve of the EIWA Championships.
"That broke me, to be honest," he said. "The last three years of the national tournament I felt had been stripped from me."
Clarke entered the transfer portal after the season and landed at North Carolina, where he won his first 15 matches. But an 0-2 outing at the ACC Championships left him without an automatic qualifying ticket into the national tournament.
Given the setbacks of the previous three years, it's understandable how Clarke thought he'd be left on the outside looking in once again at the NCAA Championships.
"Everyone expected I was going to get (an at-large berth), but in the back of my head, I was like, 'I wouldn't be shocked if I didn't,'" he said. "I was in that type of place. It was a very down moment for me. I didn't think I earned it. When you have to rely on an at-large to get into the tournament, I felt like I didn't earn it, I wasn't meant to be there. I told myself every morning that I wanted to be a national champion, and that stopped. I didn't really believe it anymore. I was in a very dark place and had to do some soul searching. My coaches and teammates sat down with me and told me, 'Listen, none of this matters. This is not how you're going to go out.'"
They were right, of course.
Clarke entered the tournament as the #15 seed at 141. He avenged one of his ACC losses, defeating North Carolina State's Ryan Jack 4-3 in the opening round. He won an overtime scramble to beat Iowa's second-seeded Jaydin Eierman 4-2 in the second round, downed Minnesota's Jake Bergeland 3-0 in the quarterfinals and completed his run to the finals by beating Pittsburgh's Cole Matthews 2-2 in a semifinal tiebreaker.
Returning NCAA champ Nick Lee of Penn State ended Clarke's title bid with a 10-3 win in the finals.
"Besides being a national champ, I couldn't ask for a better season," Clarke said. "I had fun out there. I gave it everything I had. I finished my year off with no regrets. I feel amazing right now. Now I can move on."
Clarke plans to transition into a freestyle career. He's taking steps to wrestle for Germany, his mother's native country and where Kizhan was born.
In the immediate future, though, his focus will be devoted primarily to his other career. He has a summer internship lined with a judge in North Carolina and his run through the bracket in Detroit opened the door for more opportunities.
"Everyone's been blowing up my phone -- all types of companies, law firms that want me to interview," he said. "They're reaching out to me and telling me about the opportunities that are available to me. That's one thing I did not expect. I knew people would respect my wrestling, but the academic side, I'm so glad people are putting a focus on that more than anything.
"I feel like that's most important, especially for the generation coming up. You can do both. You don't have to just be an athlete. You can be academically successful just as much as you are athletically."