2022 NCAA Championships Watch Party
A Way Too Early Look At The 2023 NCAA Team Race
A Way Too Early Look At The 2023 NCAA Team Race
An early look at the teams vying for the 2023 Division 1 NCAA team title.
Mar 25, 2022
by Jon Kozak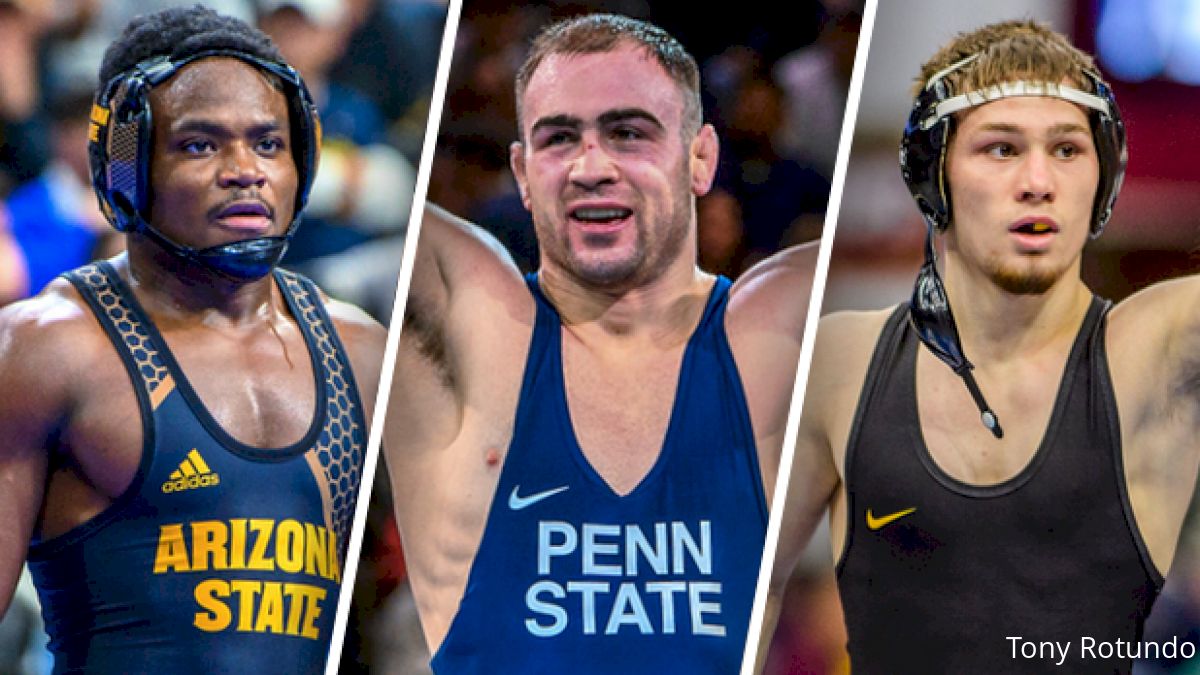 Unlock this article, live events, and more with a subscription!
Get Started
Already a subscriber? Log In
The 2022 NCAA Championships concluded with Penn State winning their 9th team title in the last 12 years. Is it too early to start looking at next year's team race? Probably, but that's not going to stop us from exploring what the 2023 team race might look like!
Who's Returning The Most Points?
To start, it's important to understand what colleges are returning the best lineups from 2022 into the 2023 season and who has the most points to replace. The table below reveals what teams are returning the most points scored from this year's tournament into next year and who will be rebuilding next season.
The Favorite
From the above numbers, it's clear Penn State is a huge favorite to repeat as team champs in 2023. While they are losing 2-time NCAA Champion Nick Lee at 141 pounds, national champions Roman Bravo-Young, Carter Starocci, Aaron Brooks, and Max Dean all have eligibility left to defend their titles in 2023. After the NCAA champs, All-American Greg Kerkvliet has 3 years of eligibility left and will be one of the main contenders for an NCAA title at heavyweight next year with Gable Steveson out of the picture. The big question mark in this bunch is RBY who previously said 2022 would be his last year competing collegiately. His most recent comments on the topic suggest he hasn't decided on his future at Penn State, however, the Nittany Lions would still return 83 points even without RBY in the lineup.
On top of their national champs and All-Americans, Penn State will have a strong lineup from top to bottom highlighted by young talent. Robert Howard will be returning at 125 after spending last season recovering from injury. Beau Bartlett will likely drop to his more natural weight of 141 and blue-chip recruits Shayne Van Ness and Alex Facundo will step in at 149 and 165 respectively. From Penn State's track record, it's safe to predict significant points from this young group at next year's NCAA tournament making the Nittany Lions' chances to repeat as strong as ever.
Highlights of Carter Starocci NCAA finals victory over Mekhi Lewis: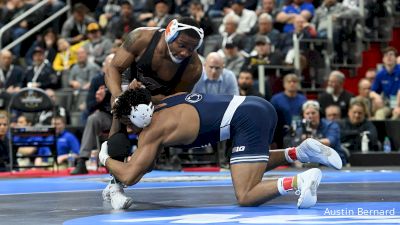 Unlock this video, live events, and more with a subscription!
Get Started
Already a subscriber? Log In
Trophy Contenders
With Penn State returning so much fire-power next season, it's hard to imagine any team keeping them from winning another team title. However, there are a number of colleges that will challenge for a trophy next year and look to knock Penn State off their throne. Arizona State, Iowa, Cornell, Missouri, and Oklahoma State look to be the top teams in that category.
Coming off a second consecutive fourth-place finish at NCAAs, Arizona State is returning 5 All-Americans in Brandon Courtney (6th), Michael McGee (4th), Kyle Parco (8th), Jacori Teemer (6th), and Cohlton Schultz (2nd). Along with the 65.5 points and 5 All-Americans, the Sun Devils will plug in Jesse Vasquez and Cael Valencia into the lineup at 141 and 174 respectively. That combination of experienced All-Americans and young talent should provide even more points for the Sun Devils and give them a great chance of climbing the podium a few spots.
Cohlton Schultz's semi-final win over Jordan Wood: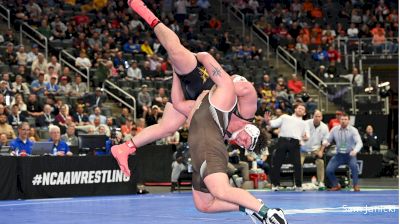 Unlock this video, live events, and more with a subscription!
Get Started
Already a subscriber? Log In
Iowa is only returning two All-Americans in Jacob Warner and Tony Cassioppi (28.5 points) next year but they should get a much-needed boost in the return of Spencer Lee at 125 pounds. In his previous three NCAA tournaments, Lee has averaged 25.3 points per tournament (76 points in total). Those points, combined with the addition of Cullan Schriever (133), Wyatt Henson (141), Patrick Kennedy (165), and Nelson Brands (174) should give the Hawkeyes a team worthy of contending for a trophy. Though it's a rebuilding year, anything outside of a trophy finish would be disappointing for the Hawkeyes. Iowa has won a trophy every year since 2016, finished in the top 5 every year since 2007, and hasn't finished outside of the top 10 since 1972!
Oklahoma State will also be welcoming a former national champ back into their lineup with the return of AJ Ferrari at 197 pounds. In 2021, Ferrari helped the Cowboys to a third-place finish at NCAAs thanks to his 21.5 points. Add those points to Oklahoma State's 14th place finish this year and it vaults them all the way up to 5th! After Ferrari, the Cowboys will need production out of their younger wrestlers. Trevor Mastrogiovanni and Carter Young have gained valuable experience but will need to turn that experience into team points to help the Cowboys back onto the podium.
At 52 points, Cornell is returning the 3rd most amount of points of any team in the country behind only Penn State and Arizona State. They are also returning 8 of their 10 starters highlighted by All-Americans Jonathan Loew (8th), Vito Arujau (3rd), and 3-time national champion Yianni Diakomihalis. Cornell also left some points on the board at this year's tournament with both Julian Ramierez and Lewis Fernandes finishing in the round of 12.
Yianni's finals win over Ridge Lovett: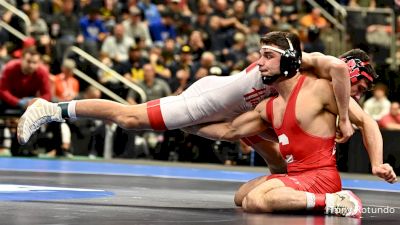 Unlock this video, live events, and more with a subscription!
Get Started
Already a subscriber? Log In
Missouri might have the strongest case of any team to challenge for a trophy. The Tigers are returning a national champion in Keegan O'Toole and every wrestler from the 2022 squad. On top of that, they will also gain an All-American, Brock Mauller, out of redshirt. If Mauller can slide back in at 149 and finish in the top 6 as he did in 2019 and 2021, the Tigers will be one of the strongest teams in the country.
Highlights of O'Toole's national finals match: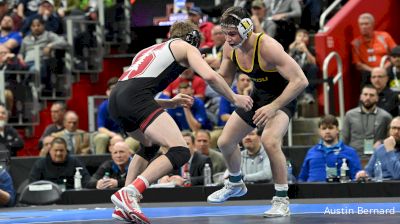 Unlock this video, live events, and more with a subscription!
Get Started
Already a subscriber? Log In
Watch Out For These Recruiting Classes
After the clear contenders, there is a group of teams that look poised to have a breakout year at the 2023 tournament and the Ohio State Buckeyes are at the top of that list. Ohio State finished 13th at the 2022 NCAA tournament but eyes are on the future for the Buckeyes. They're returning every wrestler from their starting lineup and are bringing in the #1 recruiting class in the country highlighted by the top 3 pound-for-pound grads - Nick Feldman (285), Jesse Mendez (138), and Nic Bouzakis (132). All three could start as freshmen and contend immediately for All-American honors. In addition to the true freshman, Paddy Galagher will be coming out of redshirt for the Buckeyes and should give them a much-needed boost at 157 pounds.
Along with Ohio State, Wisconsin returns 8 of 10 starters, three All-Americans, and has an incredible recruiting class coming in highlighted by #10 James Rowley (170), #11 Brock Bobzein (132), and #12 Nicolar Rivera (126). They might not all wrestle right away but if any program in the country proved they can get their true freshmen to perform it's the Badgers. They produced the only true freshman All-American this year - 6th place finisher Dean Hamiti at 165 pounds.
Highlights of Dean Hamiti's blood round win over Jake Wentzel: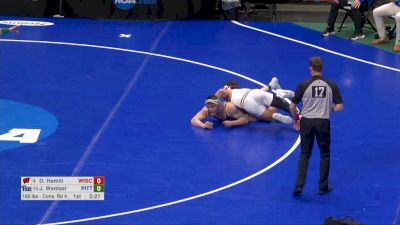 Unlock this video, live events, and more with a subscription!
Get Started
Already a subscriber? Log In
NC State and Iowa State are another two teams bringing in incredible classes that could boost them into trophy contention. NC State will welcome to campus #1 Matthew Singleton (170), #1 Dylan Fishback (195), #2 Jackson Arrington (152), #3 Chase Horne (285). Iowa State's recruits include #2 Casey Swiderski (145), #12 Connor Euton (152), and #8 Manny Rojas (170). The influx of young talent for the Cyclones and Wolfpack combined with their returning wrestlers could result in major points at the 2023 tournament for either program.
Dark Horses
It would be an error to not mention the likes of Michigan, Princeton, North Carolina, Virginia Tech, Nebraska and Oregon State. Michigan is coming off a second-place finish and while they will be rebuilding, they will also be returning 3 All-Americans (Will Lewan, Cam Amine, and Mason Parris) to their lineup. Princeton is returning 2 NCAA finalists in Patrick Glory and Quincy Monday. North Carolina and Virginia Tech have another year out of their national champions (Austin O'Connor and Mekhi Lewis) and will receive a boost out of their strong recruiting classes. Nebraska finished 5th this season and are returning Ridge Lovett (2nd place), Peyton Robb (4th place), and Mikey Labriola (7th place). And finally, Oregon State may have been the surprise of the 2022 tournament with 4 wrestlers earning All-American honors. Three of their All-Americans (Brandon Kaylor, Grant Willits, and Hunter Willits) are returning next season along with round of 12 finisher Trey Munoz. If there's a "surprise" trophy team next year, expect it to come from this group of dark horse programs.
Highlights of Hunter Willits' upset win over defending national champion David Carr: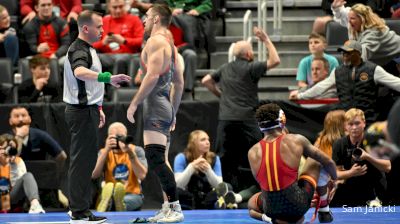 Unlock this video, live events, and more with a subscription!
Get Started
Already a subscriber? Log In
Portal Watch
The above speculation is all based entirely on information from college rosters as they exist today. As we've seen over the past few seasons, a big-name transfer can play a major role in helping a contender at the national tournament. For instance, first-place Penn State received 37.5 points from their 3 transfers at this year's tournament, while second-place Michigan tallied up 29 points from their transfers. At this point, it's uncertain who will transfer and what colleges will benefit, but expect to see a large number of transfers this post-season that will cause a major shake-up in next year's team race. In fact, 14 wrestlers have already entered the transfer portal since the NCAA tournament ended (5 days at the writing of this article)! You can keep up with all of the wrestlers in the transfer portal here.