Big Ten
Club Coaches Are Changing Wrestling Across The Country
Club Coaches Are Changing Wrestling Across The Country
Brothers-in-law Dylan Carew and TJ Sebolt want to transform high school wrestling in Iowa one wrestler at a time.
Mar 23, 2022
by Kyle Klingman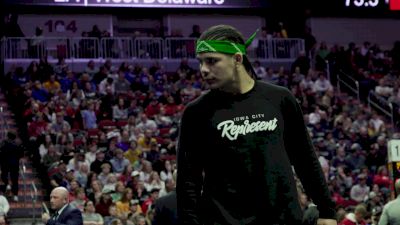 Unlock this video, live events, and more with a subscription!
Get Started
Already a subscriber? Log In
Kale Petersen's win in the 138-pound 2A Iowa High School State finals made a statement about prep wrestling in America today. The score was 8-5 over Cam Phetxoumphone of Webster City — a senior returning two-time state champion.
For most kids, that would be quite an accomplishment. Petersen, a junior, won a state title for Greene County after winning a 106-pound title for West Fork as a sophomore. He told interviewers that no one can hang with his pace and that he will enjoy the win for a couple of days and then move on.
Petersen handed out a few thank yous, as well. Two people, in particular, received all the praise: TJ Sebolt and Dan Knight.
Sebolt runs Sebolt Wrestling Academy — a burgeoning club in Jefferson, Iowa, that trained current Iowa wrestler Drake Ayala (among others). Petersen thanked Bettendorf head coach Dan Knight, too — and made no mention of his current high school coach Zach Beekman.
On the surface, this is a head-scratcher. Why would you praise a coach from another program and neglect to mention your own? It's likely because Knight is an assistant at Sebolt Wrestling Academy and because Petersen currently lives with Sebolt.
Last year, Petersen made the four-hour round-trip drive from West Fork to Jefferson to train three nights a week. Sebolt challenged his young pupil to look toward making age-level World teams and offered a place to stay in return. As of February 19, Petersen had not returned to see his parents since December 26.
"TJ invited me to live with him and I've been living with him this whole school year and it's shown," Petersen said. "Props to TJ Sebolt for that."
There were several state champions that gave props to Dylan Carew of Big Game Wrestling Club. Like Sebolt, he has a stand-alone facility where kids can train. Carew's facility is located in North Liberty (next to Iowa City), which is two hours east of Jefferson.
The former Hawkeye wrestler has every intention of going toe-to-toe with Sebolt as the best club in the state. Can you blame him? Carew and Sebolt are brothers-in-law. Dylan is married to TJ's sister, so there's blood on the line.
In reality, both get along but both want the same thing. That will only elevate high school wrestling in the state.
"I want to win and TJ wants to win," Carew said. "We've talked about doing some dual teams together. We want to train the best kids we can, compete hard, and we'll see what happens."
What's happening at Big Game should put everyone on notice. Carew wanted to build a club that was different. By the looks of it, he's succeeding. His first-rate facility is open to anyone and everyone that wants to improve. No coach makes a dime, and all facility costs are covered during an annual fundraising event in the spring.
Carew focuses on more than just wrestling. He hires kids to work at his landscaping business so they get job experience. He also coordinates hunting trips and finds ways to connect outside the room. No wrestler gets left behind — ever.
"It's remarkable when you look at the state of Iowa and how many great clubs there are," Carew said. "There are kids in our wrestling room non-stop during the day. People are coming in and out and on the weekend and kids are hanging out. It's a retreat for them.
"I think it helps kids love wrestling when you build a relationship with a club coach. Most of these kids start with us when they're five. They're going to spend over 10 years with them when it's all said and done. They've spent their entire lives with you."
Now, back to Petersen. His story is hardly the norm. Most kids aren't moving away from their parents to attend another public school.
There is a pattern here, though. High-level wrestlers are finding creative ways to reach the highest levels. Club coaches are accelerating progress faster than we've ever seen, and kids will do all they can to reach the top rung.
Real estate at the top is expensive. The cost is sacrifice and a willingness to explore the unknown.