2022 NCAA Championships Watch Party
50 Facts And Figures From The NCAA Championships
50 Facts And Figures From The NCAA Championships
Another edition of college wrestling's crown jewel event is in the books, which means those books include more fresh historical data.
Mar 23, 2022
by Andy Hamilton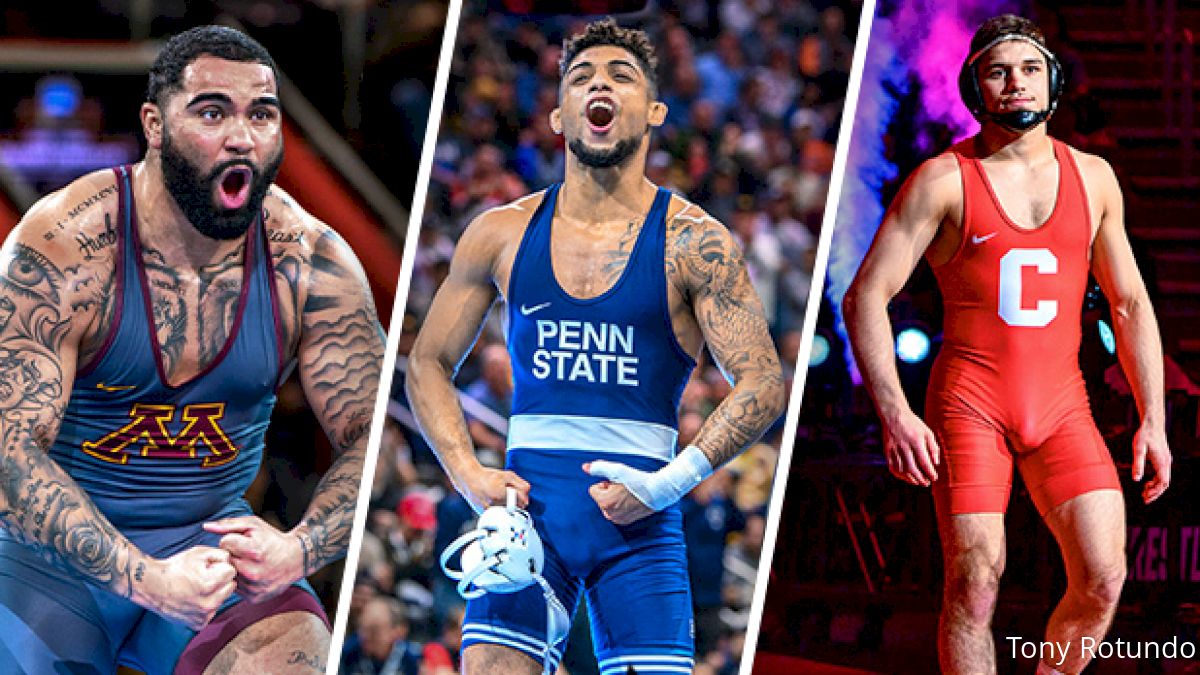 Unlock this article, live events, and more with a subscription!
Get Started
Already a subscriber? Log In
Another edition of college wrestling's crown jewel event is in the books, which means said books include more historical data. Here's a look at 50 facts and figures coming out of this year's tournament in Detroit with an assist from Jason Bryant's fan guide and information gleaned from school websites:
1. With its 10th NCAA title, Penn State became the third school to reach double digits, joining Oklahoma State (34) and Iowa (24).
2. The Nittany Lions' title was the ninth under coach Cael Sanderson, which moves him into sole possession of third behind Dan Gable (15) and Edward Gallagher (11).
3. Penn State has had a national champion in each of the last 11 tournaments. Minnesota is the only other school that has a current string longer than one.
4. Of the 199 multi-time champions in tournament history, 11 have won titles for Penn State in the past decade.
5. Michigan's runner-up finish was its sixth, which moved the Wolverines into a tie with Iowa and Minnesota for fourth behind Iowa State (17), Oklahoma (12) and Oklahoma State (12).
6. Michigan's 95 points were the most for the Wolverines in school history at the NCAA Championships.
7. Michigan scored the most match points as a team with 297, three more than Penn State.
8. Iowa captured its 13th team trophy under coach Tom Brands, who moved into a tie for fifth all-time behind Harold Nichols (27), Dan Gable (20), John Smith (17) and Dave McCuskey (14).
9. Iowa had five All-Americans, extending its string of consecutive years with an All-American to 50.
10. Minnesota (36) and Nebraska (33) extended the second- and third-longest current All-American strings.
11. Arizona State's fourth-place finish marked the second straight trophy-winning performance for the Sun Devils, the first time they've hauled home trophies in consecutive years since they finished 1-2-2 under Bobby Douglas in 1988, 1989 and 1990.
12. Nebraska's fifth-place finish was the highest for the Huskers since they finished fourth in 2009.
13. The Huskers had five All-Americans for the first time since 2008.
14. Northwestern's four All-Americans were the most for the Wildcats since 2007.
15. Northwestern's sixth-place finish was the fourth-highest placing for the Wildcats in school history.
16. Cornell finished seventh in the team standings — the 13th straight tournament finish inside the top 10 for the Big Red.
17. Virginia Tech's eighth-place finish marked the seventh top-10 performance for the Hokies in school history, all of which have occurred since 2012.
18. Missouri led the field with five falls.
19. The Tigers also registered the three fastest falls of the tournament: Zach Elam (:32), Jeremiah Kent (:42) and Keegan O'Toole (:52).
20. Oregon State had four All-Americans, the most for the Beavers since 1995.
21. North Carolina had the most positive seed differential in the tournament as a team at plus 18.
22. Princeton set school records with two finalists and 38 team points.
23. The 10 NCAA champions came from 10 different states: Arizona (Roman Bravo-Young), Colorado (Ryan Deakin), Indiana (Nick Lee), Maryland (Aaron Brooks), Michigan (Max Dean), Minnesota (Gable Steveson), New Jersey (Nick Suriano), New York (Yianni Diakomihalis), Pennsylvania (Carter Starocci), Wisconsin (O'Toole).
24. Suriano is Michigan's first national champion at the lightest weight class.
25. Suriano became the first wrestler to win titles for two schools since Steve Mocco won championships for Iowa in 2003 and Oklahoma State in 2005.
26. Minnesota's Patrick McKee won 16 consecutive Big Ten and NCAA consolation matches over the course of the past two seasons before losing to Vito Arujau in the 125-pound consolation semifinals.
27. Bravo-Young is the first 133-pounder to win consecutive titles since Logan Stieber went back to back in 2012 and 2013.
29. Oklahoma State's Daton Fix is the fifth three-time runner-up in tournament history, joining Gerry Abas (Fresno State, 1993-95), Bob Fehrs (Michigan, 1965-67), Duane Goldman (Iowa, 1983-85) and Chad Zaputil (Iowa, 1991-93).
30. Lee continued the trend of two-year reigns at 141, following Logan Stieber (2014, '15), Dean Heil ('16, 17) and Diakomihalis ('18, '19).
31. North Carolina's Kizhan Clarke, the runner-up at 141, was the only at-large selection to reach the podium.
32. Clarke was the second #15 seed to reach the finals and the first since Ronnie Perry in 2018.
33. Rutgers 141-pounder Sebastian Rivera (30-1) and Northern Iowa 184-pounder Parker Keckeisen (30-2) were the only All-Americans to reach the 30-win plateau this season.
34. Diakomihalis became the 50th three-time champion in tournament history.
35. Diakomihalis finished his junior season with a .989 career winning percentage (94-1), which ranks first in Cornell history.
36. Jonathan Millner became the second two-time All-American in Appalachian State history and first since Mark Fee in 2003.
37. O'Toole became the 35th freshman champion in tournament history.
38. North Carolina State senior Hayden Hidlay finished his career with 110 wins, tying Nick Gwiazdowski for third on the all-time wins list for the Wolfpack.
39. Iowa's Michael Kemerer finished his career with a 100-12 record. Eleven of his 12 losses came against NCAA finalists.
40. Michigan's Myles Amine, the record-holder with 24 career wins at the NCAA Championships, became the first five-time place winner in tournament history.
41. Northern Iowa is 16-2 at 184 pounds during the past three tournaments with Drew Foster taking the title in 2019 and Keckeisen placing third each of the past two years.
42. By placing fourth at 184, Bernie Truax became the third Cal Poly wrestler to finish in the top four in consecutive years at the Division I level.
43. Jacob Warner was Iowa's first 197-pound finalist since Lee Fullhart in 1999.
44. Big Ten programs have won the last 15 titles, the longest conference run on top since the tournament started in 1928.
45. With Max Dean's win in the 197-pound title bout, he joined his brother Gabe, a two-time champ for Cornell, as the third brother tandem to capture titles in the last 20 years, matching a feat accomplished by Ben and Max Askren and Mark and Chris Perry.
46. Ohio State's Gavin Hoffman, who placed sixth at 197 as the #21 seed, had the largest seed differential in the tournament.
47. Steveson, the only wrestler in the tournament to register two technical falls, also led the field with 72 match points.
48. Steveson was just the second heavyweight since 1980 to earn the tournament's outstanding wrestler award.
49. Six wrestlers — Suriano, Bravo-Young, Lee, Deakin, Brooks and Steveson — tied for the tournament high in team points scored with 23.
50. The 58 pins in this year's tournament were 21 fewer than there were in 2012. The most pins occurred at 174 pounds (10), while the fewest occurred at 141, 184 and 197 (4).