2022 NCAA Championships Watch Party
Saturday Night Storylines From The NCAA Championships
Saturday Night Storylines From The NCAA Championships
Penn State put on another historic show in the NCAA finals, while Yianni Diakomihalis won his third title and Gable Steveson left us with one last flip.
Mar 20, 2022
by Andy Hamilton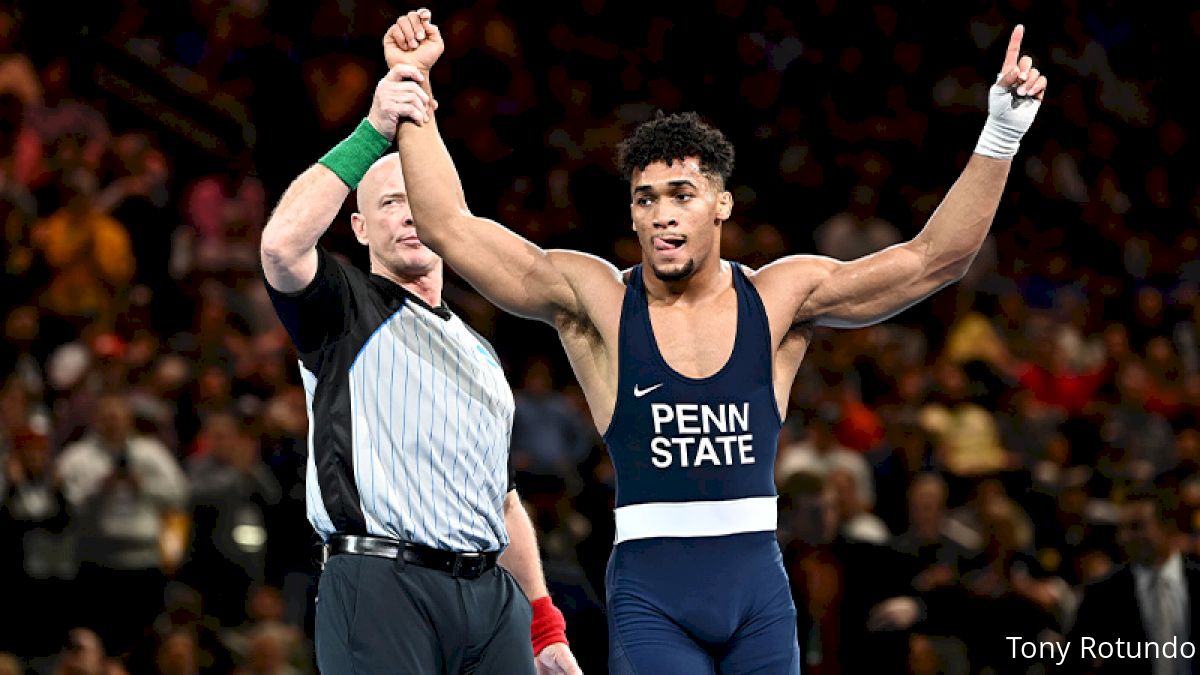 Unlock this article, live events, and more with a subscription!
Get Started
Already a subscriber? Log In
College wrestling's crown jewel event had been around for 56 years when the Dan Gable-coached Iowa squad buzzed through the 1986 NCAA Championships, becoming the first team to capture five individual titles.
After the barrier was broken, almost once a decade a powerhouse program would assemble a star-studded lineup and horde half the titles. The Hawkeyes did it again in 1997, Oklahoma State claimed five crowns in 2005 and Penn State ran off five consecutive championship-round victories during a dazzling performance in 2017.
Now here we are again just five years later.
Penn State had what would seem like yet another night for the ages, except it's almost becoming an annual event for the Nittany Lions to go on a red-hot run on the third Saturday night in March.
Penn State went 5-for-5 on Saturday night inside Little Caesars Arena to put a big blue and white bow on top of the Nittany Lions' ninth team title in the last 11 tournaments. Roman Bravo-Young, Nick Lee, Carter Starocci and Aaron Brooks each captured their second NCAA championship, while Max Dean won his first to put the finishing touches on a 131.5-point team effort that blew away second-place Michigan by a 36.5-point margin.
"We have a great group of kids and they're competitors," Penn State coach Cael Sanderson said. "They step up in these big moments, and they did this weekend."
These weren't just big moments. They were high-stakes matches against big-time opponents.
Bravo-Young made a first-period takedown stand up as the difference in a 3-2 victory against Oklahoma State's Daton Fix, a World silver medalist making his third appearance on the Saturday night stage at the NCAA Championships.
Starocci outlasted Virginia Tech's Mekhi Lewis, winning 5-5 on a tiebreaking riding-time advantage in a 174-pound clash of NCAA champs.
Brooks racked up more than three minutes of riding time in a 5-3 victory against Michigan's Myles Amine, an Olympic bronze medalist.
Nick Lee withstood an early barrage from North Carolina's Kizhan Clarke, a #15 seed who navigated the bottom side of the bracket at 141, and eventually took control on his way to a 10-3 decision.
Dean, who transferred to Penn State last summer, topped off the 5-for-5 round by using a takedown in the final minute to win a 3-2 decision against three-time tournament placewinner Jacob Warner of Iowa.
"I'm jealous of five titles by the championship team," Iowa coach Tom Brands said. "That's where my mind is."
Yianni Three
Yianni Diakomihalis likes to use the phrase "wrestling capitalism" when he speaks of the driving forces behind his development as a wrestler.
"You get better, someone else gets better and you've got to catch up to them," he explained Saturday night. "Playing that game has helped me elevate my game, regardless of who it's against. I'm always trying to catch up to the guy in front of me. Thanks to that, you can open up the gap between the guys behind you, too."
Diakomihalis has spent the past two years chasing down the best 65-kilogram wrestlers in the world in his pursuit of his international dreams. Because of that, he hasn't lost a step on the competition at the college level, evidenced by his razor-sharp performance Saturday night in the 149-pound title bout.
The Cornell junior racked up five takedowns on his way to an 11-5 victory against Nebraska's Ridge Lovett, who took Diakomihalis to overtime back in December at the Cliff Keen Las Vegas Invitational.
"We had a close match in Vegas," Diakomihalis said. "I didn't wrestle as well as I could've, and this match meant a lot to me. I don't want to sound like that guy, but you don't ever want to let guys feel like they could've won."
Which is how Lovett felt after Vegas.
"I'm not quite there yet — I thought I was, and maybe I was a little overconfident from the match with Yianni in Vegas," Lovett said. "It was so tight. I don't know if I was in the right headspace going in, but I don't think I would've changed anything in that match or this season.
"He doesn't make any mistakes. I capitalize on mistakes. I don't make a lot of mistakes. He wrestled a perfect match and I didn't."
With the victory, Diakomihalis became the 50th three-time champion in tournament history. He'll try next year to join the four-timer club, which currently has four members.
Don't expect him to take his foot off the pedal in the meantime.
"There's always going to be someone better than me — even the day I win the Olympic gold medal," he said as he knocked twice on the wooden table in front of him, "there's going to be someone better than me, there's going to be someone I have to catch up to. You guys are calling it consistency. For me, it's a pursuit of improvement, development and when you're constantly looking to improve, constantly growing, it can seem you're staying this much ahead."
Flipping Out
Gable Steveson made it clear coming into the tournament that this was the final stop on his college wrestling farewell tour — and what a ride it's been for the Minnesota heavyweight during the last 12 months.
Steveson won his first NCAA title a year ago in St. Louis. In April, he ripped through the Olympic Trials. In August, he captured Olympic gold in breathtaking fashion, scoring two takedowns in the final 13 seconds of the gold medal match to beat three-time reigning World champion Geno Petriashvili at the buzzer.
In the past 12 months, he's gone from being a college wrestling star to a global sensation and transcendent talent who's headed off to the WWE.
On Saturday night, he left us with one last show.
Steveson notched a pair of first-period takedowns on his way to a 6-2 victory against Arizona State's Cohlton Schultz in the heavyweight title bout. After it ended, Gable gave the crowd inside Little Caesars Arena a goodbye backflip before taking off his shoes and leaving them in the center of the mat to signify his retirement.
"People love to see it," he said of his celebratory backflips. "People chant for it. When someone pays a lot of money to sit in their seats and they're chanting for it, I've got to put on a show for them."