MIAA
Nebraska-Kearney Cruises To D2 Title
Nebraska-Kearney Cruises To D2 Title
After losing the 2021 D2 title on the tournament's final match, Nebraska-Kearney ran away with the title Saturday.
Mar 13, 2022
by Andy Hamilton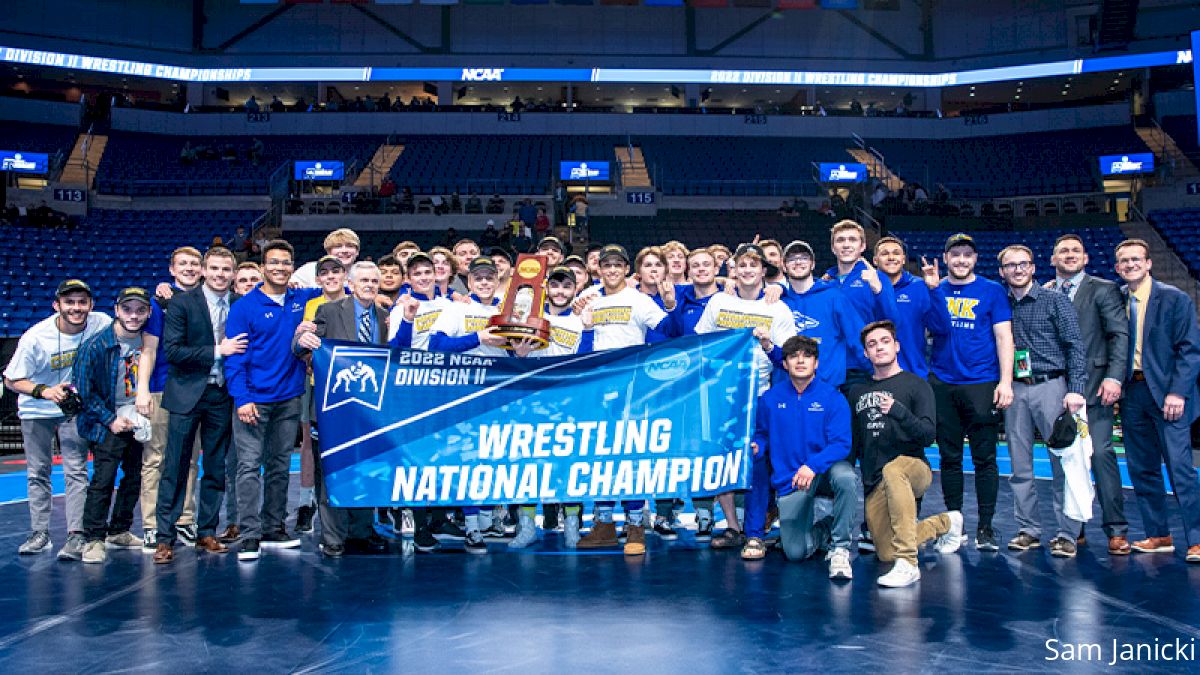 It wasn't hard for Nebraska-Kearney coach Dalton Jensen to find a silver lining to the gut-twisting conclusion to last season that left his Lopers one win short of the Division II national title.
There were six seniors on that team who elected to return for another year with the Lopers.
"We never had the conversation: What if we had won it?" Jensen said back in January. "In my mind, I think a couple of them, if not all of them would've moved on. It's kind of bittersweet. Maybe long-term it was better that we lost last year because we got these guys to hang around with us another year."
The payoff came Saturday in St. Louis, where Nebraska-Kearney captured its fourth Division II national title with the most dominant performance at the tournament in the last decade. Led by 165-pound national champion Matt Malcom, eight Lopers placed in the top five as Nebraska-Kearney piled up 127 points to finish 41 ahead of second-place Central Oklahoma.
Malcom outscored his opponents by a combined 40-2 count on the tournament and finished his title run with a 1-0 victory against UW-Parkside's Shane Gantz.
The Lopers went 15-7 on the tournament's final day and locked up the title in Saturday's consolations. In addition to Malcom, Josh Portillo (125) and Sam Turner (149) reached the finals, while Wesley Dawkins (133) and Billy Higgins (184) wrestled back to place third.
National champions Heath Gray (184) and Dalton Abney (197) led runner-up Central Oklahoma's 86-point output. West Liberty, with 125-pound champ Cole Laya, finished third with 75.5 points, followed by St. Cloud State (67), which had won four of the previous five D2 titles.
Adams State finished fifth with three wrestlers. Jonathan Andreatta (133), Noah Hermosillo (149) and Josiah Rider (157) each captured individual titles. Andreatta and Rider capped their title runs with pins in the finals, while Hermosillo beat Turner on an overtime takedown.
Minnesota State navigated the tournament without a loss as well. Trevor Turriff (174) and Darrell Mason (285) won championships. Mason won his by posting a 5-3 win in the finals against 2019 national champion Andrew Dunn of Kutztown.
Zeth Brower became Lander's first All-American when he won in Friday's quarterfinals. He went two steps further on Saturday and captured the 141-pound title with a 6-4 win against Findlay's Bronson Proudlock.
| | | |
| --- | --- | --- |
| Place | School | Points |
| 1 | Nebraska-Kearney | 127 |
| 2 | Central Oklahoma | 86 |
| 3 | West Liberty | 75.5 |
| 4 | St. Cloud State | 67 |
| 5 | Adams State | 30 |