2022 NCAA Championships Watch Party
Podium Strivers: Wrestlers Still On The Hunt For Their First AA
Podium Strivers: Wrestlers Still On The Hunt For Their First AA
Competitors at their fourth or fifth NCAA Wrestling Championship that are still looking for their first All-American honor.
Mar 12, 2022
by Andrew Spey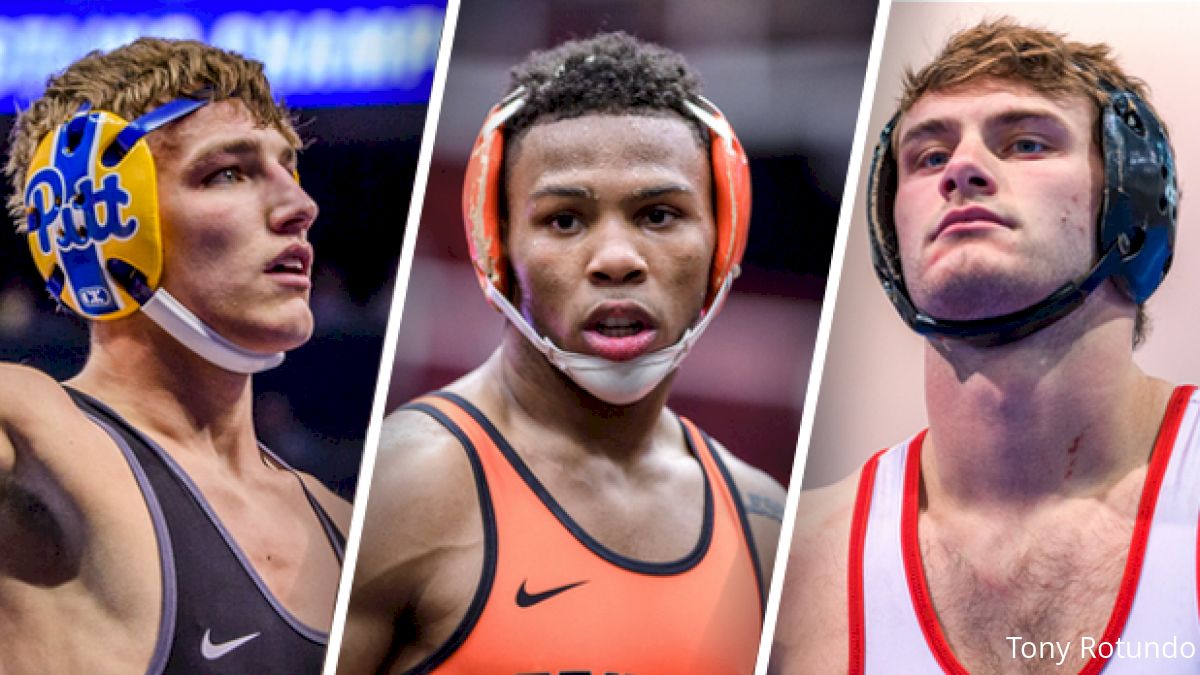 Unlock this article, live events, and more with a subscription!
Get Started
Already a subscriber? Log In
In which we highlight the competitors entering their fourth --or fifth!-- NCAA Championship but are still looking for their first All-American honor. They are our podium strivers.
This is one of my favorite articles to research every year, as it's impossible not to root for these guys. I've been doing it since I was a humble independent hobbyist wrestling blogger, unlike now, where I am a highly respected professional wrestling blogger.
So let's meet this year's crop of seniors. Cheer against them if you have a cold, spiteful, slovenly heart. Cheer for them if you appreciate hard work, dedication, and the triumph of courage!
We'll go in weight class order.
Seed: #9, Rank #6
Schroder didn't qualify for the NCAAs as a freshman but he decided to use his extra year of eligibility due to covid and so we are including him on this list anyway. Devin came closest to making the podium last season when he finished in the bloodround. He also received the #5 seed at the canceled 2020 Tournament.
It should also be noted that while the NWCA All-American honors of 2020 are a great thing and should be proudly cherished, they are not NCAA All-American honors, which is what we are considering for this blog.
Seed: #12, Rank #10
One of the original 'Cozy Boys' from the Buckeyes' monster 2018 recruiting class, Heinselman never took a redshirt and has one more year of eligibility left, should he choose to take advantage of it. We're treating him as a senior for this blog, though.
Eligibility is a very confusing topic for college athletes at the moment.
Malik was the tenth seed in 2021 but went 1-2 at the tournament, losing to the #8 seed Rayvon Foley in the consolation bracket, proving that while seeds are important, a little luck helps too!
Seed: #11, Rank: #12
Like Schroder, Turner also did not qualify for the NCAA tournament as a freshman in 2018. He did, however, complete his best regular season as a Beaver yet, registering his best winning percentage and receiving the best seed of his career.
133: Micky Phillippi, Pittsburgh
Seed: #12, Rank: #10
Phillippi began his collegiate career in Virginia in 2017, but transferred to Pittsburgh after one redshirt season and has been a Panther ever since, which includes two bloodround finishes in the 2019 and 2021 tournament.
This is also Phillippi's lowest seed of his career, having earned the #4 seed in 2019 and 2020 and the #5 seed in 2021.
Seed: #21, Rank: HM
Like Schroder and Turner, Russell did not qualify for the NCAAs his freshman season in 2018. Unlike Schroder and Turner, Russell never took a redshirt season. Russell was also down at 125 last season, though he was the post-season start for App State at 133 his four other varsity seasons.
Seed: #13, Rank: #19
Another super-senior who did not qualify for the NCAAs as a freshman, Parker did receive the #4 seed in the canceled 2020 tournament, the highest seed of his career.
Last year, Parker received the #7 seed but was stopped by the #8 seed Chad Red in the second round of the consolation bracket, once again showing how tough it is to advance to the podium regardless of your seed if fortune is not on your side.
Seed: #7, Rank #9
Heil is attempting to become just the second Camel All-American (at least in recent memory), after Nathan Kraisser placed eighth in 2017. Heil and Andrew Morgan both earned the #8 seed at the canceled 2020 tournament, while Noah Gonser checked in with the #9 seed.
Heil earned a top 8 seed, but his path to the podium will be anything but simple, as he'll likely have to go through Ridge Lovett in the second round.
Seed: #8, Rank #10
Two bloodround finished bracket Murin's 2020 season where he received the #7 seed at the canceled 2020 tournament. The Hawkeyes title hopes may depend on Murin breaking his podium-less skein.
If Max wins his first bout, he'll likely see Kaden Gfeller in the second round, an opponent he beat 5-2 this season at Bout at the Ballpark. Another win would put him in the quarterfinals and likely a bout with #1 seed Yianni Diakomihalis. A loss would put him in the bloodround, with his likeliest opponent, and final obstacle to making the podium, either Mike Van Brill or Beau Bartlett.
149: Josh Finesilver, Duke
Seed: #14, Rank #11
The four Finesilver brothers qualified for a total of 14 NCAA tournaments (larger brother Matthew is in the 174-pound bracket). So far, only Mitch has managed to secure a step on the podium, when he placed fourth in 2019 at 149-pounds. Josh advanced to the round of 12 last year.
Seed: #13, Seed: #15
Thomas didn't qualify for the 2018 tournament as a freshman, but he did advance to the bloodround in 2019. He's been a stalwart for the Sooners ever since, and is back for one more ride in Detroit.
Thomas' path to the podium is doable, but he may have to reverse some results that occurred at the Big 12 tournament a week ago.
Seed: #21, Rank: #20
Twin brother Daniel earned All-American honors last year with a seventh-place finished at 174-pounds. Thomas was stopped in the round of 16 last year, his best finish in three tournaments wrestled, though he was the #10 seed in the un-wrestled 2020 tournament.
Seed: #20, Rank: #15
Hastings has been holding down 174 for the Cowboys for the last four seasons, qualifying for the NCAA tournament. He advanced the furthers in 2021, making the round of 16 as the #14 seed.
Seed: #8, Rank: #9
Coleman qualified for the 2019 NCAAs at 174 lbs and the 2021 tournament at 197 lbs. He also qualified for the 2020 tournament at 184 lbs, but this will be the first tournament he actually wrestles at 184.
This will also be the highest seed Coleman ever earned, having been in the 20s for his previous three tournies.
Seed: #29, Rank #24
Weiler qualified for his first two NCAA tournaments at Lehigh before transferring to Wisconsin before the 2021 season. He came back to use his extra year of eligibility and take one last swing at the podium. His highest finish was the round of 12 in 2018, his freshman season where he qualified at 197-pounds.
Seed: #30, Rank: HM
Our second Max in our collection of worthies, Lyon is starting at 184 for the fifth consecutive year at Purdue. He failed to qualify for the tournament in 2018 as a freshman but has now qualified for his fourth, having advanced to the round of 16 last year. Lyon has also never taken a redshirt season.
Seed: #3, Rank: #3
Our highest ranked and seeded wrestler among podium strivers. Schultz has now qualified for five NCAA tournaments. He finished in the round of 16 in 2018, 2019, and 2021. he was seeded third in 2020. He was also seeded second in 2021 but was upset by Owen Pentz in the first round and then lost to eventual fifth-place finisher, Rocky Elam, three matches later.
Schultz has a very navigable path to the semifinals, which would guarantee him a place in the top six, with an excepted quarterfinal bout with Jacob Warne, who Schultz defeated 3-2 in the last dual before the postseason.
Looming on Schultz's side of the bracket with the #2 seed is Stephen Buchanan, who defeated Schultz at the CKLV last fall by the score of 7-3, Schultz's only loss on the regular season.
197: Cam Caffey, Michigan State
Seed: #9, Rank #6
A fan-favorite, Caffey owns the best win of the season in a wide-open division, as he defeated #1 seed Max Dean in a dual meet in January. Caffey's seed likely suffered due to him taking three losses in the Big Ten Championships, including a revenge win by Dean.
Caffey fell one match short of the podium last year, dropping a 4-1 heart-breaker to Jacob Warner in the bloodround. Caffey's early threat to a podium run will come from #8 seed Lou DePrez.
Seed: #14, Rank: #11
Bulsak qualified for four previous NCAA Championships as a member of the Clarion Golden Eagles, however he only won one match in the three tournaments that took place. In 2020, Bulsak received the #10 seed.
As the #14 seed, Bulsak will have to beat a tough Jacob Cardenas in the first round, and then likely #3 Eric Schultz in the second round just to make the quarterfinals.
Seed: #17, Rank: #19
Though he earned a bronze medal at the 2021 UWW U23 World Championships, Aiello could only muster the #17 seed in a crazy 197-pound weight class. Despite only losing three times on the season, Aiello was punished by the seeding formula due to a low RPI (indicted a relatively weak schedule) and losses to Isaac Trumble and Nino Bonaccorsi.
Aiello received the #7 seed in both 2019 and 2020 and the #11 seed in 2021.
197: Alan Clothier, Northern Colorado
Seed: #27, Rank: HM
Clothier didn't decide to return for his extra season of eligibility until late this season, and wasn't able to amass enough wins for a high seed, but he did enough to qualify for his fourth NCAA Championship, and his third at Northern Coloarado.
Clothier started his career at App State, where he qualified for the 2018 tourney. This is the first year Clothier has been up at 197, having spent the previous five collegiate seasons at 184.
Seed: #10, Rank #16
Our lone heavyweight in the mix, Traxler spent four seasons at 197 before competing at 285 last season, his senior campaign with Stanford. Traxler transferred to Virginia Tech to use his extra year of eligibility and earned the #10 seed in his final attempt to break through into the top 8.
Traxler was stopped in the round of 16 in 2018, and then made it to the bloodround in 2019 and 2021. He was the #12 seed in 2020.