MIAA
Nebraska-Kearney Races Out To D2 Lead
Nebraska-Kearney Races Out To D2 Lead
With eight All-Americans, including five semifinalists, Nebraska-Kearney moved to the front of the pack at the Division II NCAA Championships.
Mar 12, 2022
by Andy Hamilton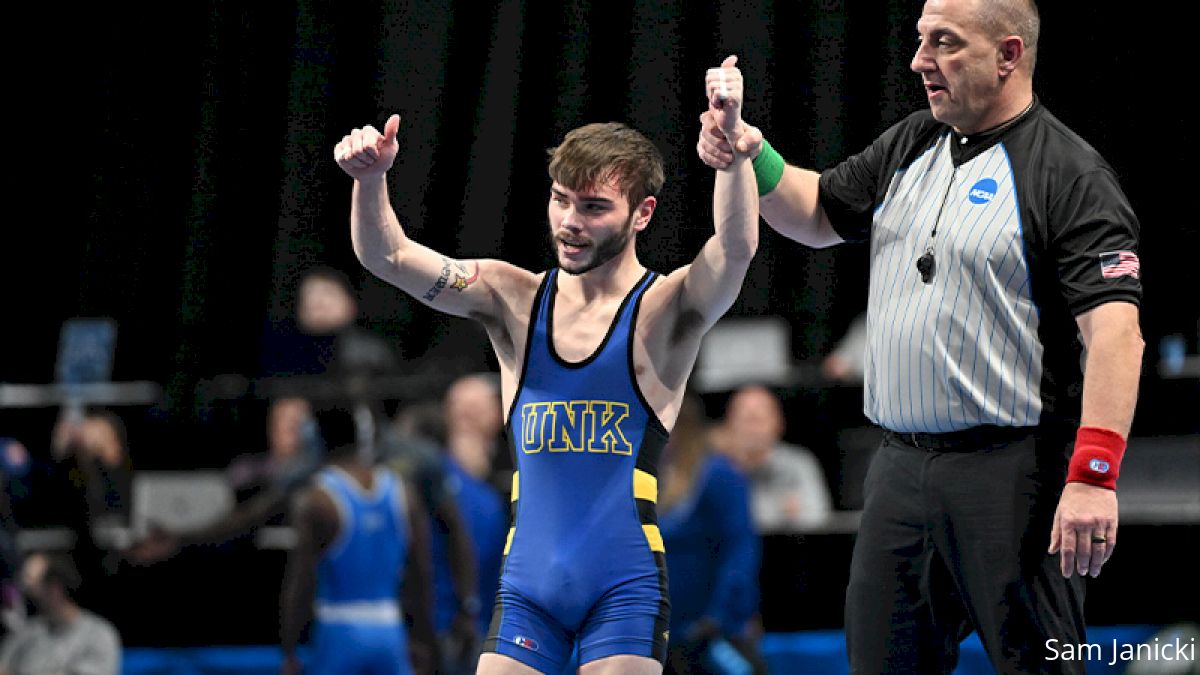 Nebraska-Kearney entered this season driven to finish a mission that was one match from completion a year ago when the Division II national title slipped away from the Lopers on the tournament's final bout.
The Lopers took a big step Friday toward accomplishing their primary team goal, winning 17 of their 22 bouts on the opening day of the Division II NCAA Championships. The performance vaulted Nebraska-Kearney to the top of the team standings with 67.5 points — 15.5 more than second-place Central Oklahoma. St. Cloud State, which has won five of the last six D2 titles, is third with 42.5 points.
Eight Lopers secured All-America status, including five who will wrestle in Saturday's semifinals. Central Oklahoma also has five semifinalists and St. Cloud State has four, but both programs are facing an uphill climb against Nebraska-Kearney's numbers advantage.
The Lopers went 5-3 in the quarterfinals, highlighted by Josh Portillo's fall at 125 and Sam Turner's overtime win at 149.
Top-ranked Central Oklahoma's title hopes were damaged early on Friday when second-seeded 125-pounder Paxton Rosen and top-seeded 133-pounder Tanner Cole went down in the opening round. Lake Erie's Corey Gamet knocked off Cole 3-2 and then the Central Oklahoma 133-pounder caught #2 seed Wesley Dawkins of Nebraska-Kearney on the backside. Dawkins bounced Cole from the tournament with a 3-0 bloodround victory.
Central Oklahoma still has six wrestlers in the tournament, including returning national champion Heath Gray, who takes on third-seeded Billy Higgins of Nebraska-Kearney in a pivotal 184-pound semifinal bout.
| | | | | |
| --- | --- | --- | --- | --- |
| Place | School | Points | Semifinalists | Consolations |
| 1 | Nebraska-Kearney | 67.5 | 5 | 3 |
| 2 | Central Oklahoma | 52 | 5 | 1 |
| 3 | St. Cloud State | 42.5 | 4 | 1 |
| 4 | West Liberty | 35.5 | 2 | 3 |
| 5 | Indianapolis | 30 | 2 | 2 |